By Daniel Scott
Take the road less travelled and marvel at the wild natural beauty in WA's Kimberley region.
Closed around November by the deluges of the Kimberley wet season, the Gibb River Road finally dries off sufficiently to reopen to traffic between April and May each year.
But don't expect the bumper-to-bumper urban choke usually associated with that word.
Instead, you might see giant cattle-trucks using the old stock route for its original purpose, tour vehicles, madcap cyclists, as well as the many intrepid travellers on an independent four-wheel drive adventure through one of Australia's last wilderness frontiers.
Where is it:
The Gibb River Road runs through the central Kimberley plateau in WA's north, between Kununurra and Derby.
Distances:

Kununurra to Derby – approximately 705kms
Kununurra to Broome – approximately 927kms
Kalumburu Road to Mitchell Falls – approximately 172kms

Planning:
Australia's North West and Gibb River Road have good route information including suggested itineraries. Derby Tourism (freecall 1800 621 426) can provide you with useful information. Visit Main Roads for up-to-date road conditions and RAC WA Holidays for self-drive planning resources.
Driving time:
Minimum four days. Seven to eight days recommended, or longer to include Kalumburu Road.
When to go:
The dry season – April/May to late October
Tips for travel:
Before setting off, make sure you stay safe on your road trip with our tips for long distance driving.
Don't miss:
Cooling off in any of the gorges but especially Bell, where the swimming hole at the foot of the falls issues an irresistible invitation after the hot, rock-hopping trek to reach it.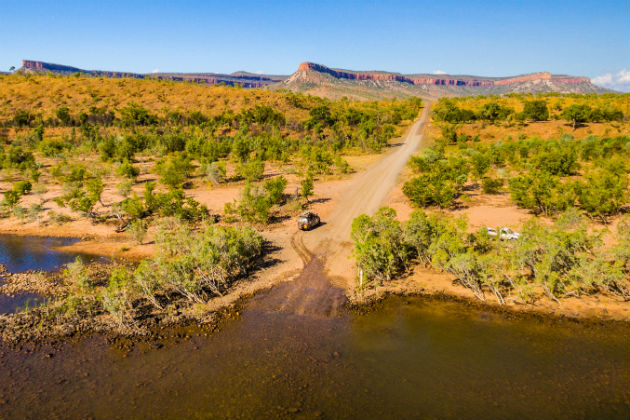 Threading between Kununurra in the east and Derby to the west, the route passes primordial mountain ranges that rear up in immense flat-topped mesas, traverses arterial river systems and winds through dimpled hills enfolding canyons gushing with waterfalls, before emerging onto dusty plains near Derby.
With sections of bitumen at either end, intermittent grading through the April-October season, accommodation ranging from campsites to the luxury of El Questro homestead spread along the road, the Gibb River Road may not be a hardcore self-drive expedition limited to experienced drivers nor is it a journey for the faint-hearted.
There are fast-flowing crocodile inhabited rivers to cross, long stretches of rocky, potentially tyre-rupturing roads – especially on side-tracks to gorges – and plenty of outback remoteness.
Yet, with sensible preparation – such as carrying two spare tyres, plentiful water, emergency provisions, and extra fuel – the rewards of this drive through the heart of the Kimberley are manifold.
You can drive the entire Gibb River Road in four days, but it would be a maddening rush. You'll need a week to head off-route and savour the secluded, incandescent beauty of the route's gorges and cool off regularly in its waterholes.
Beginning in the east is recommended as it allows you to end your trip relaxing beside the turquoise Indian Ocean in Broome, a further three hours' drive from Derby.
Starting in Kununurra, it takes 90 minutes to reach the Emma Gorge resort, a collection of tented cabins located within the El Questro wilderness area.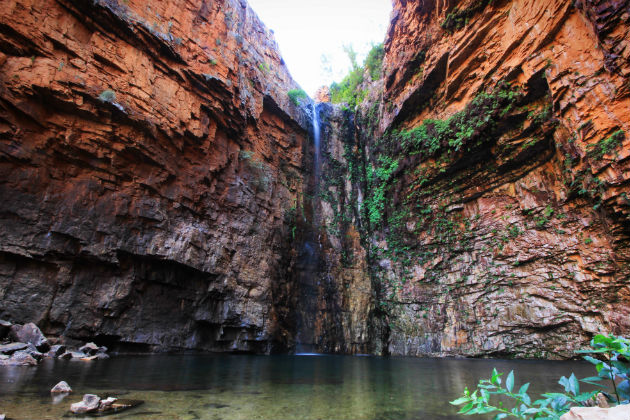 With an onsite swimming pool, restaurant and a 1.6km creek walk to a 65m-high gorge and a waterhole, the resort invites an overnight stop.
A little further is the turn-off to the El Questro homestead, an über luxurious country-style Kimberley mansion overlooking the steep-sided Chamberlain river.
Those unwilling to splash out on deluxe accommodation can still experience the opulence of the landscape by joining ranger-led tours of the 400,000-hectare property. The tours visit vast billabongs and pouches of rainforest sheltered by looming orange cliffs.
At Zebedee Springs, on the homestead access road, you can sit in a natural Jacuzzi surrounded by a swirl of Livistona palms while being serenaded by tropical birds.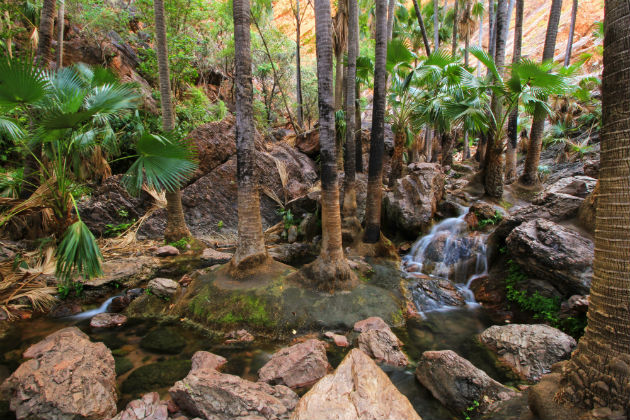 Ancient and Indigenous
Beyond El Questro, shortly after crossing the tidal Pentecost River, is the turn-off to Home Valley Station, a location used in the Baz Luhrmann film Australia.
Set beneath the rampart-like mesas of the ancient Cockburn Range, this Indigenous-owned station offers an Aboriginal-inspired Kimberley experience.
Accommodation ranges from camping to luxurious 'grass castles' beside the Bindoola Creek with tours including barramundi fishing and cattle mustering.
With plentiful freshwater and food, the country around the Gibb River Road was home for thousands of years to more than a dozen Aboriginal tribes and is adorned with countless rock art sites, in both Wandjina and Kimberley Gwion Gwion (Bradshaw) styles.
If time permits, an excellent place to see the paintings is within the Mitchell River National Park via the rugged Kalumburu Road, which branches off 180kms beyond Home Valley.
Also within the park are the magnificent tiered Mitchell Falls. If you don't have time to drive there, scenic flights are available from Drysdale Station, 60kms along Kalumburu Road.
There is more rock art around the waterholes on Mount Elizabeth station, further west along the Gibb River Road 38km north east of Mount Barnett roadhouse.
The 200,000-hectare station, which has camping and homestead accommodation, is run by the Lacy family who have held the pastoral lease since 1945.
After the fuel-stop at Mount Barnett roadhouse are some of the road's most spectacular gorges, with each miraculous flow of water in the semi-desert seemingly intent on outdoing the next.
The first is Manning Gorge, where the reflection of the expansive sky and surrounding Pandanus trees colour the water blue and green.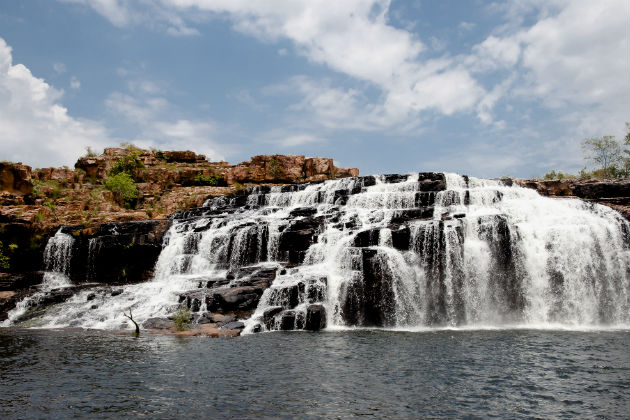 Then there is Galvans, with a deep swimming hole 15 minutes walk from the road, and the alluring Adcock Gorge with its floating lilies and waterfall, on Mount House Station, 20 minutes drive in.
An even bumpier track leads 95kms south to Mornington wilderness camp, owned by the Australian Wildlife Conservancy.
Visited by 200 species of bird, from tiny finches to emus, the sanctuary has a campground and ensuite tents where you can watch rock wallabies at dusk. Within the 322,000-hectare wilderness area is Dimond Gorge, on the Fitzroy River, which can be memorably explored by canoe.
Continuing west, further turn-offs lead to two dramatic Kimberley gorges, Bell and Lennard. At Bell, a waterfall plunges 100 metres from horseshoe-shaped cliffs through a succession of shallow pools into a delicious swimming hole.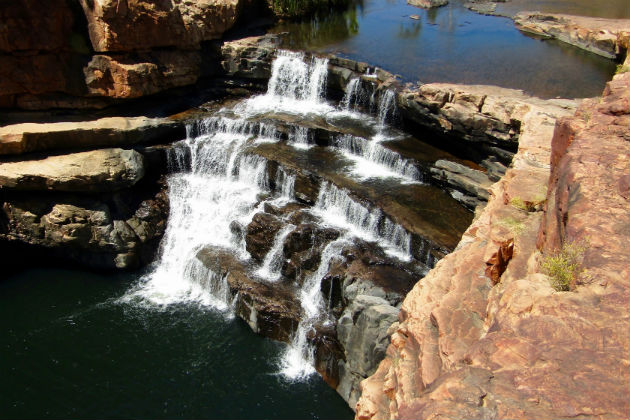 Reached via a rutted 8km track, Lennard is a skinny, water-filled cleft enclosed by sheer walls.
Near Bell Gorge the Silent Grove campground, run by WA's Parks and Wildlife service, is among the Kimberley's most atmospheric campground, huddled within the mighty King Leopold ranges with a symphony of stars playing overhead at night.
Stretching to the south are the Napier ranges, the limestone remnants of a 350-million year old reef that surrounded the then-submerged Kimberley plateau.
Within the hills, near the road's western end are Windjana Gorge and Tunnel Creek, two of the route's major drawcards. At Tunnel Creek, 35kms beyond Windjana, a river has burrowed 750 metres into the rock to create a cave system full of splintered boulders and stalactites.
In the 1890s, Aboriginal outlaw (or freedom fighter, depending on your viewpoint) Jandamarra hid out here, launching attacks on European settlers and police before being shot dead at the entrance.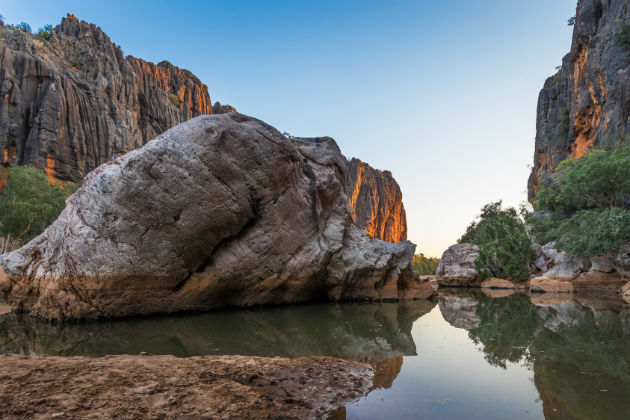 With its 100-metre high walls, the Lennard River trickling through it, and the primeval presence of freshwater Johnson crocodiles, Windjana is the most eerily beautiful Gibb River Road gorge. Particularly when its walls turn fiery red at sunset and are amplified in the dusky water below.
Although Windjana is busy during the day, its campsite is surprisingly intimate at night and makes for an unforgettable stop on one of Australia's great outback drives.
Make sure you're covered on country roads
Before you hit the road, make sure you've got the right level of Roadside Assistance in case of a break down.
Last updated March 2020