Travel & Touring | WA Road Trips
By: Chris Morton
Western Australia's Kimberley region is considered one of the world's last great wilderness areas. This ancient landscape is bejewelled with spectacular gorges, waterfalls and vistas not found anywhere else on earth.
For many people, an adventure through the Kimberley is high on their bucket list and central to any great adventure in this region is the Gibb River Road. This epic driving route winds its way between natural wonder after natural wonder, delighting the senses at every turn.
The best way to experience 'the Gibb' is by road and although not as arduous as it used to be, it's not a road trip to be undertaken lightly.
| | |
| --- | --- |
| Distance and days | 660km from Derby to Kununurra (approx.) Don't rush, allow yourself at least two weeks to really enjoy it. |
| Best time to go | Western Australia's winter is the best time to visit the Kimberley, after the "big wet" has finished drenching the countryside. You can be guaranteed that a good wet season will offer up cascading waterfalls and gorges filled to the brim. Between the months of April and November is considered peak tourist season meaning that most tourist operators and services are fully operational. |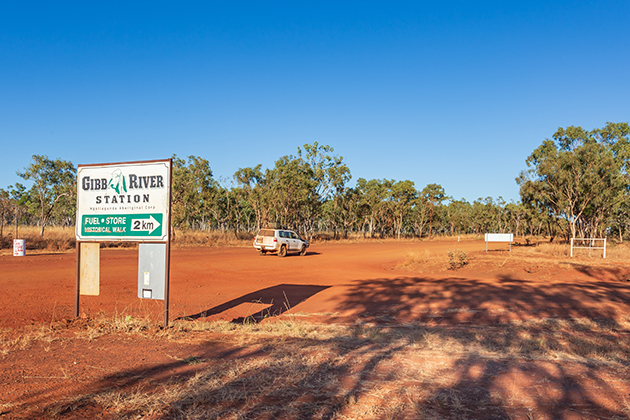 What you'll need to know
Due to the Kimberley's remoteness, ensure you plan and take precautions. Road surfaces can be unpredictable. Drivers should keep their speeds down and take extra care if overtaking. If emergency services need to get to you by road, keep in mind that it is going to take them about the same amount of time it took you to drive to where you are.
Corrugated roads and water crossings will slow any vehicle response down considerably and helicopter access can also be limited. Ensure you take adequate precautions, have a well-equipped and fully stocked first aid kit (and know how to use it) and carry adequate food and water for any unforeseen emergency. Consider hiring a satellite phone or getting yourself a satellite communicator for your trip as there is no mobile coverage.
The Kimberley is also home to venomous snakes and crocodiles. You will see crocodiles in the wild, both fresh and saltwater. Never assume any waterhole or river is safe to swim in unless advised that it is safe to do so by local authorities. Do not loiter near the water's edge in areas where there are saltwater crocodiles present and ensure that you know your children's whereabouts at all times.
You should restrict all camping to approved campgrounds as most of the land along the Gibb River Road is controlled by pastoral leases and considered private property.
RELATED: A beginner's guide to taking your 4WD off road »

What you'll see
For most, Derby is their preferred start point for their Gibb adventure, allowing you to ease into it with the ancient Devonian reef, Windjana Gorge, just up the road. Venture into Australia's oldest cave system, Dimalurru (Tunnel Creek), a quick detour well worth the short drive. As you venture further into the Kimberley's heartland you'll be spoilt for choice with gorge after gorge to explore.
Do your research and understand the physical requirements involved with each location. Some of the locations are extremely accessible after a short walk with others requiring a higher level of fitness and ability.
Further resources
Given its popularity, you need to do your research and planning well in advance of any trip. Bookings are essential for all Parks and Wildlife camp sites and it's recommended that you consider doing so at least six months in advance. The same should be considered for any private campground or tourist park in the region.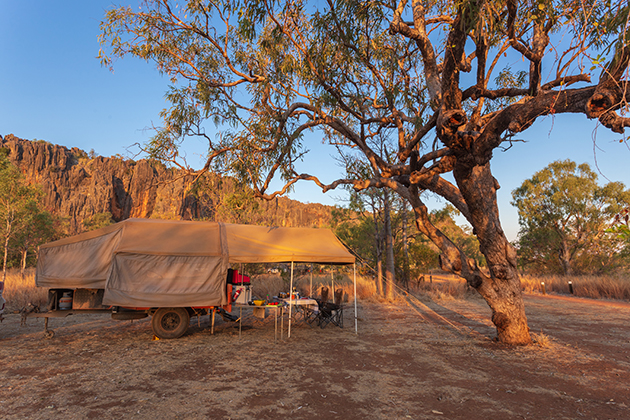 Vehicle and trip preparation
A four-wheel drive is highly recommended for anyone planning to tackle the Gibb. Ensure that it's well prepared beforehand, paying particular attention to any small problems. Vehicle suspension should be in excellent condition as the corrugations could cause some potentially trip-stopping damage if you don't.
For corrugated roads it's recommended you drop the pressure in all tyres to a level suitable to the conditions. An easy way to check is to feel the temperature of your shock absorbers. If they're too hot, then you're either driving too fast or your tyre pressure is too high. Allowing your tyres to absorb some of the corrugation vibrations will make for not only a more comfortable ride for everyone but also reduce the damage to your vehicle.
If the previous wet season has been particularly wet, then expect to get your vehicle wet. You may be presented with multiple water crossings and it's better to understand what to expect and how to safely do so beforehand.
At a minimum, carry basic recovery equipment and a 12-volt air compressor.
Time and distances
The Gibb River Road is 660km in length, between Derby and Kununurra. The majority of the road is gravel and the condition is dependent upon the previous wet season, traffic and the last time a grader repaired it. To really do it justice, allow yourself at least two weeks to have the best experience.
During peak season you can expect high numbers of vehicles moving in both directions, including heavy vehicles. Distances between tourist sites is not great however the time between them will be influenced by the previously mentioned factors. Remember, you are on holiday and it is not a race. Take your time and enjoy the journey.
Gibb River Road itinerary
Day 1: Derby to Windjana Gorge (145km)
Stay at the Windjana Gorge Campgrounds (bookings essential). This is an unpowered site. Soak up the ancient ambience of Windjana Gorge as flocks of Major Mitchell Cockatoos squawk a raucous melody.
An afternoon trip out to Dimalurru (Tunnel Creek) should be high on your agenda where you can make your way along the 750m long subterranean waterway. Wear shoes as you can get wet and take a torch because you will be walking through water and it gets dark.
Day 2-5: Windjana Gorge to Mount Hart Wilderness Lodge
Originally a pastoral lease, Mount Hart was purchased in 1987 by the Department of Parks and Wildlife. The drive into the lodge winds its way through the towering Wunaamin-Miliwundi Ranges which are dotted with black dolerite rocks.
The lodge offers a range of accommodation as well as camping along the banks of the Barker River. There is a wide range of natural attractions to visit including Barker Pool, Dolerite Gorge and Yellowman Gorge.
Day 6: Mount Hart Wilderness Lodge to Bell Gorge (96km)
Stay at Silent Grove (Bell Gorge) campground. This is an unpowered site.
After a short drive from Silent Grove you can set out on foot along the even shorter walk trail that brings you to Bell Gorge. Sit in pools above the water falls of Bell Gorge, walk, swim and relax in the water below the falls.
Day 7: Bell Gorge to Manning Gorge (86km)
Stay at Manning Gorge campgrounds.
Adcock Gorge: Located on the Adcock River, Adcock Gorge is only accessible by four-wheel drive via a rocky track. Approximately 500m from the carpark, over some uneven ground, the gorge has plenty to offer anyone wanting to make the short trek. The pool is quite deep and ideal for a cooling dip. The waterfall feeding the pool is dependent upon the previous wet season and patches of ferns and water lilies add an oasis-like touch. There's a very good chance you'll have this gorge to yourself.
Galvans Gorge: Located 14km west of Mount Barnett Roadhouse is the small horseshoe-shaped Galvans Gorge. This is the most accessible of all of the Gibb River Road gorges, sitting only 1km off the main road. It's fed by a seasonal waterfall and offers visitors a refreshing dip.
Manning Gorge: Located on the Manning River, the gorge offers a refreshing swim and scenic views of the waterfall. Aboriginal rock art at the site can be easily accessed on foot. Camping fees are payable at Mount Barnett.
Day 8 - 10: Manning Gorge to Mt Elizabeth Station (45km)
Stay at Mt Elizabeth Station. There are unpowered sites shaded by trees with shower and laundry facilities.
Test your four-wheel drive skills along a challenging track and spend time taking in the ancient Aboriginal rock art at Wunnamurra Gorge along with its spectacular waterfall, white sandy beaches and refreshing waterhole. Unwind at "the beach" on the Hann River, otherwise known as Warla Gorge. Avoid driving on the sand here as it can get very boggy.
Extend your stay and challenge yourself to the 440km round trip along the Munja Track, ending at Walcott Inlet. This is not a trip for the unprepared.
Day 11: Mt Elizabeth Station to Ellenbrae Station (245km)
Break up your drive and sample some of the best scones in the Kimberley at Ellenbrae. The station offers a tyre repair service as well as overnight accommodation for limited guests.
Ellenbrae to Home Valley Station
At the time of writing Home Valley was shut down for 2021 and is not accepting any bookings. Continue on to El Questro Wilderness Park.
Day 11 - 13: El Questro Wilderness Park
Considered the jewel in the Kimberley's crown, El Questro offers an experience for every budget. The facilities are world class, with everything from luxury accommodation to basic camp sites. Soak up the views of the Chamberlain River, relax tired muscles in the thermal water of Zebedee Springs or swim in the cool oasis that is Emma Gorge.
RELATED: Your ultimate guide to exploring El Questro Wilderness Park »

Day 14: El Questro Wilderness Park to Kununurra (100km)
Arriving in Kununurra marks the end of your Gibb River Road adventure. If time permits, explore the East Kimberley region with Lake Argyle, Ivanhoe Crossing, Lake Kununurra and Wyndham all within easy reach.
History of 'the Gibb'
The Gibb River Road was first built in the early 1960s to provide a means for neighbouring cattle stations to transport their stock to either the ports of Derby or Wyndham. As stations have started to diversify and offer accommodation and station experiences, the road has been developed to cope with a steadily increasing amounts of traffic.
Last updated February 2021
Image credit: Tourism Western Australia