Travel & Touring | WA Destinations
If beautiful beaches, art installations and wineries weren't what you were expecting from an outback road trip, maybe you need to give the Golden Outback another look.
Western Australia's Golden Outback region covers just over half of the State and includes renowned attractions such as Wave Rock, the Kalgoorlie Super-Pit, the Antony Gormley sculptures at Lake Ballard and one of Australia's most photographed beaches at Lucky Bay in Esperance. And yes, there are also a surprising number of wineries.
Landscapes in this region stretch from rolling farmland through to rugged outback terrain and stunning coastal cliffs. There are road trip options for every kind of holidaymaker, including iconic four-wheel drive adventures on the Canning Stock Route and Gunbarrel Highway and leisurely coastal drives in the far south.
If you're ready to go a bit further and stay a bit longer, this region will reward you with many unique experiences and draw you back again and again.
Seasonal highlights
| | |
| --- | --- |
| Summer | Swim in the turquoise waters of Twilight Beach, and take an island cruise around the Recherche Archipelago off the Esperance coast. |
| Autumn | See ancient Aboriginal hand stencils in Mulka's Cave, and get under the skin of the region with a farm or station stay. |
| Winter | Tour the living ghost town of Gwalia and the early home of a US President, and find out more about the Goldfields' fascinating gold rush history on a guided tour. |
| Spring | Drive the Wave Rock wildflower trail to see carpets of everlastings, and take an epic road trip to Mount Augustus (Burringurrah) to see the world's largest 'rock'. |
| Year-round | Climb East Mount Barren for 360-degree panoramic views, and fly over local oddity Lake Hillier on Middle Island. |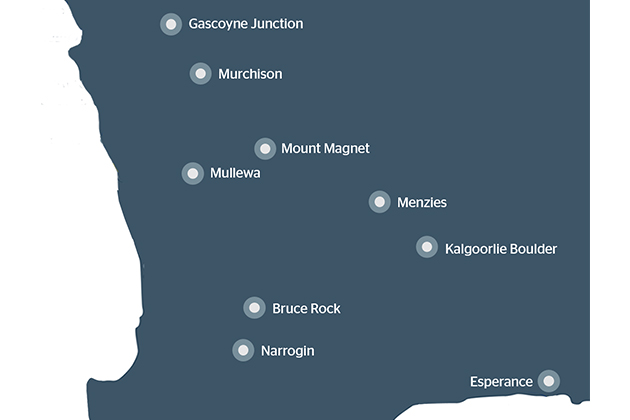 Places to visit
Wheatbelt
Just a short distance from Perth, the Wheatbelt has a network of scenic driving trails that take in starkly contrasting but beautiful landscapes. It may be well known for its endless paddocks but the Wheatbelt is also hiding some unexpected surprises.
One of them is a large-scale open-air art gallery. The PUBLIC Silo Trail features giant murals by local and international artists painted onto the Wheatbelt's massive grain silos, with some works as high as 36 metres. The art trail stretches from Northam to Albany. In the Wheatbelt you can follow it through Northam, Merredin, Newdegate and Pingrup.
Another surprising find is in the southern Wheatbelt, where a wine producing region has been quietly unfolding. There are a large number of producers concentrated around Narrogin and Wandering, including Tanglefoot and Downderry Wines. From Perth take the Wheatbelt Winery and Woodlands trail, a three-day road trip, to uncover more.
Outside of its farmlands, the Wheatbelt has some interesting natural landscapes, including a number of large granite rock formations. One of the Wheatbelt's most popular natural attractions is Wave Rock near Hyden. This unusual rock in the shape of a breaking wave is 15 metres high and more than 100 metres long.
Nearby you'll find other large granite outcrops and rocks, including Elachbutting Rock and Beringbooding Rock near Mukinbudin, and Kokerbin Rock near the town of Bruce Rock.
If there's been good winter rain, the widlflowers are spectacular in this region from July to early November. From Perth take one of the many short wildflower trails, including Northern Wheatbelt Wonders or the Wildflower Way which also takes in Elachbutting and Beringbooding Rock.
Or you can leave the driving to someone else and give all your attention to the wildflowers by hopping on a guided wildflower tour. Luxury Outback Tours offer small group tours in well-equipped and comfortable four-wheel drive vehicles that will take you to some of the best spots in the region.
RELATED: 6 scenic WA wildflower drives »

Goldfields
To connect with the history of the goldrush era, a visit to the Museum of the Goldfields in Kalgoorlie is a must. Check out the underground Gold Vault with its collection of gold and ornate jewellery from the era. And if you have connections to the Goldfields, research your history with the Eastern Goldfields Historical Society.
After absorbing some gold rush history, book a visit to the Super Pit - Australia's largest open pit gold mine. Standing on the viewing platform, the sheer magnitude of the endeavour to find gold will be brought home. The pit is 3.5 kilometres long and 1.5 kilometres wide.
Back in Kalgoorlie, Linden Brownley of Bush Ghoodu Wongutha Tours takes 90-minute walks up Hannan Street explaining the area's much deeper history. As Brownley says, it is a history that is "hidden" in the landscape. "The ancient Aboriginal history here, it's much older than Kalgoorlie-Boulder's recent history." Brownley also offers a full-day experience for guests to go "out bush, up to the north country," sharing the history of the Wongutha people and telling ancient stories along the way.
Out of Kalgoorlie, you can get a hands-on experience of gold prospecting with Gold Nugget Tours. Marty Pereira operates a prospecting camp with modern comforts. By day you'll learn the finer point of using a detector. At night, fireside meals are sociable, with talk of the day's finds with your fellow prospectors.
On the road to Menzies, the Broad Arrow Tavern has been a part of the fabric of outback life since 1893. From floor to ceiling the walls are covered with years of encouraged graffiti.
From Menzies take a 51-kilometre detour on mostly unsealed roads to Lake Ballard. Here you'll find the world-renowned installation by British sculptor Sir Antony Gormley. The cast iron sculptures standing out on the salt lake make up Australia's largest outdoor gallery and are the life-sized replicas of the 51 locals who worked with him on the project. The figures are spread out in a deliberate pattern across the stark white salt lake and cast shadows which move throughout the day.
North of Menzies near Leonora, explore the ghost town of Gwalia. Referred to as a 'living ghost town', you can walk through history here and appreciate what life must have been like for the mainly migrant families seeking a living from this harsh country.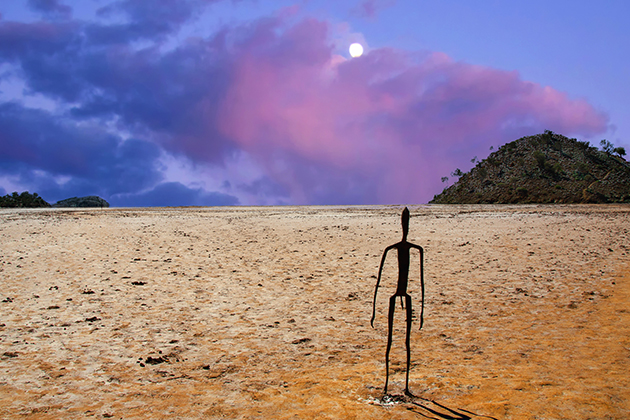 The Gascoyne and Murchison
The Gascoyne and Murchison are two neighbouring regions that transition from outback terrain, sparsely populated with pastoral stations, to the Indian Ocean coast. The Murchison region, as with the Golden Outback generally, is a place to ensure you have the right transport. Providers like Red Sands Campers offer custom-built four-wheel drive campers equipped for rugged terrain and nights off the grid. While a four-wheel drive isn't necessary for all roads, it can add an extra dimension and options to your travel.
Station stays at pastoral stations like Wooleen Station, just over three hours south-east of Geraldton, give a glimpse into life on the land. Wooleen Station's David and Frances Pollock are well know for pioneering a better standard of land care. They've almost become regulars of ABC's Australian Story, with David's recent book, 'The Wooleen Way', drawing praise. Once there, you can decide on whether to take self-drive tours around the station, one of David's own sunset tours, or simply relax into the rhythms of outback life.
To the far north of the Gascoyne region, Mount Augustus, Burringurrah to the Wadjari people, has been likened to Uluru. It is sometimes referred to as the 'world's biggest rock' which isn't technically correct because of the composition of the landform, but at 715 metres high it is still an imposing feature in this landscape. View petroglyphs up close on walking routes around its base.
Esperance and the Fitzgerald Coast
The raw, untouched beauty of WA's wild southern coastline in the far corner of our State has always been one of the great attractions to this region.
Once there, you have access to many natural wonders, including Cape Le Grand and Cape Arid National Parks, and the famed white sands of Lucky Bay where kangaroos drink from freshwater streams running onto the beach.
When you first arrive, to get a good look at coastal Esperance, take the Great Ocean Drive, a scenic 40-kilometre circular loop. You can also walk and cycle along a path from the Esplanade to Twilight Cove.
You'll be spoiled for choice here when it comes to deciding which beach to visit. Be sure to check out those with natural ocean pools - these fill with water when the tide comes in and provide a safe, shallow place for kids to take a dip. Try Nine Mile Beach and Ten Mile Lagoon for ocean pools.
When you're ready for some coastal grandeur, make your way to Cape Le Grand National Park for rugged headlands with sheltered bays hidden in between. If you're up for a hike, you'll be well rewarded after a climb to the summit of Frenchman Peak, which has sweeping views over the southern coastline all the way to the islands of the Recherche Archipelago.
RELATED: 10 of the best hikes in Esperance »

If you have a four-wheel drive don't miss Cape Arid National Park east of Esperance for stunning coastal scenery, snow-white sand dunes and idyllic secluded bays. Another must-see national park to the west of Esperance is the Fitzgerald River National Park. With its rugged headlands and high peaks this is also one of Australia's most diverse botanical parks. Although some roads through the Park are unsealed, they are suitable for two-wheel drive vehicles. Take extra care driving on unsealed roads.
There's a rising tide of good eating and drinking in the town, from Lucky Bay Brewing Co, the only brewery in WA to source raw barley direct from local farmers, to artisanal bakers Bread Local, and award-winning olive oil at Yirri Grove. Taylor St Quarters, an all day and night local favourite on the dockside, has a growing reputation for its food and laid-back Sunday sessions. Craig Adams, chef-owner of Fish Face on James Street is known for sourcing his fish from local fisherman. A true taste of Esperance.
In the Recherche Archipelago, Middle Island is home to one of WA's famous pink lakes - one of the pinkest of them all - Lake Hillier. A bubble gum pink splodge amidst the Southern Ocean, it is quite a surreal spectacle viewed from the air. Woody Island has long been a retreat for locals on daytrips. Woody Island Eco Tours operate a boat tour out to the island as well as eco tents with ocean views for overnight visitors.
Travelling in off-peak months is worth considering, both for the accommodation discounts and because there are simply fewer travellers to share the place with, although this is a region that rarely feels crowded. For those looking for ocean views you can't go past the Lucky Bay camp site (but book early for peak season), otherwise Esperance Chalet Villages offer unique and stylish accommodation in a pretty bushland setting.
Planning a visit
| | |
| --- | --- |
| Getting there and around | The range of self-drive experiences on offer in the Golden Outback is as vast as the region itself. Though most popular road trip itineraries can be completed with a two-wheel drive vehicle, some routes in this region may require a four-wheel drive. |
| When to visit | Seasonal temperature variations can be considerable in the Golden Outback. In Kalgoorlie, average maximums are around 17 degrees in winter and 32 degrees in summer. Around Esperance and other coastal areas, summer maximums average around 25 degrees. |
| Related road trips | |
| Ask a local | For more information about touring in the Golden Outback, visit Australia's Golden Outback. |
Need a place to stay in the Golden Outback?
Members save up to 20%* on accommodation at RAC Esperance Holiday Park.
*Terms and conditions apply. Member rate varies according to season. See full website for details.
Image credit: Jarrad Seng, Martine Perret, Rob Mulally and Georgia Rickard
Last updated September 2020