Travel & Touring | WA Destinations
By: Tatum Stafford
Nestled beneath the rolling hills of the Darling Scarp, the quaint town of Harvey is one of Western Australia's most prolific and picturesque farming towns.
Renowned for its production of oranges, milk and beef, Harvey is a must-visit spot for gourmet food and wine lovers – and also has plenty to offer in terms of camping, hiking, wildflower-spotting and fishing.
Throw it all together and you've got yourself an idyllic weekend getaway.
At a glance
Distance from Perth
140 kilometres, just under two hours' drive
Why go?
To enjoy some of the freshest produce WA has to offer (often found at a few scattered roadside stalls), climb the quirky Big Orange and unwind amongst picturesque farmland scenery.
When to go

Mar – Sep: Harvey's world-class wineries and jarrah forest walking trails are just as enjoyable in cooler months – especially as the nearby Ferguson Valley wine region is renowned for its full-bodied wine varieties. The annual Harvey Agricultural Show in April is a highlight.
Jun – Oct: The famous Harvey oranges are in-season.
Sep – May: Trout fishing season at Harvey Dam (note: you'll need a valid fishing license).
Dec – Feb: Summer is a great time to visit both the Harvey Dam and Lake Brockman; as both are great spots for swimming, fishing and paddling.

How long to stay
You could tick off a few of Harvey's key attractions in a day. However, if you'd prefer to explore a bit more of the nearby Ferguson Valley, give yourself the weekend.
Need to know
There are plenty of facilities in the Harvey town centre on Uduc Road, including a supermarket, restaurants, hardware stores and banks. Expect most attractions to be open all week. The visitor centre is centrally located on James Stirling Place, and has handy signage to key tourist attractions.
Fast facts
Town population: 2,606 
Indigenous people: Nyungar

Insider tip
For the full Harvey farming experience, consider booking a farm stay for accommodation. The Rowsa Park Farmstay is a popular local option. It's just five minutes south of Harvey, and houses a range of horses, chickens, young cows and other furry friends to pat and interact with.
Related road trips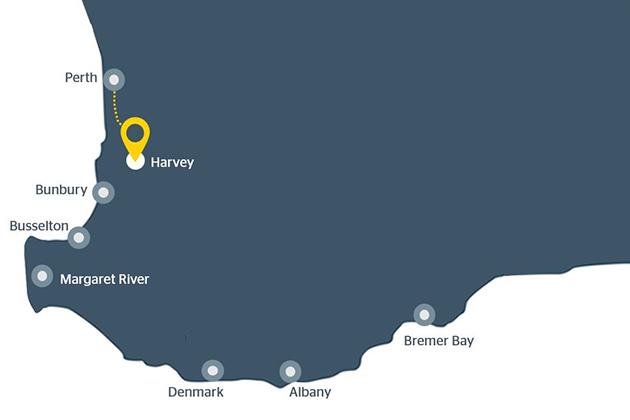 Top things to see and do
Harvey Dam
Pack a picnic and head to the massive Harvey Dam. With multiple barbeques, walking trails and a playground for the kids, the dam is a great place to spend an afternoon. Trout and perch fishing are also popular at the dam between September and May, but note that you'll need a valid fishing license.
The Big Orange
Situated within the award-winning Harvey River Estate, the Big Orange sits on a 10-metre tower that takes 62 steps to climb. It's a great vantage point to view the colourful Harvey Fresh orchards in-season from June to October. Entry is a gold coin donation, and all proceeds support Telethon.
RELATED: 10 of WA's best big things »

Harvey Heritage Walk Trail
Starting near the Harvey Tourist Bureau, the Harvey Heritage Trail is an easy, 6.5 kilometre walk that takes you past notable historical buildings and sites within the Harvey township. On the walk, you'll pass the Harvey River, Stirling Cottage (which you can read more about below) and the Korijekup Estate. You can retrieve a printed map and guide from the visitor centre, or pop into each building along the way to learn about its historical relevance.
Stirling Cottage
One of Harvey's earliest inhabitants was May Gibbs; creator of the Snugglepot and Cuddlepie book series. May lived in Stirling Cottage with her family in the 1880's, and was believed to draw inspiration for her stories from her time in Harvey. Today, the cottage is a popular tearoom overlooking a beautifully-landscaped Heritage Gardens – complete with a mini orchard, 19th century style fountain and an enchanting secret garden. After a bite to eat and a walk through the garden, stop in at the neighbouring visitor centre to learn more about May Gibb's time in this quaint corner of the South West.
Bridges Walk
Accessed via the Logue Brook Dam, the three-kilometre looped Bridges Walk is a great way to explore the region's luscious jarrah forests. There are interpretative signs along the way to provide information about the former mill town of Hoffman that it passes through. There are some gorgeous spots for a picnic, so bring food (and your camera) along.
Harvey Cheese
The family owned and operated Harvey Cheese is one of Harvey's most prolific gourmet food producers. Utilising time-honoured methods, the company handcrafts batches of creamy, fresh batches of cheese – and luckily for visitors, they offer tastings at their factory just a few minutes from the Harvey townsite. Head cheesemaker Robert St Duke also offers cheese-making classes onsite, where participants can learn about pasteurising, practice with cheese-making equipment and even make their own cheese to take home with them.
Lake Brockman Tourist Park
Just 10 minutes north of Harvey lies the Lake Brockman Tourist Park; a bustling spot best known for its picturesque lakeside campsites. Situated beside the banks of the Logue Brook Dam, the park provides great access for canoeing, swimming, trout fishing and marron catching. The lake's tent sites, caravan spots and cabins are known to book out fast, so be sure to reserve your spot before you set off.
RELATED: 10 places you can camp by the water near Perth »

Getting around
The township is small and pedestrian-friendly, but to get around in both Harvey and the neighbouring Ferguson Valley region, use your car. There are quite a few mountain biking trails and hiking paths (such as the Bibbulmun Track) that pass through Harvey, so bring gear with you if you'd like to use them.
What to pack
Wear light casual clothes in spring and summer, and pack some light outerwear for autumn. Harvey can be prone to frost in cooler months, so pack plenty of warm layers if you're visiting in winter. Suitable footwear is recommended no matter the time of year you visit, as many of the walking trails and attractions cross through sections of forest.
Travelling safely
The highway from Perth to Harvey is in excellent condition, but some forest tracks within Harvey and the Ferguson Valley are unpaved. The region's hills and bends can often make visibility difficult, so be sure to drive slowly. Here are more of our long distance driving tips.
Need to fuel up before hitting the road?
RAC members get 4 cents a litre off fuel at participating Puma Energy, Better Choice, Gull and Peak service stations.
Last updated: July 2020
Image credit: Bunbury Geographe Tourism Partnership, Photographer: Bianca Turri