Travel & Touring | WA Destinations
By: Fleur Bainger
Clifftop whale watching meets wind-cut coastal gorge exploring in beachy town of Kalbarri, along with surf spots, river hikes and the new twin skywalk jutting into Kalbarri National Park.
At a glance
Distance from Perth
570 kilometres, about six hours' drive
Why go?
The 100-metre high Kalbarri Skywalk, breathtaking views from Nature's Window and Z-Bend lookouts, the string of dramatically rugged ocean gorges descending to beaches including Pot Alley and Red Bluff, surfing at Jake's Point, snorkelling at Blue Holes, flying over Port Gregory's Pink Lake, relaxing in the town's placid lagoon and gazing across the land from Meanarra Hill lookout.
When to go

Nov - Mar: Very hot, dry and windy; flies become a problem but great for snorkelling, paddle boarding, foreshore barbecues and kite flying.
Apr - Oct: Balmy days, perfect for hiking, camping and water sports. Spot whales (June–Nov) and wildflowers (July-Oct).

How long to stay
You can fit plenty in over two days, but you'll yearn for more. Stay for five and do it all at a more leisurely pace.
Need to know
There are two fuel stations in town, and another usually cheaper one as you drive out towards the Skywalk. Phone signal is good, as are the roads. You'll find three pubs in town. Small community markets are held on Mondays during school holidays. There's an excellent playground on the Kalbarri foreshore, near where pelican feeding is held at 8:45am most days.
Fast facts
Town population: 1,557 
Indigenous people: Nanda.

Insider tip
Find Kalbarri's best coffee along with a bustling social scene at Bean Drifting, a coffee van parked at Jake's Point between 7:30am and 11:30am most days. Bring a deck chair and sit back to watch surfers and whales in the water. It's dog-friendly, too.
Related road trips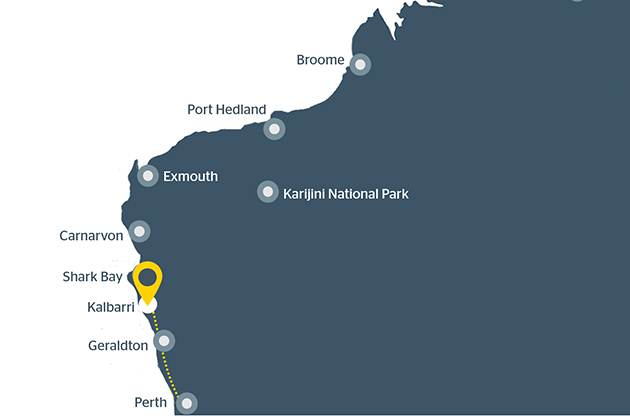 Top things to see and do
The Kalbarri Skywalk
Set on the edge of a clifftop, The Kalbarri Skywalk viewing platforms reach 25 metres and 17 metres out past the rim of Murchison River Gorge. You can see through half of the flooring, adding to the sensation of hovering 100 metres above the ground. Naturally, the views are all-encompassing. The $24M addition to Kalbarri National Park opened mid-2020 and is a short walk from the carpark. The trail is dotted with astonishingly realistic wildlife (expect to be fooled by the thorny devil lizards) and stone seating sourced from the area.
The story of the region's Aboriginal people, the Nanda is told with decorated message sticks that double as chimes children can play, as well as a dreaming serpent woven into the path, and photos and well-crafted information on signage leading to the Kalbarri Skywalk Kiosk. It sells good coffee, interesting rolls and expensive pies. It costs $15/car to enter this part of the national park.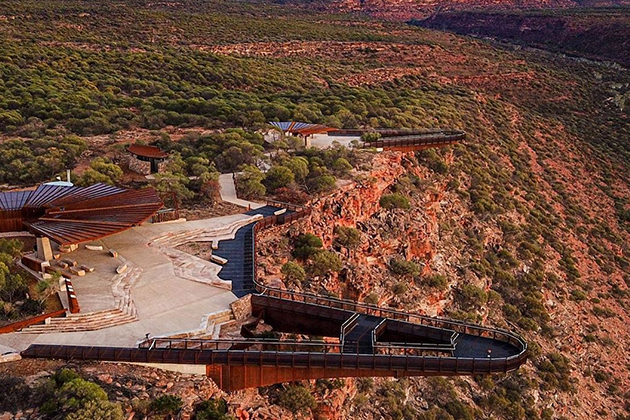 Epic lookouts
Gaze through Nature's Window, an arched rock formation that literally frames the riverbed and gorge walls some 150 metres below. Snap a family photo then head to the Z-Bend lookout, where you'll view a dramatic elbow in the Murchison River.
RELATED: 10 of the best scenic lookouts in WA »

Hike through 400-million-year-old gorges
The Loop is a moderately-challenging, 8-kilometre walking trail leaving from Nature's Window. It follows a cliff edge then descends to the riverbed, taking about four hours to do the loop. You can also try the easy-to-start, demanding-to-continue Z-Bend lookout and river trail. The easy part is a 1.2-kilometre walk to a rock lookout towering above Murchison River gorge. It then gets much harder, descending into the gorge over rocks and steep ladders.
Temperatures can be extreme in summer, so much so that the Loop Trail is closed after 7am from November to March. Plan to hike May to October and leave early in the morning with a hat and appropriate footwear. Let your accommodation know where you're going.
RELATED: 9 WA day hikes with epic views »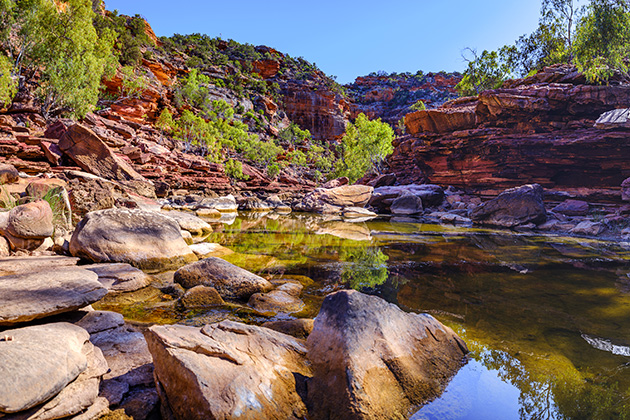 Spectacular ocean gorges
Kalbarri's 13-kilometre stretch of coastal cliffs is, for many, its highlight. The formations are carved with swirling patterns and coloured in faded reds and earthy yellows. Drive from town or follow the paved walk/bike path to many of the signed sights. Walk 400 metres down into Pot Alley, to a beach edged with layered rock that in parts looks molten, or sit beside the carpark at sunset and watch the gorge glow amber.
Red Bluff (an excellent whale watching vantage point), Mushroom Gorge, Island Rock, Eagle Gorge, and Natural Bridge are all worth visiting. Extended walks through this area include the Mushroom Rock Trail and the Bigurda Trail. Keep your eyes peeled for wildflowers.
Water sports
Experienced surfers will love the reef break at Jake's Point, while Blue Holes has fast reef barrels. Closer to the sand, Blue Holes offers excellent snorkelling in a protected, natural aquarium. In town you can also canoe, kayak, paddleboard, boat, fish, and more (BYO equipment or hire at Ultimate Watersports in Geraldton.) The town's pancake-flat lagoon, where the ocean meets the river, is ideal for paddling. Away from the water, there's abseiling and quad biking.
The Pink Lake
From bubblegum pink to strawberry milkshake, the natural hues of Pink Lake have to be seen to be believed. The best views come from overhead: book a tour with Kalbarri Scenic Flights and ogle the expanse as well as the coastal gorges and cliffs, town and river. The same company also runs a popular fly-and-land tour of the Abrolhos Islands. Alternately, you can see the lake from the side of Port Gregory Road, or George Grey Drive; it's brightest between 10am and 2pm.
Meanarra Hill
Drink in 360 degrees of views from this wheelchair-friendly lookout, taking in the national park, the Murchison River and the ocean. Sunset is particularly beautiful.
Eat some local fare
There are plenty of eateries in Kalbarri, with The Gorges Café tipped for breakfast, Angie's Cafe for the best hot chips and the highly recommended Buddha's Bites for a memorable Asian-infused dinner (think burnt butter scallops on cauliflower purée and herb salad topped with sticky glazed pork belly bites). If you're into dining on camel, roo and emu, venture into the shearing shed-turned-restaurant, Dirt, Dust 'n Diesels at Kalbarri Resort.
Getting around
In the heart of town, you can get around on foot, but many families like to bring bikes so they can cycle along the coastal walking path to the ocean gorges and lookouts, starting with Red Bluff. To venture further into Kalbarri National Park, a 2WD is fine, but for any dirt track adventuring along the Murchison River, bring a 4WD.
What to pack
Kalbarri's pleasant climate means shorts and T-shirts with thongs is the main uniform, but bring a jumper and pants for windy days and cooler evenings, plus a hat and sunscreen. Flies become particularly bothersome in summer, so pack a fly net to pull over your head if you're visiting in January or February.
Travelling safely
Drinking water is not available in Kalbarri National Park, so if you're hiking Kalbarri's inland gorges, bring more water than you think you'll need: three-four litres per person is recommended. On the roads, watch out for native wildlife at dawn and dusk, particularly on the outskirts of town. Read more long distance driving tips.
Keen to explore the natural beauty of Kalbarri?
RAC members save 50% on digital national park passes.
Last updated August 2020