Travel & Touring | WA Destinations
By: Fleur Bainger
Karijini allows you to time travel back more than two billion years.
Its ancient gorges, polished by water and age, are made up of some of the oldest rocks on the planet. See them on a scrambling and abseiling adventure, or take it slow over the stairs, ladders and walking trails.
Waterfalls, waterholes and epic views combine to make this outback destination one for the bucket list. Here's your ultimate guide to Karijini.
At a glance
Distance from Perth
1362 kilometres, or about 14.5 hours' drive from Perth if travelling inland; slightly less is going coastal via Exmouth.
Why go?
The smooth, bending, layered rocks that form spectacular gorges inside Karijini National Park, along with the dark red mountains and spinifex covered earth leading to it. Within the park, there's abseiling, canyoning, hiking, swimming and rich Aboriginal culture.
When to go

Nov - Mar: Very hot, with temperatures reaching 40 degrees. Cyclones, rain and flash floods are possible. This is Karijini's low season.
Apr - May & Sep - Oct: Warm to hot and mostly dry with cool nights; perfect for early gorge walks and waterhole dips. Easter is busy and cultural festival, the Karijini Experience happens each April.
Jun - Aug: Pleasant, clear days and very cold nights; great for hiking and wildflower spotting.

How long to stay
You can see the main sights in three days, but you'll need five to explore more extensively. Allow yourself enough time to travel between gorges and start early to avoid the heat.
Need to know

There are no petrol stations within Karijini so it's essential to bring ample fuel for travel within the park. The nearest fuel stop is at Tom Price, 80 kilometres west. You must also BYO water and other supplies, there is an excellent supermarket at Tom Price.
Key roads are sealed but using a 4WD or AWD is highly recommended.
Phone signal is minimal; Optus is the only provider that works in Karijini, whereas Telstra is best elsewhere in the Pilbara.
All camping is unpowered. Sites at Dales Campground can be booked online, while Savannah Campground is booked through Karijini Eco Retreat. The Aboriginal-owned retreat also has comfortable eco tents – most with ensuites – and dorm-style cabins.
Karijini Visitor Centre is inside the park and has a fantastic display explaining the area's geology, history and culture. It also has a shower for campers, toilets, a small supplies and souvenirs shop and a pay telephone.
Entry to the national park costs $13/vehicle for a day, or $46 for a holiday stay. RAC members save 50 per cent on digital national park passes.

Fast facts
Town population: 3,005 in Tom Price 
Indigenous people: Banyjima, Yinhawangka and Kurrama.

Insider tip
If you pop your feet into the water at Fern Pool and hold still, little fish will come up and nibble at your toes.
Related road trips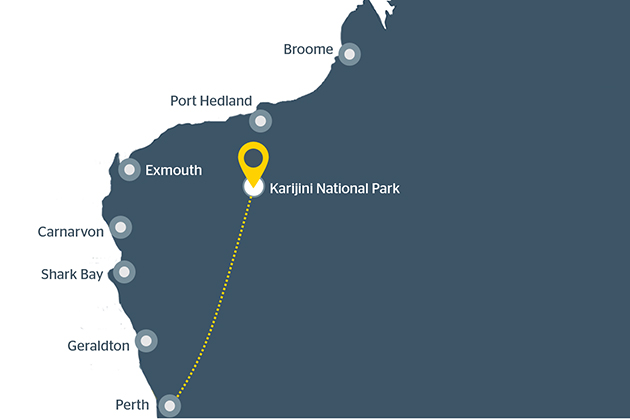 Top things to see and do
The gorges
Sense the powerful energy of Karijini when you venture deep into its core, riddled with 2.5 billion-year-old gorges. Prioritise a clamber into Hancock Gorge to see the serpentining layers of polished rock and prepare to wade through icy waterways until you reach the green-hued Kermits Pool. You need to be fit and agile to get down steep ladders and spider-scramble through the gorge; if you're not confident, go with a guide. Weano, Joffre and remote Hamersley gorges are other highlights, all with seasonal waterholes.
Adventure tours
The gorges have claimed lives, so it's best to channel your sense of adventure through an experienced guide who knows how to experience the thrills while staying safe. Canyoning and abseiling fans should join West Oz Active Adventure Tours, based at Karijini Eco Retreat, or The Flying Sandgroper. Lestock Tours are more slow and steady, with guests transported by coach.
Waterholes
Easy-access Dales Gorge leads to the stunning, spring-fed Fortescue Falls; the permanent water source cascades more than 20 metres. Picturesque Fern Pool has a small waterfall, accessed via a wooden deck and ladder. The oasis is a sacred Aboriginal site. Kalamina Gorge is very accessible and has a small, shallow pool. Beware that most gorge rockpools, such as those at Hancock, Weano and Hamersley are very cold, and freezing in winter.
RELATED: 12 of WA's best inland swimming holes »

Walking trails
The 2-kilometre return Gorge Rim Walk leads you around Dales Gorge to all the key sights, with breathtaking views, steps and a few steep sections. The 4-kilometre, 3-hour Dales Gorge Trail descends from Fortescue Falls carpark to the base of the gorge. It travels between Fortescue Falls and the Circular Pool Trail, through fig and eucalypt trees. The Circular Pool Trail is a challenging, steep, class 4 return hike taking two hours.
RELATED: 9 epic WA day hikes that are worth the climb »

Lookouts
Breathtaking Oxer Lookout gazes over the junction of four mighty gorges - Joffre Weano, Hancock and Red Gorge. Circular Pool Lookout offers incredible views of the gorge and fern-edged, amphitheatre-like pool. Knox Lookout delivers the most wow factor at dawn or in the late afternoon, when rock colours dazzle.
RELATED: 10 of the best scenic lookouts in WA »

Karijini Experience
Karijini is a sacred place for the Banyjima, Yinhawangka and Kurrama people, and their connections to the land are shared during the five-day Karijini Experience (6-10 April, 2021). Join an elder's bush walk, stone-grind bush herbs, listen to an Aboriginal opera singer in a gorge amphitheatre, hear rock 'n roll anthems sung in dialect, do yoga on ancient red rocks and feast on green ants and kangaroo under the twinkling night sky.
Getting around
The best way to travel through this outback region is in a 4WD. Many roads are sealed, including the drive into Karijini National Park to the visitor centre, Dales Gorge and the Karijini Eco Retreat, but it's predominantly dirt and gravel roads inside the park, so for best access, bring or hire a 4WD. Hire cars are available at Tom Price and Paraburdoo.
What to pack
Most days are warm to hot, so shorts and t-shirts, sunscreen and hats are advised, along with fly nets for your face and insect repellent. Bush flies are usually worse from February to April. In winter, night temperatures can drop to zero so bring plenty of warm clothes, while in shoulder seasons a jumper and pants should be sufficient. Bring a waterproof camera bag or backpack for when you wade through the gorge waterways.
Travelling safely
Many of Karijini's unsealed roads are corrugated, so ensure everything inside your vehicle, trailer or caravan is secured. Some roads and sights may be closed due to weather events so always check ahead; flash flooding sometimes occurs. Bring a map as signage is minimal in some parts, and there's little to no mobile service. Ensure you feel confident driving on dirt tracks and if you're driving from Perth, check out our long distance driving tips before you go. Encountering wildlife on the road is always a risk factor at night.
Need to fuel up before heading to Karijini?
RAC members save 4 cents per litre at participating Puma Energy stations.
Last updated September 2020