Travel & Touring | WA Things To Do
By: Mark Daffey
The Kimberley is one of Australia's last frontiers – a stunning wilderness filled with ancient landscapes. And there are two ways to see it that are both very different.
Adventurous travellers will find the Kimberley region hard to resist.
Its gorges snake towards the ocean fed by some of the highest, most voluminous waterfalls in the land. There are brittle mountain ranges worn down by time. Beaches and inlets that become inundated beneath some of the world's highest tides. Its offshore reefs and lagoons protect turtles and rays and humpback whales swim in its ocean currents.
There is nowhere else like it on the planet. But which is the better way to explore it: by land or water?
RELATED: Broome and the Dampier Peninsula with kids »

When to go
Gushing waterfalls and incredible lightning displays are typical of the Kimberley's wet season that lasts from November to April. Rivers swell and unsealed roads close, preventing overland travel beyond the Great Northern Highway that connects Broome and Kununurra via Fitzroy Crossing and Halls Creek.
Cyclones may occur during January or February as well, and it's during these months that even the highway often closes. It also explains why cruises don't operate until March – peak viewing time for waterfalls.
The south-easterlies start to blow by April, heralding the arrival of the dry season. Temperatures and humidity remain high and the inland regions begin to open up again. Vegetation is still green by June, when the tourist season reaches full swing. Days are predictably clear and dry and evenings cooler until August.
By September, temperatures are once again on the rise, steadily building until the monsoon rains arrive again in November. Cruises will have halted by this time and overland travel has most likely ceased.
Travelling by land
Broome is the largest town in the Kimberley with holidaymakers drawn to its resort accommodation and beaches. But if you confine your visit only to here then you'll definitely be missing out.
In the east, Kununurra is a leafy oasis set amongst orchards and farmlands that are nourished by the Ord River irrigation scheme. It's the gateway to Hidden Valley, Lake Argyle, the Bungle Bungle Range, and the Wolf Creek meteorite crater. The Ord Valley Muster in May is the biggest event on the town calendar.
Just two roads connect the east and west Kimberley – the Great Northern Highway and the unsealed Gibb River Road. The latter is considered one of Australia's great four-wheel drive routes, linking cattle stations that are as big as some European countries.
Arguably the region's most spectacular natural attraction is the Bungle Bungle Range inside Purnululu National Park, with its massive banded sandstone domes resembling beehives. Easy walking trails here reach Cathedral Gorge and Echidna Chasm, while Piccaninny Gorge's inner sanctum requires an overnight trek.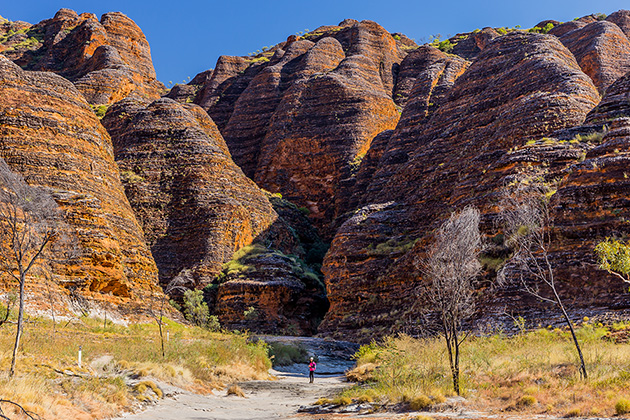 Windjana Gorge and Tunnel Creek, in the Napier Ranges at the western end of the Gibb River Road, are popular destinations on day or overnight tours from Broome. The soaring walls of Windjana Gorge shade a series of pools teeming with harmless freshwater crocodiles, while the extensive Tunnel Creek cave system burrows through the ranges for close to a kilometre.
Following the Gibb River Road east, there are countless opportunities to branch away from the track to swimming holes and waterfalls. The rock pools in Emma, Bell, Galvans, Adcock and Manning Gorges are all great places to wash the red Kimberley dust off after a day of driving.
Back on the highway, Grade V and VI rapids on the Fitzroy River attract white-water rafters during the wet season, then tranquil boat tours run through Geikie Gorge once the rains subside and the river calms.
In the far north, the four-tiered Mitchell Falls is the highest waterfall in Western Australia. Many visitors see the falls by helicopter excursions from cruise ships, but the overland journey along the bone-jarring Kalumburu Road is an adventure in itself.
Travelling by water
With very few exceptions, the Kimberley's splintered, 2500km-long coastline is accessible only by boat. Massive tides ebb and flow with alarming speed and intensity here, dictating cruise itineraries on a daily basis.
This is especially evident at Horizontal Falls, a tidal pinch that's said to be like an ocean trying to squeeze through a letterbox. The best way to feel that power is up close, on a motorised Zodiac ride.
Montgomery Reef is a truly fascinating sight, rising from the sea like a waterlogged spaceship as the tides recede. Also offshore are the Lacepede Islands. Both are regular inclusions in cruise itineraries.
King George Falls is Western Australia's largest waterfall by volume and is most impressive immediately following the wet season, when twin cascades tip over the edge of a sandstone plateau that's 80m high. King Cascade is a spring-fed fountain that tumbles year-round into an inkblack lagoon 20km inland from the Prince Regent River mouth.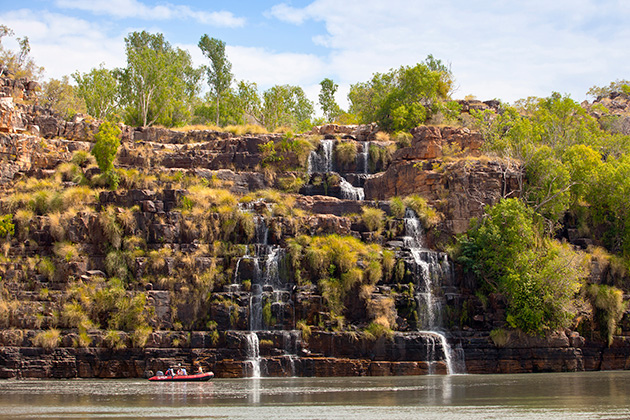 There are idyllic anchorages right along this splintered coast. Headlands and islands rise vertically from the sea in Doubtful Bay and at the mouth of the Hunter River in Prince Frederick Harbour – a notorious haunt for crocodiles and sharks.
Inland stays
If you're going overland, options range from $10-a-night bush camping to $3000 suites. Station stays are the most common way to overnight outside the towns. Several former cattle stations that are now preserved for wildlife and habitat conservation also offer overnight stays.
Station activities include helicopter flights over the Cockburn Ranges, tag-a-long four-wheel drive tours to remote gorges and waterholes, horseback and bird watching excursions, fishing and canoeing, and hikes along walking trails.
At the top end, El Questro offers luxury homestead stays perched on the edge of Chamberlain Gorge, while Home Valley's shady 'Grass Castles' are situated on the banks of the Bindoola Creek.
There's safari-style 'glamping' beside Annie Creek at the Australian Wildlife Conservancy's Mornington Wilderness Camp, comfortable stockman's cabins at Ellenbrae, homestead rooms at Mt Elizabeth and Mt Hart, rustic bungalows at Drysdale River, Savannah huts at Birdwood Downs, and bush huts and an air-conditioned bunkhouse at Diggers Rest.
RELATED: 8 unforgettable station stays in WA »

Guests on APT's Kimberley tours stay in the company's own wilderness lodges near Mitchell Falls, Bell Gorge and the Bungle Bungle Range. Accommodation is typically in private tented cabins, with open-air, threecourse dinners and buffet breakfasts included. Similarly, comfortable tented accommodation is available at the Marunbabidi Wilderness Lodge.
Cruising the Kimberley
Cruises were suspended during 2020 due to the coronavirus pandemic. Some have already resumed this year, with many booked out months in advance. The cruise season begins in March each year – a month or two earlier than land-based tours, which are still at the mercy of the wet season – and ends in October.
Cruises depart Broome, Cygnet Bay or Wyndham. Vessels range from eightpassenger minnows to ocean liners. As a rule, smaller vessels are more manoeuvrable, though passengers on larger ships can also access tight river gorges and beaches by tender.
Standards range from five-star luxury cruise liners to budget charters where passengers sleep in tents and swags on beaches. Facilities may include spa baths, helicopters, Wi-Fi capability, gourmet meals and extensive wine lists, with prices determined accordingly.
COVID-19 prevention protocols vary from one cruise line to another. Before booking, ask what health and booking cancellation policies are in place. Are refunds or credits offered, for instance? Are bookings transferable? Do cancellation fees apply?
By tour or independently?
Land-based tours are essentially chauffeur-driven services through a remote area. You might have to chip in to pitch tents, prepare meals or load up the truck under the watchful eye of an expedition leader, but the rest of the time is yours to enjoy.
By joining a tour, you won't be wasting time driving to and from the Kimberley either – just fly into Broome or Kununurra then off you go.
On the flipside, tour itineraries are pre-determined, with little flexibility to stay an extra day or two. The greatest advantage of travelling independently is the freedom it offers. You can take as long as you like and find camping spots away from the masses.
If you do choose independent travel, be well prepared especially along tracks like the Gibb River or Kalumburu Roads.
Away from the towns, you can restock supplies and fuel up at Mt Barnett Roadhouse (the entrance point for Manning Gorge), at the Imintji Store near Bell Gorge, or at El Questro. Be sure to take a detailed paper map – mobile phones don't always work out here.
Above all, remember to stop, relax and take it all in whenever you can. And count yourself lucky to be able to see one of the world's last true wilderness regions.
Last updated: May 2021
Tile image credit: Tourism Western Australia