Travel & Touring | WA Road Trips
By: Chris Morton
The Kimberley region of Western Australia is considered one of the world's last great wildernesses areas.
Its ancient landscapes are bejewelled with spectacular gorges, waterfalls and vistas not found anywhere else on earth.
For many people, an adventure through the Kimberley is high on their bucket list.
Central to any visit into the region, the Gibb River Road winds its way between natural wonder after natural wonder, delighting the senses at every turn. The best way to experience "the Gibb" is by road and although not as arduous as it used to be, it's not a road trip to be undertaken lightly.
Distance and days
880km from Kununurra to Broome (approx.) Don't rush, allow yourself at least 2 weeks to really enjoy it.
Best time to go
Western Australia's winter is the best time to visit the Kimberley, after the "big wet" has finished drenching the countryside. You can be guaranteed that a good wet season will offer up cascading waterfalls and gorges filled to the brim.
The months of April to November are considered peak tourist season meaning that all tourist operators and services are fully operational.
RELATED: Kimberley travel guide: By land or water? »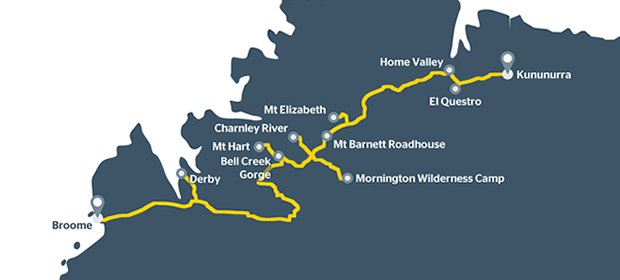 What you'll need to know
Due to the Kimberley's remoteness, ensure you plan and take precautions. Saltwater crocodiles inhabit many waterways (salt and freshwater). Road surfaces can be unpredictable. Drivers should keep their speeds down and take extra care if overtaking. If emergency services need to get to you by road, keep in mind that it is going to take them about the same amount of time it took you to drive to where you are. This is a four-wheel drive only track and a harsh one at that, so make sure your vehicle is well serviced and up to the task.
Corrugated roads and water crossings will slow any vehicle response down considerably and helicopter access can also be limited. Ensure you take adequate precautions, have a well-equipped and fully stocked first aid kit (and know how to use it) and carry adequate food and water for any unforeseen emergency. Consider hiring a satellite phone or getting yourself a satellite communicator for your trip as there is no mobile coverage.
The Kimberley is also home to venomous snakes and crocodiles. You will see crocodiles in the wild, both fresh and saltwater. Never assume any water hole or river is safe to swim in unless advised that it is safe to do so by local authorities. Do not loiter near the water's edge in areas where there are saltwater crocodiles present and ensure that you know your children's whereabouts at all times.
Day one: Kununurra to Wyndham (106km)
For many a trip to the Kimberley includes tackling the iconic Gibb River Road, usually starting in Broome before heading to Derby, along the Gibb and finishing in Kununurra. Tackling it from east to west however gives you the added benefit of finishing your adventure on the ocean.
This guide will make the assumption that you have allowed enough time to explore Kununurra and everything it has to offer and are setting out west. Before commencing along the Gibb, it is highly recommended to drive the one hour north to the historic town of Wyndham.
Book in at Parry Creek Farm before heading into town. Established in 1886 on the Cambridge Gulf, you can soak up the view of five rivers converging or wander through the historic town. Back out of town explore "The Grotto" and then end the day at Telegraph Hill, overlooking the beautiful Marglu Billabong.
Day two: Wyndham to El Questro Station (100km)
Head south and then make your way to the Gibb River Road. El Questro offers a range of accommodation options and is a great place to base yourself. Explore Emma Gorge or soak in the thermal waters at Zebedee Springs.
Day three: El Questro to Home Valley Station (60km)
This 700,000 acre property is a working cattle station and offers a range of activities. With several rivers cutting through it, there are plenty of opportunities to explore gorges and water holes, fish for barramundi or just experience the ancient Cockburn Range.
RELATED: 8 unforgettable station stays in WA »

Day four: Home Valley to Mount Elizabeth Station (250km)
A longer day in the car, Mount Elizabeth is another working cattle station with some stunning attractions. If you have the time, take a day trip out to Wunnamurra Gorge with its spectacular waterfall, white sandy beaches and refreshing water hole. If time permits, check out the station's own 'beach' at Warla Gorge. If you have extra time it might be worth planning to tackle the challenging 440km round trip that is the Munja Track.
Day five: Mount Elizabeth Station to Manning Gorge (45km)
Base yourself at the campgrounds at Manning Gorge located on the Manning River, which offers scenic walks, rock art and a refreshing swim. Galvans and Adcock Gorges are only a short drive away, both offering seasonal waterfalls and a rewarding swim.
Day six: Manning Gorge to Bell Gorge (86km)
Another short day behind the wheel will bring you to yet another spectacular gorge. Stay the night at the Silent Grove campgrounds then drive to Bell Gorge. A short drive will bring you to the top of the waterfalls. As long as there isn't too much water coming down the gorge you can experience a natural infinity pool.
Day seven: Bell Gorge to Mount Hart Wilderness Lodge (96km)
The spectacular Wunaamin Miliwundi Ranges greet visitors as they wind their way into the property. The lodge offers a range of accommodation as well as camping on the banks of the Barker River. Visit Barker Pool, Dolerite and Yellowman Gorges.
Day eight: Mount Hart Wilderness Lodge to Windjana Gorge National Park (130km)
Stay at the Windjana Gorge Campgrounds (bookings essential). This is an unpowered site.
Soak up the ancient ambience of Windjana Gorge as flocks of Major Mitchell's cockatoos squawk a raucous melody.
An afternoon trip out to Tunnel Creek should be high on your agenda where you can make your way along the 750m long subterranean water way. Wear shoes you can get wet and take a torch because you will be walking through water and it gets dark.
Day nine: Windjana Gorge to Derby (145km)
Well maintained roads will bring you off the Gibb and into the town of Derby. At 11m high, Derby boasts some of the largest tide changes in the Southern Hemisphere. Take some time to look through the Mowanjum Aboriginal Art and Cultural Centre, the Boab Prison Tree and one of the world's longest stock troughs.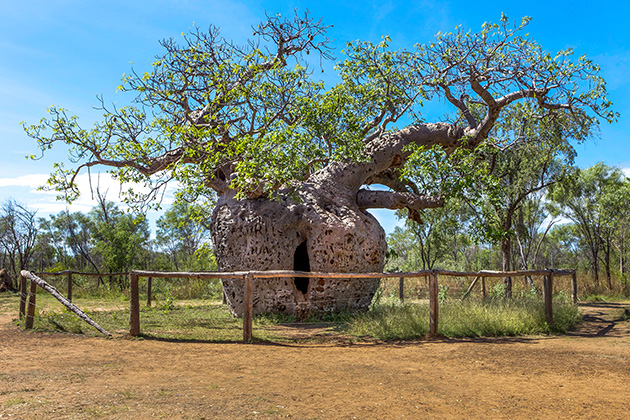 Day ten: Derby to Broome (222km)
Back on the black-top and it's an easy drive from Derby to Broome. You're spoilt for choice on this leg with a range of accommodation options. If you haven't been to Cable Beach at sunset, make sure you do. You can also view Broome's famous dinosaur footprints at various beaches around the town.
You can also view Broome's famous dinosaur footprints at various beaches around the town. Broome is a great place to grab a scenic flight or if the budget allows, a trip out to Horizontal Falls. If this is not on your bucket list then you need to add it.
Ready to tackle this epic road trip?
You'll need a four-wheel drive. If you need to hire one, SIXT is our new car hire partner providing RAC members with 15% off car hire.
Image credit: Tourism Western Australia
Last updated: April 2021