Travel & Touring | WA Things To Do
By: Travis Deane
A lot has happened in mountain biking over the past two years in WA, with many new mountain bike tracks being developed.
And more new off-road bike trails means even many opportunities for all levels of riders to experience the thrills of mountain biking in our spectacular state.
So if there's a mountain bike gathering dust in the shed, it's time to dust it off and head for the hills.
Taking a mobile phone with you, not riding in the heat of the day and taking more water than you think you'll need are all advisable. Like a car, ensuring your bicycle is in good mechanical order before you start your journey will allow you to focus on the ride, rather than the destination.
RELATED: 10 of the best mountain bike trails within two hours of Perth »

1. Compartment 10, Margaret River
Skill level: Beginner to intermediate
Right next to RAC Margaret River Nature Park, this is a favourite for many mountain bikers. Compartment 10, which is within the Wooditjup National Park, is the happy meal of MTB trails. Highly processed, very approachable and loved by all ages. Rolling down from RAC's campsite area onto Fluid trail is loved by all skill levels; big open berms surf you through the giant trees. Crossing the river and climbing up to the plantation, only to bomb down Bender and back, you face a difficult choice. The thrilling jump frenzy that is Line Manager or the berms and wall ride that is Pugsley? To confuse the selection there are many other great short trails to play in this compact network and more trails to discover in this region. The locals are currently rebuilding a complex network of trails behind Compartment 10 which will further cement this area as a crowd favourite.
Location: A busy car park off Carters Road or ride from town along the river.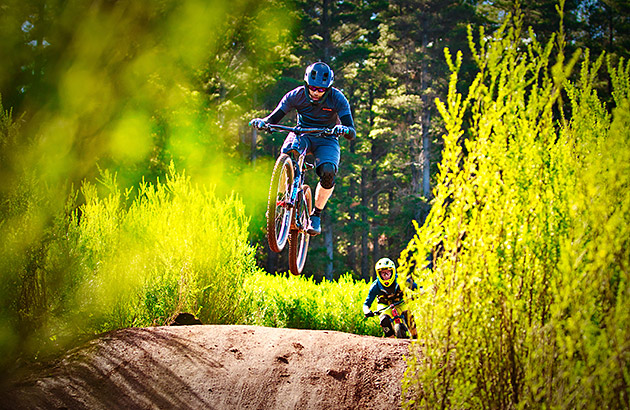 2. Marrinup, Dwellingup
Skill level: Beginner to intermediate
While the new trails are great at Murray Valley, this loop trail near the town of Dwellingup is more of a cross-country stroll with some fun log rides off the side to play. With camping next to the trail head and the Munda Biddi Trail connecting it to Dwellingup town, it would be a great first stop for new riders coming to the area. The nearby trail hub tourism centre is a wealth of information and you can even don some virtual reality headsets to get a taste of what some of the local trails are like.
Location: From Marrinup Campground close to Dwellingup, off Bandicoot Road.
3. Lake Leschenaultia, Chidlow
Skill level: Beginner to intermediate
These trails make a great day out in the warmer weather. The car park overlooks the lake for a post-ride swim, with a lovely grassed area to hang out or use one of the barbeques provided. The lake has lots of activities on offer but the trails that were established in 2019 are a highlight for riders, offering a very approachable network for all ages. Only two trails head up the gentle rise away from the lake and once at the top you have six main choices of trails to descend. The cross-country crowd can do all trails in the network for a total of 12km, while beginners will love approachable trails like Hula and Towies. The crowd favourite is Shakes 'n Ladders which has a bunch of play ramps and jumps for riders to test their skills.
Location: From Chidlow, Lake Leschenaultia is well signposted.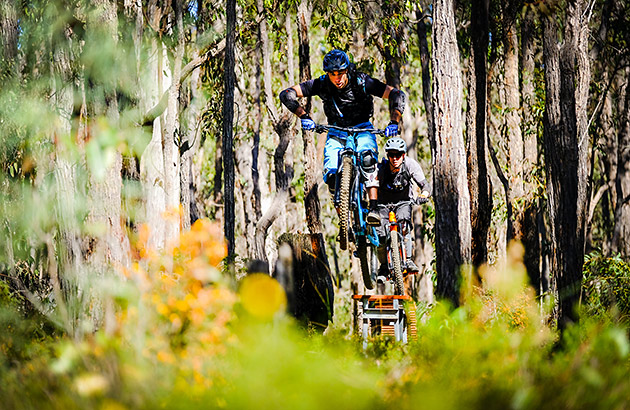 4. Kalamunda
Skill level: Beginner to intermediate
The trails of the Kalamunda network are Western Australia's most popular so any list of trails would be incomplete without their mention. Every weekend hundreds of riders head out to do battle over approximately 50km of signed single-track. The network, despite being busy, absorbs riders very well with directional trails ensuring it doesn't feel like the Mitchell Freeway at peak hour. Parking at the Kalamunda Camel Farm is a great place to start with a skills loop next to the car park with structures showing beginner riders the correct technique to tackle obstacles. For the more advanced riders, the Scorpion trail with its iconic wooden sleeper berms is a hit and it's possible to do shuttle runs off the top of Mt. Gunjin.
Location: Several carparks off Mundaring Weir Road, including the Kalamunda Camel Farm.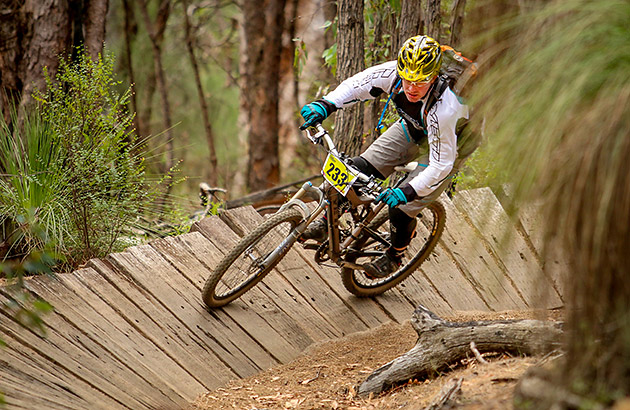 5. Linga Longa Bike Park, Balingup
Skill level: Advanced to professional
Full-face helmets are mandatory at Linga Longa Bike Park in Balingup. That should give you a hint. This place is home to some of the most challenging trails in WA. This is a destination for advanced riders who really want to test their skills. Many of the jumps on the hill are not rollable, so the only way to ride them is to commit and jump them. A great destination to work on your skills, they have a progression park to allow you to tackle challenges at a level you're comfortable with. Being a private park there are open days they advertise as well as race days.
Location: See lingalongabikepark.com for times and directions.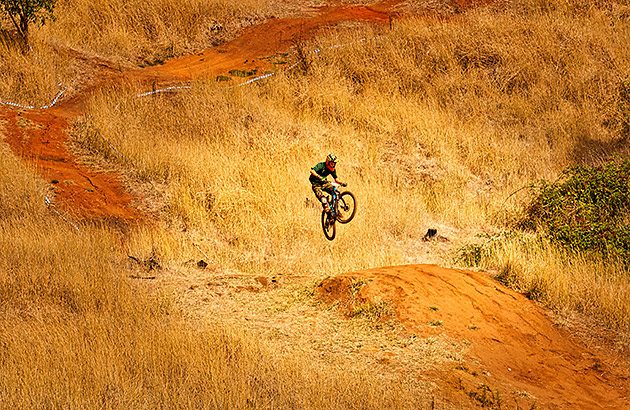 6. Murray Valley, Dwellingup
Skill level: Intermediate to advanced
If there's one spot that everyone is talking about in the riding community it's Murray Valley. Historically there were trails here but after harvesting the pine trees, new trails have just been built with the network big enough to justify the drive from Perth. For those who like gravity fed thrills, some trails have been designed to be shuttled. Try riding a trail called Year 1 for a warm up, Bam Bam and Boom Boom are as their names imply. Techy trails like Blue Marron will test your nerve and high-speed blasts like Inzamia and Karrackatoa will have you riding the brakes trying to slow down. Perhaps a little bit more aggressive than traditional trails, it will please aggressive riders and wearing additional pads (knees and elbows) is advised. Bring bathers for a post-ride swim to wash the dust off.
Location: Murray Valley off Nanga Road via Lane Pool Reserve.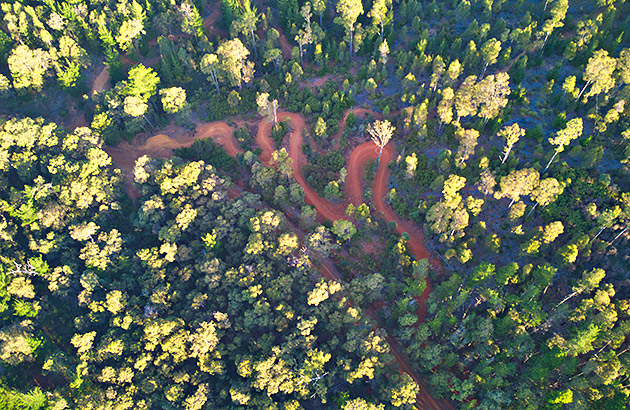 7. Chapman River, Geraldton
Skill level: Beginner to intermediate
From Geraldton's Spalding Park you get a multitude of choices. There's a pump track, jump track, skills area or the cross-country loop out on one side of the Chapman River and back on the other side. Suiting intermediate cross-country mountain bikers, the trail is a mix of limestone and fine soil with the odd interesting section to tackle through rocky outcrops. The loop itself is about 10km depending on where you cross the river but the newly opened boardwalk from the centre of town allows you to ride along the beach out to the trails adding to the experience.
Location: Spalding Park just north of town.
8. Meelup / Dunsborough Country Club, Dunsborough
Skill level: Intermediate to advanced
These two networks back onto one another allowing the informed rider a great selection of fun cross-country trails around the golf course or some challenging trails inside the Meelup Reserve. Short, fun jump trails like Child's Play or Black 'n Blue appear to be custom made for kids on holidays allowing them to hang with their mates and play on their bikes. There are lots of jumps and technical structures inside the Meelup network, so full-face helmets and pads is a good idea. With a lot of these short trails returning to the carpark it's easy enough to have the pads in the car and grab them if you think you're going to try that big double jump of Happy Myles. Regardless, the regional classic run is a blast down Fireys.
Location: Park at Dunsborough Country Club for the cross country loop or a tight carpark opposite Endicott Loop on Cape Naturaliste Road for the Meelup trails.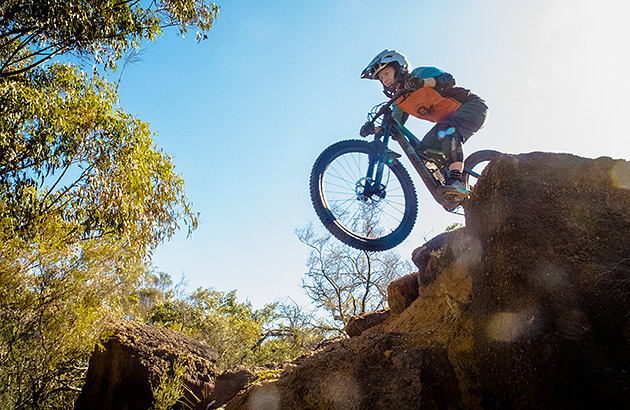 9. Karratha
Skill level: Intermediate
There's a complex network of trails in the hills behind the township of Karratha. The wide open ground combined with a passionate group of local mountain bikers has resulted in a large play area to wear yourself out. The locals dodge the heat in summer with early rides and lots of water but in the middle of winter this network of trails is perhaps the best place to ride in WA.
Location: Running parallel to the town. Easy access if from the BMX track.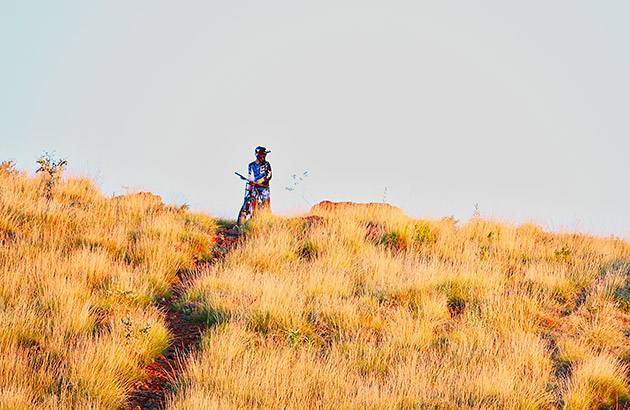 10. Pemberton
Skill level: Intermediate to advanced
Down the road from RAC Karri Valley Resort is a compact network of trails centred around the Pemberton Pool, which is a lovely swimming spot below the town. The hill is quite steep and so the descents down are fast. Riding with elbow and knee protection is advised. The hill behind it has some more mellow trails like Longshanks and Drop Bear. Having said that, the wooden berms down Relentless Blue and the following berms on Cool Runnings are almost as exciting as climbing the Pemberton Tree.
Location: From the Pemberton Pool at the bottom of the town.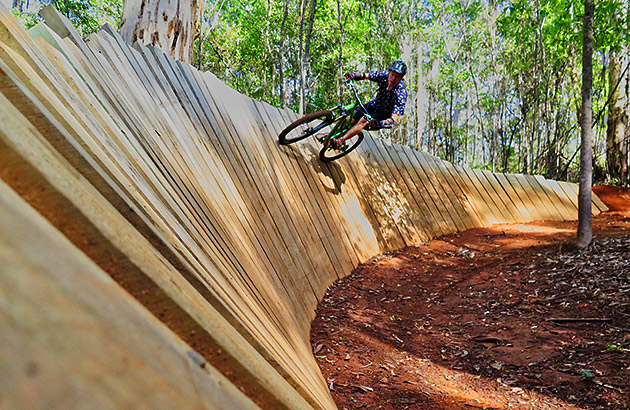 Mountain biking glossary
Shuttles: Getting picked up in a car at the bottom and dropped at the top of the trail avoiding the climbing.
Full face: A helmet that also has chin protection to further protect your face. Compulsory in Enduro and Downhill racing.
Pads: Generally refers to knee and elbow pads for protection.
Wall ride: A wooden structure built at an almost vertical angle allowing riders to ride turn onto the structure and ride on the wall.
Berm: A banked corner on a trail.
Enduro: A popular section of mountain biking that focuses on descending as well as a small amount of climbing. Somewhere between cross country riding and downhilling.
Save up to 20%* off at RAC Parks & Resorts
Stay in the heart of mountain biking country at RAC Margaret River Nature Park or RAC Karri Valley Resort in Pemberton.
*Terms and conditions apply. Member rate varies according to season. See website for details.
Last updated: December 2020