Travel & Touring | WA Destinations
By: Danielle Costley
Discover chestnut groves, paddle along a picturesque river, visit a sheep dairy and be surrounded by tulips and daffodils in a town known dubbed as 'The Garden Village'. Pack your bags, we're going to Nannup.
At a glance
Distance from Perth
267 kilometres, approximately three hours' drive
Why go?
The town is alive with flowers during autumn and spring with flower and garden festivals, artisan markets, music festivals, cheese tastings, tulip farms and roasted chestnuts by the fire.
When to go

Apr - May: Mild temperatures and cool evenings make for great hiking, especially as the forest changes into a vast array of autumnal tones.
Jun - Sep: Rain and cool temperatures. The annual Nannup Flower & Garden Festival is held to celebrate its abundance of tulips and daffodils this time of year.
Oct - Mar: Warm temperatures, low rainfall, cool nights and a landscape that's brimming with wildflowers during spring. The Nannup Music Festival and Regional Rose Festival happen during the summer.

How long to stay
Two to three days.
Need to know
This small township has a fuel station, good mobile coverage, supermarkets, cafés, a library, quaint tea rooms, public toilets, hotel and post office.
Fast facts
Town population: 600
Indigenous people: Wardandi, Bibbulmun, Nyungar and other Indigenous groupings. The word 'Nannup' comes from the Noongar people and means "stopping place".

Insider tip
Pop up to the Tank 7 Scenic Lookout at sunset to appreciate the colours of the valley from the best vantage point in town. 
Related road trips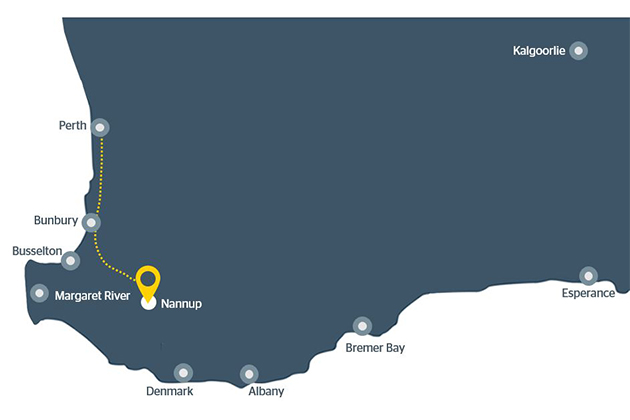 Top things to see and do
Timberline Trail
This 22-kilometre track is a disused railway line that runs between Nannup and Cambray Siding. It can be enjoyed either as a two-day walk or a leisurely one-day cycle, offering spectacular views and unique flora and fauna.
RELATED: 12 epic long-distance hikes in WA »

Nannup Farmers Market
Located on the main street, you will find the farmers and community market which is held fortnightly on Saturday mornings throughout the year. There is an eclectic mix of food, books, arts and crafts to be found. Check at the local visitor centre for dates.
Wadi Farm Equine Learning Centre
A short drive from Nannup is the Wadi Farm Equine Learning Centre, where you can meet or ride one of the rescued horses that reside here. There are training workshops for adults and children, or simply spend time patting or going on a bush walk with the gentle animals as you reconnect with nature.
Munda Biddi Trail
Cycle along the gently undulating route from Nannup to Jarrahdale on the Munda Biddi Trail. Or continue onwards to Donnybrook through Jarrah forest and small historic towns.
Shop local wares and food
Take a day trip along Blackwood River Valley Food and Beverage Trail, where you will eat and drink you way through the region tasting roasted chestnuts, farmhouse cheeses, honey, wines and ciders, enjoy a pub meal, or sit by a log fire on your journey.
Visit the Cambray Cheese dairy to sample award-winning local cheeses. Stop at roadside farm stalls, where you can buy fresh produce straight from the source; or visit an orchard and pluck fresh fruit straight off the trees.
You'll find the Nannup Lavender Farm on Graphite Road, where you can enjoy the sight (and smell) of all the fresh lavender, as well as buy their locally made lavender products. Chestnut Brae, on McInttrick Road, has 70 acres of chestnut forest to admire as well as abundant daffodils planted between the trees. They too sell local products including chestnut flour, syrup and honey.
Holberry Sculpture Walk
In the open gardens of Holberry House, you'll find a series of sculptures and works of art created by local artists. Great for a stroll to admire the craftmanship.
Barrabup Pool
Visit the beautiful, natural wonder that is Barrabup Pool, where you can take a swim during summer. Canoeing is also a popular pastime at this forest-lined pool, and fishing and marroning is seasonal. There are picnic and camping facilities, as well as a platform to walk on and enjoy the views. It also has disabled access.
RELATED: 12 of WA's best inland swimming holes »

Donnelly River Village
Take a short drive to this nearby village that is a historic mill town nestled amidst karri forests. You'll meet some of the local wildlife, such as kangaroos and emus.
Wildflowers
Experience this region's world-famous wildflowers during September. They can be found amongst the trees, in the forest, or along the banks of the Blackwood River that weaves through the centre of the town. Or take a stroll along the Kondil Wildflower Walk which meanders through native trees, birds and a profusion of wildflowers.
Ballingup-Nannup Road
Take a day trip along this scenic road that runs for 40kms between the towns of Nannup and Balingup. Meander along the waterways as you journey through lush, forest foliage and valleys covered in verdant pastures. Delight in the deciduous trees along the way as they turn flame red, yellow and orange during autumn. 
Getting around
Driving is the best way to see Nannup and the surrounding townships. The main street is quiet and pedestrian friendly, offering ample parking and bays for caravans. The Munda Biddi mountain bike trail winds through Nannup, so you can even explore on two wheels.
What to pack
This town experiences cooler temperatures during Autumn through to Spring, so it is wise to pack warm clothing, good walking shoes and a waterproof hoodie. The mornings can be misty during winter, so gloves, scarves and hats could also come in handy.
Travelling safely
The roads are sealed and well signposted, the drives are scenic and winding as you journey through rolling green hills and forest. There can be debris on the roads after stormy weather during the winter months. Be aware of native wildlife on the roads, especially during dawn and dusk. Read more long distance driving tips.
Need a place to stay?
RAC Busselton Holiday Park is just a short drive from Nannup - plus, RAC members save up to 20%* on accommodation.
*Terms and conditions apply. RAC member rate varies according to season. See full website for details.
Last updated July 2020