Travel & Touring | WA Destinations
In 1983, a film crew producing a documentary about Western Australia captured aerial footage of a strange natural phenomenon hidden in the State's far north.
What they saw was the now World Heritage-listed Bungle Bungle Range. Although known to local Aboriginal people in the area for thousands of years, the massive banded domes had somehow been missed by the rest of the world. Such is the scale of Australia's vast North West.
The region's ancient landscapes are breathtaking, captivating and definitely mysterious. There are inland gorges up to two and a half billion years old, rock art that dates back to the Pleistocene Era, massive waterfalls cascading into rock pools surrounded by lush vegetation, and rugged desert tracks that challenge even the most intrepid adventurer. It is a place of incredible contrasts that is quite unlike anywhere else on Earth.
In 2019, more than 350,000 international and interstate visitors travelled great distances to experience our far north. If you've been flying over the North West for years on your way to somewhere else, you have no idea what you've been missing.
Seasonal highlights
| | |
| --- | --- |
| Summer | See Montgomery Reef appear to rise from the ocean under the force of massive tides, and experience the Kimberley's powerful waterfalls on a cruise or scenic flight after heavy rain. |
| Winter | Enjoy dinner under the stars on Thevenard Island in the Mackerel Islands, and watch Broome's Staircase to the Moon over the tidal flats at Roebuck Bay. |
| Year-round | Take a scenic flight over the Bungle Bungle Range in Purnululu National Park, and visit spectacular gorges and rock pools in Karijini National Park. |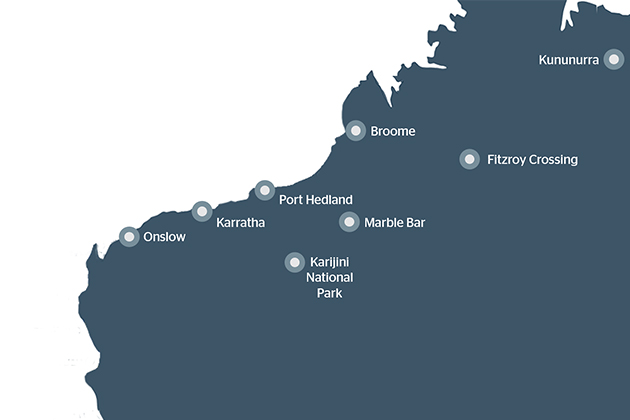 Places to visit
The Kimberley
RELATED: Kimberley travel: By land or water? »

Kununurra
Kununurra is on the doorstep of World Heritage-listed geological wonders, secluded swimming holes and gorges, and a lake so large it's turned mountains into islands. It is home to Aboriginal art galleries such as Waringarri Aboriginal Arts, pink diamond boutiques, outback cafes, the Hoochery Distillery and Mirima National Park - a little-known mini version of the Bungle Bungle Range.
It's also the access point for the Argyle Diamond Mine, the source of 90 per cent of the world's pink diamonds, until production ceases late 2020.
Fascinating air and land tours with Aviair and HeliSpirit continue this year. The two companies fly throughout the East Kimberley's wet season, a time of waterfalls, tropical storms and tranquility. You can be whisked to Cathedral Gorge in Purnululu National Park as a waterfall pours into the natural cavern. Check also with Kimberley Air Tours and Kingfisher Tours for year-round air tours.
Accommodation in and around Kununurra includes camping, glamping, apartments, resorts and beyond. In 2021, El Questro, Home Valley Station and Diggers Rest will reopen, increasing the lure of that iconic four-wheel drive journey, the Gibb River Road. Don't miss the sunset from Kelly's Knob lookout and the barramundi at Lake Kununurra's PumpHouse restaurant.
RELATED: 8 unforgettable station stays in WA »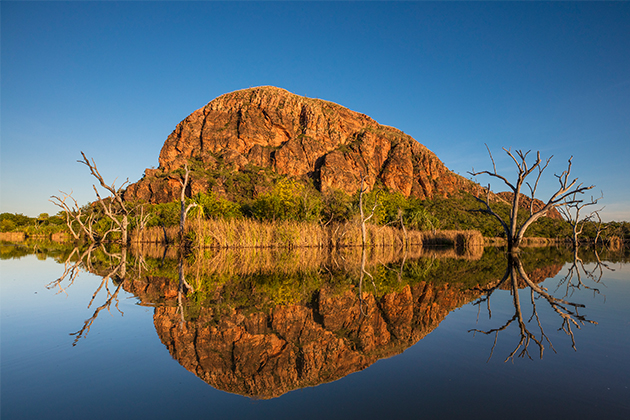 Lake Argyle
The biggest man-made lake in the Southern Hemisphere is found right here in WA. It can fit all the water in Sydney Harbour, 18 times over. The waterway near Kununurra was dammed in the 1970's to irrigate crops. Mountains were inundated, their peaks transforming into 70 islands. The outback paradise also contains 30,000 freshwater crocodiles; don't worry, they're shy and not dangerous.
From Kununnurra, Triple J Tours trace the Ord River to reach Lake Argyle, with Lake Argyle Cruises offering lake tours and also renting out kayaks, canoes, paddle boards, boats and barbeque pontoons, as well as running fishing charters. Kimberley Air Tours' floatplane splash-lands on the lake and flies over the Bungle Bungle Range and Argyle Diamond Mine. Alternatively, stay at Lake Argyle Resort and Caravan Park, which also offers cabins and self-contained villas, and runs its own lake tours. The resort's infinity pool, which has epic views, is the most photographed in the Kimberley. A Lake Argyle sunset cruise, including a dip, is also extra memorable.
Bungle Bungle Range
Nestled within Purnululu National Park is the 350-million-year-old Bungle Bungle Range. Rising up to 300 metres, visitors are dwarfed by the colour-banded domes that lead to chasms, clefts, gorges and well-hidden Aboriginal rock art. Best explore between May and September, the Domes Walk, Cathedral and Piccaninny gorges and Echidna Chasm are must-dos at this extraordinary World Heritage-listed site.
Within the Park, there are two basic camp sites. Or opt for creature comforts at APT Bungle Bungle Wilderness Lodge and Bungle Bungle Savannah Lodge, which also has a pool, bush bar and restaurant. Cabins, safari tents and camp sites at the Bungle Bungle Caravan Park are 52 kilometres from the Park; tours also depart from here, including HeliSpirit chopper flights. If staying overnight, try and do the Domes Walk by moonlight.
For an aerial perspective, take a scenic flight from Kununurra with Aviair, which also covers Lake Argyle, the Argyle Diamond Mine, Ord River and more. Both Aviair and HeliSpirit can add land tours and a stay at Savannah Lodge. Kingfisher Tours offer a similar experience (from Kununurra or Broome), and you can opt for a night at APT's Bungle Bungle Wilderness Lodge.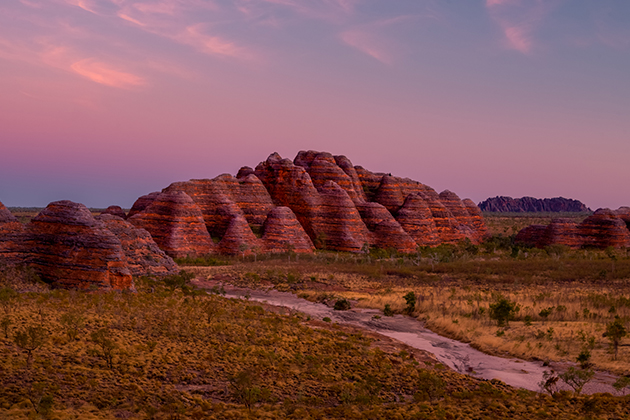 Dampier Peninsula and Buccaneer Archipelago
Where Broome spells relaxation, the Dampier Peninsula and Buccaneer Archipelago equal adventure. Here, the Horizontal Falls are created as enormous tidal movements surge through tight gaps in parallel ranges. While remote, they're a short scenic flight from Broome; Horizontal Falls Seaplane Adventures and Go Horizontal Falls Tours each run exhilarating boat rides through the falls.
Meanwhile, at the tip of Cape Leveque, Aboriginal-run wilderness camp, Kooljaman provides a retreat from the rest of the world. Its tours range from whale watching to Bardi Jawi ranger talks and four-wheel drive tagalong bush tucker explorations. Nearby, see working pearl farm Cygnet Bay through the eyes of a fourth generation pearler and Bardi man Terry Hunter, and stay in a secluded safari tent. Closer to Broome is Willie Creek Pearls where a tour will guide you through the challenges of growing pearls. A new tour operating from Cape Leveque in 2021, Jilinya Adventures, will grant access to rarely seen rock art sites with an Aboriginal guide, combined with a scenic flight and jet boat through the Horizontal Falls.
RELATED: Exploring the North West's precious rock art »
RELATED: Broome and the Dampier Peninsula with kids »
Mimbi Caves
Found 90 kilometres east of Fitzroy Crossing, this fossilised reef system is one to put on the wish list. To visit, you must self-drive and book a cultural cave discovery with the Gooniyandi people. You'll see age-old Aboriginal rock art and marine fossils before sharing damper and billy tea. Or, join a tour with Kimberley Wild Expeditions; the caves are included on the five and nine-day itineraries. The Mimbi Caves camp site has 15 sites, hot showers and barbeque facilities and is a great spot to watch the sunset over the nearby ranges.
Broome
Broome brings to mind familiar images of iridescent pearls, camel trains and dreamy resorts edged with banana lounges. But there's much more beyond that, including dinosaur footprints that can be seen with Broome Dinosaur Adventures (running in 2020) and Broome Hovercraft (resuming in 2021). You can see the cute-as-a-button snubfin dolphins that captivated Sir David Attenborough, on a Broome Whale Watching cruise. Broome is also where most Kimberley coastal cruises depart allowing you to have two holidays in one. Book a tour with the entertaining Bart Pigram from Narlijia Experiences who has a passion for telling the complete story of life in Broome.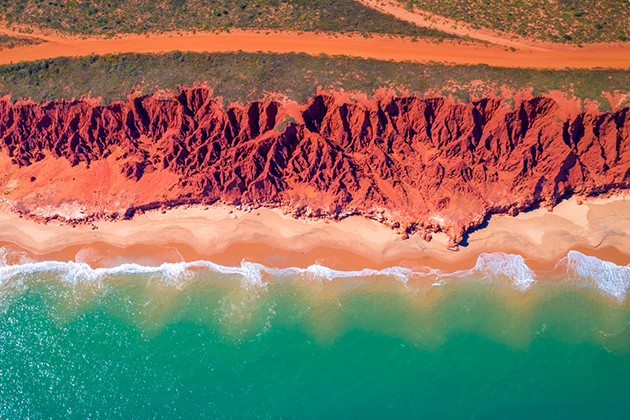 The Pilbara
Karijini National Park
The rock formations in Karijini are stacked like French crepes. Smooth and curved, the stones were formed before the Earth had oxygen, more than two billion years ago. Karijini bears an affecting energy. It's a place of deep connection for Aboriginal communities, best experienced with safety-conscious local guides. West Oz Active Adventure Tours (reopening in 2021) scramble, abseil, kayak and tube to Hancock, Weano and Hammersley gorges and beyond. Lestok Tours caters to older visitors, while The Flying Sandgroper offers more active itineraries (open for 2021).
You can also immerse yourself in the region's Aboriginal culture on country at the Karijini Experience event in early April 2021.
At Karijini, four-wheel drive vehicles are recommended (BYO or hire at Paraburdoo Airport), but you can manage with a two-wheel drive weather depending - always check ahead. There's a phone box at the entry of Karijini Eco Retreat for non-Optus users; the nearest petrol station is at Tom Price, 80 kilometres away.
Onslow
Perched on the often-forgotten coastline of blonde beaches and calm ocean some 300 kilometres south-west of Karratha, Onslow gets busy from June to August as southerners chase balmy air and sunshine (the airport has Perth-direct flights). Cool down at the town's Water Spray Park and new municipal pool, or drive on the beach at Four Mile Creek and lunch in the picnic area. Clink glasses in the Onslow Beach Resort's Beach Club, before exploring Aboriginal artefacts, vintage spoon collections and medical oddities at the Goods Shed Museum. Ask about town tours at the visitor centre - run on demand, they're fantastic.
Onslow has free camp sites with basic facilities, or the Ocean View Caravan Park edges the water and charges from $40 per night for two adults. Everything in Onslow is open as normal for 2020. Check the full moon calendar and time your visit for the Staircase to the Moon (May to September).
Mackerel Islands
Thevenard Island is like a Rottnest of old, bearing only 13 villas that overlook 26 boat moorings, while Direction Island (currently closed for refurbishments) offers an even more secluded and private stay. To reach Thevenard Island within the Mackerel Islands, take the ferry from Onslow or light aircraft departing Exmouth, from late April to October (three-night minimum stay). It attracts keen fisherfolk and back-to-basics-loving holidaymakers. Activities are simple: game fishing, snorkelling over coral and tropical fish (best from May to July), whale watching (July to September), beach combing and barbeques at night. The island is self-catering and there's a mini mart onsite, or pre-order groceries to fill your fridge before you arrive. There's a fresh fish welcome dinner under the stars each Tuesday and Friday night, connecting with the ferry arrival.
RELATED: 10 of WA's best off-shore fishing spots »

Burrup Peninsula
Why is the Burrup Peninsula so special? It's home to one million ancient rock engravings, also known as the largest concentration of petroglyphs in the world. To the untrained eye, they may seem like faded images on rock faces, but with the gentle guidance of Clinton Walker, a Ngarluma and Yindjibarndi man who runs Ngurrangga Tours, 50,000 years of recorded evolution unfolds before you. Ask Clinton about songlines marking thousands of years of Indigenous storytelling and wayfinding. At a site that's open to the public, 35 kilometres out of Karratha, there's evidence of pre-historic animals such as the three-metres-tall spotted kangaroo. There are also sea creatures, recorded after the end of the last ice age. New operator, Pilbara 4WD Charters offers a chauffeured option.
Planning a visit
Getting there and around

Drive: By road from Perth, access is via North West Coastal Highway and the inland Great Northern Highway. Although you can reach many attractions in a two-wheel drive vehicle, a four-wheel drive will give you more options. Consider hiring one when you get there.
Fly: Virgin, Qantas and Air North airlines fly from Perth to Broome and Kununurra. Qantas flies to Karijini (Paraburdoo or Tom Price), Karratha and Port Hedland.
Bus: Integrity Coach Lines has coach services to a number of North West destinations.

When to visit
Winter, from May to October, is the ideal touring season with warm days and cool evenings. Summer extends from November to April (including cyclone season to March), with hot, humid conditions. Roads may be flooded or closed after heavy rain so check ahead and travel with care.
Related road trips
Ask a local
For more information about North West touring and the location of regional visitor centres, visit Australia's North West.
Need a place to stay in the North West?
Members save up to 20%* on accommodation at RAC Cable Beach Holiday Park.
*Terms and conditions apply. See full website for details. Member rate varies according to season.
Image credit: CJ Maddock
Last updated September 2020