By: Fleur Bainger
Lions jumping on car bonnets. Dolphins balancing performers on their backs. Stallions rearing on two legs.
Perth's shuttered tourist attractions may seem like something out of a child's over-active imagination. But for many locals, those crazy memories are real.
Although this nostalgic story may bring back happy memories for some, it's fortunate that today our most-loved tourist attractions have stopped using performing animals.
But for those who remember those crazy days, here are five Perth fun parks that used to draw a crowd.
RELATED: 7 of WA's quirkiest attractions »

Bullens African Lion Safari
Can you imagine driving your car up to a pride of lions, in Perth? Western Australia's first and only open-range zoo opened in Wanneroo in 1971 with some 30 lions and cubs, split into two prides.
Bullens African Lion Safari was wildly popular with locals and tourists, despite the occasional heart flutter: black and white footage and countless photos of lions mounting car bonnets reveal that interactions could take any turn. Lions were known to chew windscreen wipers and tyres, and even climb up on top of car roofs, delivering terror and excitement in equal measure.
The owner's tongue-in-cheek signage at the park's entry acted to build anticipation of the unexpected; one such sign stated, "Trespassers will be eaten."
The safari park was started by Stafford and Ken Bullen as a refuge for displaced circus lions, some of which were tame, including a lion named Ferocious. Their park manager John Gilbertson was open about having zero experience with exotic animals, having only had a domestic cat and dog at home before starting his new role.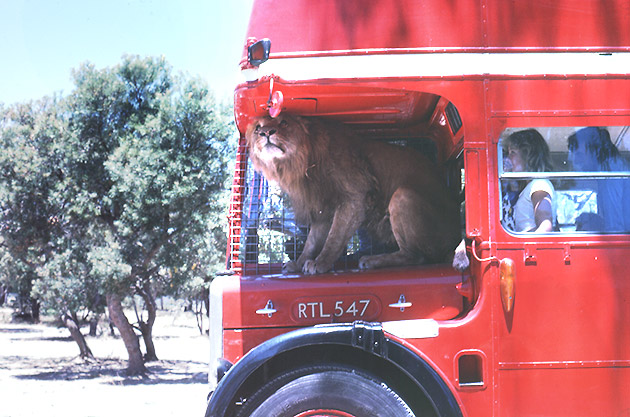 Along with the lions, camels, ostriches, emus and koalas were kept in separate areas and were also known to approach visiting vehicles of onlookers.
The park ran for 17 years but was hampered by a number of events in its latter years. In 1981, American actress Tippi Hedren (mother to Melanie Griffith) visited, sharing her dismay at the conditions the lions were kept in with local media.
One year later, a man got out of his car and walked into the lion compound holding a cross and wearing symbols of religious devotion. A pack of lions due their mid-morning feed mauled him to death.
When the park shut it gates in 1988, it cited the high cost of animal feed, pricey public liability insurance and the impact of animal rights activists as contributing factors.
El Caballo Blanco
During its heyday in the 1970s and 80s, El Caballo Blanco drew a quarter of a million visitors a year, all of them eager to see the dancing white stallions with their manes decorated in rainbow colours.
The Spanish theme park in Wooroloo, in the Shire of Mundaring, was the brainchild of Perth businessman Ray Williams, who had fallen in love with Spain's Andalusian horses after seeing the famous Alvaro Domecq troupe perform in London. Williams had been travelling the world in search of the perfect breeding horse to cross with Australian horses and create competition animals, and that night he felt he'd found it.
After witnessing the skills taught by the Andalusian School of Equestrian Art – where horses would goose step with bent knees, curl their necks, and kneel - he travelled to Spain and subsequently bought a stallion called Bodeguero, and a handful of purebred, in-foal mares. They arrived in Perth to form the first Andalusian horse stud in Australia.
El Caballo Resort, iconic for its arching Spanish architecture, opened in 1974 and soon became a bustling tourist attraction and popular wedding venue.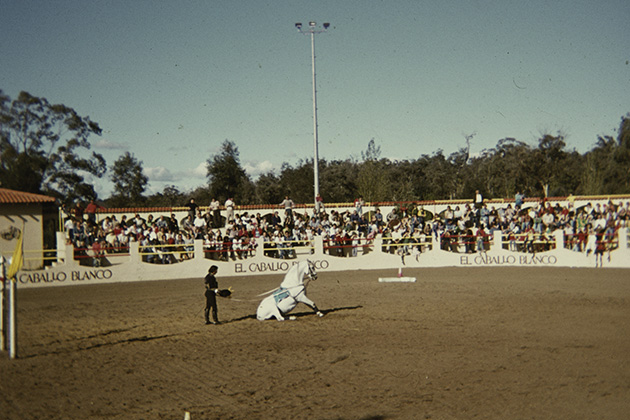 Along with horses topped with riders wearing flamenco skirts and diamond bodysuits performing in a 2000-seat outdoor arena, there were appearances by personality Tony Barber and attractions such as the 'Rampage' aqua slide, water playgrounds and a chair lift.
In the 80s, entry was $7 per adult and $4 per child. For decades, millions of happy memories were made.
In 2006, a new owner attempted to bring back the magic of El Caballo Blanco, which is Spanish for 'the white horse', but it closed soon after and the stables have been empty ever since.
In 2020, the property was sold to an Aboriginal charitable trust that plans to use it to house the homeless, run a refuge and rehabilitation centre and operate childcare and aged care facilities.
Castle Fun Park in Mandurah
Once upon a time, there was a grand castle at Halls Head in Mandurah. It was surrounded by an ornate church and a village of charming miniature buildings from around the world that people used to marvel at as they wandered by.
The towering, stark white and pale blue replica of Neuschwanstein Castle in Bavaria was the star attraction but sadly, that's largely all that remains from this abandoned attraction.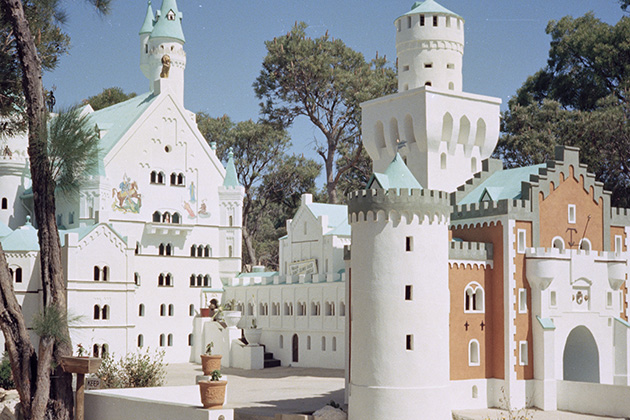 Castle Fun Park was constructed in 1979, complete with a waterfall-fed, Australia-shaped swimming pool, mini golf course, go-kart track, nursery and playground, as well as a canteen that prepared lunch orders for a local primary school.
To children, the highly decorated buildings seemed huge but in reality, they were just over adult head-height. The castle's towers and throne room could be visited, forming enchanting memories for countless kids.
The Mandurah bypass bridge is blamed for killing the fun park, diverting carloads of people who would normally use it as a stop-over, away from the coast. It closed in the early 2000s, with many of the structures torn down to make way for housing. A bushfire razed what was left of the park in 2007.
While many families have rallied to have the fun park near the foreshore restored to its former glory, it now looks set to become a childcare centre adjoining an aged care facility, with the City of Mandurah granting development approval in January 2021.
Happily, the developer says the castle will remain as part of the childcare centre, renovated, repainted and set to delight children once again.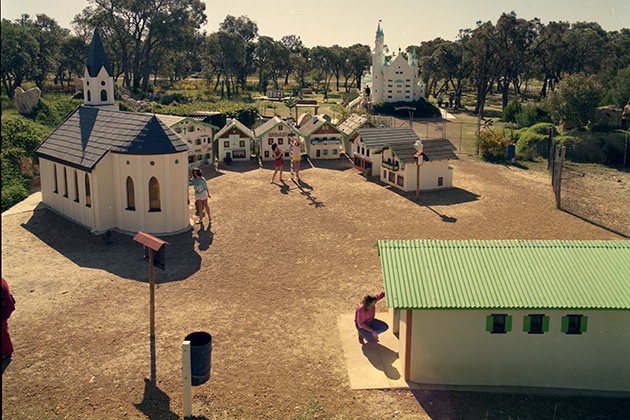 Atlantis Marine Park
The infamous WA businessman Alan Bond dreamt up Atlantis Marine Park as part of his Yanchep Sun City project. Among his proposed satellite city housing 200,000 people, he envisioned a mega resort and an oceanic theme park to rival Disneyland.
Found at Two Rocks, 65km north of Perth's CBD, Atlantis rose from the sandy scrub in 1981. It was water world, WA style.
There were acrobatic dolphins, caught off the coast and trained to do jumps in formation, play ball and carry a standing performer on their backs. There was a huge King Neptune statue, playful seals, Roman columns, waterslides and pools.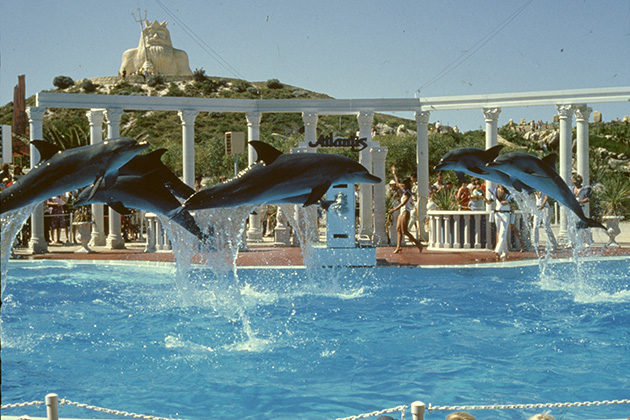 There was a trampoline park, pedal boats, an aquarium and a huge limestone clock as well as celebrity sculptures featuring Charles and Diana, The Beatles and Marilyn Monroe.
Despite the fanfare, and one million visitors through the gates in its first year, Atlantis failed to convert. The touted tourism and population boom never happened, and a Gold Coast of the West never eventuated.
Like its namesake, drawn from the 2300-year-old Greek myth, Atlantis Perth sunk into oblivion and was shuttered by 1990, citing financial troubles.
What remains of the theme park today is abandoned and overgrown, although the heritage-listed Roman god of the sea still holds his trident aloft, perhaps hoping for a resurrection.
In 2011, a group set up on Facebook called for the park to be revived in some form, with more than 10,000 people putting their names to a petition on the social network's page. The push resulted in Neptune being restored in 2015 (it took 11 workers, two weeks and 70 litres of paint), while the rest remains in ruin.
Numerous plans to redevelop the site have been floated in the years since. Happily, none have suggested painting the sandhills green – something Bond once did to make the land look more appealing to prospective buyers.
Luna Park Scarborough
Melbourne and Sydney aren't the only capital cities to host a Luna Park; in the summer of 1939, Perth had its very own open in Scarborough.
The WA version had the iconic open-mouth façade, but its appearance was distinctly different to the grinning, east coast gateways. Ours was blue-faced, cross-eyed, pointy-eared and sported only three teeth illuminated with neon lighting, resembling a genie.
Inside the perimeter there was a ferris wheel, dodgem cars, flying boats, a Gee-Wizz ride, merry-go-rounds and a sideshow alley with laughing clowns, shooting and archery galleries. Positioned beside the sand, admission was free.
Few recall that Luna Park actually began its life years before, in 1928 in Cottesloe, initiated by an English immigrant named Lionel Morris who had been captivated by Melbourne's Luna Park.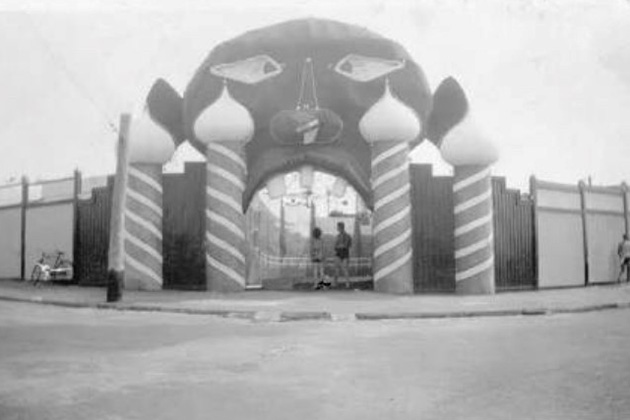 He banded together existing amusement booth operators and created a bigger, more sparkly attraction complete with a 'Palais Des Danse', an open-air platform jutting over the sand that would host circus artists, Vaudeville cabarets and jazz bands each night (an idea also appropriated from Melbourne).
But after Morris upset a number of influential Perth locals, the park was shut down, later relocating to Scarborough. The 'new' Luna Park entertained friends and families for 33 years. It was a buzzing time for the beach suburb, with the Scarborough Hotel opening, as well as new roads, shops, houses and flats.
Yet it's been claimed there was a dark side to Scarborough's Luna Park, with "crimes committed, conspiracies, cover ups, pistols shot, fist fights, jail sentences, fraud and infidelity in grand proportions," according to Roy Maloy, author of a tell-all 2018 book, entitled The Dark Side of the Moon.
He suggests "gambling, prize fights and paying grafts to security guards," led to the demise of Luna Park, which was knocked down in the 1970s, making way for what is now the Luna Maxi Mart Shopping Centre. Next time you buy a pastry from the Luna Bakery Cafe, imagine the laughing clowns that once turned their heads where you now stand.
Although this nostalgic story may bring back memories for some, it's fortunate that today's most-loved tourist attractions have stopped using performing animals.
Want to check out some of Perth's newer attractions?
RAC members receive a range of exclusive member offers and discounts across Perth and WA.
Some images reproduced courtesy of Wanneroo Regional Museum.
Last updated: April 2021