Travel & Touring | WA Road Trips
By: Julie Hosking
So close to Perth it's often overlooked as a getaway, the Peel region is a natural wonderland you really should take the time to explore.
It's pitch-black in bushland south of Mandurah as a small tour group, with headlamps lighting the path ahead, makes its way along a trail, hoping to spot some of the region's nocturnal critters.
Before long, the trail starts to come to life. Six endangered ringtail possums make an appearance, along with five brushtail possums. There are even glow-in-the-dark mushrooms to marvel at, along with the odd carnivorous plant. It's an inspiring way to discover the wonders of a region that has a lot to offer, all within a short distance of Perth.
Sebastian Jones and partner Jamie Van Jones started Salt and Bush Eco Tours after coming back to Australia when COVID hit. Their work as nature guides has taken them around the world, from Patagonia to Greenland, but they insist the Peel region is every bit as majestic.
Standing on the boardwalk overlooking the spectacular Lake Clifton thrombolite reef, just 30 minutes south of Mandurah in Yalgorup National Park, it's hard to disagree.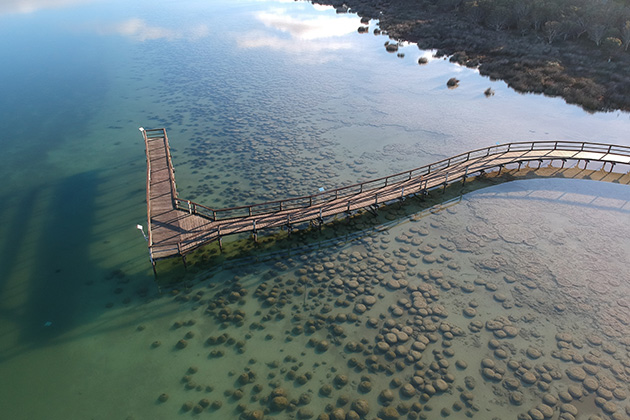 The dome-shaped rocks stretching for more than 6km are, in fact, communities of microbes that enabled life as we know it, pumping out oxygen for hundreds of millions of years. At about 2000 years old, the Lake Clifton thrombolites are relative babies but are among the few remaining formations in the world — and are as fragile as they are important.
"We want to help people realise just how special what they are seeing really is," says Sebastian, who also runs stargazing tours at the thrombolites.
These Insta-worthy creations are just one of the ways in which Peel, Western Australia's smallest geographic region, punches above its weight.
For starters, most of its attractions can be visited within a day trip from Perth, though you'd be selling yourself short if you didn't stay longer.
Jarrahdale and Serpentine
The forest trails and historic settlements of Jarrahdale/Serpentine are less than an hour's drive away. Jarrahdale was Western Australia's first timber town, and many of its former workers' cottages have been restored. Pop into the tea gardens and browse the antique stores and artist studios.
Stay the night in one of Jarrahdale's holiday railway carriages so you can spend the next day exploring the area's abundant woodlands, parks, waterfalls and rivers.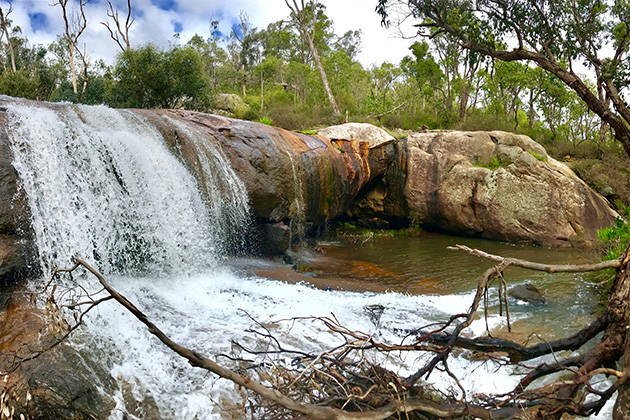 Jarrahdale's Millbrook Winery is as celebrated for its food as its award-winning wine. Executive chef Guy Jeffreys oversees a no-waste, sustainable operation, growing all the kitchen's fruit and vegetables in a 90-year-old heirloom garden.
Serpentine National Park is a popular spot for picnics, as is Serpentine Dam, and there are bush walks everywhere you turn, along with many scenic mountain bike trails for those wanting to explore on two wheels.
Oldbury and Boddington
If you haven't packed a picnic, head up the road to Oldbury, where the family-friendly King Road Old Brewing Co does a fair trade in woodfired pizzas, as well as a fine selection of handcrafted beer and cider (be sure to nominate a skipper).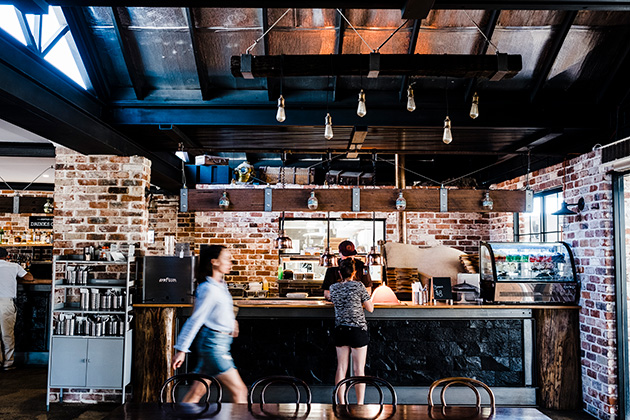 Boddington, about 80km south-east of Jarrahdale, makes the most of its setting on the banks of the Hotham River. You can fish, go canoeing, swim at Ranford Pool, or wander the old railway reserves in search of native birds and other wildlife. There's even a fully-fledged rodeo on the first Saturday in November.
Go West Tours also runs tours of Newmount Boddington Gold, one of Australia's biggest gold miners. You can visit the pit, watch the gold being ground, separated and then melted in a 1100C furnace, before trying your hand at panning for gold. Bookings are essential.
Dwellingup
Dwellingup, just 90 minutes from Perth, is a gold mine for nature lovers and thrill seekers. The town is tiny but the surrounding landscape is a hive of activity for young and old. Take the picturesque 18km King Jarrah Walk Trail along the Murray River or board the Hotham Valley Tourist Railway (weekends, November to April) for a trip through forest and farmland.
Head to Lane Poole Reserve for the real thrills. As well as all the water activities you could wish for, you can strap yourself in for a zipline rush with Trees Adventure (open Tuesday to Sunday, daily in school holidays), whizzing through the treetops on an obstacle course; or hit one of the Murray Valley Mountain Bike Trails, which cater for all skill levels. You'll definitely earn one of Wine Tree Cidery's thirst-quenching ciders made, of course, with Dwellingup apples.
To get to the heart of this special corner of the state, join Maitland Hill on a Kaarak Dreaming tour. The Aboriginal guide and artist will talk about the Noongar history of the region, teach you the six Noongar seasons and the traditional way to make a fire, as well as share Dreamtime stories.
"If there's one thing I want people to take away from a tour with Kaarak Dreaming it's a connection to country – something they will feel anytime they return," he says. "It's about walking from two worlds – white and Noongar – into one where we all have the same connection. Dwellingup is the place you can do that."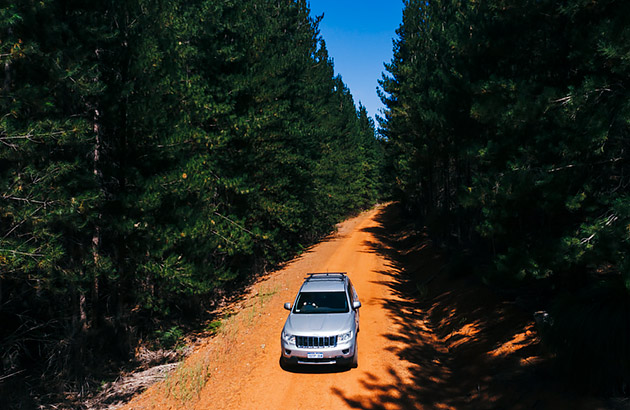 Mandurah
Mandurah is a far cry from the rich forests of Dwellingup but WA's largest regional city has plenty to offer beyond its popular marina. The appropriately named Dolphin Quay is, however, a good place to put down anchor.
The food at Flics Kitchen is as delicious as it is innovative but be sure to book — it's one of many popular places along bustling Mandurah Terrace. Samudera does a fine breakfast, too.
A cruise is almost mandatory in Mandurah. Even on a wet and windy day, the waterways are calm and the wildlife abundant as the crew aboard Mandurah Cruises steer in and around the waterside mansions, which are no match for the beautiful family of dolphins swimming by the bow. The matriarch Nikki, thought to be about 30 years old, has had several calves – today daughter Christmas has brought her offspring, Spirit, along for the ride.
The boat slows down at various points to pull up some crayfish and crab pots, so guests on board can get a close-up look at the region's famous crayfish and blue manna crabs. Mandurah Cruises' Wild Seafood Experience, a 3.5hour adventure on a crayfishing vessel, will take you out on the ocean to pull up crayfish pots before you tuck into a barbecue buffet of fresh seafood: barramundi, prawns, crabs, salmon, octopus and, of course, crayfish.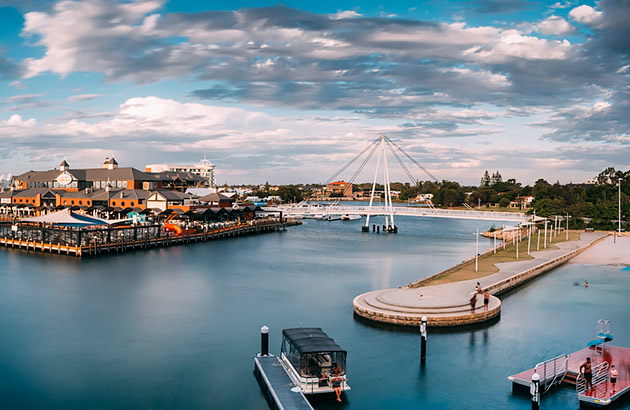 Just about any water sport you can think of is on offer here – jetskiing, surfing, scuba diving, water skiing, or simply swimming at one of the many beaches.
WhatSUP Board Hire & Adventures runs stand up paddle boarding in Mandurah from 1 October to 30 April (depending on the weather). The first lessons happen on land, as co-owner Steve Overton explains where to stand on the board, how to move the paddle so that you're not going around in circles, how to stop, and how to get up and down on the board while you're on the water.
Once you've learnt the mechanics, it's time to put it to the test. Mandurah offers a myriad of sheltered spots with little to no wind, making it perfect for novices. And there's a good chance a dolphin or two will come by to keep you company.
Water is the lifeblood of this region and, at twice the size of Sydney Harbour, the Mandurah Estuary and Peel Inlet have more than 130sqkm to explore, and one of the most interesting ways to do it is on a houseboat.
Mandurah Houseboats offers a range of "homes away from home" for hire that you can take around the estuary, inlet and up the beautiful Murray River. There are ample mooring sites to pull up for the night, stop for some birdwatching, or a bite to eat at the local tavern. You can even amble up the river to spend the day at the Peel Zoo — it beats conventional transport. Best of all, you don't need a skipper's ticket. All boats are equipped with GPS, so you can't get lost, though you'll feel blissfully away from it all.
RELATED: The rise of houseboat holidays in WA »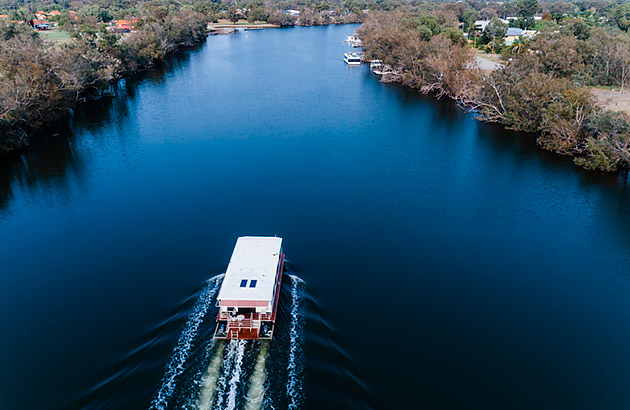 More of Peel's hidden treasures
There are all kinds of hidden treasures in Peel, if you know where to look. Just 10 minutes' drive from the marina, the Creery Wetland Nature Reserve feels like another planet. Development has encroached on the stunning samphire saltmarshes, part of the internationally recognised Peel Yalgorup Wetlands. Once 178ha, the reserve's remaining 29ha was saved thanks to a local environmental group.
Zoologist turned nature guide Sarah Way, who runs Ways to Nature tours, realised more people would see its value if they learned why it matters. As she leads you along the boardwalk, flanked by a carpet of green, pink and red samphire — now regularly seen on top chefs' menus — and through the woodlands, Sarah explains its importance.
It's not just the resident waterbirds such as the cormorants, pelicans, egrets and black swans that depend on the nutrient-dense wetlands, but the migratory birds that make incredible journeys from the northern hemisphere every October to April.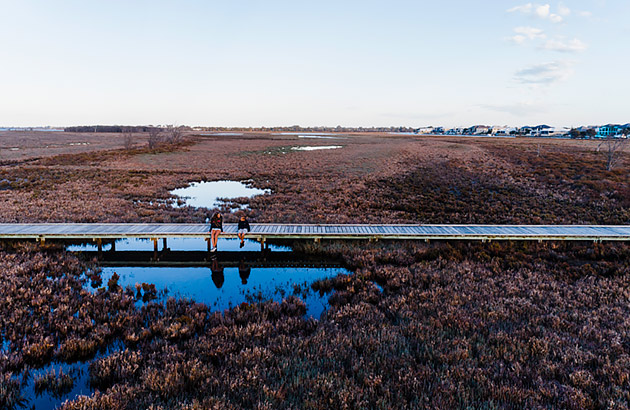 "Some of them are quite small, like the red-necked stint that we have here in huge numbers – they're only about as big as a Tim-Tam," Sarah says. "And depending on where they're coming from, they're travelling between nine and 13,000 kilometres."
Surely they deserve to enjoy the delights of the Peel region just as much as we should.
Need to fuel up before hitting the road?
RAC members save up to 4 cents per litre at participating Puma Energy and Better Choice service stations.
Image credit: Visit Mandurah, Russell Ord Photography