Travel & Touring | WA Things To Do
By: Travis Deane
Western Australia is quickly becoming an epicentre for mountain biking and there are plenty of great trails to explore even within a couple of hours of Perth.
In the world of mountain biking, WA has already become renowned for its tracks and events, but a number of significant local developments are set to catapult the state to new heights as a world-class mountain biking destination.
Racing series like the Western Australian Gravity Enduro now have more participants than any other mountain bike series in Australia. Then there are events like the South West's Cape to Cape which is the largest mountain bike event in Australia, attracting interstate and international competitors alike.
If you live in Perth, there are some amazing experiences within a couple of hours of the city so we've compiled a list of excellent trails that you can ride on a day trip from Perth.
RELATED: Heading further afield? Check out WA's best mountain bike trails»

Collie
Collie has been awarded more than $10 million to build trails in the region and the bush around Collie has some of the best terrain in the state for mountain biking. Right now there are teams of passionate professional mountain bikers building trails near Collie that will come online in the coming months.
Only two hours from Perth (depending on where your driveway is) the area surrounding Collie has some great riding. The trails themselves are being packaged into a collective called the Wambenger Trails which is the name of a small local marsupial.
1. Wambenger Trails - Arklow
Newly built just outside Collie, if you have the legs these trails will wear them out. Rolling terrain brings classic old-school mountain biking with more log rides off the side than anywhere in the state. A blast down Dead Cats is a local favourite and crossing the road onto Rays Trail gives you a tight twisty network that ensures you're never dozing off.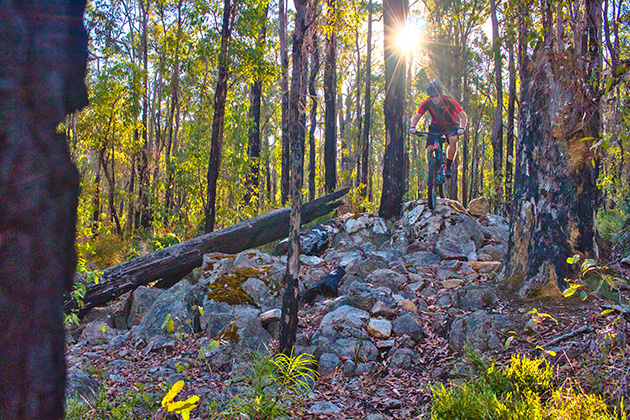 2. Wambenger Trails - Wagyl Biddi
These trails are right next to Collie township. A tight network next to the lovely river, it's a fun place for riders of all ages and abilities. Go with the family and pick and choose which short, sharp trails you want to tackle.
3. Wambenger Trails, Wellington National Park
These hills are part of the Darlington Escarpment which runs all the way up to Perth. The vertical drop from the top to the bottom is actually the greatest in the Collie area, and with trails currently being built, this will be the best place to get a long descent in the region.
Currently inside the national park you can camp at Potters Gorge, which is right on the lake and also has a pump track that's great for kids to play on. Across the valley is the extensive Pile Road Mountain Bike Trails.
There are also the downhill trails at Welli Mills or great camping and cross-country riding at Kambarang, which are both just around the corner. There are loads of options here, with a lot more planned.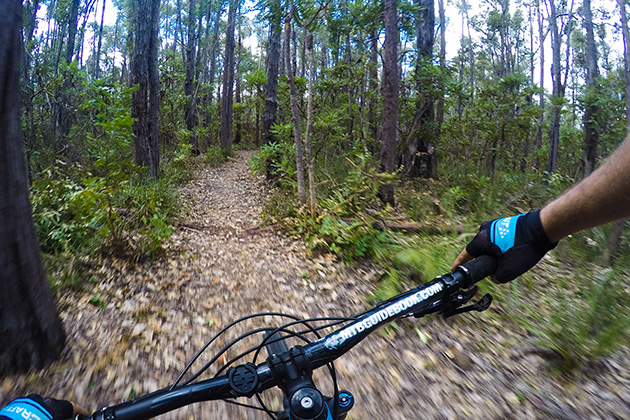 4. Murray Valley, Dwellingup
After some welcome facelifts, the trails that opened up in the Dwellingup region in 2020 have the WA riding community in a hot fluster. The town of Dwellingup has a great visitor centre with info about all the trails.
For the less brave, you can slip on a pair of VR goggles and experience the trails within the safety of the visitor centre itself. There is also a great pump track for the kids and all levels next door.
The trails are networked allowing the gravity riders to do 'shuttle runs' (where a car takes the riders to the top of the hill). Trails like Inzamia and Karrackatoa have some of the best flow in the state, giving riders the feeling of surfing through the bush. It's a very addictive feeling. Other trails here have proved to be tough on riders and even tougher on their collarbones with some kicky jumps.
For those who want a mellower experience, the world-famous Munda Biddi Trail goes through the heart of the network and there are some great, well-signposted green (beginner) trails in this network to warm up on. If all that is too much, pack your bathers as the local swimming area next to the trails is a treat.
5. Marrinup Trail, near Dwellingup
Just next to the town of Dwellingup is the Marrinup network. Being in a tight loop it's a good intermediate trail to loop out on and there is even a quick shortcut that makes it great for kids.
You can also link onto the Munda Biddi Trail to ride back into town, but once you've got a feel for this network, you'll probably want to blast out a lap or three.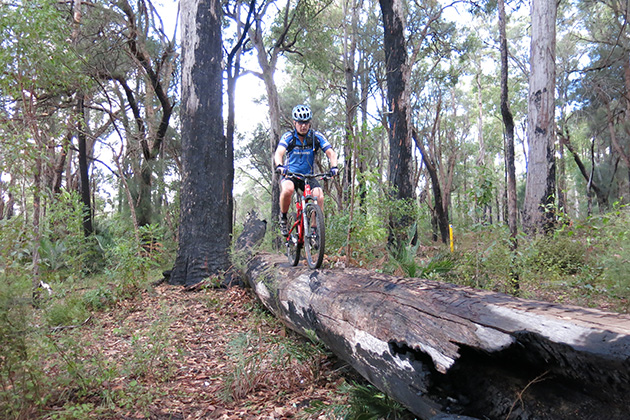 6. Turner Hill, Dwellingup
A decade ago this was a favourite destination for riders, with a 10km loop delivering an amazing selection of jumps, log ridges and high speed corners. It's a bit out of the way but no one regrets blasting around Turner Hill.
Tiny Turner is just next to the main network and being a short (1km) tight network, it's great fun to ride here with kids.
7. Langford Park, Jarrahdale
WA is known for its pea gravel, which is marble-shaped gravel that can humble the most experienced mountain biker. Langford Park in Jarrahdale has the best pea gravel near Perth which makes it a great go-to destination after some rain, as the rain helps to cement the terrain allowing for grippier and faster trails.
Some trails like Watch Your Head had a refresh in 2020, and riding Langford Park in winter when there is mud and puddles elsewhere will leave you wondering why you don't ride here more often.
8. The Goat Farm, Greenmount
This area is the closest to the Perth CBD but is often overlooked by riders. Its open paddocks receive a lot of sun in the summer months. It's steep, mean and abrupt. But if you know the place and spend time learning the trails it's a lot of fun.
If you like getting your bike airborne, this is the place for you. At the time of writing it was undergoing a facelift.
9. Lake Leschenaultia, Chidlow
Based around a beautiful lake with lots of things for non-mountain bikers to do, this area is easily accessible for all ages with a gentle roll up Eastern Line giving you access to a bunch of fun but gentle descents.
For the young and timid, trails like Hula, Stewies and Towies are great, but for the young and not so timid, Shakes 'N' Ladders gives them lots of structures to play off.
If all this is too much, the green grass, barbeque area and freshwater lake beckon at the bottom of the trails.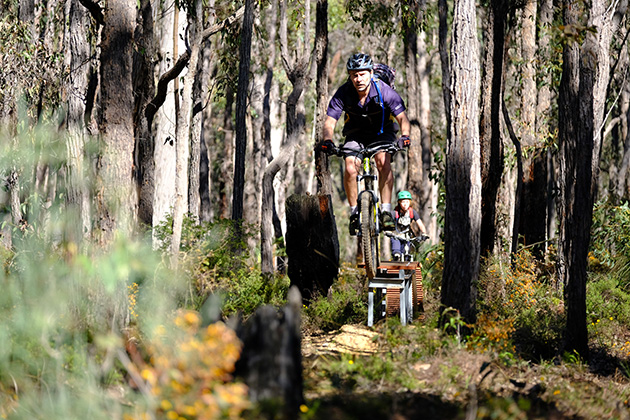 10. Kalamunda
It would be wrong not to include WA's largest and busiest network of trails in this list, so here it is. There is something for everyone in Kalamunda, and with one-way trails that are well signposted, the network soaks up a staggering number of riders, week in, week out.
A passionate group of volunteers keep the trails running and hidden trail counters show that Sunday 10am is the busiest time on the network. That said, if you have a Tuesday afternoon free then this network is deserted and a great place to explore and discover.
There are even shuttle runs allowing riders to jump on a bus at the bottom of the hill and push their skills going down the hill.
Ready to hit some of these trails?
Some are in national parks, and RAC members save 50% on digital national park passes.
Image credit: Travis Deane, Frances Andrijich
Last updated: April 2021