Travel & Touring | WA Road Trips
By: Tatum Stafford
Guided by the Golden Pipeline Heritage Trail, this epic road trip is perfect for those interested in Western Australia's rich mining history.
Throw in plenty of tranquil walk trails, the impressive Kalgoorlie Super Pit and a few charming farm towns and you've got a fascinating, jam-packed Goldfields itinerary.
| | |
| --- | --- |
| Distance and days | Approx. 620 kilometres, allow four days. |
| Why do it? | Mundaring Weir – PUBLIC Art Silo Trail – Avon River – Kokerbin Rock – Karalee Rocks – Museum of the Goldfields – Kalgoorlie Super Pit |
| When to go | Cool temperatures between May and September provide idyllic conditions in the Goldfields. These months also overlap with the region's thriving wildflower season. |
| Need to know | There are petrol stations and general stores at each overnight stop-off, but bring extra food and supplies for time between towns. Phone reception is strong in Kalgoorlie, but you may find it spotty in towns along the way. |
| Vehicle access and safety | If you're travelling on a section of the Golden Pipeline Trail, a four-wheel drive is recommended. Before setting off, read more of our long distance driving safety tips. |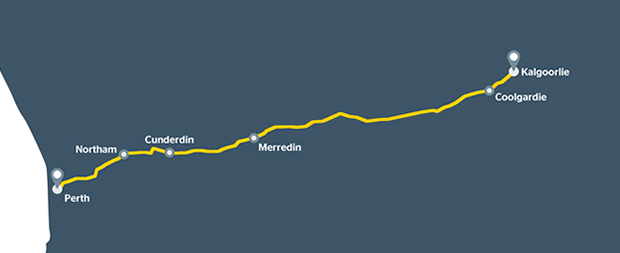 Day one: Perth to Northam via Mundaring (126 kilometres)
It's a short drive from Perth to Mundaring, in the picturesque Perth Hills. While here, visit the Mundaring Weir. Constructed between 1898 and 1903, the weir marks the beginning of the Golden Pipeline Trail and is one of WA's biggest engineering feats of all time. Head for the Number 1 Pump Station Museum at the foot of the weir to learn more about its fascinating history and head engineer, CY O'Connor.
While you're in Mundaring, take in the fresh air on one of the town's many walking trails. The CY O'Connor Trail, Christmas Tree Creek Walk, and world-class Bibbulmun Track are popular options that boast sweeping views of the hills.
Travel along the Great Eastern Highway to reach your next stop, the town of Northam. You'll spot the famous PUBLIC Art Silo Trail along the way, which features a giant mural painted on a collection of wheat silos.
The quaint town of Northam sits alongside the Avon River and Avon Valley. During your visit, walk along one of Australia's longest pedestrian suspension bridges, paddle along the Avon River, horse-ride on the Kep Track or visit the Bilya Koort Boodja Centre for Noongar Culture and Environmental Knowledge.
Day two: Northam to Merredin (163 kilometres)
Before leaving Northam (if you're feeling adventurous), book a hot air balloon ride over the Avon Valley to watch the sunrise. Then, take a short drive inland to reach the town of Meckering. Here you'll find the quirky Big Camera Museum, filled with more than 1,500 cameras, projectors, kaleidoscopes and slides that represent the history of photography in WA.
RELATED: 10 of WA's quirkiest museums »

The small towns of Cunderdin, Tammin and Kellerberrin line the route from Meckering to Merredin; your next overnight stop-off. The No. 3 Pumping Station in Cunderdin and Kokerbin Rock in Kellerberrin are great places to stretch your legs and learn more about the Wheatbelt's rich history.
Once you arrive in Merredin, wind down with a stroll on the Merredin Peak or Tamma Parkland walk trail. The town also hosts another stop on the PUBLIC Art Silo Trail, so keep an eye out for a colourful mural on Merredin's wheat silos.
Day three: Merredin to Coolgardie (295 kilometres)
Continue along Great Eastern Highway to Coolgardie. On the way, don't miss Westonia, a delightful small town with a main street full of old shop facades, a working gold mine and a beautiful lookout. The Westonia Hood-Penn Museum is a quirky stop that showcases early life in the shire, and has a vibrating mine tunnel where you can experience what it was like to work in an early gold mine.
After Westonia, take a drive past Karalee Rocks. These granite rock formations were originally used to collect water and channel it into a dam, where it was used for both drinking and to fuel steam trains. If you have time to stop, there are a few tranquil walk trails around the rocks to explore.
Coolgardie is the final town along the highway before Kalgoorlie and is well worth a visit. Check out the Goldfields Exhibition Museum within the impressive Warden's Court building while you're here.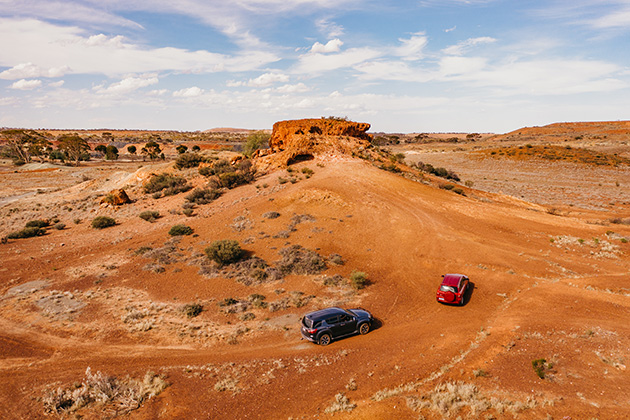 Day four: Coolgardie to Kalgoorlie (39 kilometres)
From Coolgardie it's a 30-minute drive to Kalgoorlie, your final leg of the trip. In Kalgoorlie, walk up to Mount Charlotte to view the picturesque interpretive centre and garden. It's a great place to catch a sunset, and also showcases where the golden pipeline ends.
While you're in town, explore the Museum of the Goldfields to learn about the area's rich mining history, or head to the Kalgoorlie Super Pit to see a working mine site in action.
Ready to head off-road and explore the Goldfields?
Make sure you fuel up first - RAC members save 4 cents per litre at participating Puma Energy and Better Choice stations.
Last updated: February 2021