Travel & Touring | WA Road Trips
Pack the four-wheel drive and venture into the vast wilderness areas of the diverse Pilbara region, where you can cruise the untouched coast and explore the spectacular national parks.
At a glance
| | |
| --- | --- |
| Distance and days | Approx. 1588km |
| Why go | Royal Flying Doctor Service Base - Koombana Lookout in Port Hedland - turtles - Mount Nameless - Pilbara Iron Ore Mine tour - Karijini National Park - Newman's waterholes - Indigenous artists at work in Cossack - Onslow Boardwalk - Mackerel Islands |
| When to visit | May - October (dry season) |
| Itinerary | Port Hedland - Marble Bar - Newman - Karijini National Park - Tom Price - Millstream-Chichester National Park - Roebourne - Cossack - Point Samson - Karratha - Onslow |
| 4WD requirements | Most of the roads on this route are unsealed, so you need a four-wheel drive to take this journey. Take plenty of food, water, and emergency supplies for the drive. Remember to take lots of breaks, and always be on the lookout for wildlife. Stay safe on your road trip. |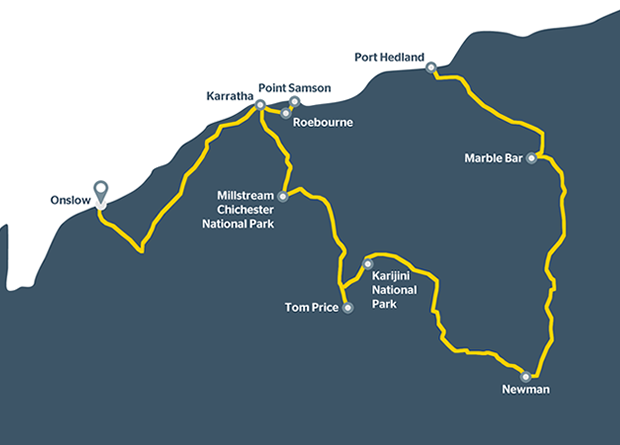 Day one: Port Hedland to Marble Bar (202km)
See Port Hedland at work on a tour of the BHP Nelson Point facility. Relax at Pretty Pool, see turtles nesting along the beaches during summer, watch a lesson at School of the Air and witness the 'Staircase to the Moon' in Broome from March to October.
Rest up before driving along Marble Bar Road to Marble Bar, the hottest town in Australia. Discover its fascinating mining history, take a swim or picnic at Chinaman's Pool, and see the colourful rock at Coppins Gap and Doolena Gorge.
Day two: Marble Bar to Newman (308km)
Pass through the stunning Wallabirdee Ridge on your way to Newman, via Nullagine on Marble Bar Road. If you need a rest there are plenty of waterholes in Nullagine where you can cool off in the heat, like Beatons Creek Gorge.
When you get to Newman, try your luck at prospecting for gold and head to the Radio Hill Lookout for panoramic views at sunset.
Spend the day touring Mount Whaleback iron ore mine - the largest open cut iron ore mine in the world - or join a local four-wheel drive tag-along tour to explore Kalgan Gorge, Weeli Wolli, Eagle Rock Falls, and Ophthalmia Dam.
Day three: Newman to Karijini National Park (282km)
Take Great Northern Highway north-west to Karijini National Park and drive through the Hamersley Ranges. Drop in to the award-winning visitor centre before heading out to Dales Gorge, Circular Pool, Fortescue Falls, and Fern Pool.
Consider staying in the national park for a few nights to really take advantage of all the park has to offer. The unforgettable Karijini Eco Retreat offers campsites, glamping tents, and cabins as well as a restaurant for tasty meals - just remember to book in advance.
Day four: Karijini National Park to Tom Price (70km)
Explore the western side of the park, including Joffre, Kalamina, Weano, Red, Knox and Hancock Gorges. Complete your Karijini experience with a hike to the top of Mount Bruce or drive out to Hamersley Gorge before heading to Tom Price via Nanutarra Road.
Tom Price is the highest town in WA and a great base to rest before venturing into Millstream Chichester National Park for another wilderness adventure.
For a spectacular Pilbara vista, drive to the top of Mount Nameless. It's the second-highest accessible mountain by four-wheel drive in WA and stands at 1128m.
Day five: Tom Price to Millstream Chichester National Park (182km)
Pass through the northern region of the Hamersley Ranges along the Rio Tinto Access Road (obtain a permit from Tom Price Visitor Centre) to Millstream Chichester National Park.
Visit the old Homestead, which has been transformed into the park's visitor centre, before heading out to Chindewarriner Pool and Deep Reach Pool, a sacred place home to the Warlu serpent of the Yinjibardi people. Set up camp on the shores of the Fortescue River.
Day six: Millstream Chichester National Park to Roebourne (150km)
Stop for lunch and a dip at Python Pool and take in the scenery of the Chichester Ranges on your way to Roebourne via Warlu Road. Admire Roebourne's historic buildings or join a port-to-port tour, regularly running from the visitor centre.
Day seven: Roebourne, Cossack and Point Samson (30km)
Leave Roebourne and take Point Samson-Roebourne Road north. Explore the historic ghost town of Cossack on a walk or drive around the town site.
Try and time your visit for the Cossack Art Awards, which brings the ghost town to life every year. Join a boat trip to Jarman Island and see the beautifully restored lighthouse.
Next, head to the sleepy coastal hamlet of Point Samson – a great base for fishing or beachcombing.
Day eight: Point Samson to Karratha (57km)
Drive south to find the North West Coastal Highway, where you'll turn right for Karratha. Once you arrive, head north to see the most concentrated collection of Indigenous rock art in the world at the Burrup Peninsula.
The Peninsula is also home to the Woodside-operated North West Shelf Gas Project. Call into the project's visitor centre that overlooks the Karratha Gas Plant on Burrup Peninsula Road for a full interpretation.
Visit Hearson's Cove for a dip at high tide or to watch the 'Staircase to the Moon' phenomenon on full moon dates from March to October.
Karratha and Dampier are the gateways to the 42 pristine islands known as the Dampier Archipelago. Join a local boat charter and spend the day snorkelling, diving, fishing and island hopping.
Day nine: Karratha to Onslow (307km)
Head south-west on North West Coastal Highway to Onslow, your final stop on this mammoth trip.
Spend the last days of your adventure fishing around the Mackerel Islands, snorkelling or diving the reef systems, and exploring the original town site of Onslow which was abandoned in 1925.
Need to fuel up for your road trip?
RAC members get 4 cents a litre off fuel at participating Puma Energy, Better Choice, Gull and Peak service stations.
Last updated: April 2021