We asked airfare guru Adam Steward, from RAC Travel West Perth, about his experiences and expertise on booking round-the-world fares.

How long have you been working in travel? And why is booking airfares your favourite part of the job?
I've been in the industry the past seven years and booking point-to-point and round-the-world airfares since day one.
I love the variety involved in booking airfares, and thrive on being able to get someone a fare they didn't know was possible, at a great price.

What is a round-the-world airfare?
In general terms, an around-the-world fare takes you from Australia to two or three continents in one general direction.
When people hear the term 'round world airfare' they generally think of the old 'mileage' or 'continent' based airfare, which can range in price anywhere between $5,000 to $6,500 in economy class. This method and pricing is no longer the case.
There are airfares now that are less than half that price and will allow you to do most, if not all, of what you want to do.
Admittedly, you may need to book one or two internal flights within the bigger continents like Europe or USA, but they are cheap and don't need to be booked very far in advance. This gives you the flexibility to make decisions on internal travel a little bit further down the line, as well as combinations in premium economy, business class and first class.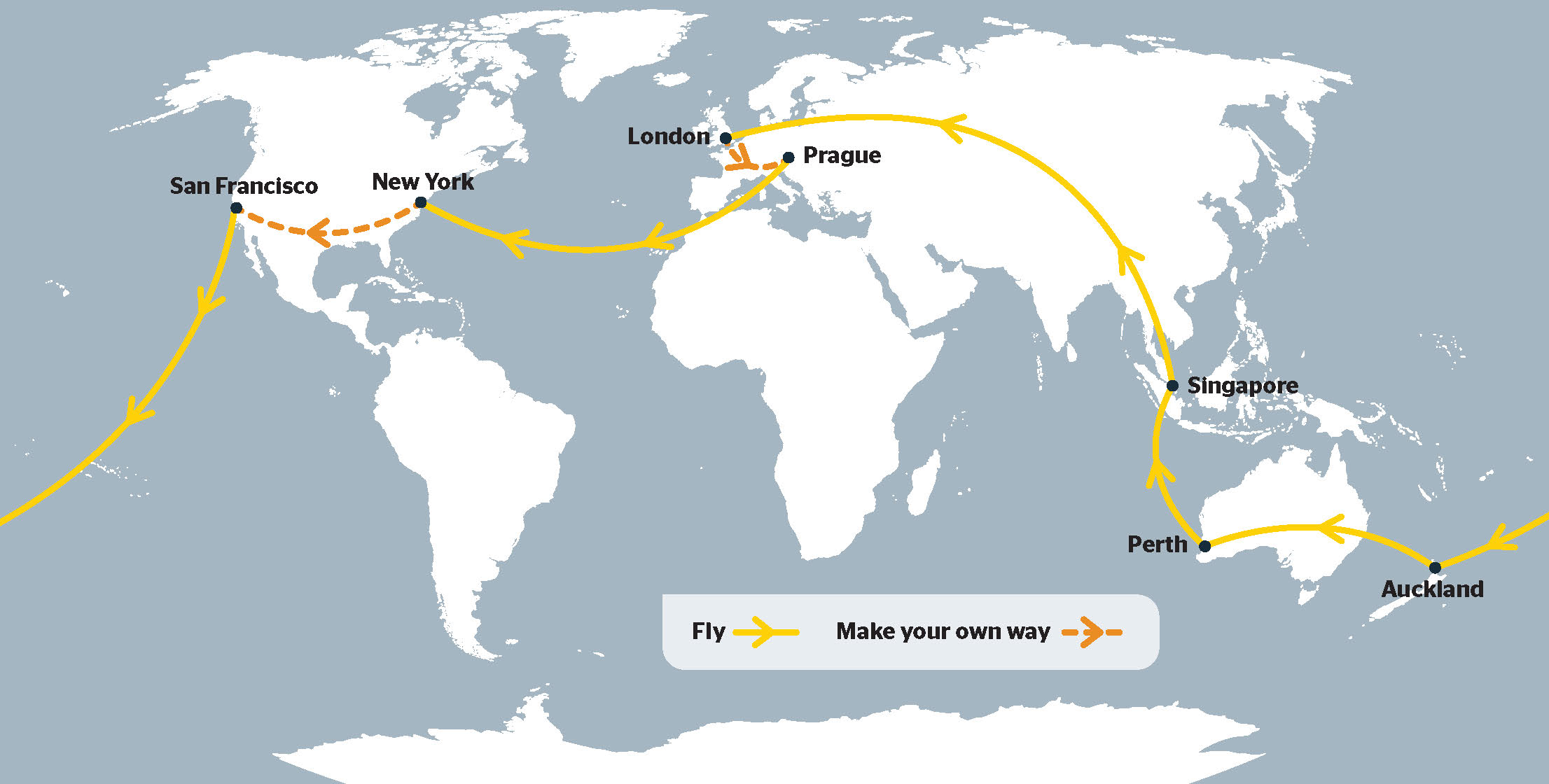 How does it work?
The best value round world fares will fly from Australia, to Asia, to Europe, to North America (or South America) and then back to Australia. This can also be done in reverse.
You will need to know your dates of travel and where you would like to fly to. This all needs to be confirmed at the time of booking.
To keep your options open, you can do an 'open jaw' flight – this means instead of having to fly in and out of one city on a continent, you can fly into one city, make your own arrangements to another destination and fly out of there.
For example, fly into London, travel your way around Europe and fly out of Rome to North America. This allows people to combine coach tours, or cruising for example, and not have to worry about getting back to their point of origin in Europe.
Why are they better value?
Round-world-fares are great value for money for the bargain hunter traveller. Airlines are constantly in competition with each other to win your business.
This healthy competition means more for you to choose from, with better options in regards to routing, flexibility and pricing. Especially those who belong to airline frequent flyer membership programs.
In recent years airlines have increased their South and Central American destinations giving customers options that were not available previously. Places like Cancun, Havana and Bogota have been very popular.
Anything to look out for?
You should always keep visas in mind wherever you go. For Australian passport holders, visas aren't required for the majority of mainland Europe. South America is a little different with certain countries requiring visas.
If you're ever unsure on visa requirements have a look at smarttraveller.com,
Any tips to keep the price of my airfare down?
Other than the base cost of the airline ticket price, which is set by the airline, there are a few things to consider that will keep your cost down.
Flight availability can be different on a daily basis. The trick here is to be as flexible as possible. Flight prices can vary day-to-day, so flying the next day may save you big dollars. Simply, the more heavily booked an aircraft is, the more expensive the seats will be.

Departure tax for the cities you're travelling from. The United Kingdom have the highest departure taxes, regardless of what fare type you are on. It is approximately $150 more expensive than other European cities. Hot tip – fly into the UK and out of somewhere else in Europe. Whether it's flying back to Australia or onward to North or South America on an around the world ticket, it's always cheaper to start in the UK and finish in mainland Europe.

The different airlines we use on the fare can have an effect on the final price due to the taxes and surcharges they incur. Keep in mind that we can only use certain airlines on these types of fares, so ask your consultant for tips on the different options here.
Any combination or airlines do you recommend?

In my opinion the best round world fares have been with Swiss Airlines, Austrian Airlines and Lufthansa Airlines. They give you a huge variety of destinations and stopovers options. They also have some newly ordered aircrafts, be it Lufthansa's Airbus A380 or Swiss Airlines Boeing 777.
The two newest aircraft in the sky at the moment are the Airbus A350 and the Boeing Dreamliner 787.
Finnair have some great round world fares that use the A350. Thai Airways and Air New Zealand have Dreamliners running out of Perth that will link up with the Swiss, Austrian and Lufthansa fares.

What's the best way to book?
Have a think about the places you would like to go, and give our experienced travel consultants, who know their airfares, a call.
We give you advice on the best option for achieving your ideal itinerary, whether it's a-round-world fare, or a couple of point to point fares. A five minute conversation with us about what is and isn't possible could save you hours of unnecessary planning and costs.
If you'd like to investigate whether a round the world itinerary might be for you, talk to one of our experienced agents