Travel & Touring | WA Things To Do
By: Fleur Bainger
Western Australia's vast outback stations offer a unique travel experience and the chance to spend time on a working property in some of the State's most stunning and remote locations.
For city dwellers it can be difficult to appreciate the scale of WA's sprawling station and farming properties. The total size of some are equivalent to small countries.
Hidden within those boundaries are some incredible natural wonders, authentic outback experiences, true-blue country folk, peace and tranquillity. If you're keen to get a look inside, many WA stations are now opening their doors to share those experiences.
RELATED: Unique and unusual places to stay in WA »

1. El Questro Station, west of Kununurra
At WA's iconic El Questro Wilderness Park and pastoral station you can immerse yourself in the raw beauty of the North West. Located within the property that spans nearly a million acres are gorges, waterfalls and thermal springs. The park is home to three resorts: Emma Gorge, The Homestead and The Station.
Because of its sprawling campground, unique wildlife and spacious grounds, The Station is one of El Questro's busiest accommodation spots. It's also a short walk from the onsite restaurant, bar and a peaceful swimming hole.
What to do: Fishing, walking trails, sunset tours, gorges, thermal springs, horse riding and four-wheel drive trips.
When to go: April to October.
Accommodation: El Questro's resorts offer full-board homestead accommodation, cliff-side villas, bungalows, raised eco tents and camping..
Getting there: The Station is 120km west of Kununurra along the Gibb River Road.
RELATED: Your ultimate guide to exploring El Questro Wilderness Park »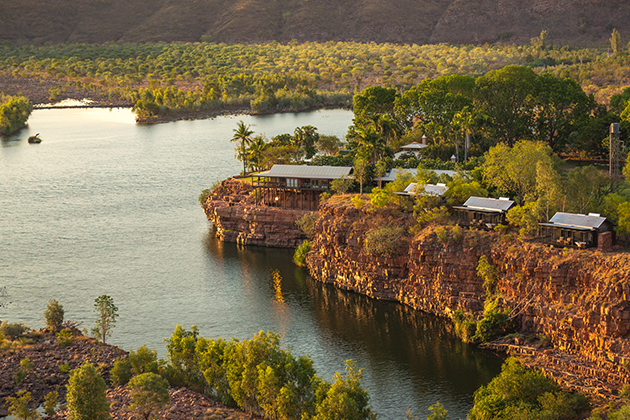 2. Wooleen Station, east of Geraldton
Restoring the Murchison's fragile ecology is at the heart of the pastoral Wooleen Station. Sheep and cattle have been destocked so that today's custodians can nurture the land that's been grazed since 1886.
The rehabilitation journey is readily shared with anyone staying on the 150,000-hectare property. It has been open to tourism since 1993 as a way of reducing the reliance on livestock. Guests come away inspired and informed on the delicate conservation methods being employed.
Staying in the circa 1918 homestead, which is listed by the Australian National Trust, grants an insight into the daily lives of the couple who run the property, David and Frances Pollock. Adequate rains only fill the Wooleen Lake bed every four years (next due in 2023), making the wetland a hotspot for migratory birds, frogs, turtles, fish and crustaceans.
What to do: Land regeneration education, wildflower walks, canoeing, wildlife watching, four-wheel drive adventures, mountain bike trails, walk trails, sunset tours, stargazing.
When to go: April to October.
Accommodation: Full-board homestead accommodation, self-contained guesthouses, nature camping with fire pits.
Getting there: Drive nearly 300km north-east of Geraldton.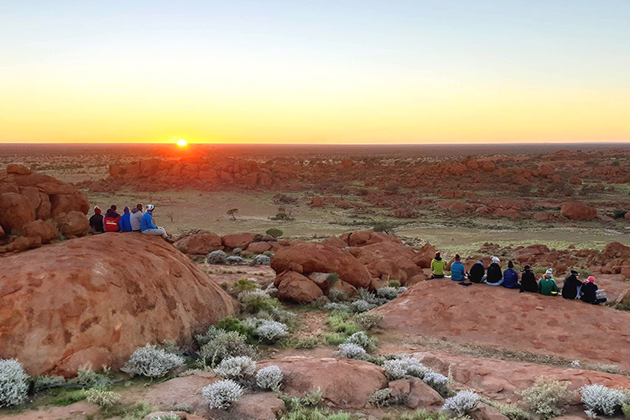 3. Kirkalocka Station, south of Mount Magnet
Dubbed the ideal 'outback stopover', the quaint Kirkalocka Station is one of the most authentic outback experiences on offer in WA.
Hosts Jared and Blair Ridley will ensure a memorable stay by showcasing the station's pastoral activities, the 'Creek' watering hole, the thriving local birdlife and the station's beloved pets.
The spacious Homestead is the true heart of the station, and features a fully equipped kitchen with barbeque facilities and plenty of room to eat and interact with fellow travellers.
What to do: Birdwatching, stargazing, interact with farm animals and visit the Mud Hut Museum.
When to go: May to October.
Accommodation: Self-contained options at the homestead or shearers' quarters, or use space for your own caravan, camper trailer or tent.
Getting there: 60km south of Mount Magnet, and 500m off the Great Northern Highway.
4. Quobba Station, north of Carnarvon
The contrasts within the working pastoral Quobba Station are as dramatic as the eroded rock platforms that fisher folk perch on, hoping to hook game fish for the night's dinner.
Inland, the landscape is parched, rough and ready, while on Quobba's coast, the southern tip of the UNESCO World Heritage listed Ningaloo Reef Marine Park glistens beneath the waterline.
The property was established in 1898, with the Meecham family taking care of it for the past 40 years. Its 10,000 damara sheep roam over 35,000 hectares and farming continues around visitors, who can observe it if they're staying on the homestead grounds.
For a luxurious stay, lash out on a safari tent complete with wooden floor and real bed. These fancy abodes line a speck of Quobba's 80km of rugged coastline at Red Bluff and lend themselves to a more aquatic getaway.
What to do: Surf, fish, swim, snorkel, relax, whale watch, go four-wheel driving, see the blowholes.
When to go: Good to visit all year round.
Accommodation: Station cottages, shearer's quarters, bush camping with powered and unpowered sites, and, on the property's coastal stretch, unpowered fishing shacks, seascape bungalows, safari-tent style chalets and camping. BYO water and fuel.
Getting there: One-hour drive north of Carnarvon.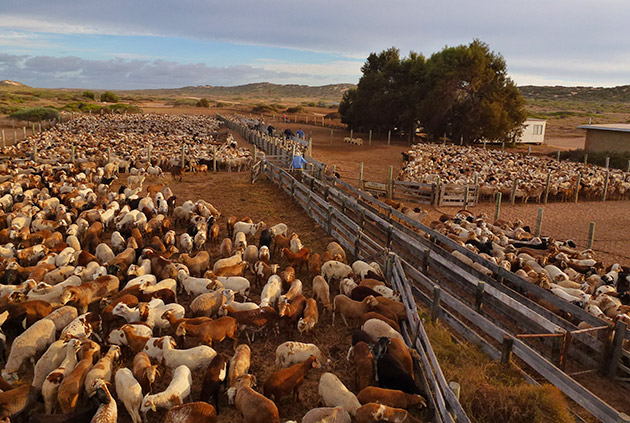 5. Bullara Station, Exmouth Gulf
Owned and operated by the Shallcross family since the late 1950s, the sprawling Bullara Station is an outback cattle station set on nearly a quarter of a million acres between Coral Bay and Exmouth.
The station is a popular holiday destination for families and first-time station stayers thanks to its wide range of interactive activities and station experiences. Many guests start at the homestead garden for a coffee or sweet treat before heading out for a day of fishing off tidal creeks, walking sand dune tracks, petting the friendly sheep, kangaroos, horses, goats and cows, or attending the station's yearly mustering event.
Station campers will be treated to an additional range of communal activities including free daily damper tastings and camp fires near the camp kitchen. Friday night burgers with the Bullara team are also a hit with families.
What to do: Fishing, stargazing, farm animal feeding, hiking.
When to go: Open annually from April to October.
Accommodation: Ranges from large sleeping quarters to smaller huts and campsites. The bush campground offers a choice of powered or un-powered sites, with plenty of shared amenities, including Instagram-worthy bush showers.
Getting there: A one-hour drive from the Exmouth township, or a 3km drive from Exmouth Gulf.
6. Mount Elizabeth Station, east of Derby
The working Mount Elizabeth Station is surrounded by two epic gorges, creeks harbouring freshwater crocodiles and grounds dotted with wallabies.
The outback gem came to life in 1945 and is one of the Kimberley's longest-running cattle stations. It now stretches across more than 200,000 hectares, allowing visitors space to recharge and explore.
Tackle a challenging four-wheel drive journey in low range to Wunnamurra Gorge and be rewarded with seasonal waterfalls and ancient Aboriginal rock art paintings. Otherwise, take the easier 10km road to the small Warla swimming holes, where green water contrasts with the region's characteristic sun-baked red rock and pale, sandy edges.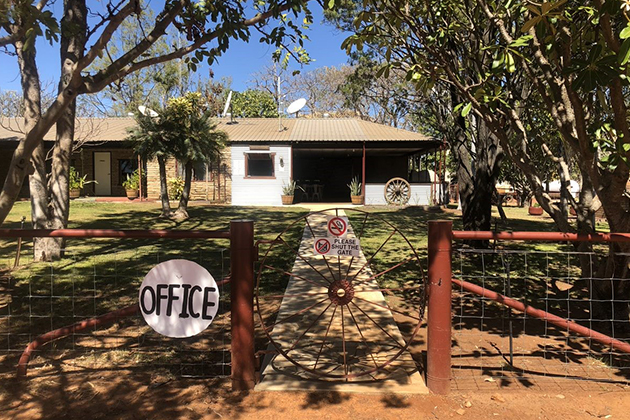 Throw in a line then return to chill out in the homestead garden and meet other travellers around the campfire.
What to do: Splash in gorges, gaze at waterfalls, observe wildlife, go on four-wheel drive adventures, admire Aboriginal rock art, watch the operating cattle business.
When to go: May to September, subject to weather and access.
Accommodation: Basic dinner, bed and breakfast homestead accommodation (some ensuite, some shared facilities, all air conditioned), camping. Packed lunches available.
Getting there: You'll need a four-wheel drive. Find the station 30km off the Gibb River Road, with the turn off 340km east of Derby and 365km west of Kununurra.
7. Cheela Plains Station
Cheela Plains Station is so big, you rarely see any evidence of the 3500 head of cattle that graze the 188,000-hectare property. While it's very much a working station, keeping livestock numbers low to allow the rangelands to regenerate is a major focus at Cheela.
One of the more unexpected inhabitants is Robin Pensini, a Texan woman who came to Cheela in search of work experience a few decades ago. She met her now-husband Evan, and despite her initial impressions, fell as much in love with the Pilbara as she did with him. "He had long hair, sleeveless shirt and bellbottom pants and I thought oh my gosh, who is this person?" she remembers.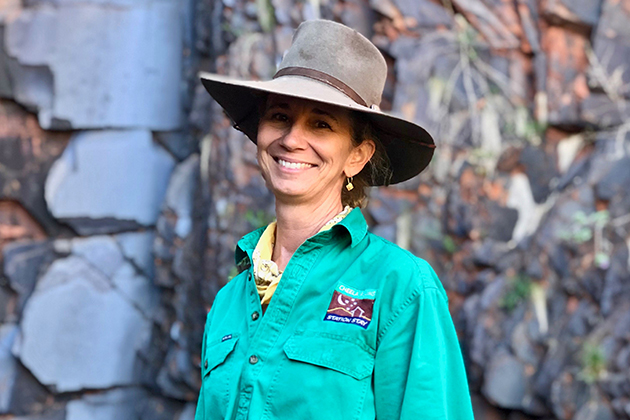 Make sure you scale the hill by the station accommodation at sundown for endless views, and drive to The Wall, where you'll find vertical slabs of rock that are jagged like a Game of Thrones altar.
What to do: Four-wheel driving adventures, gorge walking, river swimming, bird watching, sunset lookouts, stargazing.
When to go: April to October.
Accommodation: Basic, air conditioned rooms with shared amenities, a 15-site station campground and nature campsites. Home-style dinners available.
Getting there: Cheela Plains is 90km north-west of Paraburdoo and about a 550km drive north-east of Carnarvon.
8. Nallan Station, Cue
Built in 1920 from timber and iron, the historic Nallan Station was one of the earliest pastoral stations within the Cue district. Named after the Aboriginal word for "good eating", the station is renowned for its bountiful lake environment where plenty of animals and flora still thrive to this day.
Situated half way between Perth and the iconic Karijini National Park, the station is a popular stop-off for those with an interest in Western Australia's gold rush history. It's also home to several historic and natural attractions of note, including ex-freshwater well Milly Soak, the aforementioned Nallan Lake nature reserve, and the rocky Outback Pathways.
Nallan Station is also a fantastic base for stargazing. The Gascoyne Murchsion region boasts clear night skies and is dubbed a 'radio quiet zone' by local astronomers, so the station is in a prime position for those interested in constellations and star-searching.
What to do: Birdwatching, stargazing, wildflower-spotting, kayaking, gold prospecting.
When to go: July to October.
Accommodation: Private, air conditioned rooms with plenty of facilities, or unpowered lawn camp sites with shared amenities. Dogs (on leads) welcome at campground.
Getting there: Nallan Station is just 13km (or a ten-minute drive) from the Cue township.
Ready to explore these station stays?
RAC members save up to 50% off digital passes to WA national parks.
Image credit: Dan Avali, Fleur Bainger
Last updated: April 2021