Travel & Touring | WA Things To Do
20 January, 2019 By: Wendy Caccetta
Long before England's prehistoric landmark Stonehenge went up or work began on Egypt's famous Pyramids, Aboriginal artists were recording history in the rocks of WA's North West.
When Australia's first artists began carving and painting images in rock at least 50,000 years ago, giant animals were still walking the continent. The artists recorded creation stories and captured images of the wildlife around them and as the centuries passed, their descendants continued to document a changing world.
Today, their work strikes awe in many visitors who visit ancient sites across northern Western Australia, where the history is literally part of the landscape. One location, Murujuga, or the Burrup Peninsula, has more rock art at the one site than any other place in the world and could soon take its place alongside the great cultural treasures of all time.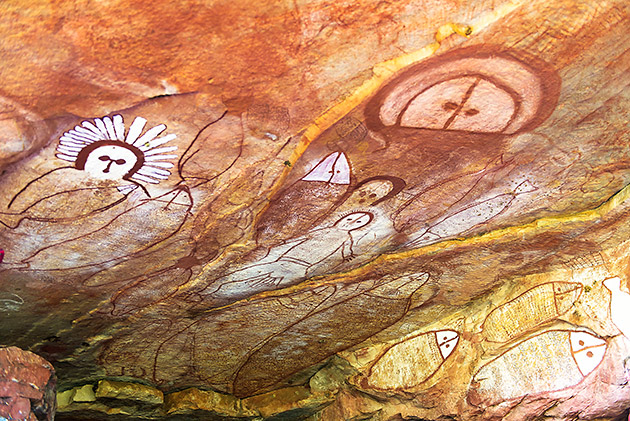 "It's older than the pyramids. It's older than the Great Wall of China," says Peter Jeffries, who represents the custodians of Murujuga, five Aboriginal language groups who have come together in the Murujuga Aboriginal Corporation.
"You can see from people's understanding of these significant sites around the world that in comparison, the period of time (they have existed) is miniscule."
Rock art across the Kimberley and Pilbara number in the millions. They are painted or etched in the country from caves to gorges and rock faces, and some are among the oldest in the world.
This massive outdoor gallery provides an insight into the changing lives of its Aboriginal inhabitants reaching back to the Pleistocene era, according to science, and to when the world began, according to Aboriginal mythologies.
At Murujuga, about 35km from Karratha in the Pilbara, there are millions of engraved rock art images. The Aboriginal custodians and WA Government hope the area will be listed as a World Heritage site with UNESCO for its cultural value.
It would place Murujuga alongside the Acropolis in Athens, The Taj Mahal in India, Stonehenge in the UK, The Great Wall of China and the Pyramids of Giza.
Viewing a major masterpiece
Professor Jo McDonald, an archaeologist and director of the Centre for Rock Art Research and Management at the University of WA, says viewing rock art beats that of any indoor gallery.
Given the choice of seeing Leonardo Da Vinci's 517 year old masterpiece the Mona Lisa in the Louvre in Paris or rock art in WA's majestic north, she doesn't hesitate.
"Definitely the rock art," she says. "Having been to see the Mona Lisa it's a bit underwhelming by comparison."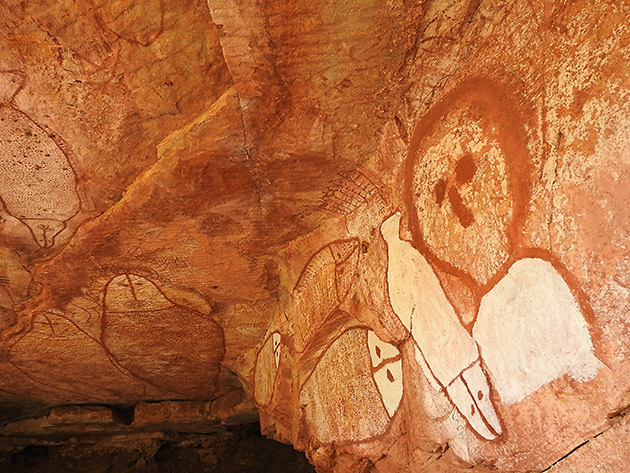 "You can get extraordinary feelings looking at rock art on country because it provides such an extraordinary insight into what the artists must have been thinking and what they were interested in around them.
"Certainly, as an archaeologist and someone who loves being on country, I find being in a rock art site significantly more spiritually rewarding than standing in a queue in one of the French or European art galleries."
Timeless style
The rock art of the Kimberley region has been classified into styles. One of the oldest is the long and intricate Gwion Gwion while more recent Wandjina spirit paintings have been dated back 4000 years.
Isobel Peters, a matriarch of the Arraluli clan of the Worrorra tribe, says visitors to her traditional lands in the Kimberley are particularly curious about the Wandjinas.
She runs tour company Wijingarra with two of her children and other family members, meeting cruise guests from tour companies that have permission to visit Numbree (Raft Point), Wijingarra Butt Butt (Freshwater Cove) and Langii, which are part of Arraluli lands.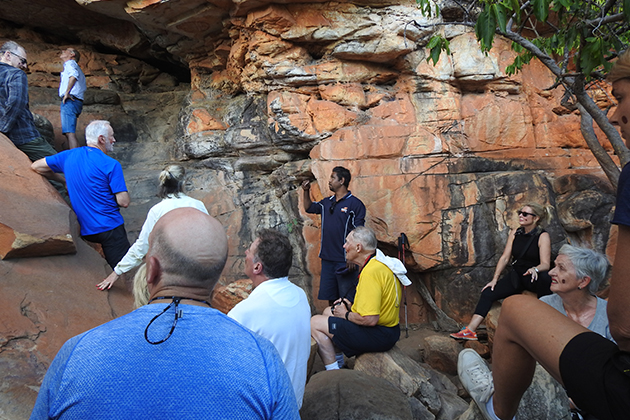 "The caves have examples of old paintings of the Guyon or Gwion figures, great examples of our cultural stories and characters, our gi (totems), and of course the Wandjina."
Peters says they have learned how to sensitively share knowledge that many years ago wasn't shared outside the tribe.
"Many visitors want to come and see the Wandjinas, which you can only find in the Kimberley," she says. "These are very sacred places for my people. Many things could go wrong for us if we did not observe the laws of the Wandjina the right way.
"We are still very sensitive about these places today and ask that people have the same respect as they would in a church or other sacred place when visiting here."
Enjoying this article? Check out:
6 unforgettable station stays in WA »
Bucket list Indigenous tours in the Kimberley »
10 useful apps for WA travel »
Preserved in rock
Professor McDonald says Australia's earliest artists worked with a full palette of natural colours. Pigments were made from natural materials and they painted with brushes made from plants and with their hands.
"In the Kimberley, scientists at Melbourne University discovered the geology and the chemistry of the rock is such that the pigment has penetrated the rock and actually become part of it, which means it is there forever."
At Murujuga in the Pilbara, rock art images were carved with stone tools. Faces are among the earliest engravings. Others depict animals, some extinct such as giant fat-tailed kangaroos and thylacines, and sea life such as sharks, whales and stingrays.
Peter Jeffries says the art was a way for the ancestors of the Ngarluma, Mardudhunera, Yaburara, Yindjibarndi and the Wong-Goo-Tt-Oo peoples to pass on culture.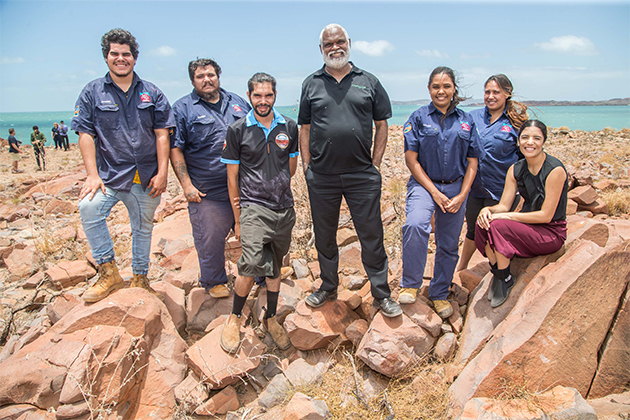 "They include what we saw out on the country over a fairly long period of time," he says. "Then we have art that could be seen as a constant reminder of our creation stories about our creator and how our creator came and created everything as we know it.
"He also gave responsibilities to spirits that lived and co-exited with us in the Dreamtime when all the stories came about."
Jeffries says the faces are warnings telling people not to go past that point.
Rock art tours
Mowanjum Aboriginal Art and Culture Centre, a hub for the Worrorra, Ngarinyin and Wunumbal tribes near Derby and a popular spot for people travelling the Gibb River Road, will this year open an interactive cave museum to help visitors understand rock art.
Tours also take in rock art from land, sea and air. There are many self-drive options too.
By air, Jilinya Adventures, owned and run by Francis Woolagoodja and his Uncle Donny Woolagoodja, a Worrorra elder, offers rock art experiences such as a Rock Art by Air tour from Derby from April. The company is also this year planning to run air tours from Broome. Check their website for 2020 prices.
From the water, many Kimberley cruises work with traditional guides to include rock art in their itineraries, such as APT's Grand Kimberley Coast cruise between Broome and Kununurra which runs from May to September.
On land, Karratha is a base for visiting Murujuga where traditional rangers conduct 90-minute rock art and cultural tours from Deep Gorge two days a week. Cost is $35 for adults, $29 concession, $17 for children and family packages are $89.
A new 1.5km boardwalk is due to open at Murujuga this year, making the area more accessible for all visitors.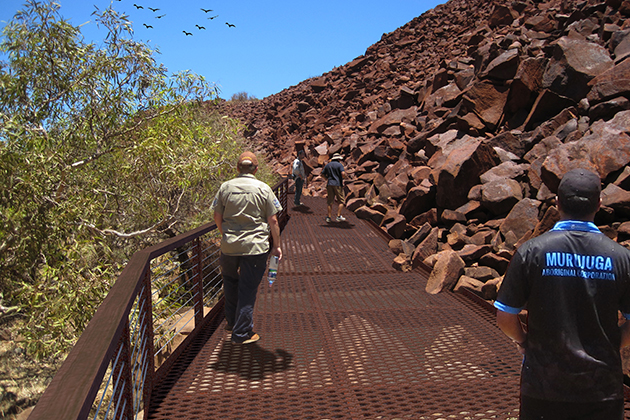 Places such as Munurru on the Mitchell Plateau in the Kimberley, which has Wandjina and Gwion Gwion art, has campgrounds open from May to October. Camping fees are payable to the Wunambal Gaambera people, whose rangers also run host tours. Visitor passes are needed and available here.
Aboriginal elders from the Wunambal Gaambera and Dambimangari people have also published a book, We Are Coming to See You, to tell the stories of the art.
At Tunnel Creek National Park, about 110km from Fitzroy Crossing, visitors can see rock art at the cave's entrance.
Day trips are available from Broome, Derby and Fitzroy Crossing, according to the Department of Biodiversity, Conservation and Attractions. Guided tours are also available from the cave.
On the Gibb River Road, rock art can be seen along walking tracks to the gorges, including Adcock, Manning, Barnett River and Galvans gorges.
Respectful viewing
DBCA policy and projects officer Jessica Lindsay recommends researching where you want to go and how much you want to see and then planning your itinerary accordingly, whether it be a self-drive road trip or commercial tour.
"Also be aware of the cultural importance of these places and respect that," she says. "Don't climb on the rock art sites. Stick to the designated walk trails. And don't take rocks you find even if they don't have rock art on them."
Get your rock art road trip underway
If you're planning a trip to see any of WA's wonders, RAC has a range of WA maps and guides to get you there. And RAC members save up to 15% off local maps and guides. See the range in the RAC Shop.