17 September, 2019 By: Wendy Caccetta
Penguin Island and its surrounding waters are a wildlife frontier right on Perth's doorstep. Here's why they make the perfect day trip destination.
Long before 'Love Island' became a reality television show, a small island off WA's south coast was already reverberating with the sounds of romance.
The tiny inhabitants of this pint-size paradise spend their days eating and their nights getting cozy under the stars.
Penguin Island, off the Rockingham coast, is home to the west coast's largest colony of little penguins. It's also a place that attracts 130,000 local and overseas visitors a year, keen for a glimpse into the life of the world's smallest penguin.
Penguin Island sits in the 6,450 hectare Shoalwater Islands Marine Park, about a 50 minute drive south of Perth and then a five minute ferry ride from the mainland.
At 12.5 hectares, it is often overshadowed by the much bigger Rottnest Island and its more extroverted quokkas, but it's an easy and affordable daytrip destination, especially for families with young children.
The Shoalwater Islands Marine Park itself stretches from Garden Island to Becher Point at Port Kennedy and its waterscape is dotted with limestone islands and rocky outcrops. Penguin Island is the only one you can land on.
Others such as Seal Island, a popular sunbathing spot for the world's rarest sea lion, the Australian Sea Lion, are restricted wildlife sanctuary zones, but you can see the mammals from the water on a boat tour or private craft.
The area is also alive with dolphins, stingrays, sea birds and turtles. Shipwrecks and cavernous reefs make for good diving and snorkelling and on calm days it's perfect for paddle boarding or kayaking among natural sculptures such as Camel Rock.
On September 15 Penguin Island reopens after its annual winter break and a daily ferry service resumes from Shoalwater Bay until the end of May. Over winter the penguins are left to hatch and raise their chicks.
Each season is important to the colony, and about 800 to 1000 penguins now live on the island.
Steve Goodlich, a second-generation Penguin Island ranger, says marine heat waves that occurred in 2010 and 2011 affected fish stocks around the island.
"With the winter waters we saw a drop in that food source which we believe has impacted the penguin population," he says.
But Goodlich, whose father Terry was a Penguin Island ranger and who spent some of his childhood living on the island, is hoping with lots of fish around this year the colony will begin to rebound.
To help the penguins in their amorous pursuits, man-made breeding boxes have been placed around the island.
---
Enjoying this article?
Sign up to our monthly enews
---
Little Penguins usually nest under bushes, but in the past some of the island's prime nesting habitat was cleared for holiday homes. The buildings were dismantled and removed in the 80s and 90s, but the island is still recovering.
A 1.5km viewing boardwalk guides visitors around Penguin Island, but the island's shyer penguins are best seen at the Penguin Island Discovery Centre, which is run by the WA Parks and Wildlife Service and is home to rescue penguins who could not be returned to the wild.
Its 10 occupants include a penguin who is blind and another who has a maimed flipper, possibly from being hit by a boat.
Kevin, the biggest, loudest penguin and a star of the centre's daily talks and feeding sessions, has just never grasped the idea that he is a bird and prefers to be hand fed rather than swim for fish in the pool.
Staff speculate he may have suffered a head injury in a seagull attack when he was just out of his egg.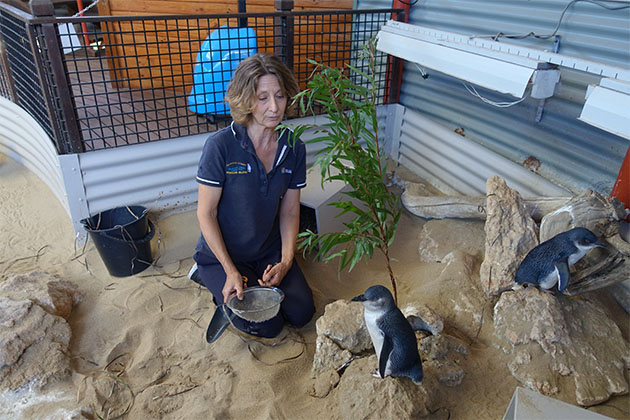 Jane Dawson has worked with the Discovery Centre penguins for 11 years and is a Parks and Wildlife Service Interpretations officer. Three years ago she saved Kevin's life by feeding him fish smoothies through a tube.
"He was tiny," she says. "He only weighed 19 grams. When they hatch they usually weigh 40 grams...We're assuming the parents had abandoned him.
"He was found on the beach by visitors, being eaten by seagulls. Normally the parents would protect the young."
Penguin Island also has a modern human history and traces of it remain.
An eccentric, Paul Seaforth McKenzie, squatted on the island from about 1914 and four years later, with plans for a holiday resort, was granted an annual lease. He became the self-styled King of Penguin Island and lived there until the mid-1920s.
McKenzie turned some of the limestone caves into crude accommodation with grandiose names such as Fairhaven and Tudor Hall, according to the Heritage Council of WA. One cave was used as a store.
McKenzie lived in a timber and iron shack he called Manor Hall, hosting parties and balls.
You can still see the entrances to his caves, though today they are more likely to be occupied by a lazy sealion.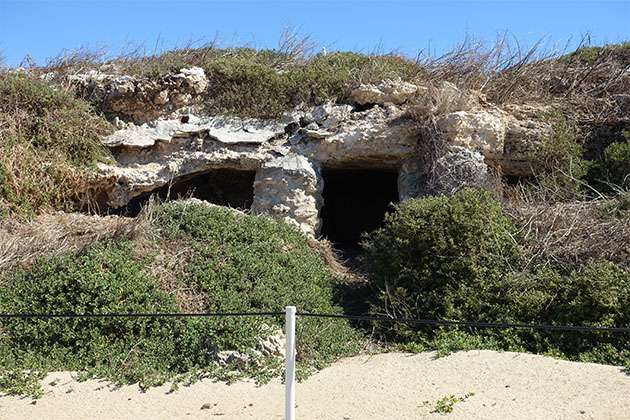 An entrance to Seaforth McKenzie's caves
After McKenzie, the island was used for commercial ventures including camping. Timber and asbestos accommodation from the 1950s was taken down four decades later when the island was returned to conservation authorities.
The Shoalwater area is rich with Noongar culture and history. Noongar Whadjuk elder Trevor Walley says Little Penguins are called Weedee in traditional language. One local story tells how the area got its sea lions.
"The seals, a couple of them were young boys," Walley says. "They were told not to swim on the full moon and they did and as a lesson some of them lost their arms and legs and that's how the seals became."
Walley says there is something special in the area's waters.
"What I love about it is the twinkle on the water at times. If you look at the ocean you see little twinkling stars. They are the same as the twinkling stars in your eyes. That twinkle in your eye is the first ancestors."
One thousand penguins nestled into their twinkling patch of penguin paradise would probably agree - it is a very special place.
Enjoy this story? Get more of the same delivered to your inbox. Sign up to For the Better eNews.
Thinking about a future visit?
We can't go exploring right now, but if you're keen to visit Penguin Island in the future, why not stop off at a national park on the way? Members save 50% off digital national park passes.