4 January, 2019 By: Cristy Burne
Size adds up quickly when you're travelling in Australia's biggest state.
It's not just the expansive space and kilometres - many of WA's attractions, both natural and man-made, are among the biggest, longest or tallest in the world.
So whether you're looking for a road-trip destination or a spot to take a break from driving, here's some of WA's top 10 biggest you can add to your itinerary.
Busselton Jetty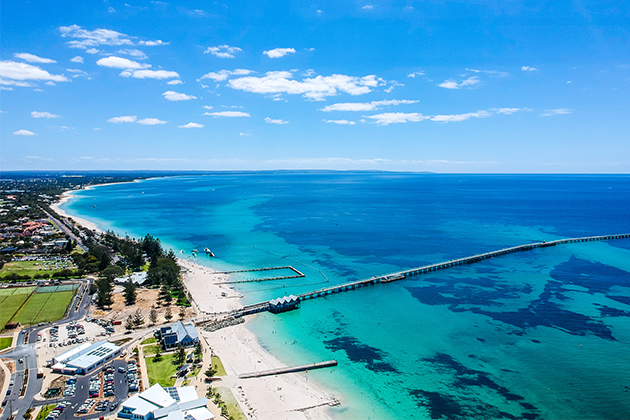 Stretching 1.84 kilometres, Busselton Jetty is the longest timber-piled jetty this side of the equator.
Originally intended to extend just 161 metres, the shifting sands of time and Geographe Bay meant it needed to be regularly extended to provide enough depth for ships to dock and load.
The jetty was a commercial port for more than a century. It closed in 1972 and was slated for demolition but volunteers across Busselton rallied to save it. Today the heritage-listed jetty is managed by a non-profit community organisation.
After a $27 million refurbishment, the jetty boasts an electric train, underwater observatory, interactive museum and interpretive centre, plus a gift shop. There are also diving platforms, snorkel tours and an underwater helmet experience.
Deep Space Antenna 1 and Murchison Widefield Array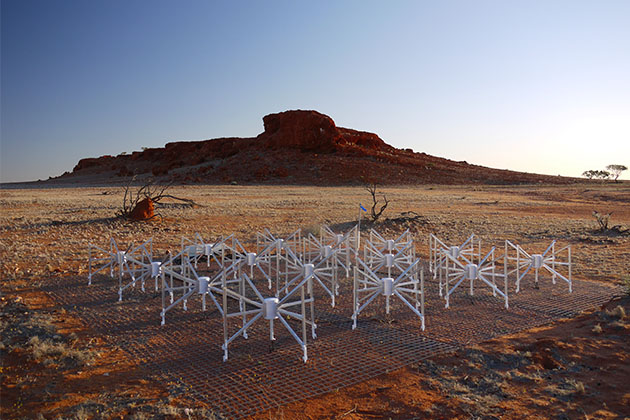 With our huge view of the sky and minimal radio interference, WA plays a big part in the global effort to better understand our universe.
New Norcia station hosts the Deep Space Antenna 1. At 35m in diameter, it's one of the largest satellite dishes of its kind.
DSA-1 collects vital data beamed to Earth from European Space Agency missions such as MarsExpress, which has been orbiting the red planet since 2003.
Gazing beyond our solar system, the Murchison Widefield Array in the Shire of Murchison, is home to a telescope comprised of 4000 antennas, part of what will become the world's largest and most sensitive radio telescope.
Called the Square Kilometre Array (SKA), it will combine a million antennas shared between WA and South Africa, each collecting radio waves from across the cosmos.
Wolfe Creek meteorite crater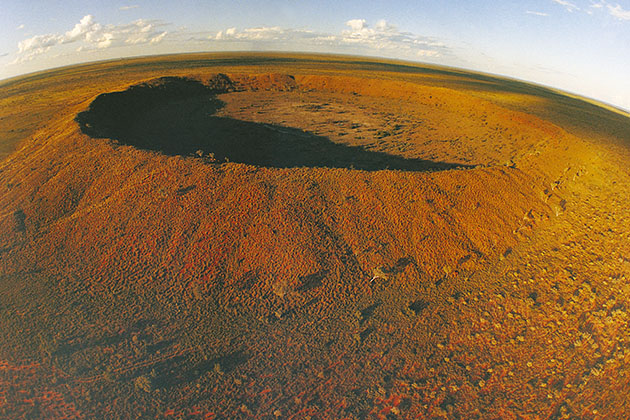 Around 300,000 years ago, a 50,000-tonne iron meteorite travelling at 54,000km/h slammed into what is now the Wolfe Creek Crater National Park.
Energy from the impact liquified the meteorite, along with much of its surroundings. The resulting crater extends 25m below the surface and 880m in diameter and is the second largest crater from which actual meteorite remnants have been collected.
Named Kandimalal by local Aboriginal people, the crater was only spotted by European geologists in 1947, during an aerial survey.
Today the site is protected as part of its own National Park and is 145km from Halls Creek.
Pannikin Plains Cave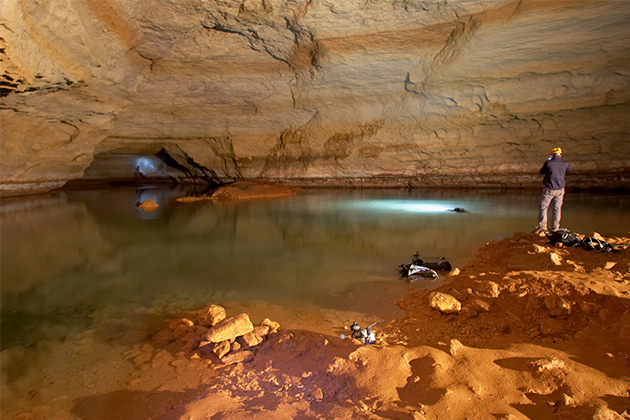 Deep below the arid plains of WA's Nullarbor lie a series of world-renowned cave diving sites.
Pannikin Plains Cave is just one of these gems and is one of the longest underwater cave systems in the world, stretching more than three kilometres. It was also the site of WA's own thrilling cave diving rescue.
In 1988, on the last day of a month-long expedition, a freak rainstorm caused an avalanche, trapping 15 divers inside. Just over 24 hours later, the entire team escaped with their lives. The event inspired survivor Andrew Wight to produce the 3D Australian-made film Sanctum.
The cave is now managed by the WA Department of Environment and Conservation and considered unstable.
Mount Augustus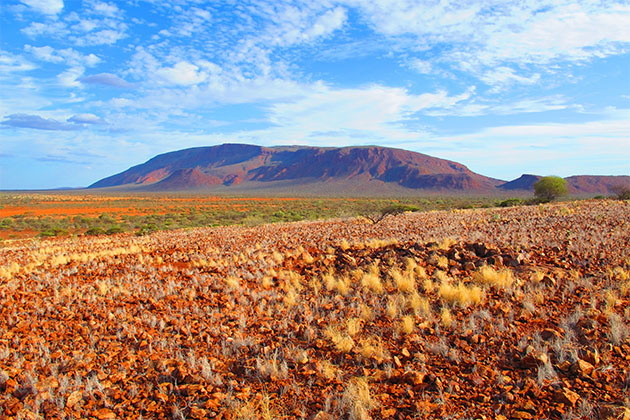 Stretching for eight kilometres and twice as large as Uluru, Mount Augustus (Burringurrah) is often called the largest rock in the world but it actually contains several kinds of rock. The mountain formed around 1000 million years ago due to a fold in the Earth's surface.
Visitors can drive a 49km loop around the mountain to view rock art, desert wildflowers and native wildlife. There are numerous short walks, and if you're up for a challenge, complete the 12km return climb to the top.
Please note: the Wajarri traditional owners ask that you only hike during daylight hours.
Big mascots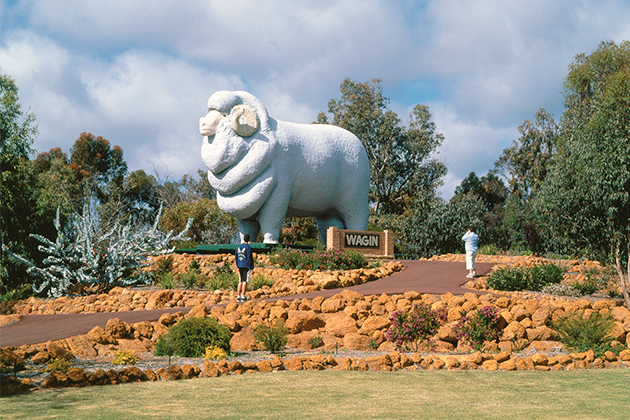 Big mascots are the perfect excuse for a coffee and to stretch your legs after a long country drive.
Who could go past Carnarvon's Big Banana, Donnybrook's Big Apple, Wyndham's Big Croc or Eucla's Big Whale? Then there's Bart, Wagin's Giant Ram - the second largest in the southern hemisphere.
The latest addition to WA's big mascot family is a 2.6m long native snail at Bremer Bay. The Big Snail is part of a native 'snail trail' celebrating the vital role native snails play in our ecosystem.
The World's Tallest Bin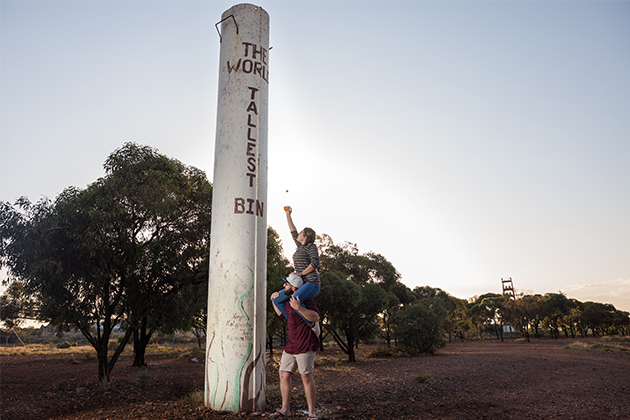 It's not quite a big mascot but Kalgoorlie's big bin is one of the town's more quirky attractions.
Erected in 1980 to encourage people to keep Kalgoorlie tidy, the big bin is eight metres high and topped with wire handles. Schoolkids have painted its record-breaking claim to fame on its side: 'The World's Tallest Bin.'
Unfortunately, the Guinness Book of Records has yet to recognise this tidy effort.
Lake Ballard sculptures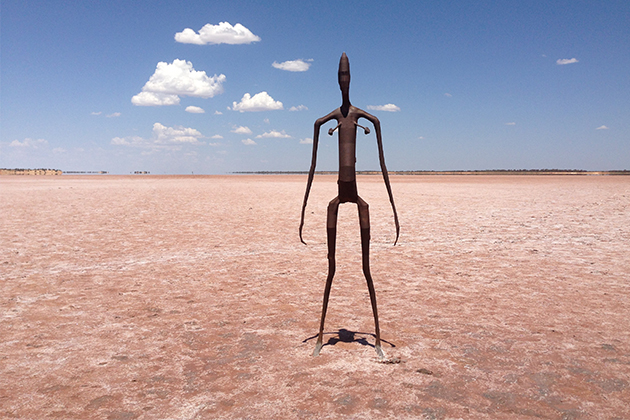 Two hours' drive from Kalgoorlie, Lake Ballard's shimmering, salt-crusted surface provides the ideal location for Australia's second largest outdoor gallery.
The lake is a showcase for the 51 metal sculptures that make up the 'Inside Australia', art installation by Turner Prize-winning artist Antony Gormley. It opened in 2003 to celebrate 50 years of the Perth International Arts Festival. Each of the sculptures was created using a 3D laser scan of someone from the township of Menzies.
Lake Ballard last flooded in 1995, in the wake of Tropical Cyclone Bobby, and tens of thousands of Banded Stilts landed on the lake for a massive breeding event that had birdwatchers agog.
Lake Argyle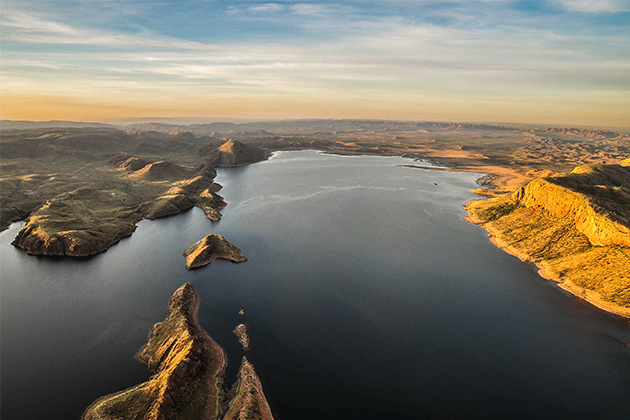 Damming the Kimberley's Ord River in 1971 captured more than ten million mega litres of fresh water. Lake Argyle is now one of the largest manmade lakes in the world, containing nearly 20 times the volume of Sydney Harbour.
Lake Argyle provides water for year-round irrigation, a feat that frees farmers from the region's infamous wet and dry season cycles. At the base of the dam, the Ord River hydropower station generates renewable energy for Kununurra, Wyndham and the Argyle Diamond Mine.
Lake Argyle's 70 islands provide safe haven for native marsupials and birds. The lake is also home to millions of fish and 35,000 freshwater crocodiles.
Dave Evans Bicentennial Tree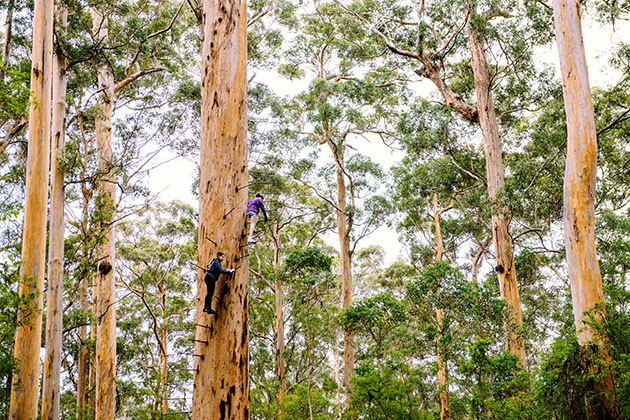 Towering over the old-growth karris of Warren National Park, Pemberton's Dave Evans Bicentennial Tree is billed as the tallest climbable tree in the world. 'Climbable', however, depends on the climber.
To reach the top, you ascend 65 vertical metres on 165 metal bars winding in a tight spiral around the tree's trunk. Add a slight breeze and the chance of meeting fellow climbers heading in the opposite direction, and you're looking at what some call Australia's scariest tourist attraction.
Along with the Gloucester and Diamond Trees, the Bicentennial Tree was used as a fire lookout. The metal rungs were added in 1988, as part of Australia's bicentennial celebrations.
Nannup Clock Tower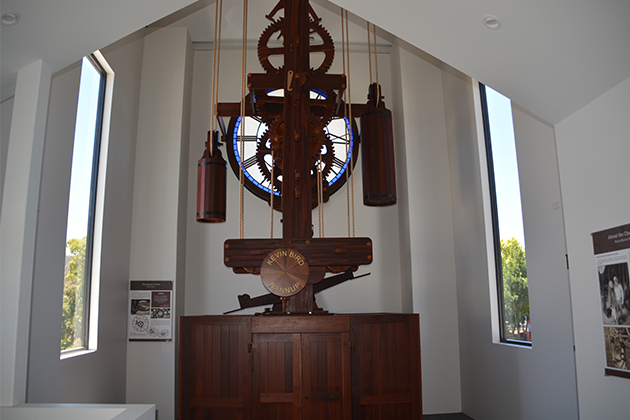 Spend some time in Nannup and tick this one off the local sightseeing list.
Lovingly constructed by local Kevin Bird over 15 years, this six-metre timber pendulum clock is said to be the largest in the world. But the project wasn't always moving like clockwork.
Four years in, Bird was faced with a challenge – he had a two-tonne clock and nowhere to house it. Finally, a local business owner offered to build a purpose-built tower on the main strip to house the giant clock and that's where it now resides.
If you take a tour of the clock tower at the right time, you can see the self-winding mechanism turn over – it only happens twice every 24 hours.
The wooden clock is a nod to Nannup's history as a timber town.
Explore our big state
Choose your own adventure across giant WA - there's so much to see and do. We can help you get there with 15% off maps and guides, available to buy online or in-store at your local RAC Travel Centre.
Need some inspiration? Check out our top five road trips, as voted by you.