20 March, 2018 By: Leah McLennan
The spiritual heart of WA, the Kimberley is an unforgettable place to experience our ancient Indigenous culture. Nearly two thirds of visitors to the North West take in a cultural experience. Here's a few of our favourites for your bucket list.
rendan 'Bundy' Chaquebor gazes across the clear eggshell-blue waters of Chile Creek and, pointing with his wooden spear, lists the creatures he sees as if he's at the aquarium: baby turtles, stingrays, little mangrove jacks.
Overhead, oystercatchers with red lipstick beaks pierce the spotless blue sky. This is Bardi country on the Dampier Peninsula, north of Broome.
"This is my place, welcome to my country," says Bundy.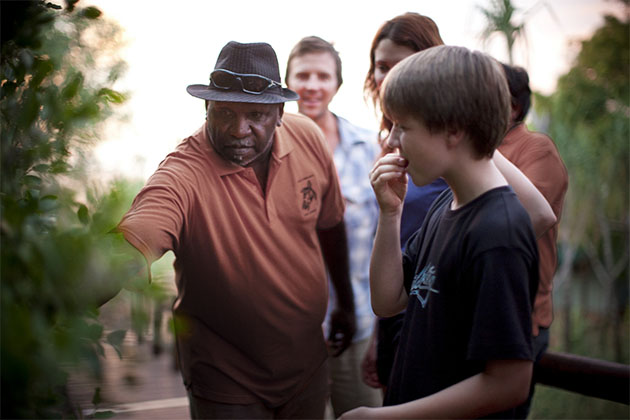 A coastal adventure
I'm here to take Bundy's new half-day Kimberley Coastal Adventure tour by light aircraft and four-wheel drive.
Having boarded King Leopold Air's six-seat Cessna at Broome airport at first light, we climbed into the tropical air, flying over Cable Beach, peering down at humpback calves at Pender Bay and taking in pilot Leigh Odger's informative commentary until we landed, an hour later.
On the dirt airstrip at the Indigenous-owned ecotourism operations of Kooljaman at Cape Leveque, Bundy was waiting to welcome us to his country.
The gently spoken Bundy has been running tours out of Kooljaman for over a decade.
"Night fishing tours are popular," he says. "I teach you about the tides, how we read the stars. I light a fire on the beach to show respect to my elders and that fire will stay alight until you get back from fishing and help you find your car on the beach," he says.
Bundy's uncle, Brian Lee, whose long white beard is as crazy as his laugh, also operates tours from Kooljaman.
Lee offers travellers lessons in everything from mud-crabbing to sea shell whistling (his TripAdvisor reviews read like an A-grade student's report: "One of the best things we've ever done," one participant wrote. "Worth travelling to the end of the earth for," said another).
Despite the remoteness of the Kimberley the number of visitors to the region continues to grow. So too do the options for travellers looking for a cultural experience.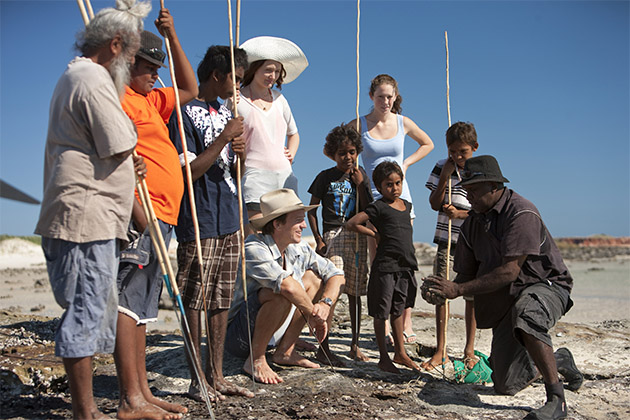 Rock art tours, spear making, bush tucker collecting, historical town tours and the opportunity to hear stories that layer meaning on top of the rugged landscape like thick icing on a cake, are just some of the experiences awaiting lucky adventurers.
"The Kimberley is becoming renowned as a hotspot for Indigenous tourism experiences," says Glen Chidlow of Australia's North West Tourism.
"Not only for the quality of the offerings but also the depth and range of experiences on offer," he says.
Camping with Custodians
A unique new initiative, Camping with Custodians will see visitors this dry season pitching their tent in two remote Aboriginal communities - Imintji on the Gibb River Road and Mimbi, near Fitzroy Crossing.
The Gooniyandi people of the Mimbi community only welcomed visitors to their freshly built campground at the end of last dry season with the 15 campsites proving a hit over the three weeks they were open.
The Camping with Custodians campgrounds provide a space where Indigenous and non-Indigenous people can get to know each other, says local guide Rosemary Nugget.
"In the evening we go and entertain the campers, we sit around the fire and tell stories and tour guides Ronnie Jimbidie and Harrison Skinner sing songs."
The dynamic guides from Girloorloo Tours take visitors on walks through the Mimbi Caves which have been used by local Aboriginal people for more than 40,000 years.
"Access to the caves is only possible with a traditional owner," says Nugget.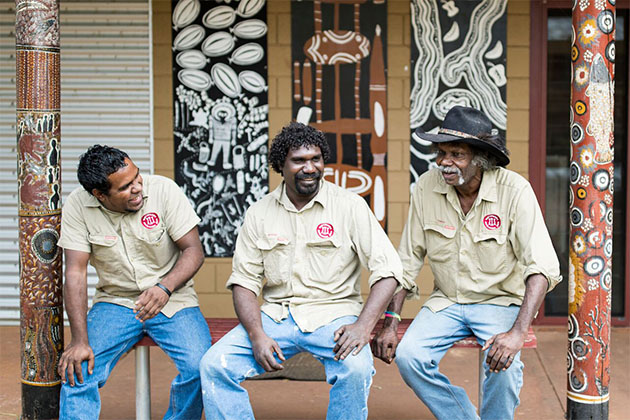 Local insights
At Fitzroy Crossing, another renowned guide Jimmy 'Dillon' Andrews of Bungoolee Tours is offering a new bus-based trip to Windjana Gorge and Tunnel Creek.
As you walk through the tranquil gorge, Dillon tells the story of the Bunuba people's revered ancestor Jandamarra, a freedom fighter who tried to hold back the tide of European expansion in the Kimberley.
Hearing this slice of Australian history at the place where Jandamarra and his people faced 30 armed police is equal parts fascinating and moving.
Further down the Great Northern Highway, at Kununurra, the Waringarri Aboriginal Arts Centre has tours that give travellers a deep insight into local Miriwoong culture.
"Waringarri is not only about art, it's also about keeping our culture alive and sharing our knowledge with visitors," says guide Chris Griffiths, who has in-depth knowledge of Aboriginal history and the ancient escarpments of nearby Mirima National Park.
Back on the coast in Broome, for those who don't like to be too far from a cocktail, local guide Bart Pigram is offering a new cultural cruise. A descendant of the Yawuru people and part of the musical Pigram family, he has a passion for telling the complete story of life in Broome.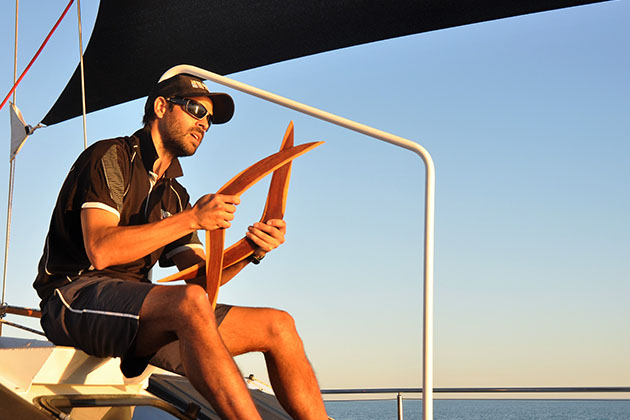 Since 2015, Pigram's Narlijia Tours has taken travellers on walks of Broome's historic township. But for those who prefer to learn about the saltwater lives of Broome's traditional owners, while relaxing on a luxury catamaran, his three-hour cruise will tick all the boxes.
"Part of our culture is to share the beauty and cultural value of our homelands," says Pigram.
"To do this while spotting dugongs and tasting traditional bush foods makes it an especially enjoyable experience for everyone."
Before you go
June to September (the dry season) is the most popular and comfortable time to visit, with temperatures ranging from 14-34C.
For most tourists, Broome is the gateway to the region, while others start their journey in Kununurra, the eastern gateway. The coastal route from Perth to Broome is about 2400km one way. The inland route is 2100km.
The mostly unsealed Gibb River Road runs through the heart of the region, from Derby in the east, almost to Kununurra. You can fly direct to Broome from Perth, while Kununurra is reached by direct flights from both Perth and Darwin.
Visit more of WA's iconic locations
You can explore the wonders of the Coral Coast, including WA's first World Heritage Listed area Shark Bay, and stay at RAC's Parks and Resorts with up to 20% off for RAC members. On the Coral Coast, stay at RAC Monkey Mia Dolphin Resort, RAC Exmouth Cape Holiday Park, Ningaloo Reef Resort or RAC Cervantes Holiday Park.