17 May, 2018 By: Vanessa Pogorelic
Whenever a meteor streaks across our skies a team of WA-based space rock hunters are ready to swoop on any extraterrestrial fragments that fall to earth.
Ann Hodges was sleeping peacefully on her couch one afternoon in Alabama back in 1954 when a large chunk of rock crashed through her roof, ricocheted off a piece of furniture and hit her, leaving a large, painful bruise on her thigh.
It was a three and a half kilogram meteorite that had journeyed through space, made it through the earth's atmosphere and finished up in her suburban lounge room.
Hodges' encounter was a one in a million.
Keeping an eye on the skies
Every year, thousands of meteorites hit the earth, but most are never recovered.
Each one of those lost meteorites is a missed opportunity to learn more about the creation of our solar system.
"Meteorites are like a time capsule that can tell us a lot about the origins of the universe", says Renae Sayers, Research Ambassador from the Curtin Planetary Science program.
"They're this physical record of the formation of the solar system and its evolution. It's almost like an extraterrestrial encounter. Seeing something like this is actually very unique."
A team at Curtin University is on the hunt to recover more space rocks through its world-first Desert Fireball Network (DFN) research project, which has been monitoring fireballs in Australian skies for the past decade.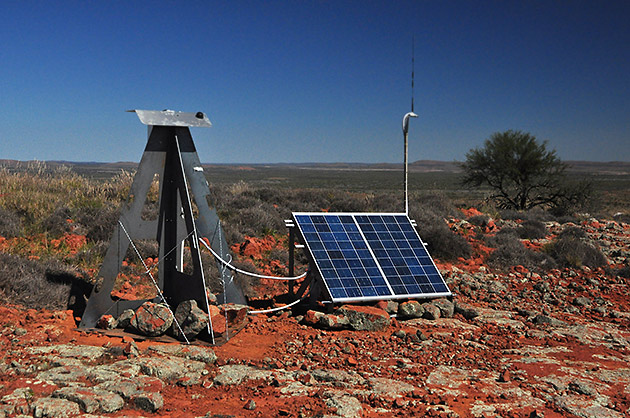 A network of 52 autonomous cameras observatories stationed around Western Australia, South Australia and Queensland watches for meteorites that fall to earth, observing one third of Australian skies all night, every night.
Through its community outreach program, Fireballs in the Sky, citizen scientists also report fireball sightings to the DFN via the Fireballs app. In addition, the DFN is partnering with NASA to roll the project out globally.
Finding a rock in a hard place
So far the DFN team has had four successful recovery missions - two in WA and two in South Australia - with significant finds of space rock.
It might not sound like many, but finding the remains of a meteor can be tricky.
In 2015 a fireball over Perth skies so bright it looked like 'fireworks' at 9:15am was seen and reported widely by the public and media, but no fragments were ever found.
"The terrain in urban areas makes it difficult," says Sayers. "But if we get the data we'll go and search. You need trained experts who know what these rocks look like. Going out and searching for them is still the most resource intensive thing we do."
That's where Australia's outback and opens space offers a clean canvas to work with.
"WA and the Nullarbor desert in particular is one of the best places on the planet to recover meteorites because they stick out against the ground," says Sayers.
When a fireball alert is received the DFN team make a decision as to whether the meteorite will be "a good one."
The landing zone is calculated by the trajectory and changing size of the fireball as it's flying through the air.
Then they spring into action.
---
Enjoying this article?
Sign up to our monthly enews
---
Wheatbelt encounter


On Halloween night in 2016, the DFN's citizen network started filing reports of a meteorite which the team was able to pinpoint to a farming property in WA's Wheatbelt.
"A couple of the team went for a drive to scout out the terrain and get permission to search the property. The following day they came back and prepared everything for a proper search, which was done mainly on foot," says Sayers.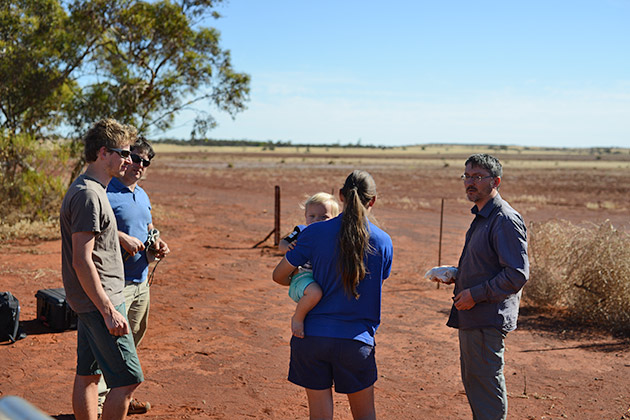 It took a few days of searching before the space rock was found.
"It was within 200m of the predicted impact area. That's pretty exciting when you think of how far this rock has travelled through space. It was just shy of 1.2kg and looked like a squashed house brick.
"We were able to pack it up in its special Teflon bag and get it to the CSIRO for scans and imaging in really pristine condition. It hadn't been rained on our exposed to the elements while on the ground, so we knew it was going to be a pretty gorgeous sample and it really was."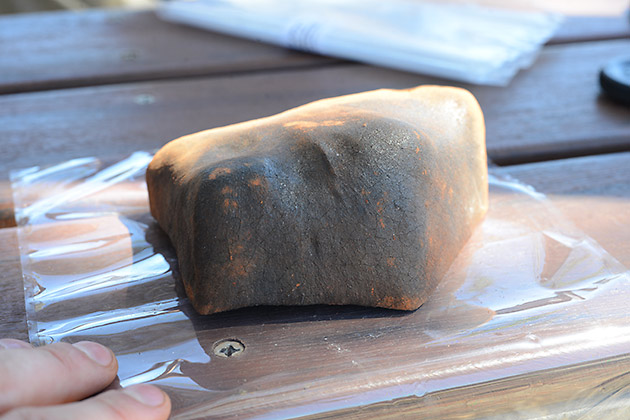 The Lake Eyre odyssey


One of the most high profile and challenging finds was at Lake Eyre in South Australia in 2015.
Arriving at the search area, researchers flew overhead in a light aircraft, spotting and photographing the impact site and crater hole.
"The team set up a base on Lake Eyre and worked with the Indigenous land owners to get permission to be there, who actually ended up joining us on the search," says Sayers.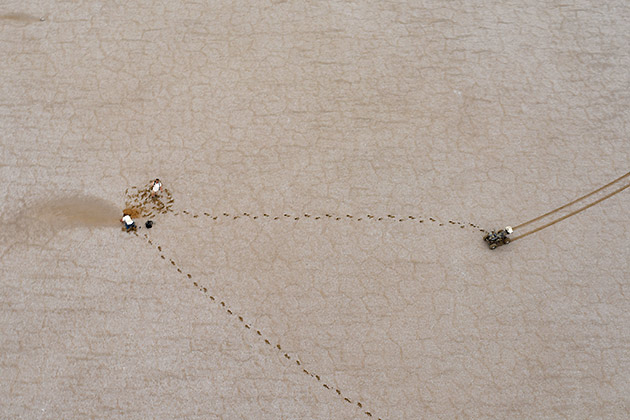 Rain hampered search efforts and, frustratingly for the team, also covered up much of the crater hole.
On a second aerial search a small impact site was again spotted.
"By that stage they'd been searching for a long time and the rain was coming, so they were running out of time.
"Then one of our researchers in the aircraft shouted over the walkie talkie 'Hey I think I've just seen it' and Professor Phil Bland just started running towards where the plane was flying over.
"They found this smear on the ground and a small indent. When Phil got to it he just threw himself on the ground and started digging in the mud with his bare hands. It was up to his shoulder before he felt something."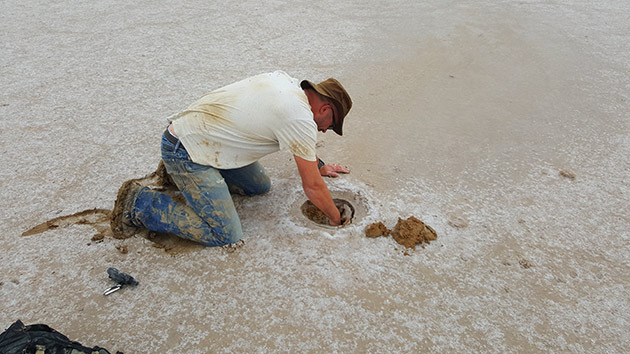 The recovered meteorite weighed 1.7kg and, once examined, was found to be 4.5 billion years old – approximately 20 million years older than Earth.
With so much rich information held inside meteorites, each successful space rock recovery mission is a big event for those involved.
So next time you see a meteor streaking across the sky, think about checking in with the DFN because it may be the next big one on the horizon for WA's fireball chasers and the next big thing in the world of planetary research.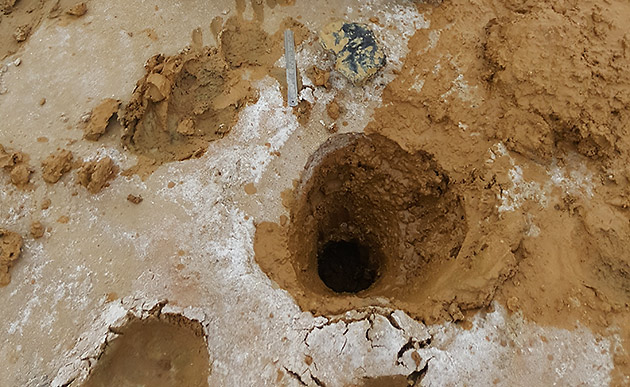 The term meteor refers to a space rock that creates a fireball of light in the sky. The actual piece of rock is called a meteoroid while it's still in space and any fragments that fall to earth are meteorites. These space rocks enter the atmosphere travelling at about 50,000km/h.
Image credit: Desert Fireball Network
Join the search

Fireballs in the Sky is a citizen science program that connects the public to the Desert Fireball Network. Through the Fireballs app you can record fireball sightings which are then sent to the DFN team. The app also helps you locate meteor showers.
The Fireballs in the Sky app is available for iPhone and Android.
Uncover some of WA's own ancient rocks on an outback adventure
Clear night skies make WA an ideal place for meteor spotting.
Don't get lost. RAC members receive up to 15% off local maps and guides, and you can rest along the way up north or down south, too - RAC members can save up to 20%* at our seven WA Parks and Resorts.
*Terms and conditions apply. Discount varies according to season.
Enjoy this story? Get more of the same delivered to your inbox. Sign up to For the Better eNews.