Travel & Touring | WA Things To Do
By: Julie Hosking
Anyone who has been to this Kimberley queen will tell you there is something special about Broome time.
Broome is a place for everyone, no matter what kind of escape you have planned - whether you want to unwind in luxury, explore the spectacular landscape or get to know the locals. To make sure you don't miss a thing, here are 11 iconic Broome experiences to put on your list.
RELATED: Ultimate guide to Broome »
RELATED: Broome and the Dampier Peninsula with kids »
1. Kick back on Cable Beach
Almost as famous for its soft white sand and clear turquoise waters as its sunsets, Cable Beach is synonymous with Broome, although chances are even some locals have forgotten how it got its name. In 1889, an undersea telegraph cable was laid from Broome to East Java, opening the region to a world of communication and giving the beach its name.
Stretching for 22km, there's always space to lie back in relative isolation, even during peak season in May to October, and the warmer water is a welcome contrast to our southern oceans.
For the quintessential Broome experience, take a camel ride along the shore, or just head down there when the camels are passing for some Insta-worthy holiday snaps. There are a number of operators offering camel rides on the beach. Ask at the Broome Visitor Centre for more details.
And don't miss a Broome sunset – they're an event in themselves.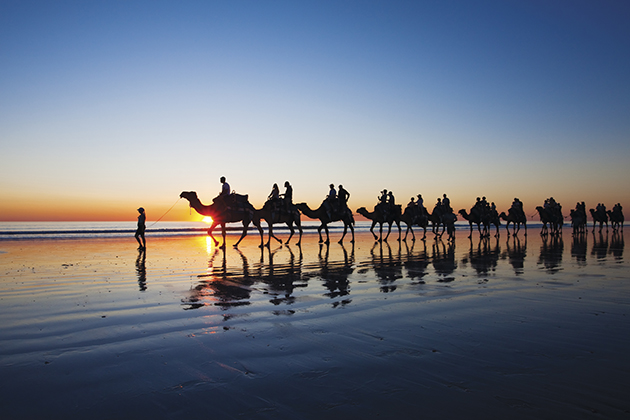 2. Discover the pearl
The oyster has lured pearl divers and traders from all over the world to Roebuck Bay since the late 1800s. In fact, the pearling industry is so entwined with Broome, many believe the town wouldn't exist without it.
By 1910, Broome was the world's biggest pearling centre, though Aboriginal people had prized the pearl shell long before Europeans arrived, harvesting it for trade inland.
Learn about this fascinating past at the Broome Historical Society and Museum or Pearl Luggers in the heart of town. Or visit a working pearl farm to see how far the industry has come. Willie Creek Pearls, just 40km north of Broome, offers a range of engaging tours, including an indulgent return trip by helicopter.
Another 150km up the road, Cygnet Bay Pearl Farm is a family-owned business spanning four generations. With a suite of accommodation, it's also a popular base for exploring the Dampier Peninsula.
If you don't want to venture out of Broome, get your pearl fix browsing the myriad jewellers: the only limitation is your budget.
3. Go wild at Roebuck Bay
The centre of Broome's pearling fleet until World War II, Roebuck Bay is now a celebrated marine park.
Named for the ship captained by explorer William Dampier, this mix of sandy red beaches, mangroves, tidal creeks, pindan woodland and grasslands is known for its diverse marine life, including the striking snubfin dolphin. Only recognised as a new species in 2005, it can often be spotted cavorting in the water.
Roebuck Bay is also one of the best places in Australia to view migratory birds. About 100,000 shorebirds do a 20,000km round trip each year, flying from the bay to their breeding grounds in the northern hemisphere before returning once more to feed on the mudflats. Each species has its own remarkably consistent departure window between March and May.
The Broome Bird Observatory recommends watching the birds leave en masse, rather than their more staggered return a few months later.
4. Hit the food and heritage trail
Broome is blessed with a wide range of dining options befitting its multicultural heritage. Download the free Broome Food and Heritage Trail map and take a self-guided tour — it's a good way to get a taste of the cultural and culinary delights on offer.
Start with brekky at one of the cafes and wander at your leisure. Pop into one of the pubs for a pint or book a Pearl Luggers tour and try the local delicacy, Pinctada Maxima pearl meat.
The Courthouse Markets is a popular spot for a bite, or to pick up local arts and crafts. Open every weekend from April to October, and Saturday mornings year around, be sure to try the famous lumpia (Filipino spring roll).
Given the town's rich Chinese history, a visit to one of the Chinese restaurants is also recommended.
5. Watch the Staircase to the Moon
In an area not short of natural wonders, this phenomenon holds its own. As the full moon rises over Roebuck Bay, it reflects off the exposed mudflats at low tide, creating a 'stairway' to the moon. This stunning optical illusion is worth the wait, even if you have to swat away a few sandflies.
The stairs only ascend a few days each month from March to November, changing each year, so check the calendar at the Broome Visitor Centre.
The Staircase to the Moon markets are usually held to coincide with the opening days in March, so you can enjoy food and music with the lunar show.
Unless you're a professional, photographs simply don't do this spectacle justice. Best to simply sit and soak it up.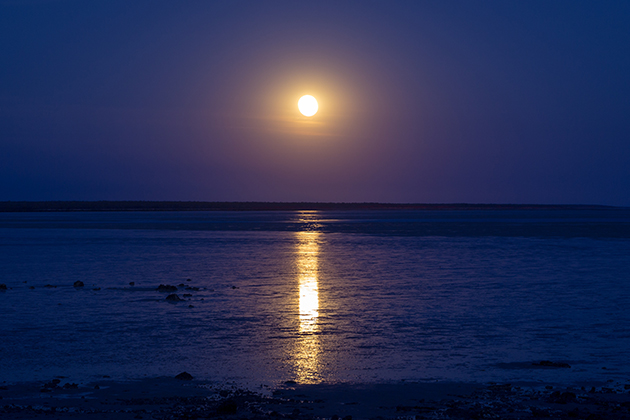 6. Enjoy a paddle at Matso's
Matso's has built a stellar reputation since opening in 2000. With superb views over Roebuck Bay, and a kitchen turning out some great grub to match, this is one brewery even wine lovers will enjoy visiting.
Living up to the family-owned operation's motto "escape the ordinary," their beers are anything but boring: think mango, chilli, and ginger and orange, as well as super ales and lagers.
. If you want a bit more insight into the award-winning brews, why not take a tour with the head brewer. For $35, you'll find out how the beers are made and enjoy a tasting paddle at the end. Just lock in a designated driver.
7. Visit the world's oldest operating outdoor cinema
There are cinemas and then there is Sun Pictures. No trip to Broome is complete without a visit to the world's oldest operating outdoor picture theatre. Take an audio tour of this heritage-listed beauty for $5 from June to August.
Originally an emporium built by the Yamasaki family, master pearler Ted Hunter bought it in 1913 and commissioned an architect to design a 500-seat outdoor cinema.
The charming building has been screening films since 1916, even during tidal floods where theatre goers would have to lift their legs — or, as legend has it, catch the occasional fish — until a levee bank was built in the 1970s.
Check session times and watch the stars under the stars; bring a jacket as the nights can be cool.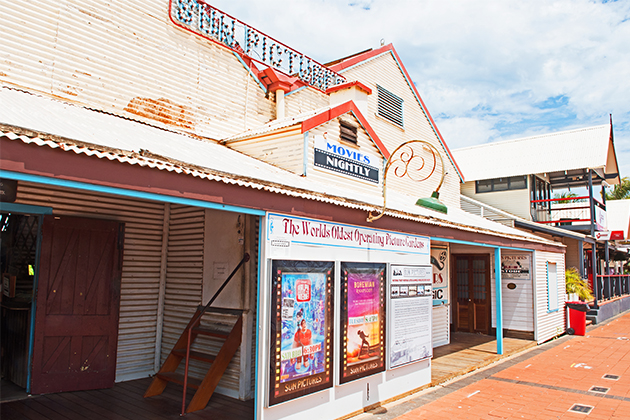 8. Take an Aboriginal cultural tour
If you really want to get to know Broome, spend some time with someone whose heart and soul belongs to the place. Bart Pigram is a Yawuru man who has been running Narlijia Cultural Tours in his hometown since 2015.
Meaning "true for you", Narlijia reflects Bart's passion for telling the whole story, from the rich history of Aboriginal people to the pearling industry and beyond.
Join a two-hour walking tour of the town or enjoy a sunset boat trip through Yawuru country with the original saltwater people. Sample bush tucker and finish the day with some traditional music while you watch the sun go down. You'll see this magical country through new eyes.
9. Fly to Horizontal Falls
Adrenaline junkies with a bit of cash to splash should book a day trip to Kimberley's famous Horizontal Falls. Described by David Attenborough as one of the world's great natural wonders, these sideways waterfalls are caused by fast-moving tides squeezing through two narrow gorges.
Horizontal Falls Seaplanes Adventures offer a morning or afternoon departure from Broome on its 14-seat seaplane. Marvel as the pilot takes you out over the jaw-dropping Buccaneer Archipelago and Cape Leveque before landing in Talbot Bay.
From there, it's all aboard a speedboat for a thrillseeking ride through the falls. Unwind over breakfast or lunch on a luxury houseboat. Six hours later you'll be back in Broome, still buzzing from the experience.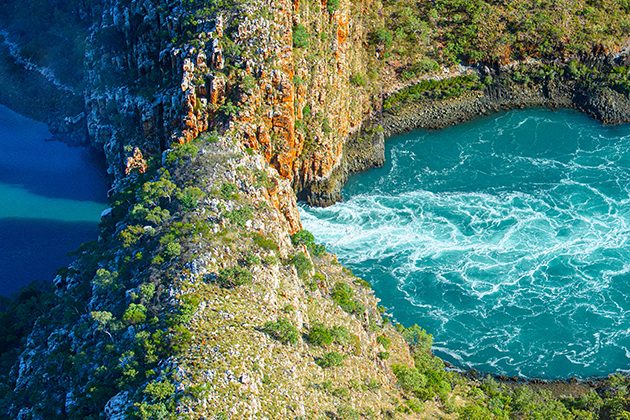 10. Explore Chinatown
The multicultural hub of Broome since Chinese pearling crews set up shop in Carnarvon Street in the late 19th century, Chinatown has been getting some long overdue TLC with a multi-million-dollar upgrade. Home to a string of corrugated iron buildings that housed noodle restaurants and shops, Chinatown now boasts an array of local businesses.
Wander down Johnny Chi Lane, named after one of the pearlers, and up Napier Terrace, where pearl cleaning businesses and a Japanese boarding house plied their trade.
Call into one of the art galleries, such as Short Street Gallery in the old Hanoe's Cottage. Raised to avoid flooding in the wet season with shuttered verandahs for ventilation, it is typical of the old-style buildings.
11. Hit the road to Cape Leveque
With the last 90km of the Broome Cape Leveque Road now fully sealed, a day trip to the Dampier Peninsula just got a whole lot easier. If you're not joining a tour, however, it's best to hire a four-wheel drive in Broome for easy access to some of the unsealed roads leading to attractions along the way.
Swing by Beagle Bay, 100km north of Broome, and visit the heritage-listed Sacred Heart Church where pearls take a starring role, their shells decorating the walls, floor and altar.
The peninsula is home to many Aboriginal communities, including Ardyaloon (One Arm Point), where the Bardi-Jawi people proudly share their connections to the sea at the innovative trochus hatchery.
If time permits, book into the Indigenous-owned Kooljaman wilderness camp and experience life off the grid in one of the safari tents.
But if you only have the day, there can be few more stunning places to unwind than Cape Leveque, where red pindan cliffs stand like ancient sentinels watching over white sands and turquoise waters.
Need a place to stay?
RAC members save up to 20%* on accommodation at RAC Cable Beach Holiday Park.
*Terms and conditions apply. Member rate varies according to season. See full website for details.
Last updated: February 2021