Travel & Touring | WA Things To Do
By: Tatum Stafford
There aren't many places in Western Australia where you can go gorge hiking, drift snorkelling, off-roading and turtle-watching all in the same day.
Located on WA's gorgeous Coral Coast, the town of Exmouth is an adventure-lover's paradise. Just a stone's throw from the World Heritage-listed Ningaloo Reef, it's renowned for its rugged national park, pristine coastline and myriad of marine wildlife encounters, including the chance to swim alongside whale sharks – the biggest fish in the ocean.
Here are 10 must-do activities if you're planning a trip to Exmouth.
RELATED: Ultimate guide to Exmouth »

Go snorkelling
Filled with more than 500 species of fish and stacks of vibrant coral, Exmouth's bays, beaches and islands set the stage for some world-class snorkelling. Turquoise Bay's drift snorkelling area is one of the town's most famous offerings; propelling strong swimmers over gardens of coral via a strong current. Oyster Stacks is another popular location where you can find sea turtles, sea urchins, moray eels and plenty of colourful fish – just remember to bring your reef shoes, as you'll need to navigate a few rocks on your way into the water.
If you're new to snorkelling, head for the calm Lakeside Beach. Here you'll find a sanctuary zone filled with large reef fish, rays and even a few dozing (harmless) reef sharks.
RELATED: 5 of the best snorkelling spots around Exmouth »

Camp or 'glamp' on the beach
Hardcore beach camping fans will rejoice at the tranquil Osprey Bay Campground. Perched atop a rock-shelf shoreline, the campground is just steps from Osprey Bay, a small, sandy beach perfect for swimming, snorkelling and kayaking. The bay is also a recreational fishing zone, ideal for avid anglers. There are 44 camp sites available, which you'll need to book in advance in peak season (April to October).
For something a little more luxurious, book a stay in a wilderness tent at Sal Salis Ningaloo Reef. At this eco-friendly beach safari camp nestled in the dunes of the Cape Range National Park, ocean and bush views merge to showcase Exmouth's beauty no matter where you look. Access Ningaloo Reef just steps from your tent, and unwind at the communal ocean-front lounge, where the camp's staff serve sunset drinks and canapes each evening.
Hike along gorges in the Cape Range National Park
The 3km Mandu Mandu Gorge trail is one of Exmouth's most impressive hiking routes. The trail follows the dry creek bed up to the gorge's northern ridge, offering a spectacular view of the gorge against the ocean. Do the trail early in the day to enjoy cool temperatures and the chance to spot rock wallabies within the gorge walls.
Another popular route is the combination 2km Yardie Nature Trail and Yardie Creek Gorge Trail. To start, the nature trail weaves along a gentle path, with views from Yardie Creek out to Ningaloo Reef. Once it meets the gorge trail, the route slowly climbs up the gorge's red rock cliffs, taking hikers high above Yardie Creek and boasting incredible views.
Hiking in Exmouth isn't advised between December and March due to extreme heat and limited resources within the park. Instead, plan your visit in cooler months, pack plenty of water and wear sturdy footwear as many trails cross rough surfaces.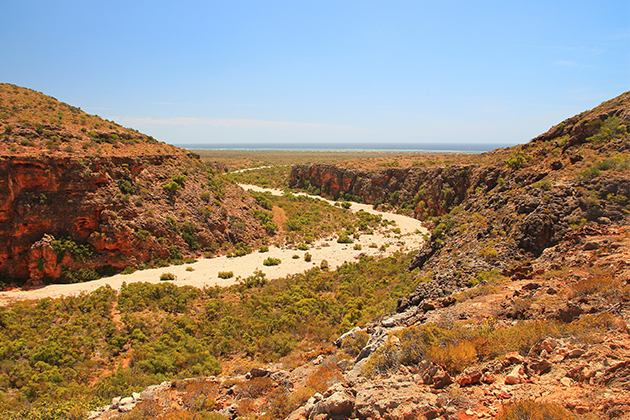 Swim with whale sharks
A whale shark swim is one of WA's most unique marine experiences. Ningaloo Reef is one of the only places on Earth where whale sharks regularly appear in large numbers, so Exmouth is a fantastic base for interacting with these mysterious giants.
There are plenty of tour operators to choose from, but as whale shark swims are extremely popular and only available for up to six months of the year (depending on the year), book in advance to avoid missing out. If you haven't got a booking, pop into the Ningaloo Visitor Centre to check for last-minute cancellations.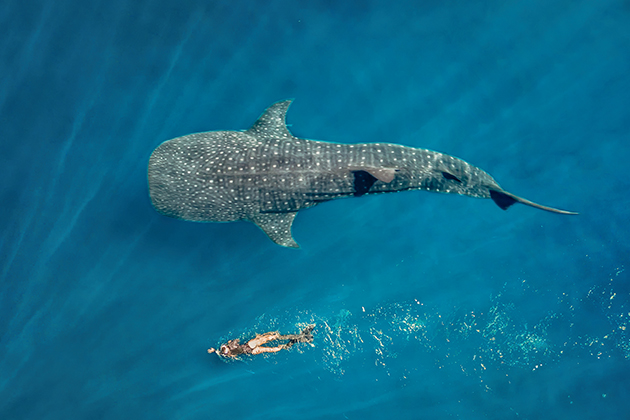 Four-wheel drive through a canyon
For a unique view of the rugged gorges of Cape Range National Park, hop on the 12km Shothole Canyon scenic drive. The canyon received its name in the early 1950s, after shot holes were left in the terrain following a series of controlled mini earthquakes that were part of an oil exploration project. Following the floor of the gorge, the unsealed road takes you deep inside Shothole Canyon and loops around to an epic lookout over the Exmouth Gulf (which you can reach on foot from the car park).
The best time to complete the drive is in spring, when the rock walls come alive with over 630 varieties of wildflowers. If you're eager to stretch your legs at the bottom of the canyon, park your car and join the walking trail for the chance to spot echidnas, wallabies, lizards and a variety of local birdlife.
Sample fresh local seafood
You'll find seafood on the menu at most Exmouth eateries. Whalers Restaurant is a popular choice, located amongst the beautifully manicured Exmouth Escape Resort gardens. Whalers offer a relaxed, family-friendly dining experience, with live music and succulent seafood and steak for mains.
For something a little simpler, try Adrift Café near the visitor centre. They're open for breakfast, lunch and dinner, and have an expansive menu with plenty of options to choose from. Stick around for dessert – their homemade cakes and pies are crowd favourites.
For a cheap and cheerful takeaway, place an order at Blue Lips Fish & Chips. They're renowned for their fresh Goldband Snapper and Spanish Mackerel. For those not keen on seafood, they also whip up burgers and souvlakis.
Soak up the views from Vlamingh Head Lighthouse
Hop on the Scenic Lighthouse Drive, then head up the hill to Vlamingh Head Lighthouse. With panoramic views of the ocean, it's a fantastic spot to catch a sunrise or sunset. BYO picnic rug.
Astro-enthusiasts should visit the lighthouse after dark, when you'll be treated to dazzling clusters of stars and constellations overhead. When the stars come out, you'll likely spot a few astrophotographers setting up the perfect shot at the tower's base.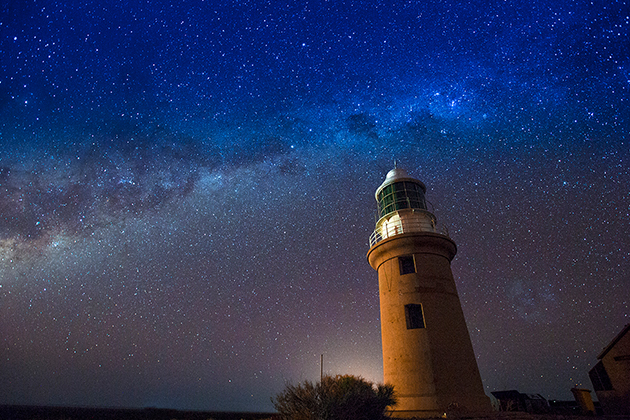 View nesting marine turtles
There are four marine turtle species found on WA's North West Cape, including loggerhead, green and hawksbill. At the Jurabi Turtle Centre north of Exmouth, you'll have the unique opportunity to view them in their natural environment. The centre sits behind the dunes between Hunters and Mauritius beaches, and their non-invasive turtle viewing sessions are a great way to learn about the turtles' lifecycle and the threats they face.
You can take a Turtle Eco-Education tour in the evening from December to early March. Remember to book your spot in advance.
Paddle down Yardie Creek
Though Exmouth may be more famous for its snorkelling, fishing and diving spots off-shore, it's also home to a unique water system that is best explored by kayak. Yardie Creek flows all year round winding its way past stark, red rock cliffs.
If you're out in a kayak, head for the mouth of the creek at the southern end of Yardie Creek Road (there's a car park here for easy access). Paddling through this area is a fantastic way to view its unique features and colours up close – just keep an eye out for boats, as there are a number of charter tours that operate along the creek.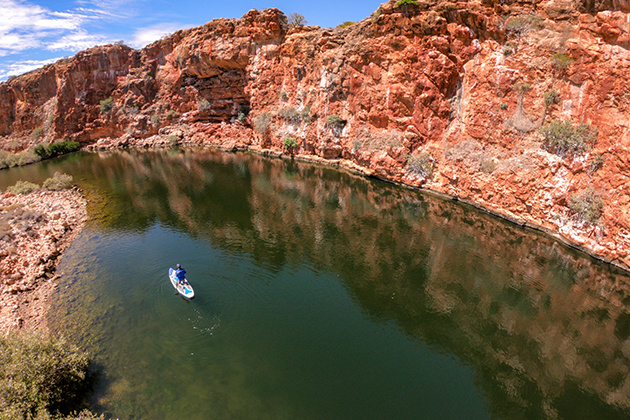 Go whale-watching
The Exmouth Gulf sees some of the highest numbers of humpback whales in the Southern Hemisphere during their migration from Antarctica, making Exmouth one of WA's most reliable whale-watching locations. More than 30,000 humpbacks travel along the Ningaloo coastline during this migration (which is typically between June and November), and there are many spots along the Exmouth coast where you might catch a glimpse of them.
Town Beach, Sunrise Beach and Bundegi Beach all offer great vantage points for humpbacks as they travel along Ningaloo Reef. If you'd rather a birds-eye view of the reef, head for the Vlamingh Head Lighthouse and don't forget your binoculars.
There are also multiple whale-watching charters and boat tours that can bring you closer to the action. Book a sunset whale-watching cruise with Ningaloo Whale Shark'n'Dive, or take a tour with Ningaloo Reef dive – if you're an RAC member, you'll save 10% on your booking.
Need a place to stay?
RAC members save 20%* on stays at RAC Exmouth Cape Holiday Park.
*Terms and conditions apply. Member rate varies according to season. See full website for details.
Last updated: February 2021