Travel & Touring | WA Things To Do
By: Tatum Stafford
Fruit picking, high ropes courses and underwater tunnels are just the beginning when it comes to keeping Perth kids busy.
No matter the time of year, there are countless activities in and around Perth that are sure to keep kids of all ages entertained.
Whether it's free or cheap, adventurous or tame, indoors or outdoors – there's an activity on this list that your kids will love.
RELATED: 20 free or cheap things to do in Perth »

1. Tackle a high ropes course
If your kids are thrill-seekers, consider an excursion to a high ropes course. High ropes instructors prioritise safety above all else, so your kids will receive a detailed safety briefing and will always be attached and secured when up on the course.
One of the newest treetop ropes courses in WA is Trees Tops Adventure in Yanchep National Park. The course weaves through the park's tuart trees and features seven levels of difficulty that include wooden bridges, tight ropes, cargo nets and ziplines. Each session is 2.5 hours long (including training and a safety briefing), and kids' pricing, for 3 to 7-year-olds, starts at $32. There's also a special school holiday 'Kidzip' session for 8 to 12-year-olds. Bookings are essential.
If the weather isn't looking too good, head for the indoor high ropes at Bounce Inc in Joondalup. Dubbed an 'indoor aerial super park', Bounce is home to more than 3,000 square meters of interconnected indoor trampolines and other adventure features so there's plenty to keep the kids busy. Toddlers and pre-schoolers get two hours of bounce time for just $11 and for kids over 110cm in height, prices start at $15.50. Book your session in advance.
2. Ride an Edwardian-era ferry on the Swan River
For a truly unique school holiday experience, catch The Little Ferry Co's solar-powered, Edwardian-styled little ferry from Elizabeth Quay to Optus Stadium. It takes about 25 minutes of whisper-quiet cruising along the Swan River to the Stadium where you can disembark and visit the many playgrounds, have a picnic lunch on the riverbank or eat at the Camberwell, before returning to Elizabeth Quay on the ferry. Alternatively, you could walk over Matagarup bridge to Claisebrook Cove and catch the return ferry from there instead.
3. Go fruit picking
No matter the time of year, there are plenty of orchards within the Perth Hills and Perth's northern suburbs that open their gates for visitors to pick fresh apples, strawberries, mangoes, cherries, pears, pomegranates and more.
A popular spot in the Perth Hills is the S&R Orchard in Walliston, which hosts a 'pick your own summer fruit' festival between December and March each year. The Carmel Cherry Farm, Raeburn Orchards and the Blueberry Farm in Piesse Brook are nearby if you want to collect a selection of different fruits in one go. A 'pick your own' experience at these local orchards will usually set you back a few dollars per box or basket.
If you're hoping to go strawberry picking, Ti's Farm in Bullsbrook gives kids the chance to get their hands dirty picking farm-fresh berries. Once you arrive, simply pay $10 for a tray and get to work filling it up. The strawberries are grown outdoors, so make sure you bring a hat and plenty of sunscreen. Ti's Farm is open seasonally, so check the Facebook page for confirmed opening information. Other great strawberry farms around Perth include the Lena Strawberry Farm in Anketell, Kien's Strawberry Farm in Gnangara and Sue & Tim's Fresh Farms in Wanneroo - it's best to call ahead to ensure they're open.
RELATED: Where to go fruit picking in and around Perth »

For a more immersive orchard adventure, jump aboard the Apple Express tractor ride at Core Cider House in Pickering Brook for a fun tour around the orchards. As the tractor winds through the fruit trees, you'll be able to hop off at one of the many stops to pick your orchard-fresh fruit. Depending on the season, you'll find everything from apples to citrus and stone fruit. The tour is $15 per person with kids under three free.
4. Pull on some ice skates
If you're looking for a completely different kind of Perth adventure, rug up and hit the ice rink at Cockburn Ice Arena. They have special school holiday sessions, which include a demonstration of ice-skating basics. Ice marshals patrol the rink throughout the session to help you and your kids get the hang of things, with a DJ providing music and running games.
5. Tackle an escape room
Varying in difficulty and themes, escape rooms are a fantastic family-friendly activity perfect for any time of year and there are quite a few to choose from.
Some of the best escape rooms around Perth for kids include Escape Hunt in Fremantle, who offer a series of Disney-themed rooms suitable for all ages, Time's Up in Wanneroo, who host a mix of indoor and outdoor experiences, and Escape This in Northbridge, with family-friendly rooms themed around pirates and wizards.
Some escape rooms in Perth have minimum age limits, and some may require adult supervision for children. It's advised to check the website's T&Cs before booking a session.
6. Explore Naturescape at Kings Park
The Rio Tinto Naturescape in King's Park is a space that gives city kids the opportunity to have a 'bush experience' in the heart of Perth. It features aerial walkways, a creek and waterhole for paddling, and a web of climbing ropes called The Tangle. During wildflower season you can continue with the nature vibe and take the kids wildflower spotting.
7. Go for a paddle in a natural pool
If you need a break from the beach, pack your bathers and head for a natural swimming hole instead.
Lake Leschenaultia in Chidlow is a hit with families, with plenty of shade thanks to surrounding tall trees. The lake has a white sand beach and the water here is calm, so it's perfect for paddling or for little ones to splash around in the shallows. There's also a pontoon kids can jump from into the water, and barbeque facilities if you're eager to stay awhile.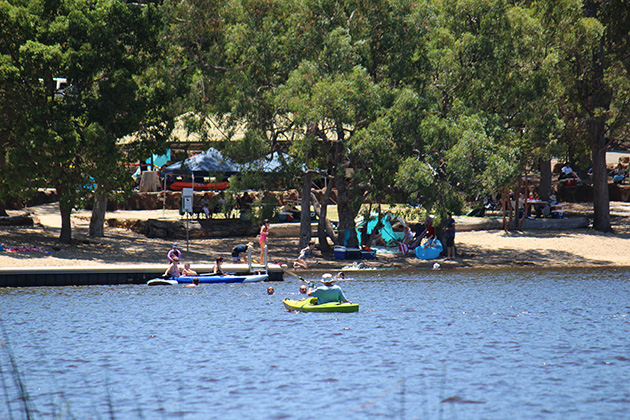 If you have the time to head out a bit further from Perth, try Scarp Pool near Dwellingup (popular for its picturesque picnic spots), Logue Brook Dam near Harvey, or Honeymoon Pool in the Wellington National Park.
We recommend checking the Parks and Wildlife Service webpage for any active water alerts before swimming at any of these spots.
RELATED: Swimming holes within two hours of Perth »

8. See little penguins
If you're eager to pay some of Perth's cutest residents a visit, hop on a 10min cruise from Rockingham to reach Penguin Island. Inside the Penguin Island Discovery Centre you can watch one of three daily feeding sessions with rescued and rehabilitated penguins, and keep an eye out for Kevin, the biggest and loudest penguin who has fast become a fan favourite.
The island is closed over the winter months from early June to September each year. During the open season you can purchase a day pass to the island, which includes your ferry ride and Discovery Centre entry, for $30 per child aged 3 to 12 and $35 per adult. Family passes are also available at $100 for two adults and two children.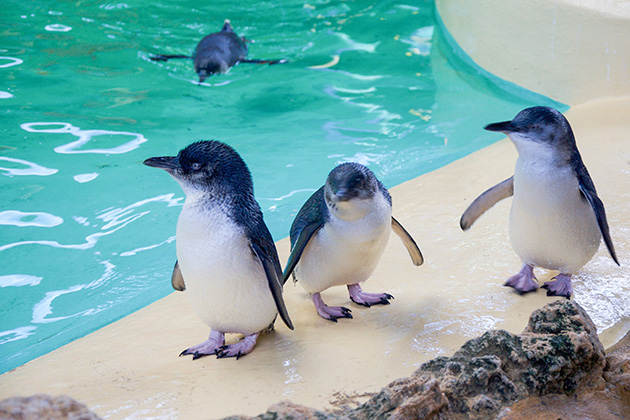 9. Get experimental at Scitech
No matter when you visit, there's always something to keep the kids busy at Scitech. The centre in West Perth features exhibitions, puppet shows, live science experiments and even stargazing sessions in the Planetarium.
Within the permanent Science Centre, head for the Rio Tinto Innovation Central gallery to tinker with toys, the Scitech Lab to learn about forensics, robotics and animation, or the Kaartadjin Koorliny gallery for an immersive colour experience with a perception tunnel and musical lighting that responds to body movements.
Scitech's Planetarium is the star attraction. It features a rotating event schedule of immersive shows led by astro-experts. Previous show topics include 'voyages' through the Solar System and VR views of the Moon.
Scitech is open every day from 9:30am to 4pm, and tickets start at $12 for kids aged 4 to 17. RAC members save 10% on tickets when booked in advance through the RAC online shop.
10. Try some pottery painting
Pottery painting not only engages your child in something artistic, but they'll also gain a keepsake from the experience. The process is simple - they choose a piece of pottery, get creative with painting and you can pick it up once it's been fired. Pearson Pottery in Mount Hawthorn run sessions in their studio for two hours from Thursday to Monday.
11. Cool off at a water playground
There are plenty of free outdoor water playgrounds across Perth for kids to splash around in.
The Hyde Park Water Playground in North Perth has a massive spongey splash pad, tipping buckets, spray guns and plenty of water jets. Its water runs on a 10-minute timer, and the playground only uses water from November to March between 8am and 8pm.
Another great play area is the Rainbow Waters Playground that sits opposite the library in Ellenbrook. Open from 9am to 7pm in summer, the playground has different obstacles, tunnels and large open splash zones so you're guaranteed to get wet.
If you're looking for a spot near the city, there are two water playgrounds to try: the BHP Water Park in Elizabeth Quay, and the Water Labyrinth sculpture in Forrest Place. The latter sculpture is interactive and runs daily from 10am to 6pm, splashing water when kids activate its sensors. The BHP Water Park sits at the entry point to Elizabeth Quay, and features water jets and lighting that showcases a beautiful mural at its base. Be mindful that both water areas are on top of brick and tiles, so kids should wear suitable footwear and avoid running at high speeds.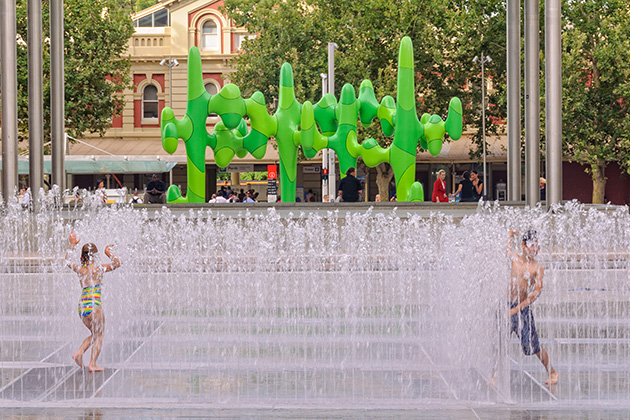 12. Tour the night sky at the Perth Observatory
The Perth Observatory offers fascinating night sky tours each month. Tour participant will have the chance to gaze through the observatory's wide collection of telescopes to see dying stars, nebulas, giant star clusters, and the moon and other planets when they are visible. Sometimes, satellites and meteors can flash across the sky unexpectedly, too.
These tours are recommended for kids aged 8 and up, but bear in mind that children must be supervised by an adult at all times. As the star viewing part of the tour is held outdoors, make sure you bring extra layers as you'll be out in bushland at night. Book in advance.
If you'd rather visit the observatory during the day, join a Sunday guided day tour. It's $10 for kids aged 12-17 and kids under 12 are free. You'll be able to tour the observatory's incredible telescopes and explore the grounds.
RELATED: Best stargazing spots around Perth »

13. Feed and play with animals
The Swan Valley Cuddly Animal Farm is a popular local farm experience with plenty of activities offered in your entry price. A typical visit to the farm includes a tractor train ride, an animal feeding session, a jump on the bouncy castle and a turn on the merry-go-round. There are also picnic and barbeque facilities onsite if you want to make a day of it. Visitors can bucket-feed guinea pigs, rabbits and birds, bottle-feed lambs and piglets, and pat ponies, kangaroos, emus and even a miniature mule. Children's entry starts at $15.
If you're eager to learn a bit more about animals from Australia and beyond, plan a trip to the nearby Caversham Wildlife Park. Alongside its own interactive farm yard, the park hosts daily koala meet-and-greets, kangaroo feeding sessions and impressive farm shows complete with sheep shearing, whip cracking, cow milking and sheep dog mustering. There's also a reptile house onsite, with more than 150 creatures, including carpet pythons and olive pythons. The park is open daily from 9:30am to 4pm, and kids' tickets start at $15. RAC members save up to 15% when booked in advance through the RAC online shop.
RELATED: Best family-friendly farm stays in WA »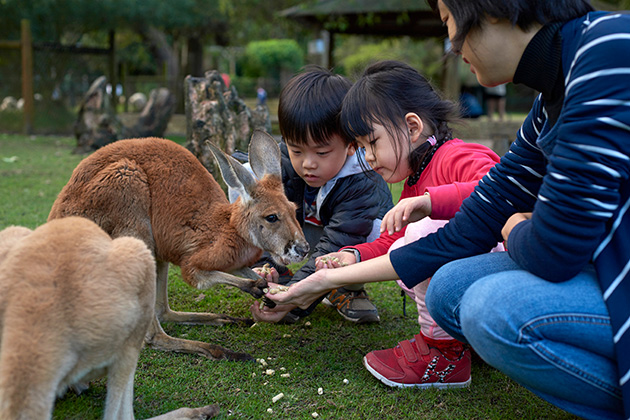 14. Play a round of Supa Golf
Though there are plenty of mini golf courses in and around Perth to explore, if you're eager to try something different, tee off at Oasis Supa Golf in the Swan Valley. This modified form of golf is easy to play, as both the golf club and the ball you'll use are oversized, made of a soft material, and fluorescent in colour. The golf hole size is also bigger, so it's a great way to introduce kids to the game of golf without too much difficulty.
Supa Golf is suitable for kids aged six and up, and it's recommended you book in advance to avoid missing out.
15. Explore AQWA's underwater wonderland
There's no shortage of things to do in a day at AQWA. Pick up a map on entry and see the colourful marine life in the official aquarium section, hop on the escalator belt in the underwater tunnel, head outdoors to the interactive touch pool, and spend time in the playground.
Alongside the permanent exhibits, you can also take a ride across the top of the aquarium on a glass-bottom boat and go on a tour behind the scenes.
Tickets can be purchased on arrival, with kids' tickets starting at $19. Family passes are also available. RAC members save 10% on general admission. Simply show your member card on arrival or book online through the AQWA website and use the promo code RAC10. You will also need a valid member number to complete the booking. Check the AQWA website for a calendar of free school holiday activities, which rotate throughout the year. The famous AQWA mermaids make an appearance a few times a year, so keep an eye out for them on the website also – they're a massive hit with kids.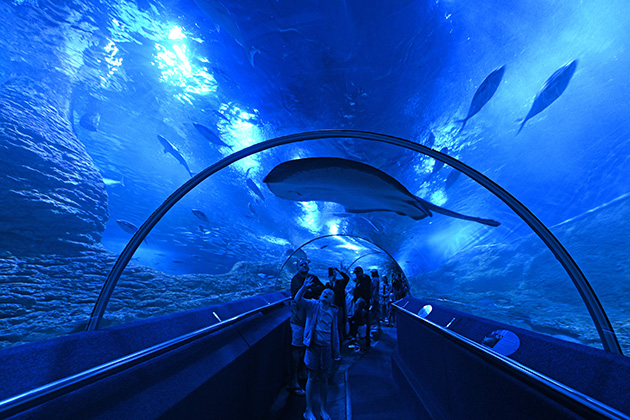 16. Go snorkelling
Perth is home to plenty of spectacular beaches and bays that are prime spots for snorkelling. Due to swells and currents, some locations require a bit of snorkelling experience, but there are several areas suitable for beginners and kids.
Mettams Pool in Trigg is a good spot for beginners and families. With a natural rock pool that's less than two metres deep, the area is protected by a surrounding reef and is home to buffalo bream, red-lip morwongs and even sea anenomes. There are similar shallow rock pools at Point Peron in Rockingham, which is home to more diverse marine life including sea sponges, spider crabs and tropical fish.
If you're eager to snorkel further offshore, book a family snorkelling tour out to Carnac Island from Fremantle. The island is famous for its colony of Australian sea lions but is also an important habitat for bottlenose dolphins and tropical fish, making its surrounding reef a haven for snorkellers. If your kids are still beginners, let your guide know and extra attention and training will be provided during the trip. There are a few different tour operators to choose from, with average prices from $99 per person.
RELATED: 10 of Perth's best snorkelling spots »

Last updated: September 2022
Chasing more amazing experiences in Perth?
RAC members save from 10% off a variety of experiences in and around Perth. Swim with dolphins, fly a seaplane to Rottnest, and more.*
*Terms and conditions apply. Visit https://rac.clubconnect.com.au/en for more details.