By: Kerry Faulkner
The thrill of driving the Southern Forests' sunlight‑dappled country roads, with overhanging branches still dripping with morning dew, is all in the journey.
Maybe an art gallery here, a winery there, or a pub lunch followed by a gentle walk on a winding trail through pristine forest so lush you imagine you can hear the forest growing as you pass: it's all in the journey.
From Margaret River's neatly fenced pastures, the bitumen wanders through gently sloping valleys thick with karri trees bursting from lush lime-green undergrowth. It's against this idyllic backdrop that Manjimup, Pemberton, Quinninup, Northcliffe and Walpole emerge.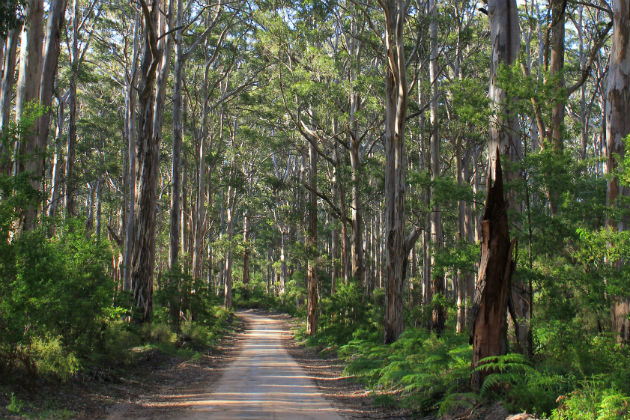 These peaceful woods haven't always been so tranquil.
In the mid-1990s conservationists clashed with loggers – one group committed to preserving the trees, the other equally as determined to protect their industry.
Jane Block, a stand of virgin forest just outside Northcliffe, was the scene of the fiercest battle of the era but standing at the base of the towering karris, some more than 100 years old, it is hard to imagine this stunning, quiet forest was once the site of conflict.
Logging of old-growth forest was eventually reduced and these extraordinary natural treasures are now one of the region's most important tourist attractions.
Northcliffe's 'Understory' is a celebration of the enduring spirit of the forest – a 1.2km stroll through the forest understory following a route around an eclectic collection of sculptures and other artwork. An interesting audio accompaniment tells the stories of the artworks.
Windy Harbour is a curious coastal settlement just 27km south of Northcliffe in D'Entrecasteaux National Park. It began as a seaside retreat for the region's hard working farmers who built their fishing shacks here.
Today a campground is nestled among the brightly painted weekenders, it too brimming with early-rising die-hard fishermen eager to cast a line. A boardwalk along the dunes ends at Tookulup Lookout with stunning views across the wild and beautiful beaches bordering the vast Southern Ocean.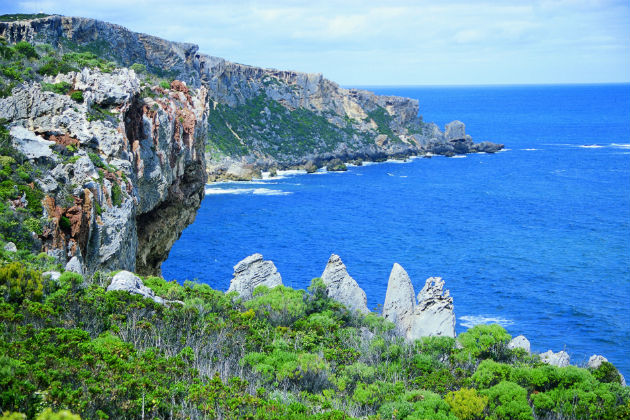 New growth
As timber mills gradually fall silent, the burgeoning industries in the south are increasingly those that showcase their sublime natural beauty – the forests, conservation parks, estuaries, rivers, lakes and coastal cliffs – breathing new life into old villages such as Quinninup, a historic former mill town, where Karri Lake mirrors spectacular sunsets and the tavern's Sunday lunches are a local institution thanks to hearty home-style cooking.
It's easy for travellers to immerse themselves in nature; boardwalks stretch along river banks at pretty Fernbrook Falls and trails have been carved to cater for everything from mountain biking to horse-riding and canoeing.
Fishing and cruising along the local rivers such as the Donnelly River are also very popular.
Holiday-makers have a vast selection of accommodation choices too, including the Old Picture Theatre (Pemberton), a converted 1950s tobacco kiln (Watermark Kilns between Pemberton and Northcliffe), bush camping in a forest conservation park (Shannon and Fernbrook Falls -signposted on the South Western Highway), a caravan park on a pristine inlet (Coalminers Beach, Walpole), a family resort experience (RAC Karri Valley Resort) and plentiful choice of farm-stays.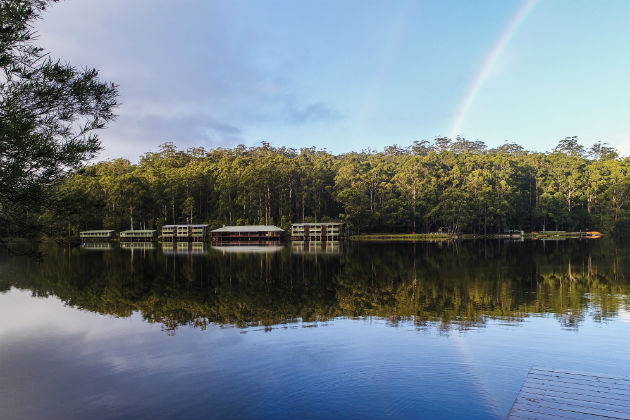 Some accommodation caters specifically for walkers on the Bibbulmun Track and hikers and cyclists on the Munda Biddi Trail, two of the state's peak nature paths that cut their way through the forest.
The region is also highly regarded for its gourmet produce, ranging from fruit and vegetables to meat and dairy, along with wineries and breweries like Silkwood and Salitage, which may surprise many first-time visitors.
Manjimup has assumed a lead role in building the region to be the state's premier 'food bowl'. Foodies come to sample locally produced apples, truffles, trout, and beef and the local cooking school, Pemberton's Foragers Field Kitchen and Cooking School, is also highly regarded.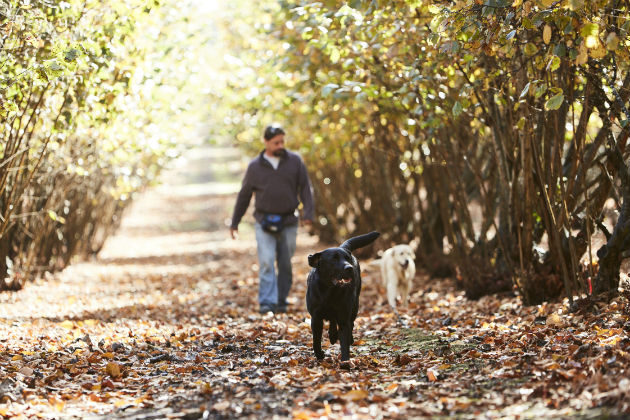 Big Brook Dam, just 3km north of Pemberton, is a stunning scenic picnic spot surrounded by tall karri trees bordering a sandy beach.
Campgrounds near the arboretum attract visitors who prefer to be one-on-one with nature rather than in the town's caravan park.
Twenty kilometres south-west of Pemberton are the Yeagarup Dunes – the largest land-locked mobile dune system in the southern hemisphere.
The massive dunes rise high above the surrounding landscape and stretch for several kilometres. They are slowly blowing inland at a rate of approximately four metres each year, swallowing some sections of forest as they go.
The southern forests have jarrah, tingle and karri trees, the latter easily identifiable for their sentinel-straight trunks.
The most famous is the Gloucester Tree near Pemberton, a former 61‑metre‑tall fire lookout reached by scaling 153 terrifyingly thin pegs driven into the trunk.
It's not for everyone; the 2013 Taste Master of Western Australia, Englishman Rich Keam, says he made it 15m up the trunk twice before finally calling it quits and climbing safely back to ground, commenting afterwards that he'd rather jump out of a plane than attempt to climb it again. Nevertheless loads of people do make the climb, determined to win the jewel in the crown - an expansive view across a sea of magnificent forest.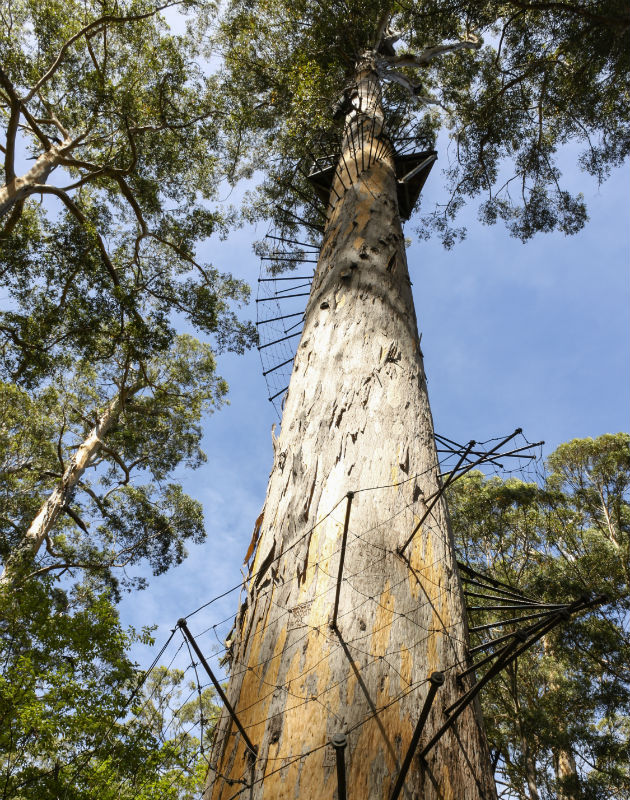 High on the view
A considerably more accessible view is from the Valley of the Giants Tree Top Walk near Walpole – the 'celebrity' of the region's tourism experiences.
The steel walkway hovers 40m above the tingle forest floor and the view is inspiring. A guided walk on ground level tells the tale of the forest in finer detail and you can even take the opportunity to stand in a tree trunk big enough for two.
The beauty of the Nornalup inlet, with mist rising from the water, is so sublime an early morning paddle is a near 'spiritual' experience.
Non-paddlers rave about Gary Muir's two-and-a-half-hour inlet wilderness eco-cruise, not just because of his extraordinary expertise in the area's ecology but because he's a wonderful, entertaining guide.
Gary serves his legendary tingle cake at morning tea on the tour: it's his mother's recipe, named in honour of the tingle trees that are the heart of the southern forests region.
Where is it:

The Southern Forests region lies between Manjimup and Walpole in WA's South West. The route from Perth via the South West Highway to Walpole, including Manjimup, Pemberton, Northcliffe, Windy Harbour and Quinninup, stretches approximately 530 kilometres one way.

Alternatively, if you are travelling from the Margaret River region, continue south on the Bussell Highway turning east at Karridale to Walpole via Pemberton. Once you've arrived set aside four or five full days to really relax and explore the area.

How to get there:

The most picturesque and direct route to the Southern Forests from Perth is the South Western Highway, a pretty drive through inland country towns nestled on river banks.

Alternatively, you could take a more leisurely journey via the iconic Margaret River Wine Region on the Bussell Highway coastal route through Bunbury and Busselton.

When to go:
Summers are warm and dry, ideal for hiking and canoeing. Autumns and winters are milder and wetter, perfect for sightseeing, restaurant and winery tours, long, cosy fireside conversation, and tasting the fine local wines. Wildflowers add a sprinkling of colour to the forest floor in spring.
Don't miss:
Manjimup's annual Truffle Kerfuffle in June at Fonty's Pool features a farmers' market, wine tasting and master classes by the state's best chefs. Add stunning six-course dinners and an opportunity to pull on the gum boots and join the dogs on a truffle hunt and you've got a Southern Forest outing that's not to be missed.
Before you go:
RAC members save 15% on maps and guides. Get your South West and Southern Forests maps and guides.
Last updated January 2018