Travel & Touring | WA Destinations
By: Ryan Suckling
Surrounded by towering forests, the town of Walpole is a perfect base from which to explore one of WA's most unique wilderness areas.
The region is actually comprised of seven different national parks collectively known as the Walpole Wilderness area and stretches from lush jarrah and marri forests to spectacular coastal cliffs.
At a glance
Distance from Perth
435km, a five-hour drive from Perth.
Why go?
Celebrated for its rare tingle and karri trees not seen anywhere else on Earth, the wilderness area is a nature lover's dream.
When to go

Mar - May & Sep - Nov: Cool with clear skies; great for bush walks, mountain biking, and fishing.
Jun - Aug: Rainy with daily temperatures around 16 degrees; great for forest drives, fireside meals and whale-watching.
Dec - Feb: Average daily temperatures of 25 degrees; summer marks peak season, ideal for outdoor activities.

How long to stay
With plenty of wilderness to explore, you'll need at least three days.
Need to know
Walpole is a small town with limited facilities when compared to Denmark or Albany. The town has a petrol station, a couple of cafes and restaurants and a motel. Mobile reception can be patchy in forest areas, so plan ahead and bring an up-to-date map with you.
Fast facts
Town population: About 500
Indigenous people: Murrrum of the Minang peoples of the Noongar group.

Things to see and do
Valley of the Giants Tree Top Walk
A visit to Walpole wouldn't be complete without scaling this renowned attraction. Stretching for 600 metres through a red tingle forest, the Valley of the Giants Tree Top Walk hovers 40 metres above ground to provide a spectacular bird's eye view of the forest below. Part of the Walpole-Nornalup National Park, the Tree Top Walk entry point is only a 15-minute drive east of the Walpole township.
While the view from up high is a great vantage point, the boardwalks below the path lead to the Ancient Empire Walk which features many giant tingle trees. Some are hollowed out at the base, allowing visitors to step inside to get a sense of their size and beauty.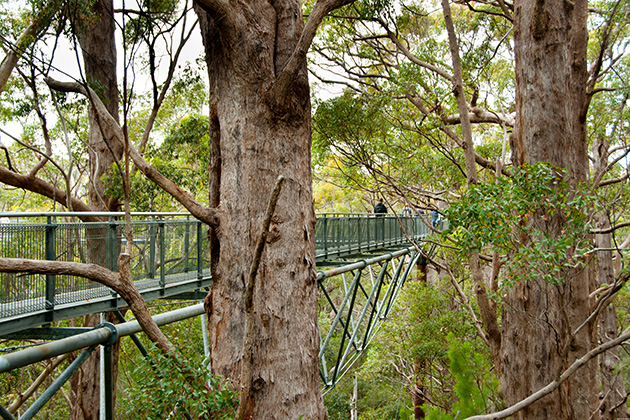 Swarbrick
Swarbrick is one of three sites that make up the Walpole Wilderness Discovery Centre, the others being the Tree Top Walk and Mount Frankland, and boasts the state's oldest karri tree forest. Decades ago, Swarbrick became the centre of a push to turn this region into a protected wilderness area.
Today at Swarbrick, you'll find a 39-metre-long stainless steel 'Wilderness Wall of Perceptions' that depicts events in the area's preservation history. The greater Swarbrick Art Loop also features a range of suspended sculptures dotted along the walkway.
RELATED: 9 of WA's most vibrant art trails »

Mount Frankland
The remaining Discovery Centre site of Mount Frankland is the gateway to one of the region's most famous lookouts, providing unrivalled views over the park's western side and a range of walking trails.
Circular Pool
At Circular Pool on the Frankland River, you can explore winding pathways and spectacular lookouts along the riverbank. This rocky pool is known for the foam that swirls and moves around its surface. The area is dotted with scenic picnic spots where you can relax and watch the river gently flow by.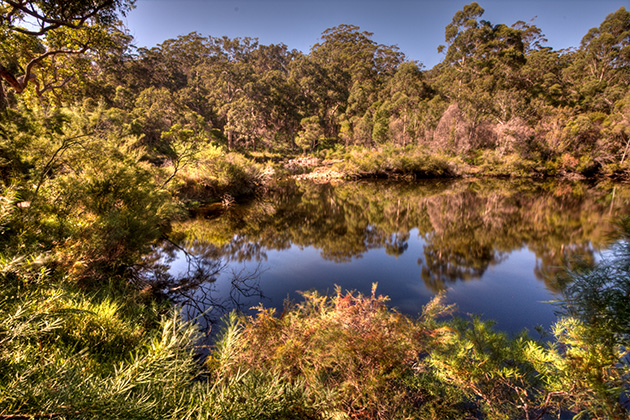 Follow the Summit Trail to the Towerman's Hut, built in 1956 as a fire lookout. There are barbeques nearby once you reach the summit.
Local eateries
You can taste some of the Great Southern region's renowned fresh produce at local bakeries, cafes and restaurants. Try the Golden Wattle Bakery for breakfast or lunch. On weekends, café and restaurant The Nornabor turns into a cosy bistro perfect for a quiet meal in tranquil forest surrounds.
There are a good number of wineries in the region, including the family-run Frankland Estate. If you're planning to visit the cellar door, it's a good idea to phone ahead first.
Fernhook Falls
Located along one of the main tributaries of the Walpole-Nornalup Inlet, the epic waterfalls of Fernbrook are a short 30-minute drive from Walpole. A popular swimming and picnic spot during the summer, the water cascades heavily here in winter.
Further along the main boardwalk you'll find the still waters of Rowell's Pool, where it's safe to take a canoe adventure during whitewater season (July to the end of October). If you're eager to stay overnight, there is a campsite situated right by Rowell's Pool which has eight tents sites, which are also suitable for small caravans and camper trailers in addition to two cabins. Be mindful the camping huts are very popular, so it's recommended you limit your stay to three days for the best availability.
Mandalay Beach
Named after the three-masted Norwegian Barque 'Mandalay' that was shipwrecked at this location in 1911, Mandalay Beach is a spectacular stretch of coastline with views out to Chatham Island.
Part of the Bibbulmun Track, the beach is reached by a boardwalk with lookout spots where you can even catch sight of passing whales from May to October. Fishing is also popular here, especially for skippy, herring and whiting.
Conspicuous Cliff
As the name suggests, this towering cliff face cannot be missed. Imposing itself among the surrounding heathland, Conspicuous Cliff offers views over a pristine beach.
The cliff has two lookouts including one that overlooks the entire bay with panoramic ocean views and another further below where you can watch the crashing waves. This is another whale-watching spot to add to your winter Walpole itinerary.
Mount Clare Summit Trail
Another walking trail that is part of Bibbulmun Track, the journey to Mount Clare Summit takes you through tingle and karri forests. The climb can be taxing but you'll be rewarded with views over the vast Walpole Wilderness and beyond to the Southern Ocean.
A hotspot for bushwalking, the trail's Deep River Loop and Shedley Drive Loop are ideal for those looking to get off the beaten track and head deeper into the forest.
Getting around
Most well-known attractions can be reached by two-wheel drive.
What to pack
Loose, light clothing for outdoor activities during the day, bathers during summer and warm evening clothes all year round.
Travelling safely
Leafy, winding roads mean it's wise to drive cautiously and ensure you're well rested before you get behind the wheel.
Eager to explore Walpole's lush national parks?
RAC members save 50% on national park passes.