Travel & Touring | WA Road Trips
Learn about the local Aboriginal people's connection to country on this trail that follows where the Warlu, the sea serpent, emerged from the ocean.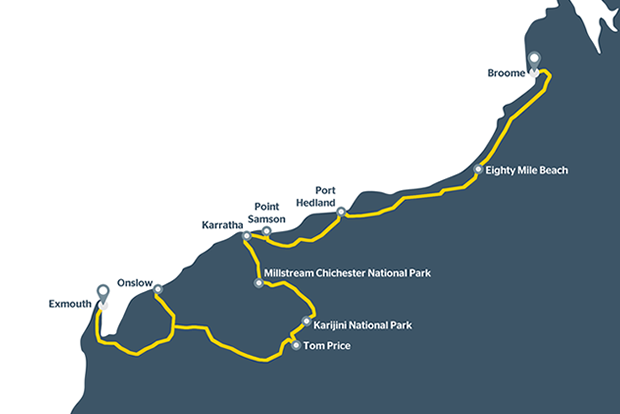 | | |
| --- | --- |
| Distance | Approx. 2090km |
| When to visit | May - October (dry season) |
| Itinerary | Exmouth - Onslow - Tom Price - Karijini National Park - Millstream-Chichester National Park - Karratha - Point Samson - Port Hedland - Eighty Mile Beach - Broome |
| Tips for travel | Make sure you stop every two hours, as there are long drives on this road trip. Stay safe on your road trip. |
| Highlights | Whale sharks - Staircase to the Moon - Mount Nameless - Karijini National Park - Millstream Chichester National Park - Aboriginal rock art at Burrup Peninsula - Dampier Archipelago - Point Samson - Pretty Pool - Eighty Mile Beach - camel ride on Cable Beach |
Day one: Exmouth to Onslow (402km)
This cultural journey starts with Exmouth's unspoiled beaches and Ningaloo Reef, Australia's largest fringing coral reef. Take a swim with the whale sharks, hop on a glass-bottom boat to view the colourful coral and marine life below, or take it easy and float along the water with your snorkel.
A 40-minute drive along Yardie Creek Road will get you to Cape Range National Park, where you can see canyons, the spectacular Yardie Creek, and wildflowers when in season.
Take Burkett Road then the North West Coastal Highway to Onslow, about a four-hour drive.
Keen fishers will find lots to do in Onslow. It's also one of the few places where you can see the sun rise and set over the water – there's a beach for the morning and the evening. You may even be lucky enough to catch the Staircase of the Moon, a striking, long reflection of the moon on the water.
Day two: Onslow to Tom Price (410km)
Make your way to the highest town in WA, Tom Price, via Nanutarra Road. If you're up to it, drive out to Mount Nameless for sweeping views of the Hamersley Ranges, the town, and mining sites – you can get to the top in a four-wheel drive.
Rest up before you spend the next day travelling to Karijini National Park, where ideally you'll spend more than a night.
Day three: Tom Price to Karijini National Park (70km)
Make your first stop for the day at Karijini Visitor Centre to get your bearings. Seeing the park's narrow gorges, pools, waterfalls, and rocky backdrop is an unforgettable outback experience.
Visit Dales Gorge, Circular Pool, Fortescue Falls, and Hamersley Gorge – don't forget to pack your bathers. Stay for a few nights at the iconic Karijini Eco Retreat while you spend time exploring the park's spectacular scenery.
Day four: Karijini National Park to Millstream Chichester National Park (179km)
The drive to the next national park will take you more than five hours along Roebourne-Wittenoom Road, so leave plenty of time to get there.
Millstream Chichester National Park holds great significance for Aboriginal people – it's the home of the mythological Warlu. Visit the Homestead Visitor Centre, built in the 1920s and also the hub for exploring the park. There are campgrounds within the park.
Just 4km from the visitor centre is Deep Reach Pool, the sacred home of the Warlu of the Yinjibarndi people. Stop in at the scenic Python Pool which rests below a seasonal waterfall. It's one of the most scenic locations in the park.
For an expansive view of the park, climb the Mount Herbert Summit Trail to see the rugged Chichester Range and Pyramid Hill.
Day five: Millstream Chichester National Park to Karratha (122km)
Head back to the coast and civilisation along Warlu Road, which will take you north to Karratha.
The modern town of Karratha is a great base to explore the surrounding towns and beautiful coastline. Hearson's Cove between Karratha and Dampier on the Burrup Peninsula is a popular beach and fishing destination – you might even see turtles, crabs, or octopus in the water.
Just 20 minutes from town is Dampier, the spiritual home of the famous Red Dog - the Pilbara's legendary canine wanderer. You can see his memorial on the way into town and follow the trail to learn about his adventures. Consider a cruise through the Dampier Archipelago to see some of its 42 islands.
Explore the Burrup Peninsula north of Dampier, one of the biggest sites of Aboriginal art in the world. Wander through this ancient outdoor art gallery and spot the local wildlife.
Day six: Karratha to Point Samson (57km)
Leave Karratha and head east along the North West Coastal Highway, stopping in at Point Samson on your way to Port Hedland. On your way up the point, Cossack is a fascinating ghost town that was once crucial to the development of the North West as the original port of pearls. It's also a great spot for some quiet fishing.
RELATED: 10 of WA's spookiest ghost towns »

Point Samson provides a picturesque place for relaxing and exploring areas like Honeymoon Cove. You can stay here the night or continue on the North West Coastal Highway to Port Hedland.
Day seven: Point Samson to Port Hedland (221km)
It's known for its connection to the resource industry, but Port Hedland has its own highlights aside from iron ore. This town is a gateway to the Pilbara and Kimberley regions.
Wander along the Cultural and Heritage Trail, where you'll stop at places like the sea baths, Koombana Lookout, and the Don Rhodes Mining Museum to learn about the town's history.
Take a swim at tidal creek Pretty Pool or watch the Staircase to the Moon phenomenon between March and October at Cooke Point. The area is great for fishing and crabbing.
Day eight: Port Hedland to Eighty Mile Beach (254km)
Get an early start and take Great Northern Highway to Eighty Mile Beach, the longest uninterrupted beach in WA at 220km.
The beach attracts thousands of migratory wading birds as well as sawfish, dugong, and turtles. You can camp here or continue to Broome after a rest from driving.
Day nine: Eighty Mile Beach to Broome (376km)
It's time to head further north along Great Northern Highway to Broome, famous for its laidback atmosphere. It's a fitting place to end your journey.
This pearling town boasts great beaches – go for a camel ride at sunset on Cable Beach, one of the town's most well-known experiences, or lay back on the soft sand of Town Beach.
Pamper yourself at one of the day spas, shop for some pearls, visit Roebuck Bay, and try to find dinosaur footprints in the rocks at Gantheaume Point to round out Warlu Way.
Ready to tackle this epic road trip?
You'll need a four-wheel drive - RAC members save 15% on daily car rental rates from Thrifty.
Last updated: April 2021