Travel & Touring | WA Road Trips
21 September, 2021 By: Chris Morton
Wind your way through the North West's ancient landscapes, from rugged red gorges and inland swimming holes to coastal mangroves and remote beaches.
Back in the dreamtime, Barrimirndi, a great sea serpent, became angry with two boys for eating a Barnbarn (a twenty-eight parrot). In his pursuit of the boys, he carved out great gouges in the earth, creating rivers and water holes where previously there had only been dry land. Barrimirndi eventually caught up with the mischievous boys, swallowing them whole.
Today, you can trace the winding, gorge-filled path of the Barrimirndi on the Warlu Way, a journey from Exmouth to Broome that cuts a path through the heart of the Pilbara and the Kimberley coast.
The following 12-day itinerary takes you on an incredible journey through this region's unique and stunning landscapes.
RELATED: Epic WA road trips you can only take in a 4WD »

Cheela Plains Station, 182km from Nanutarra Roadhouse
Turning off the North West Coastal Highway, commence your adventure along the Nanutarra Road, east of Exmouth. The drive almost mimics a serpent's slithering, serpentine movements, as it winds through the iron ore-rich landscape.
Named after the vast plain on which it sits, Cheela Plains Station was once part of neighbouring Wyloo Station (which is the English interpretation of Warlu) before being annexed off in 2000.
The station offers a place to stop for caravans and campers as well as a limited number of rooms and safari tents. The campgrounds are accessible by two-wheel drive however a four-wheel drive is required if you want to explore the gorges and water holes found on the property.
Stay a couple of nights and take some time to head out to the picturesque Munderie Spring before discovering The Wall and Woongarra Pool. Mussel Pool offers a great place for a refreshing dip amidst towering cliffs.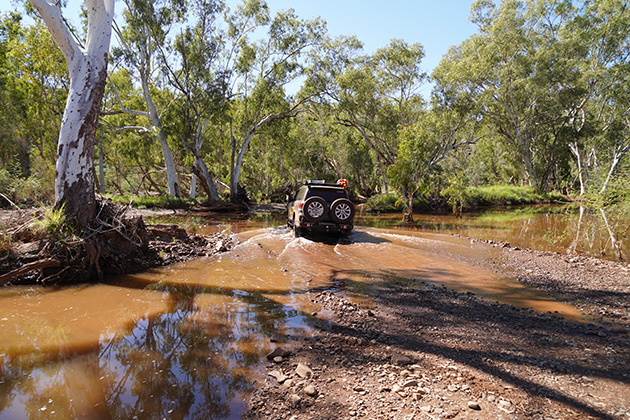 Tom Price, 112km to Tom Price via Nanutarra Road - gravel - or 174km via Paraburdoo
Once a privately owned mining town, Rio Tinto handed Tom Price over in its entirety to the Shire of Ashburton for the princely sum of $1 in 1982. Today, the town is an integral part of the mining operations in the area.
Sitting 747m above sea level, the town is the highest in WA. Travel to the top of Mt Nameless for a 360-degree view or take a bus tour through Rio's Mt Tom Price operations. It is also your last opportunity to resupply before heading into Karijini National Park, 90km to the east.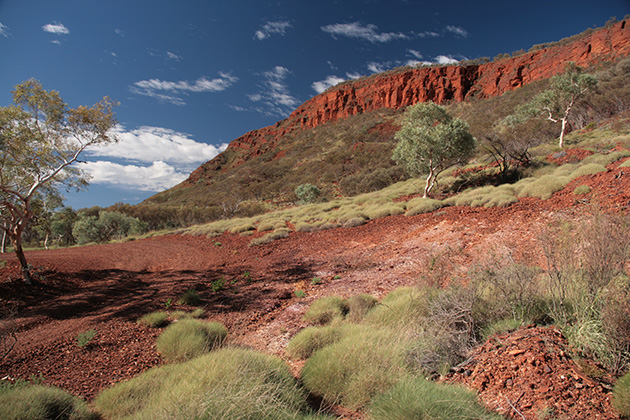 The town also offers alternative accommodation options, in the event that Karijini is booked out.
Karijini National Park, 90km from Tom Price
At Karijini National Park, deep gorges carved out by flowing water over many millennia have created a snapshot back in time, clearly visible as you descend into any of the accessible gorges.
Fortescue Falls and Fern Pool are favourites with all visitors, helped by the installation of a steel staircase, however, don't be afraid to venture into the other gorges. Each and every one offers their own unique beauty.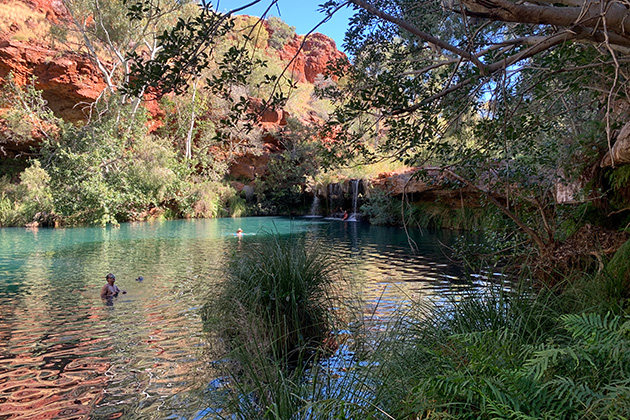 Kalamina Gorge has a relatively easy entry and provides you with a spectacular reward for your efforts. A large, deep waterfall-fed pool is located to the immediate right of the gorge as you enter. For those slightly more adventurous, you can tackle the 3-hour return, class-4 hike to the end of the gorge and take a gander at Rock Arch Pool.
Karijini Eco Retreat offers a touch of luxury with safari tents, cabins or unpowered camp sites. Alternatively, Karijini National Park also has camping at Dales Campground. You will need to book well in advance of any trip to ensure you secure a site.
Take care when around the gorges. People have died or been seriously injured after slipping and falling. Ensure you wear good walking shoes, carry plenty of water and don't be afraid to use a hiking pole for that extra support - they make a huge difference when climbing in and out of a gorge.
Glen Herring Gorge, 269km - 60km of gravel
At the end of a four-wheel drive track sits Glenn Herring Gorge - a cavernous cleft in the rock through which previous explorers scrambled with their horses.
The creek running through it shows the scars of previous rains when the countryside is soaked and the waterways spring to life. This is a great little place to stop for a night or two away from the crowds. The gorge is well worth exploring.
Marble Bar, 34km from Glenn Herring Gorge
Marble Bar has a very long and interesting history. Incorrectly named after the huge slabs of Jasper found in the Coongan River just out of town, this is the home of the Nyamal people. Pastoralists established stations here and gold was also discovered. During World War Two, Allied bombers launched raids from the top-secret Corunna Downs Airfield against Japanese targets far to the north.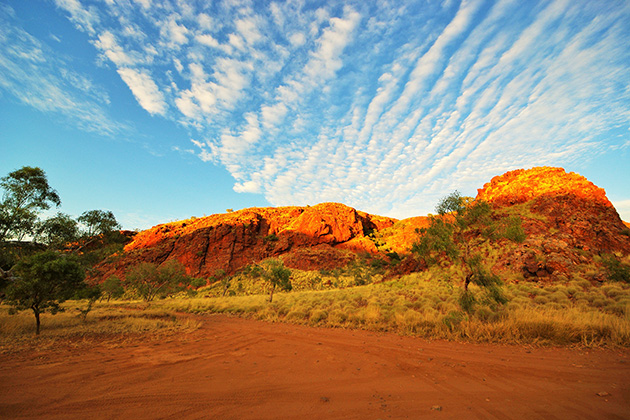 Port Hedland, 200km from Marble Bar
The sprawling industrial hub of Port Hedland is a town that never sleeps. Huge iron ore trains constantly snake their way from mines deep in the Pilbara, feeding cavernous ships. The town offers travellers a place to stop and resupply, repair their vehicle or just enjoy the coast for a while. Pretty Pool is a surprising example of a mangrove eco-system, constantly changing with every tide, nestled a stone's throw from suburbia.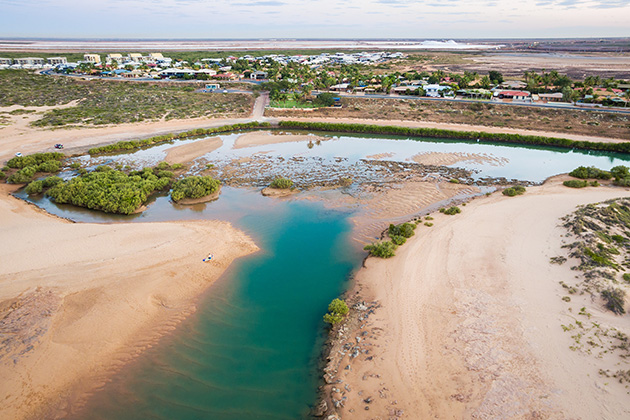 If you have the time, take a harbour tour with The Seafarer's Centre and get up close with the steel leviathans as they take on their iron ore loads.
Millstream Chichester National Park, 250km via the Roebourne Wittenoom Road - gravel
Once a pastoral lease, Millstream Chichester National Park is sacred country to the Yindibarndi people. Millstream is an oasis of permanent water pools, spring-fed from underground aquifers that bring life to the surrounding countryside. Flocks of white cockatoos roosting along the shoreline make up just one of approximately 120 bird species found within the park.
At Millstream, a visit to Python Pool is a must. Located approximately 60km from the Millstream campgrounds, the pool is nestled in the Chichester Ranges. It offers a deep swimming hole and is accessible from the car park along a 200m walk trail.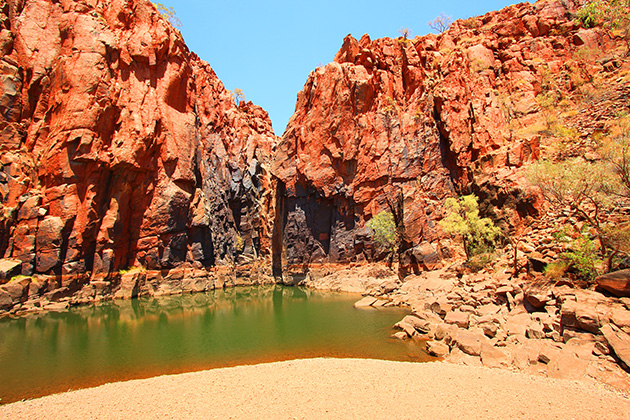 Karratha/Dampier, 102km from Millstream Chichester National Park
In addition to the heavy industry here, the Karratha/Dampier area is a melting pot of cultures. Nowhere else on the planet will you find liquid natural gas plants and iron ore loading facilities only a stone's throw from a natural art gallery that's been 20,000 years in the making.
Rock art, depicting the everyday along with animals like the Tasmanian devil, Tasmanian tiger and megafauna, long extinct from this region, are still etched into the landscape. The rocks are alive with the voices of the world's oldest living culture, telling the stories of the Yaburara and Martuthunira people.
The waters around Karratha are a fishing and diving paradise. There are 42 islands, each rivalling Rottnest in size, that make up the Dampier Archipelago and offer remote beaches, incredible underwater landscapes and the chance to 'catch' dinner, only a short boat ride away.
RELATED: WA's best off-shore fishing spots »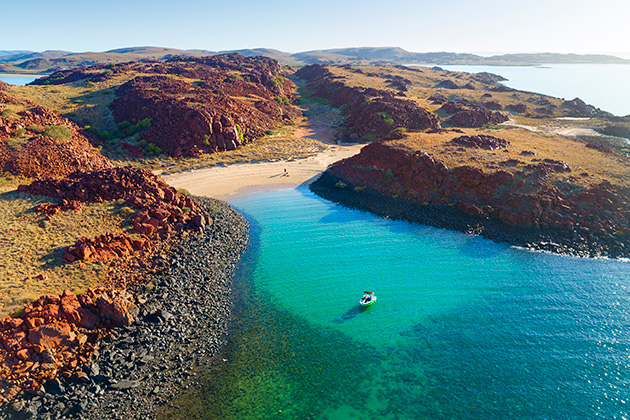 Just east of Karratha lies Roebourne, a town whose importance to the state grew significantly with the discovery of gold, copper and tin in the surrounding areas. Restored historic buildings throughout the town provide an important link to the past, with a visit to the old gaol being highly recommended. It is a sobering look at how this land's original inhabitants were treated during colonisation and the conditions they endured.
West of the town, the historic port of Cossack, now under the control of the Garlbagu Corporation, is springing back to life with some basic accommodation and camping options available. Grab some lunch and spend time exploring the historic buildings and taking in the sights.
Peedamulla, 198km, includes approximately 8km of gravel
Part of the Camping with Custodians program, Peedamulla Station has an established campground, complete with five powered sites (with water), 15 unpowered sites, a camp kitchen and ablution block with hot showers. Camp sites are well spread out, offering visitors their own slice of seclusion. A communal firepit as well as two camp oven pits bring visitors together to share stories.
Grabbing a map from the station will guide you out to the coast via the only freshwater swamp in the Pilbara. Mangroves line the coast here, with the mouth of the Cane River kissing the ocean. Mud crabs and an abundance of fish make for a great coastal adventure. Please take care here as there have been plenty of encounters with saltwater crocodiles along the coast and up the Cane River.
Access from the campground to the coast is only possible with a four-wheel drive.
Onslow, 75km via Onslow-Peedamulla Road - gravel - or 123km via North West Coastal Highway
Located 82km west of the North West Coastal Highway, Onslow is not a town that you just drive through. You need to make a conscious decision to come and explore here.
The original town was founded in 1885 before being moved to its current location in 1926 due to the recurring impact of cyclones. It has a good feeling about it and ocean views on two sides that are to die for.
The town is well known as being the jump-off point for anyone venturing out to the fishing mecca of the Mackerel Islands but there is so much more to see. The ANZAC Memorial is guaranteed to bring a tear to your eye with its stylised Rising Sun set to catch the setting sun's rays.
The town's visitor centre and Goods Shed Museum is bursting with local history. Book a tour of the town and discover hidden gems like the 'cartoon tank'.
The Ashburton River, Old Onslow town site, Three Mile Camp, Five Mile Pool and Ten Mile Pool are all great spots to while away your time alongside the river.
The Warlu Way app
Launched this year, the Warlu Way smartphone app has geoheritage trail information for the Pilbara coast, inland and East Pilbara. It includes GPS-triggered directions and interpretative information to self-drive the Pilbara's Warlu Way while not requiring internet connection, and also provides information on attractions, tours, dining, accommodation and emergency alerts including road conditions. It's free to download and available at Destination Pilbara.
Ready to tackle this epic road trip?
You'll need a four-wheel drive. If you need to hire one, SIXT is our new car hire partner providing RAC members with 15% off car hire.
Banner image credit: CJ Maddock