Travel & Touring | WA Road Trips
By: Tatum Stafford
If you've never seen WA's extraordinary carpets of pink, white or yellow everlastings up close during springtime, it's time to make your next getaway a wildflower road trip.
RELATED: 6 of WA's prettiest wildflower road trips »

WA's unofficial 'Wildflower Country' consists of nine shires north of Perth that welcome a remarkable array of native wildflowers each spring.
The best way to explore this wildflower-filled area is on a road trip with plenty of memorable stop-offs. Here's a six-day itinerary for WA wildflower enthusiasts and first-time viewers alike.
Day one: Perth to Dalwallinu
From Perth, travel two hours north to reach Moora. Sitting on the banks of the Moore River, the town is surrounded by salmon gums and home to parks and gardens that burst with wildflowers from August to October. Head to Candy's Bush Reserve to spot native orchids or Jingemia Cave within the Watheroo National Park to view bush cauliflowers and scarlet featherflowers up close. There's a shady picnic spot beside the cave, perfect for lunch.
Your next stop is Dalwallinu, best known for its plentiful yellow wattle varieties that brighten up roadsides. If time permits, visit a few of the town's wildflower hotspots before nightfall. If they're in season during your visit (usually from July to October), check out the orchids at Mia Moon Reserve, Buntine Rock and Petrudor Rocks.
Day two: Dalwallinu to Perenjori
Start the day hunting for the iconic wreath flower. It's best to contact the visitor centre to check whether they're flowering, as timing varies each season, but they are commonly found along Goodlands Rood and Wubin East Road.
There are a handful of self-drive routes departing from Dalwallinu if you're eager to learn more about the area's history. The 88km Heritage Wattle Trail and 129km Heritage Rabbit Proof Fence Trail (which leads you past a section of the original No. 2 Rabbit Proof Fence) are two options. Ask the visitor centre for detailed itineraries and maps.
Leaving Dalwallinu, travel north to the Wheatbelt town of Wubin. The pastoral country around Wubin is covered with everlastings following winter rains, usually during August and September. Wubin Rocks, a few kilometres east of the township, is a great spot for a picnic.
Your final stop for the day is the town of Perenjori, around which you can see pink, yellow and white everlastings from July to October. The town is also renowned for its wide variety of native donkey orchids, which are best viewed at Orchid Ridge and Caron Dam.
Day three: Perenjori to Mullewa
From Perenjori, head north and stop to view wildflowers at Koolanooka Springs and Canna Reserve. Continue on to Morawa; popular wildflower hotspots here include Bilya Rock and Pintha Dam.
Take a detour through Mingenew to view the wildflower-covered countryside from the top of Mingenew Hill, and spot a mixture of donkey orchids, snail orchids and spider orchids at Depot Hill or Yandanooka Hall.
Spend your day exploring the Coalseam Conservation Park, located between Mingenew and Mullewa. The park is one of WA's most iconic wildflower destinations thanks to its carpets of everlastings, acacia shrubland and winding walk trails. Climb to the Johnson Shaft Viewing Platform or Irwin Lookout for panoramic views over the park, or hop on the 3.2km Plateau Loop Trail through York gum woodland to enjoy views of wildflowers in the valley below.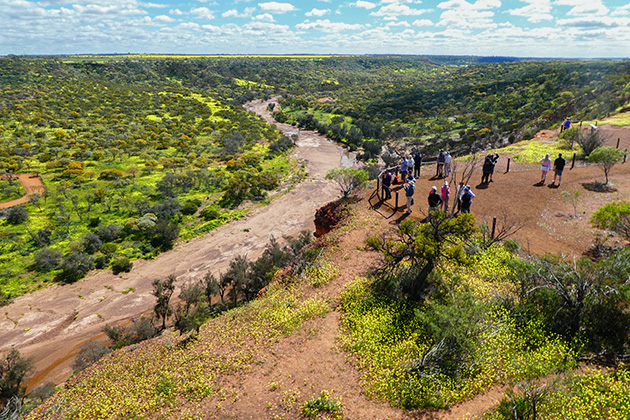 If it's still light when you arrive in Mullewa, head for the Mullewa Scenic Lookout to watch the sunset. The lookout is at the end of the 2.4km Mullewa Bushland Trail, which is dotted with wildflowers, rocky outcrops and a few small caves.
Day four: Mullewa to Geraldton
If you're visiting in late August or early September, the annual Mullewa Wildflower Show is a highlight amongst wildflower enthusiasts. Otherwise, the 2.8km Mullewa Wildflower Walk that begins opposite the Mullewa Caravan Park provides a useful route to view the town's pom-pom everlastings, pink sunrays and wreath flowers.
On the way to Geraldton, stop at the Bindoo Hill Nature Reserve to view banksias, orchids and everlastings. At the end of the day, visit Mills Point Lookout on Chapman Valley Road to enjoy sweeping views over the Chapman Valley to the east, and Geraldton to the west.
Day five: Geraldton to Carnamah
Start your day exploring Geraldton's Chapman River Regional Park, which is filled with native flowering plants, birdlife and wildflower species, including bunny orchids and native yams.
On your way to Carnamah, stop by Three Springs to view a colourful wildflower mural beneath the town's towering old wheat silos, the Yarra Yarra Lakes to admire birdlife including swans, pelicans and the Siberian stilt, and learn about native plants and bush tucker at the Arrino Gardens. The Mica Mine Thicket within the Dookanooka National Park is another great spot to view wildflowers.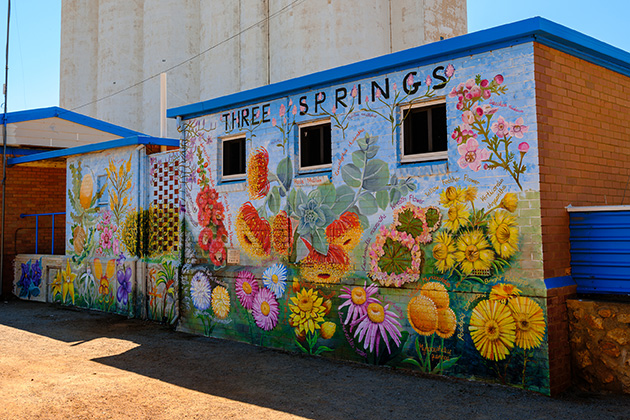 Get your bearings in Carnamah with a stroll along the Heritage Walk Trail, which leads to Macpherson Homestead. Keep an eye out for the Carnamah bell, an endangered wildflower that can only be found within 100km radius of the town. It is a dwarf shrub with red, yellow or green coloured bell-shaped flowers.
Day six: Carnamah to Green Head
From Carnamah, head inland to the town of Coorow. Remnants of the area's farming history are still visible today, and provide a striking contrast to its beautiful wildflowers. View everlastings, blue leschenaultias and orchids at Coorow Farm, and scarlet featherflowers, yellow verticordias and banksias along Coorow-Green Head Road.
Head towards the coast to reach Alexander Morrison National Park. There are no facilities here, but the Coorow-Green Head Road threads through it and offers a front-row seat to a diverse range of wildflowers (best viewed from August to November). Keep an eye out for dryandra flowers, honeymyrtles, featherflowers and numerous banksia species.
Your final destination is the peaceful coastal town of Green Head. Here you'll find plenty of bays for swimming, snorkelling and fishing. Wildflowers, including acacias, gastrolobiums and hibbertias dot bushwalking trails throughout the township. Try the trail between the jetty and Dynamite Bay, or stroll along the Three Bays Walkway, which connects South Bay, Dynamite Bay and Anchorage Bay.
Ready to embark on this vibrant road trip?
Make sure you're prepared - RAC members save 50% on DPAW national park passes.