Car crashes affect so many of us.
Last year more than 50,000 motor vehicle crash claims in WA were processed by RAC Insurance alone.
That's nearly 150 crashes a day, from car park prangs to more serious crashes, most involving more than one car.
As a party to a crash, you have a number of duties and obligations to fulfill.
Here are some simple steps to follow when you are involved in a crash.
At the crash scene
No matter what the damage, a car crash can be upsetting and stressful. It's important to stay calm and follow these simple steps.
If you crash into another vehicle or object stop your car immediately and turn on your hazard lights.
Check it's safe to exit your car then carefully approach other vehicles that are involved to see if anyone else at the scene is injured. Call emergency services if help is needed.
Stay at the scene of the crash and wait until emergency services arrive. If the incident is minor, you don't need to call the police.
In a minor incident where cars involved can be moved, take them out of the traffic flow. If cars can't be moved, leave them with hazard lights and stay off the road somewhere safe.
Even if you think the crash was your fault, don't admit responsibility until the incident can be assessed.
Collect as many details as you can from the other parties involved and take down the details for any witnesses in case they need to be contacted during the claims process.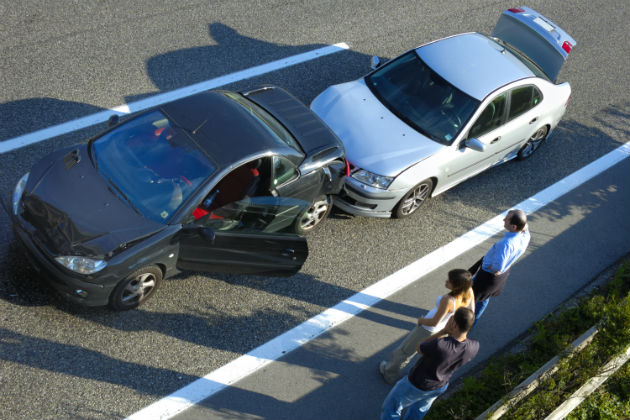 What details do I need?
By law, drivers involved in a crash must stop and supply their name and address (unless they have a disability). If they refuse, call the police.
Otherwise:
Collect the full name, address and contact details (phone numbers and email addresses) of all parties involved in the crash.
Jot down the other vehicles' registration numbers, the make and model of vehicles involved and the other parties' vehicle insurers.
Record the time, date, and location of the crash and everything you can remember about what happened. Note the street names and position of any vehicles involved. Diagrams can help.
If possible take photos of the scene with your mobile phone.
What do I do next?
If your vehicle is driveable, once you are home you will need to lodge a claim with your insurance company. Depending on the level of cover that you have, your car may or may not be covered for damage.
If your insurance company deems your vehicle repairable, you will take your car to an approved repairer for a repair estimate. The repairer will then liaise with your insurer to get repairs underway.
If your vehicle is not driveable then your insurance company should make adequate arrangements for you to get your vehicle off the road.
If the vehicle is deemed unrepairable by your insurer then it's a write-off.
Do I need to report the crash to police?
Not every crash needs to be reported to the police.
According to the WA Police, you must report a traffic crash when the incident ( on a road or any place commonly used by the public) fits the following criteria:
resulted in bodily harm to a person
caused more than $3000 worth of damage to all property involved
the owner of the damaged property isn't present
When someone has been injured you must also report the crash to the Insurance Commission of WA.
If you've been in a traffic crash that fits the above criteria recently, you can report it here. If you are unsure whether to report a crash, WA Police have more information.
The insurance process doesn't have to be stressful
Our friendly, local RAC Car Insurance team is here to help.
Whether you drive a little or a lot, we have cover to suit the way you drive. Existing members can save up to 10% on comprehensive car insurance, and if you have a low emissions car you can reduce your insurance by up to 25%*.
*Conditions apply. Visit the Less Emissions Mission page for full conditions.
This product is issued by RAC Insurance Pty Ltd. Benefits are subject to policy conditions and PED Guide. Before you make a decision, please check the PDS to see if the policy is right for you.
Last updated June 2018