Being involved in a car crash can turn what may have started out as a regular car trip on an ordinary day into the kind of crisis you could never have imagined when you turned the ignition.
Last year more than 50,000 motor vehicle crash claims in WA were processed by RAC Insurance alone.
That's almost 140 crashes a day.
At the scene, it can be difficult to think clearly about what actions you need to take.
But as a party to a crash, you have a number of duties and obligations to fulfil, so it's important to stay calm.
Here are some key steps you need to take when you are involved in a crash.
What should I do immediately after a car crash?
If you crash into another vehicle or object, stop your car immediately, apply the handbrake and switch on your hazard lights.
Make sure that it's safe to exit your car, then carefully approach other vehicles that are involved to check if anyone at the scene is injured. Call emergency services on 000 if help is needed.
If emergency services are needed, stay at the scene until they arrive.
Once the crash scene is safe, there are some important details you'll need to collect to ensure any claims resulting from the crash can be dealt with quickly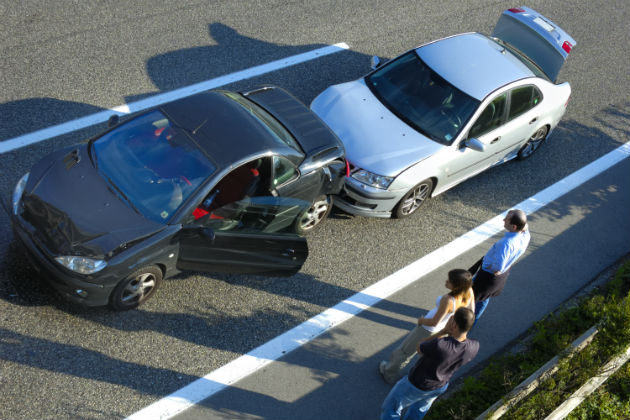 What details do I need?
WA law mandates that drivers involved in a crash must stop and supply their name and address. Where the driver is not the vehicle's owner, they must provide the owner's name and address. If they refuse, call the police. If a driver's injuries prevent them from supplying a name and address, this may be used as a defence for not providing these details at the crash site.
In addition to a full name and address, you should also collect other contact details, including phone numbers, email addresses, and driver's license numbers of all parties involved in the crash, for example drivers, passengers, vehicle/property owners and witnesses.
Record the registration number, make and model of all vehicles involved and the names of the insurance companies other drivers are covered by.
Record the time, date, and precise location of the crash and everything you can remember about what happened. Note the street names and position of any vehicles involved. Diagrams can help. Take photos/digital images of the incident and damage to other vehicles or property, if it's safe to do so.
Also identify any crash features (traffic controls, road features, road alignment, other conditions).
When do I need to report a crash to police?
According to WA Police, you must report a traffic crash when the incident occurred on a road or any place commonly used by the public (such as a carpark) and where:
the incident resulted in bodily harm to a person; or
the total value of property damaged to all involved parties exceeds $3000; or
the owner or representative of the damaged property isn't present.
When someone has been injured you must also report the crash to the Insurance Commission of WA.
If you've been in a traffic crash that fits the above criteria recently, you can report the crash and also make an injury claim through the WA Government's Online Crash Reporting form. If you are unsure whether to report a crash, WA Police have more information.
In a minor incident where cars involved can be moved, take them out of the traffic flow. If cars can't be moved, leave them with hazard lights on and stay off the road somewhere safe.
What happens if it's my fault?
Even if you think the crash is your fault, you should not engage in any conversations regarding responsibility for the crash. If you are insured with RAC Insurance we will liaise with you on these details.
If your vehicle is safe to drive
If your vehicle is safe to drive, once you've arrived home, you'll need to lodge a claim with your insurance company. RAC members should call 13 17 03. Depending on the level of cover you have, your car may or may not be covered for the damage.
If your insurance company deems your vehicle repairable, you'll take your car to a repairer as agreed with the insurer for a repair estimate. The repairer will then liaise with your insurer to get repairs underway.
If your vehicle is not safe to drive
If a tow truck is needed, RAC Insurance members should first call 13 17 03 for assistance.
If you're not an RAC Insurance member, contact your insurance company to see what assistance they can provide.
Remember, only you or the police can authorise for your vehicle to be towed. Check that any tow truck operator arriving at the scene has the same business name provided to you by RAC or your insurer when you requested the service.
Remember, you're not obliged to engage the first tow truck operator on the scene, even where traffic flow is impacted (unless the police instruct otherwise).
RAC Insurance members can lodge car insurance claims online.
Note: Towing services included in RAC Roadside Assistance membership cannot be used after a vehicle crash as a different towing procedure is used at a crash site compared with a vehicle breakdown.
Cover for your car
Whether you've got a trusty hatchback or the latest SUV, compare our car cover options to find what suits you best.
Disclaimer: Issued by RAC Insurance Pty Limited. Check the PDS & TMD at rac.com.au
Last updated: November 2020