19 August, 2021
Western Australia is lagging behind the rest of the country on electric vehicle policy, according to new analysis by RAC.
RAC's Electric Vehicle Policy Scorecard reveals WA is currently the worst performing state or territory for action on electric vehicles (EV), with no current plans to incentivise the uptake of EVs through subsidies, rebates, reduced registration fees or vehicle duty.
WA also has some of the country's lowest targets for electrifying public transport and government vehicle fleets.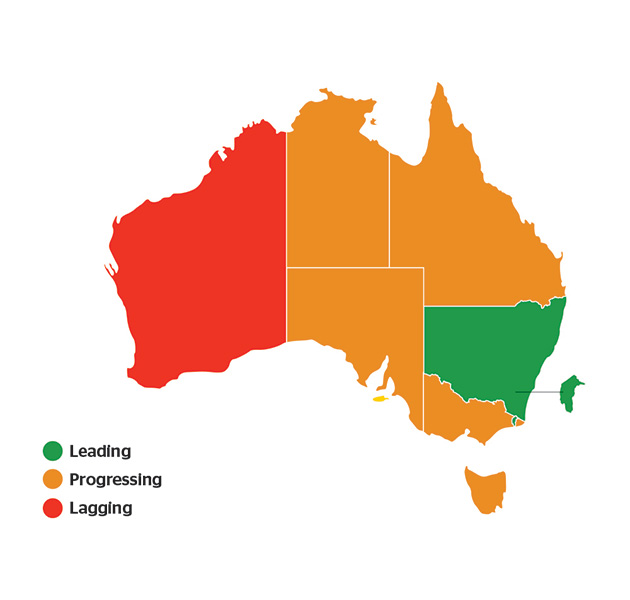 RAC Group Executive Social and Community Impact, Pat Walker, said most other states and territories already have, or plan to implement, policies which financially incentivise buying electric vehicles.
"The uptake of electric vehicles in Western Australia is growing but is extremely slow, with EVs currently accounting for less than 0.1 per cent of all our registered vehicles," Walker said.
"One of the biggest barriers to Western Australians buying electric vehicles is the upfront cost — at nearly $50,000, even the cheapest models available in WA price many buyers out of the market straight away.
"We welcomed the WA Government's Electric Vehicle Strategy released earlier this year which included investment in charging infrastructure and targets for electrifying part of the government fleet.
"However, the strategy has failed to address the affordability of EVs, while other states are starting to implement subsidies, rebates and fee cuts to reduce the cost of ownership.
"To bring WA into line with the rest of the country, we need policies that better incentivise EV ownership, such as fee cuts and rebates, as well as stronger targets to electrify the public transport and government fleets."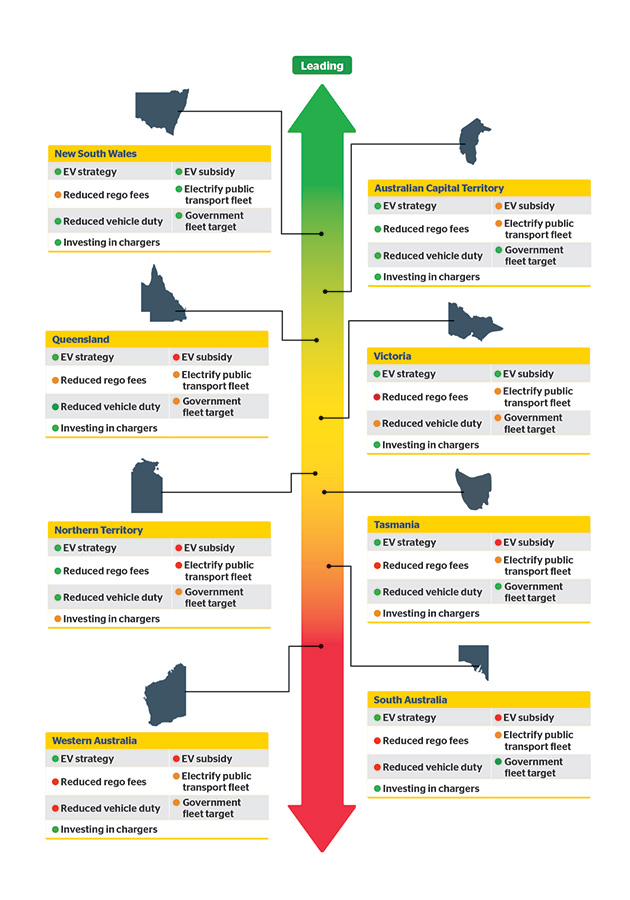 RAC's recent Member Priorities Tracker on Sustainability found nearly half of all respondents would consider purchasing an electric or hybrid vehicle as their next car, with incentives for purchasing low or zero emissions vehicles identified as the top priority for government action.
"Australia is falling behind the rest of the world when it comes to action on electric vehicles and Western Australia is currently the worst performer in the country," Walker said.
"Greater policy action is needed in WA to encourage more people to buy electric vehicles and reduce the impact of vehicle emissions on our health and the environment."
Why we need electric vehicles
The move towards electric vehicles and low emission vehicles is one of the most important transport debates we're having right now. It will not only determine how we move around our cities and regions, but how we manage air quality and the health of West Australians in the decades ahead.
The transport sector is responsible for more than 26 per cent of all CO2 emissions in Australia and 19 per cent of all greenhouse gas emissions.
The cars we drive are major contributors to the air pollution that surrounds us.
Globally, more than 2.1 million new EVs were sold in 2019, an almost 90 per cent increase over 2017 figures.
In Australia, EVs are still under 0.1 per cent of total light vehicle sales.
It's been forecast EVs could reach 70 per cent of new vehicle sales and 30 per cent of the total vehicle fleet in Australia by 2040. This is an ambitious shift that will require action to get more people on the EV journey.
Right now, the range of EVs available in WA and Australia is narrow and expensive. A more diverse and competitive EV market is critical to improve choice and drive down high purchase prices.
RELATED: Electric cars available in Australia in 2021 »

This is recognised by RAC members, with nearly 60 per cent saying high cost is the main barrier to buying an electric or hybrid vehicle. Almost 75 per cent of members believe the government should be doing more to address vehicle emissions, with incentives for purchases being top of the list.
As the RAC Electric Vehicle Scorecard demonstrates, greater action is needed to support more people to buy EVs in WA and reduce the impact of vehicle emissions on our health and the environment.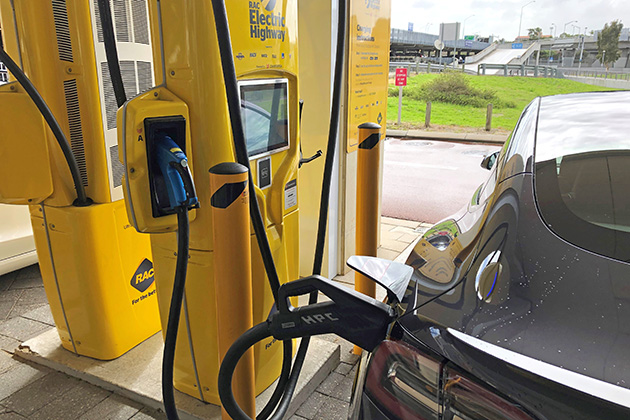 EV priorities for WA
RAC welcomed the WA Government's Electric Vehicle Strategy released in November 2020, which included investment in charging infrastructure and minimum EV targets for the WA Governments own fleet, while also highlighting the need for a national CO2 emissions standard to bring us into line with most other OECD nations. However, targeted tax cuts and similar incentives are crucial but are currently missing from the WA strategy.
To bring WA in line with leading states, RAC calls on the WA Government to commit to the following:
Reduced registration fees for low and zero emission vehicles.
Reduced vehicle duty for low and zero emission vehicles.
A targeted subsidy for purchases of electric vehicles in WA.
A stronger EV target for transitioning the overall government fleet.
Own a car with less emissions? We'll reward you
If you drive a car recognised by RAC as having lower emissions, you'll get rewards across RAC's Insurance, Finance, Auto Services and Roadside Assistance products and services.