9 April, 2019 By: Connor Stephenson
Smaller cars are already all the rage in places like Europe, and the next generation could be very small indeed. Micro even…
As far back as 1949, the Japanese were setting the bar high when it came to micro cars.
As the United States and Australia were getting into the big cruisers that dominated in the '50s, the Japanese government created 'kei cars', a category of very small cars that were less than 3.4m long, 1.4m wide and with an engine no larger than 660cc.
Kei cars aren't fast, and the average larger-sized Westerner does find the small dimensions a bit of a struggle. However, they do show what can be done at a micro level, which could prove to be useful as urban areas become more crowded and congested.
There's now a new breed of micro cars somewhat bigger than the kei being designed for the rest of the world, with a focus on providing clean, green and easy-to-park transport for our busy cities.
While amusing and interesting, none of the cars here are likely to fare well when it comes to vehicle safety, so we definitely don't recommend them. But they are interesting response to the problems associated with increasing vehicle emissions and parking spaces in our cities.
Here are a few of the standouts.
Microlino
Heard of the popular kid's scooters, Micro? Well, the brand has branched out into a bigger mobility option.
The Swiss-built Microlino is described as an "electric bubble car" and has already surpassed $100 million in pre-orders.
While the front-entry door seems weird at first, it's actually very practical, because the Microlino can park side-on in a parking space, so the driver can step straight out the front onto the kerb. Remarkably, there's even room for a passenger behind the driver.
Just 2.4m long, this fully electric micro car weighs a mere 435kg and has a top speed of 90km/h, although you'd have to be game to try that. You can choose between two different-sized batteries which give ranges of either 125km or 200km.
While the company has plans to expand, the Microlino is currently only available in Europe. Most pre-orders have been from customers in Germany and Switzerland, where it will set you back 12,000 euros, or $19,000.
Peel P50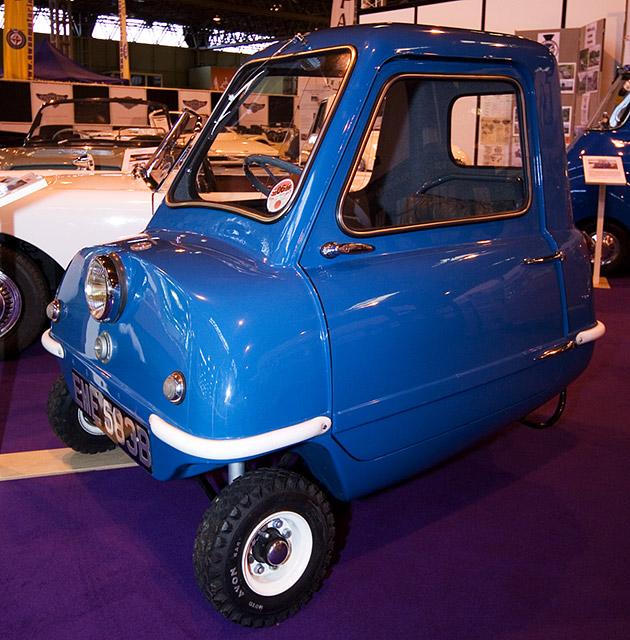 Famously touted as "the world's smallest car" and made more famous by an appearance on Top Gear when Jeremy Clarkson had to fold himself in half to get into one, the 1962 Peel P50 was the world's first pure 'city car'.
Only 50 of these three-wheeled wonders were built at the time, but since 2011, Peel Engineering in the UK has been making 'new' P50s, at a cost of £13,679 ($25,000).
While popular in the UK, the Peel's biggest market is the US, where the electric version has proved popular. The Crown Prince of Dubai owns five.
The P50 fits just one person, and perhaps a tiny bit of shopping. They sit on top of either a single-cylinder Honda motorcycle engine, or an electric motor and batteries. It rides on tiny, six-inch wheels, one at the back and two at the front, and weighs just 78kg, or less than most of the people who drive one.
Top speed is a slightly laborious 40km/h, which is just as well with three tiny wheels.
Mia Electric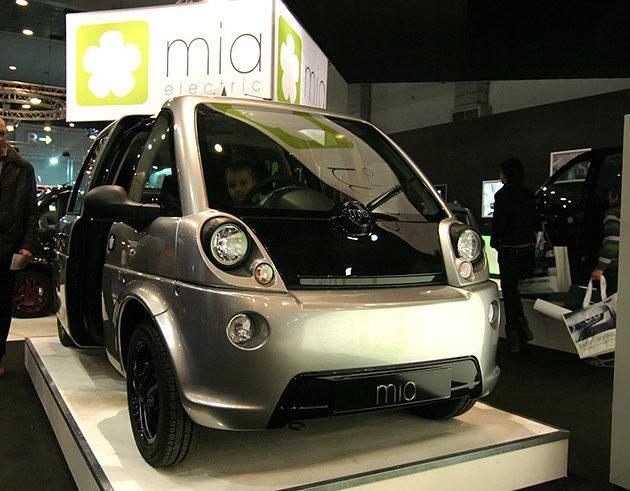 While most micro cars are short on passenger space, the Mia Electric manages to make room for three adults. The driver sits alone up front, and there is a second row of seats behind the driver.
Although it's a small vehicle, the two side seats at the rear have excellent room for long-legged people because there's no seat directly in front of them, there's even space for shopping in the boot.
Built in France, the Mia city car has two sliding doors and a steel spaceframe covered in plastic panels, which means it weighs just 810kg, including the batteries for its electric motor.
Super modern, whisper quiet inside, and with zero tail pipe emissions, the Mia Electric is aimed squarely at cities like London, where it can help owners to avoid paying the Congestion Charge levied on old, polluting vehicles that drive into the city. It has a range of 120km and costs a hefty £27,000 ($49,700) in the UK.
---
Enjoying this article?
Sign up to our monthly enews
---
Smart ForTwo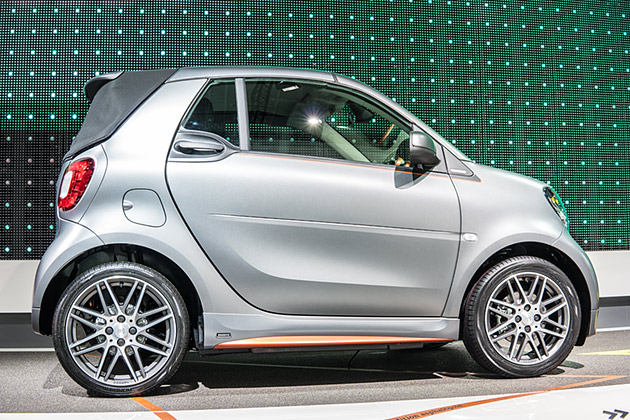 The one micro car to have had at least a small impact on the Australian market is the Smart ForTwo, a tiny city vehicle that was originally a joint venture between Mercedes-Benz and Swatch watches.
The Smart brand sold more than 4400 cars in Australia from 2003 to 2015, before being pulled from our market due to lacklustre sales, a shame given it brought some welcome diversity to the Australian market.
In Europe, where the brand is hugely popular, there's now a new Smart ForTwo, this time a joint effort by Benz and Renault, which is still just 269cm long and powered by a tiny, three-cylinder 1.0-litre engine.
Smart currently has no plans to bring the new car to Australia, but in the UK you can have one for £11,125 ($20,500).
Commuter Cars Tango
One micro car that stands out even among other micro cars is the Commuter Cars Tango, which hails from Spokane, Washington. It's called the Tango presumably because it "takes two", thanks to the two seats set one behind the other.
The downside is that only 12 of these quirky vehicles, which look like a pencil sharpener on wheels, have been built worldwide. At present you have to buy a kit that costs $US240,000, and then pay more on top of that for the batteries.
The Tango's performance from its electric motor is reported to be abundant, with the manufacturer claiming it can accelerate from standstill to 100km/h in 3.2 seconds. Its battery range is stated to be 160km.
Commuter Cars says it has a waiting list of more than 2000 people who would be willing to buy one when the price comes down. It's probably best to wait for that to happen.
No job too big... or too micro
Big or small, if your car leaves you stranded, RAC's Roadside Assistance will help you keep moving, with 24/7 roadside assistance and more patrols on the road than any other service in WA.