Although you might think your car feels and sounds good to go for a long drive, it might not be.
If you're planning to travel more than two hours one way, it's really worthwhile taking 10 minutes to give your car a quick check over before you hit the road as nothing takes the fun out of a road trip like a break down. Or having to be towed.
Here are the things to check before you head off - plus essential items to carry with you in case trouble does strike.
Car checklist
Before you head off on your great adventure, run through these basic checks to make sure your car is in good working order. If you find any issues, call your mechanic – better to be safe than sorry.
Make sure you have enough fuel, oil and radiator coolant
Make sure all your tyres are properly inflated and they have enough tread
Clean your windscreen and make sure the wipers and washers are operating and cleaning correctly
Make sure your fuel gauge and temperature gauge are operating correctly
Check that the spare wheel is secured and in good condition
Check under your vehicle for obvious leaks when parked for a period of time - if you find a leak, RAC Auto Services can assist
Make sure all your lights and indicators are working
If towing a trailer or caravan, make sure you understand your vehicle's towing capacity before checking the chains, couplings, sway bars, shackles, and lights and ensure that any awnings and doors are locked in place
Check you have the correct level of RAC Roadside Assistance cover
Make sure your car has had a service with a comprehensive safety check within a reasonable time frame prior to setting off
Find your car's spare key and keep it with you in case you lose the one you are using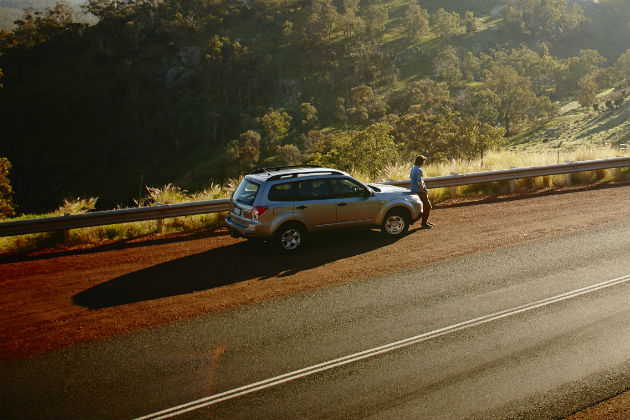 Essential tools
When you're off the beaten track, help might not be readily available. Having the right tools in your car can help you get back on the road, whether it's you or a passer-by who has the know-how.
Not all country mechanics have quick access to replacement parts, either, so if you carry some basic spare parts like hose clamps or an accessory drive belt it's a huge help to get moving again.
General equipment such as a shovel, torch, ropes, drop sheets, a battery charger, and fuel are also a helpful assortment of tools to have in your car for a variety of situations.
Your basic toolkit should include:
Adjustable wrenches (large and small)
Screwdrivers (straight blade, large and small)
Screwdrivers (Phillips head, set of three)
Wooden jack base
Jack and pump
Tyre repair outfit, including valve key
Wheel brace and tyre levers
Socket set
Tow rope
Electrical tape
Suitable fuses and vehicle light globes
Last updated December 2017
Don't get caught in the middle of nowhere.
Before you hit the road, make sure you've got the right level of roadside assistance in case you break down. If your cover doesn't include the right level of towing, it could be a costly trip.