Seat belts can reduce the risk of injury in an accident by at least 90 per cent. It's also the law to wear one. Here's how your seat belt keeps you safer.
How they work
Seat belts keep you in your seat if the car hits something or rolls over. The seat belt prevents you from being thrown about inside the car, striking against hard surfaces, hitting other occupants or being thrown out of the car. The forces involved in a crash are much too high for you to resist simply by bracing yourself.
Research shows that seat belts reduce the risk of injury by at least 90 per cent.
What is the force of a crash like?
If a car travelling along the road at 60km/h hits an object, anything unrestrained (including you if you're not wearing a seat belt) keeps travelling at 60km/h until it hits something. If you hit the windscreen, you will suffer severe, possibly fatal, injuries.
Modern cars are designed so that the front and rear crumple on impact, and the passenger cabin stays rigid. This reduces the force of impact and the vehicle takes longer to slow down.
Why is this important? Think about diving into water compared to falling on concrete. When you dive into water, your speed is reduced by the resistance of the water over a distance of one to two metres. If you fall onto concrete you stop within millimetres.
Seat belts act in a similar way. Wearing a seat belt means you slow down with the car over several metres, rather than just millimetres if you hit the windscreen or dashboard. Injuries are therefore greatly reduced.
Using seat belts
Seat belts should be worn tight but comfortable, with the buckle at the side. The webbing should not have any twists or knots. If the seat belt has an adjustable top mounting it should be set level with your ear.
Pregnant women should wear a seat belt across the hips and below the baby.
Fact vs fiction
Even though non-seat belt wearers are ten times more likely to be killed or severely injured in a crash, there are a number of misconceptions about seat belts:
Perception: You could be trapped in the car by your belt.
Reality: Real-life experience shows that this rarely happens. Use of a seat belt means you're more likely to be conscious and able to get out of the vehicle after a crash.
Perception: Seat belts prevent you from being thrown clear.
Reality: You're more likely to be killed if you're thrown out of the vehicle.
Perception: You don't need to wear a seat belt for short trips.
Reality: Most crashes occur within 5kms of home.
Children and seat belts
Children must be restrained in a suitable restraint at all times.
Children aged 0 to 6 months must be restrained in a rearward facing child restraint (e.g. infant capsule).
Children aged 6 months to under 4 years should be restrained in either a rearward or forward facing child restraint with in-built harness.
Children aged 4 years to under 7 years should be restrained in either a forward-facing child restraint or a booster seat restrained by a correctly adjusted and fastened seat belt or child safety harness.
Children under 12 months of age must use a suitable child restraint.
The driver is responsible for ensuring children under 16 are using a suitable restraint.
A seat belt is still effective for pregnant women.
Holding children in your arms is dangerous and illegal. Two or more persons in a single seat belt is dangerous and illegal.
Legal requirements
Under Western Australian law, all drivers and passengers must wear a seat belt where provided.
Seats with seat belts must be occupied in preference to those without.
Worn or frayed seat belts must be replaced.
There are some exemptions. You do not have to wear a seat belt if you are:
The driver of a vehicle travelling in reverse.
Hold a current medical certificate giving you exemption.
Doing work which requires you to get in and out of the vehicle frequently and the vehicle speed does not exceed 25km/h.

Under the age of one year and in a taxi or rideshare service, if there is no suitable child restraint available and if the passenger is not in the front row of seats in instances where there are two or more rows of seats.

Special vehicles as defined under the Road Traffic Act.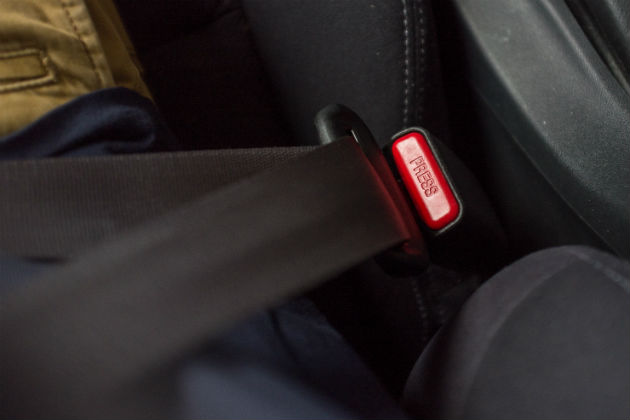 The history of seat belts
Seat belts are not new: Volvo introduced three-point seat belts as standard in 1959.
In Australia, front-seat seat belts became compulsory in 1969, and belts were required on all seats by 1971. It's also been compulsory to wear a seat belt since 1971.
Early seat belts relied on the give in the webbing material, but there were two major issues. First, the webbing was too loose, so the occupant could move forward in a crash and possibly make contact with the dashboard or windscreen, or they could be injured by the sudden jerk when the slack in the webbing stopped. Second, in severe crashes the loads imposed on the body could become too high, leading to injury.
The first problem was solved in 1975 when automatic retractors were made compulsory – along with pre-tensioners, they were added to take up the slack in the seat belt.
Webbing clamps were later introduced to prevent excessive payout of the webbing if the retractor locking is delayed. Load limiters allow limited webbing payout when crash loads become excessive.
Modern cars feature airbags and electronics that work with intelligent seat belt design to allow for a greater variety of situations, while warning systems remind drivers and passengers to wear seat belts. These innovations have greatly improved safety for drivers and passengers.
Last updated January 2019