17 June, 2019 By: Vanessa Pogorelic
As a new era of electric mobility begins to gain momentum, we go back to the future with an electric-powered wonder that's more than a century old and still going strong.
During the early 1900s, the streets of Australia's big cities were a curious mix of horses and carts crossing paths with an ever-increasing number of noisy cars. They rattled along the roads, scared the horses and broke down quite regularly.
Into this scene came another even more curious mechanical beast – one that had many people scratching their heads in wonder – it was the electric car and it was very quiet and very reliable.
Although seen as the cars of the future, electric cars are actually cars of the past, competing in the early days of motoring and then losing to the internal combustion engine that we know so well today.
One of those early cars can be found here in WA - a 105-year-old Model 47 Brougham manufactured in 1914 by the Anderson Electric Car Company in Detroit, USA.
The car was not in use during those early years on WA roads – it was picked up by the WA Museum in 1969, but has been well loved and used throughout its life.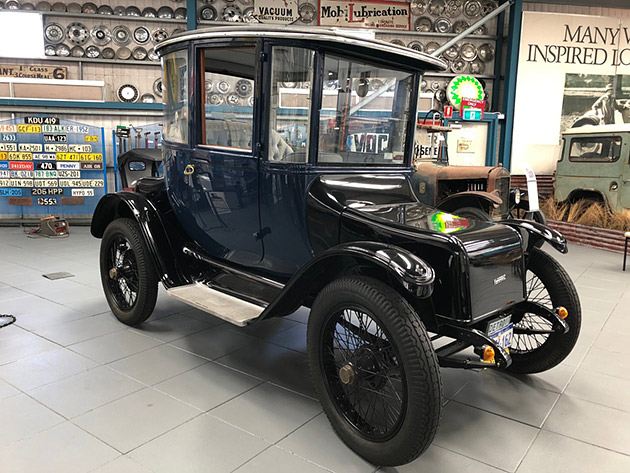 "The Detroit Electric was one of three imported into Australia in 1914 by Messrs Allen, Allen and Hemsley, who were Sydney solicitors," says Patric O'Callaghan of the Motor Museum of Western Australia. "They bought the vehicles for their wives.
"Mrs Allen drove hers until 1946. It was then sold to Ray Doring of Kogarah NSW, who owned it for almost twenty years."
Early electric drivers
In the early 1900s, female drivers like Mrs Allen were a key market for electric vehicles (EV) which – unlike cars with internal combustion engines – did not need to be hand cranked and were favoured for being easy to start and reliable.
But the extra convenience didn't come cheap. In 1914, the average price of the Detroit EV was US$3730 – around six times the average annual wage at that time.
In the USA, Henry Ford's wife Clara drove a 47 Brougham for many years, as did Thomas Edison. With a top speed of around 40km/h, the Detroit Electric was perfect for city driving.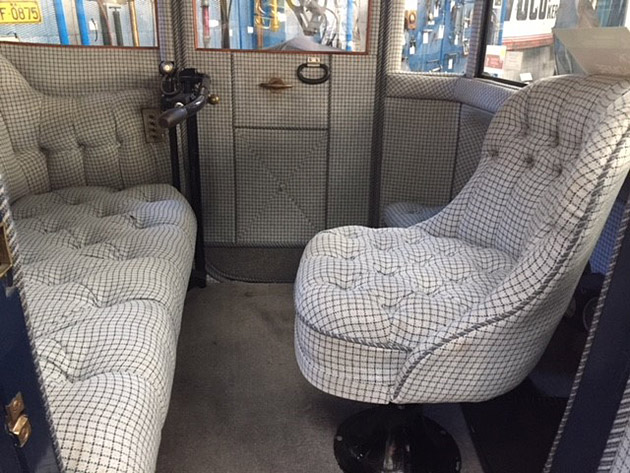 "They were very much a car to be used around town," O'Callaghan says. "Because of their weight they were restricted to running on smooth, sealed roads."
Around one third of the car's weight was from its 14 batteries, located under both the boot and bonnet.
Despite its weight, the Detroit was capable of travelling an impressive distance. On a single charge it had a range of around 100km, just a little less than a 2011 Nissan Leaf electric car.
Inside, the Detroit's two rows of seats actually faced each other. The driver sat in one of the rear seats where they were able to face their passengers – which was, after all, the polite thing to do when you're chatting with someone on a drive.
To steer the car, the driver used a tiller, a little like a tiller on sailing boat, and the two brake pedals were on the floor.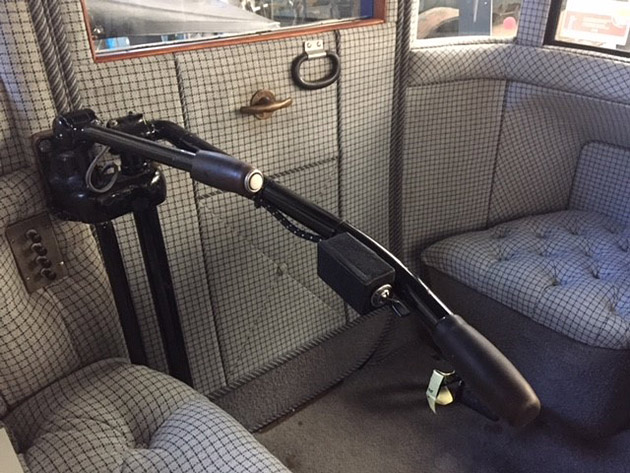 Total production of the Detroit EVs was around 13,000 units and it is thought that only around 100 of the cars are still in existence worldwide, which makes the Motor Museum's Detroit particularly valuable O'Callaghan says.
"In March of this year in Europe, a private seller from Denmark put a 1913 Detroit Electric up for sale at 110,000 pounds or $204,000 Australian dollars, so it's extremely fortunate that we can showcase such a vehicle in our museum."
Remarkably, the Detroit Electric that now calls WA home has stood the test of time and is still in good working order.
---
Enjoying this article?
Sign up to our monthly enews
---
The race - electricity versus oil
The race between electric vehicles and the internal combustion engine was a tight one. During the early 1900s, electric vehicles were becoming more popular in the USA than internal combustion engine (ICE) vehicles. However, advances in ICEs saw them overtake the early EVs and go on to dominate the market.
In the early 1970s, driven by the oil crisis when fuel prices skyrocketed, there was another brief, small-scale revival in EV manufacturing and development. But as oil prices slowly declined, the enthusiasm for electric waned. Although short lived, it did have the side benefit of creating a second phase of EV development and advances.
More than three decades later, in 2008, these advances would be picked up again when Elon Musk upped the ante with his first EV, the Telsa Roadster.
And in 2019, with more manufacturers adding pure EVs to their model ranges each year, and the third era of EVs gathering pace, the race is on again.
The Detroit Electric is currently at the WA Motor Museum at Whiteman Park, on loan from the Western Australian Museum.
Check out WA's oldest electric car
Visit the Motor Museum of Western Australia at Whiteman Park to see the 105-year-old Detroit Electric car for yourself. RAC members get 20% off entry to the Motor Museum and up to 20% discount on Motor Museum of WA branded merchandise.