6 January, 2021
Bushfires can travel at incredible speed. A fire as far as 20km from your home could potentially reach your front door in a matter of minutes.
Even those living in suburban areas are at risk, with more than 90 per cent of Western Australia being bushfire prone.
During a bushfire, there are three alert levels: Advice, Watch and Act, and Emergency Warning.
To ensure your family's safety, be aware of the level of risk you face and have a survival plan that outlines what you'll do if a bushfire threatens your area. Making last-minute decisions could prove deadly so having a plan is essential.
RELATED: Housefire risks you may not have considered »

Once the authorities issue an emergency warning for your area, if your home is not prepared, you must leave immediately but only if it's safe to do so.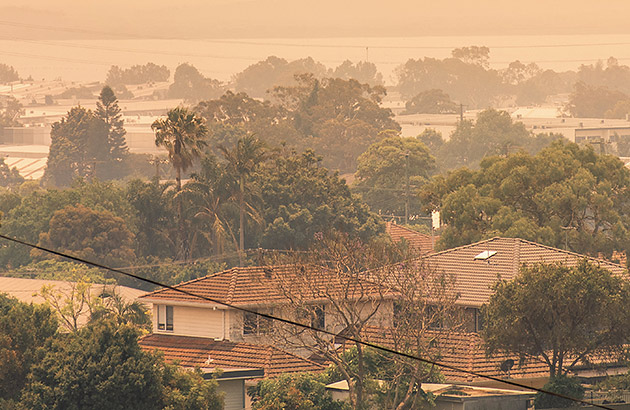 Only stay and defend your home if you're fully prepared
Defending your home against bushfire is physically demanding and can be extremely dangerous.
Only stay and defend your home if it's well prepared, you have enough emergency water supplies, you have appropriate protective clothing and you're prepared to defend your home for extended periods of time. Protective clothing includes loose fitting clothing made from natural fibres such as wool and cotton, not synthetic materials, long-sleeved shirt and long pants, gloves, protective goggles and a face mask.
You'll need an independent water supply of at least 20,000 litres, a generator and pressure pump to help defend your home from spot fires.
As soon as burning embers start landing around your property, you'll need to extinguish any spot fires.
Embers from a bushfire can travel many kilometres ahead of a fire, starting new fires so you'll need to monitor your property for embers that land in or around your home and other structures.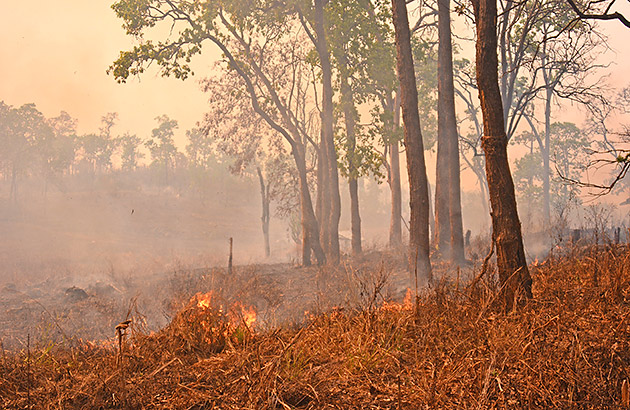 If it's too late to leave
If it is too late to leave, think about the best place to seek shelter on your property, such as a room that has an internal and external exit like a laundry or an area outside that has already been burnt.
If you shelter indoors you must choose a room that has two exits and a water supply. Ideally you should also choose a room that is furthest from the fire front.
Seal all doors and windows as well as you can. Soak towels and rugs in water and lay them against the bottom of external doors from inside your home and keep some water-soaked blankets for protection against the heat.
Stay low to the ground where there will be less smoke, and once the fire has passed, move to an area that has already been burnt if it is safe to do so.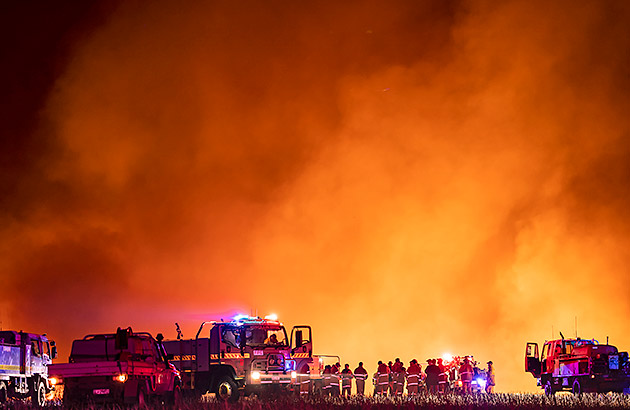 Why a bushfire plan could save your life
It's essential to have a carefully considered bushfire plan in place to give you, your family and your property the best chance of surviving.
The Department of Fire and Emergency Services (DFES) has developed an intuitive and simple online bushfire preparation platform to help the WA community create robust bushfire plans.
Complete your plan at mybushfireplan.wa.gov.au or by downloading the app from the Apple Store or Google Play. Knowing when you'll leave, where you'll go and what you'll take saves precious time when a bushfire is approaching.
Ensure your plan is flexible to account for changes, such as family members not being at home or having roads cut off.
Be aware of your surroundings and if you see smoke or flames, put your bushfire plan into action. Don't wait for a text message or emergency services to knock on your door.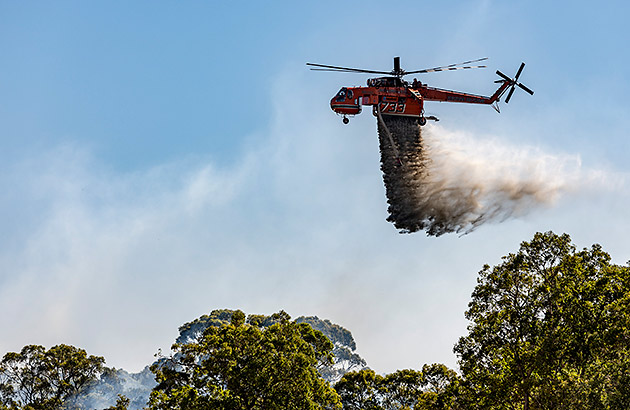 During a bushfire, information will be available from sources such as emergency.wa.gov.au, ABC radio and local news bulletins. You can also call 13 DFES (13 3337) or follow DFES on Facebook and Twitter.
If you're travelling around WA over the summer, ask your holiday accommodation provider what their bushfire plan is and where you can access it.
For up-to-date information and alerts about bushfires across Western Australia, visit emergency.wa.gov.au.
Prepare your home before it's too late
To prepare your home for bushfire season ahead of time, you should:
Close in the eaves and other gaps that lead into the roof or under the floors.
Install metal fly screens on your windows and vents, and stainless steel open-weave mesh over your evaporative air conditioner.
Outside your home, create a minimum two-metre gap between trees and your home.
Keep grass around your property to 10cm or less
Remove any flammable materials that are near or against the side of your home
For more information about bushfire preparation, visit the Department of Fire and Emergency Services.