19 March, 2019 By: Fleur Bainger
Once a year at Lakelands Primary School, north of Mandurah, kids arrive on bikes transformed into dinosaurs and scooters turned into giraffes.
It's their way of celebrating National Ride2School Day. Instead of free dress for the kids, they dress up their bikes, and they get creative, says teacher Amy Ham.
"We've had robot bikes made from recycled goods and boxes, a tiki scooter fitted with a totem pole mast, and palm trees made out of rolls and crepe paper," she says.
It's not just about the bikes. On Fridays, it's Footprint Fridays, where kids are rewarded for walking to school.
"Kids hand out raffle tickets in the morning to all the students who walk, ride or scoot to school," says Ham.
"We draw out winners who get prizes, such as a backpack with a drink bottle, a torch, a hand towel, or a slap band. That's something that works really well."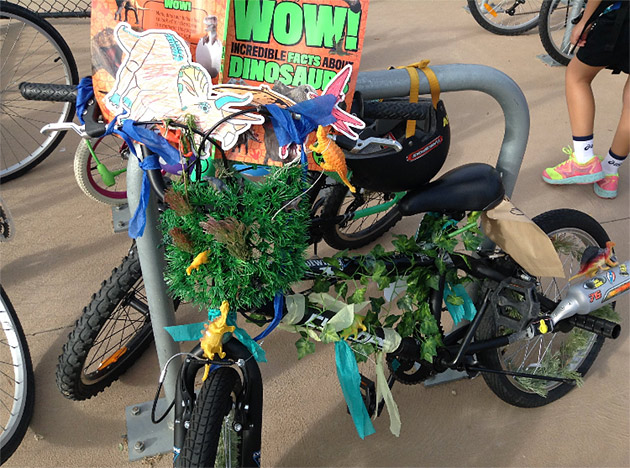 Ham, who describes her own childhood as "active" is just one teacher that's part of a bigger movement trying to get our kids out of cars and moving again. More than 80 WA schools – mainly primary – have signed up to the Your Move program, with more being added every week.
The program, run by the Department of Transport (DTR), encourages people to walk, cycle or catch public transport to school, work and around the community in fun and rewarding ways.
It's a much-needed program.
Around 64 per cent of kids are driven every day to school in Australia, according to a 2018 report by Live Lighter. That's a huge jump since the 1970s when only 16 per cent were chauffeured – the rest walked, rode or caught the bus.
Liam Heitson from the DTR says the idea is to teach good habits young. Schools are encouraged to plan active transport activities and post stories about them to the Your Move website and earn points which can be redeemed for rewards.
"It could be cycling education classes on how to maintain your bike, or it might be new bike helmets, ranging all the way up to bike shelters," he says.
And it might just be working.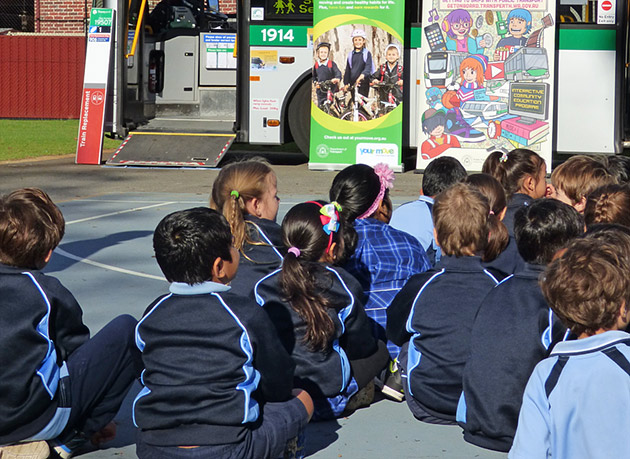 The program has collected two years of data, covering 6300 students at 17 Perth and three regional participating WA schools.
Since the beginning of 2017, there's been a three per cent fall in the number of children driven to school each day, down to 49.5 per cent.
The number of kids bike riding increased from 13 per cent to 16.5 per cent. Walking, however, was by far the most popular alternative, with 28 per cent of respondents choosing to pound the pavement.
Heitson says parents love the positive results.
"In addition to getting exercise, parents really enjoy the time they get to spend together when they walk with their kids," he says.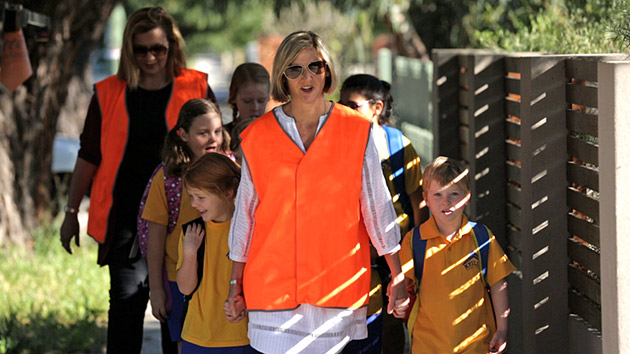 ---
Enjoying this article?
Sign up to our monthly enews
---
Since Lakelands took up the Your Move program, Ham says there's been a noticeable increase in activity, but it's an ongoing challenge for the school that opened in 2014.
"There's battles with parents not wanting to allow their kids to walk to school because of safety issues and not being aware of their surroundings," she says.
"There are people who live a street away who are still hopping in their car and driving. There's a lot of congestion and we don't have a lot of parking space.
"I was quite active as a kid. I walked to school rain, hail or shine, so I feel it's important for kids to know their surroundings and have an active outlook," she says.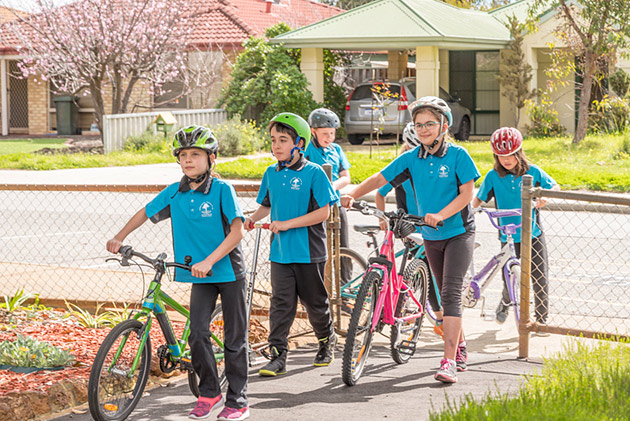 Kids teaching kids
As primary children move into high school at Baldivis Secondary College, part of their induction is to teach them alternative ways to get to school.
High school kids are teaching primary children about their active choices for getting to school. As Year 6s move into Year 7, the school's Green Team introduces them to the Your Move access guide they've created.
"There's a map and it outlines the most common routes to get to school," says principal Keith Svendsen.
"The students can find their house and write down the directions they need to get to school, including the bus number. The students are also shown stencils that have been put on walkways and paths around the community, and they do an exercise to locate them. The biggest bonus is they'll never be late to school if they follow this."
The Year 7s are tasked with teaching the Year 6s about the maps, a tactic Svendsen says strengthens the school community and shares the responsibility for safety.
"Older students are role modelling for younger students. There's a deliberate push around being seen to travel safely to school, and then having conversations with the younger kids: asking how the walk was, did they see the stencils, and encouraging them if they're doing the right thing."
The principal has observed "far less" parents dropping off and collecting kids in the car than before, something that's taken nearly three years to shift.
"It takes time to change habit and routine," says Svendsen.
"We see it as important so we're persistent around that. We'll continue to espouse the message: use your feet."
Svendsen believes there are just too many benefits to do otherwise.
"Invariably, the kids meet up and walk together. They're talking to each other face-to-face rather than sitting on a device. There's every likelihood that their social skills will also be enhanced."
Enjoy this story? Get more of the same delivered to your inbox. Sign up to For the Better eNews.
Teaching the next generation
Since 2002 RAC has provided road safety education to more than 600,000 young people across WA. Our Community Education team can bring fun and interactive programs to your school to teach pre-Primary to Year 6 students about bicycle, pedestrian, and passenger safety.
Primary school students can also join RAC's Little Legends Club for free and get access to online resources, an interactive road safety education game, plus special benefits and offers.