15 November, 2018 By: Vanessa Pogorelic
Western Australia is a place of natural extremes, where the powerful forces of nature remind us of how small we really are. Here are six natural events that had a devastating impact on WA and live on in the memories of many.
Meckering earthquake, 14 October 1968
In the Wheatbelt town of Meckering, on a sultry day in 1968, the town's 600 residents were enjoying the Queen's Birthday public holiday when, at 10.59am, the ground began to shake.
A powerful magnitude-6.9 earthquake ripped through homes, streets and paddocks. For 40 seconds the ground shook and heaved, destroying almost every building. The quake's shallow depth meant the damage was complete, wiping Meckering out.
The few homes and buildings that weren't flattened were extensively damaged. Power and telephone lines were cut and in places the earth cracked and rose up almost 2.5 metres.
Seventeen Meckering residents were injured but remarkably no one was killed.
It is one of the largest seismic events ever recorded in Australia, felt throughout southern WA. Buildings in York and Northam sustained damage and in York three people were also injured. In Perth, cracks appeared in buildings and roads, including Kwinana Freeway. Tremors were felt as far away as Albany and Esperance.
Though rebuilding began soon after, many Meckering residents chose to leave.
Meckering's population today is less than 250. Remnants of the damage have been preserved and a fault line is still visible 12km south of the town on the York-Meckering Road.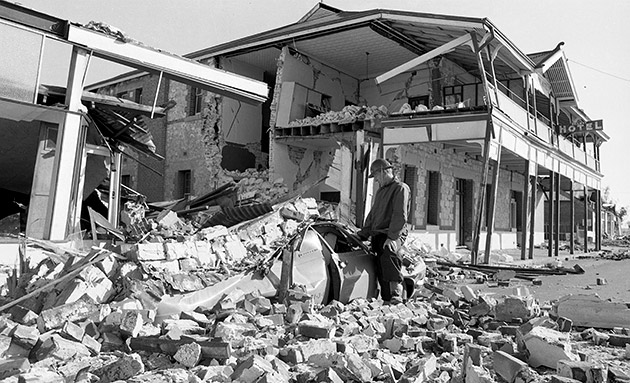 Cyclone Alby, 4 April 1978
Alby was anything but a typical cyclone.
Beginning as a seasonal tropical cyclone in the State's north, Alby took an unexpected turn and became a monster that blew across a huge part of southern WA, including Perth, and tragically resulted in the loss of five lives.
Alby was expected to weaken as it moved further south, but it didn't. Instead it transformed into a weather system known as an extra-tropical transition, intensifying and accelerating as it travelled south. No one was prepared.
The damage from Alby as it moved south stretched from north of Perth right down to Albany, which was hit particularly hard. Roofs were ripped from thousands of homes and buildings and storm surges damaged the coast from Perth to Busselton. Many communities were isolated with no power, including an extensive power shutdown in Perth. Roads were cut off and telephones lines were brought down.
Areas of Bunbury and Busselton experienced flooding with many residents having to evacuate. Busselton's iconic jetty was extensively damaged. The strongest gust of wind was recorded in Albany at 150km/h but Perth wasn't far behind with gusts of up to 143km/h. Damaging winds reached 230km/h inland.
Alby wasn't the only fury mother nature unleashed. Fanned by the ferocious winds, fires - some already burning as part of controlled burns, others started when the cyclone struck - destroyed around 114,000ha of bush and farmland.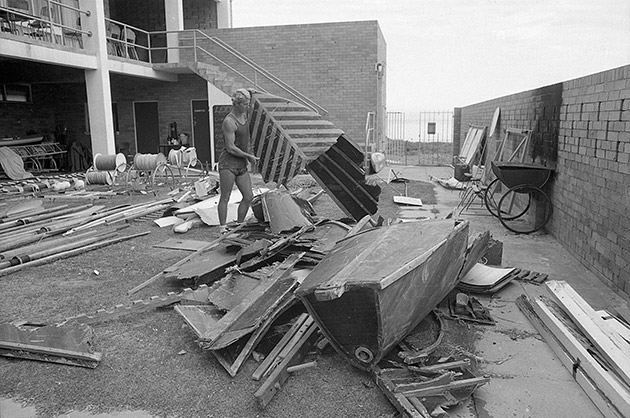 Gracetown cliff collapse, 27 September 1996
The collapse of a cliff face during a surfing event at Gracetown sent shock waves through the South West and WA.
Nine people lost their lives at Huzza's Beach when the limestone cliff and overhang suddenly collapsed during a school surfing carnival. In the days leading up to the collapse, the area had been drenched with heavy rainfall, which soaked into the rock.
On the day, local primary school children from Margaret River and Cowaramup were competing at the surfing carnival. It was the last day of school and conditions were not great, being cold and rainy.
Looking for cover, some of the children, parents and teachers had been sheltering at the base of the cliff under a three-metre rock overhang. As the cliff gave way, around 2000 tonnes of rubble fell on to the beach, killing five adults and four children.
Local emergency services raced to the scene to join the many already looking for survivors. Rescue efforts continued through the night and into the next morning. A memorial commemorating the victims now stands above the site of the collapse.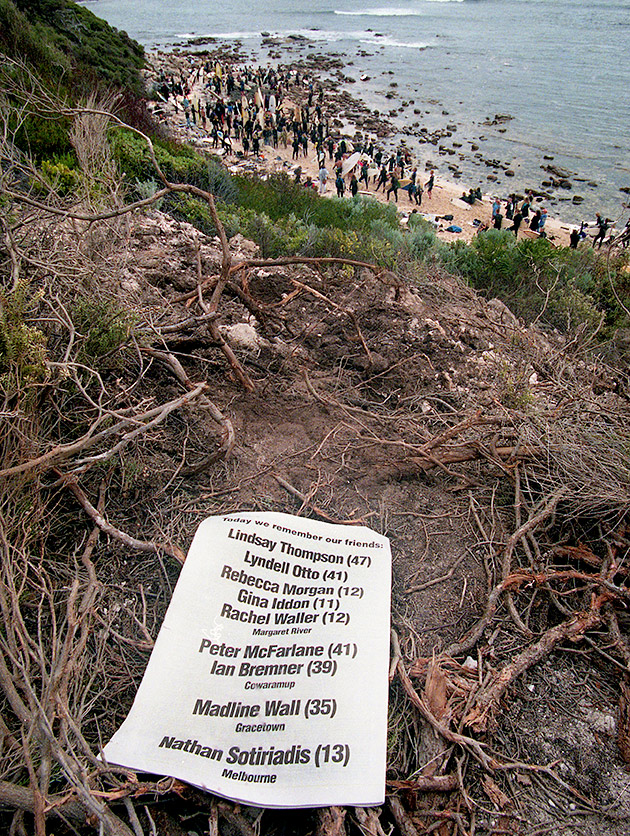 Perth hailstorm, 22 March 2010
While the Bureau of Meteorology expected a damaging storm on that autumn day in March 2010, the scale of the damage was completely unforeseen.
Hailstones, some the size of golf balls, pelted the Perth metropolitan area smashing windows, roofs and cars. There was also heavy rain - in the 24 hours from 9am on the 22nd, the Perth metropolitan area registered its fifth highest March daily rainfall since records began in 1876. Homes and buildings were flooded, and a landslide was triggered by the downpour in Kings Park damaging two apartment buildings below and leading to evacuations.
In addition to the hailstones and flooding, lightning damaged powerlines and brought many down causing hazardous conditions. Adding to the chaos, the storm hit during the weekday peak hour when many people were on the road. More than 100,000 homes were without power across a large part of the metropolitan area.
Insurance claims across the State topped $100 million and the total damage bill was estimated to be $1.08 billion. The event was officially declared a natural disaster by the State Government allowing those worst affected to receive disaster relief funds.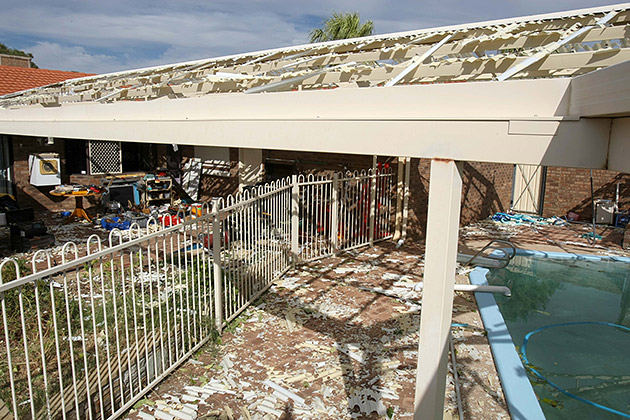 Waroona-Yarloop bushfires, 6 to 23 January 2016
A lightning strike sparked a blaze east of Waroona in January 2016, and quickly became one of the State's most devastating and destructive bushfires.
The historic town of Yarloop, 120km south of Perth, was all but destroyed.
Initially the fire moved south-west, threatening residents across the Harvey and Waroona shires, burning with incredible intensity and speed. Hundreds of residents fled to evacuation centres.
The fire then moved from the east all the way to the coastal settlement of Preston Beach where holiday-makers were trapped. Some fled to the water's edge where they were rescued by boat.
At one point the perimeter of the fire expanded out to 420km – the distance from Perth to Bluff Knoll.
Firefighters battled many extreme fire behaviours including showers of embers. The fire was so intense it created its own weather system, with a bushfire thunderstorm cloud forming in the skies above the blaze causing the fire to behave even more unpredictably.
It took 17 days to extinguish. Tragically two lives were lost, 181 homes were destroyed and almost 70,000 hectares of prime agricultural land was burnt.
The communities of Waroona-Yarloop are continuing to rebuild their lives and livelihoods.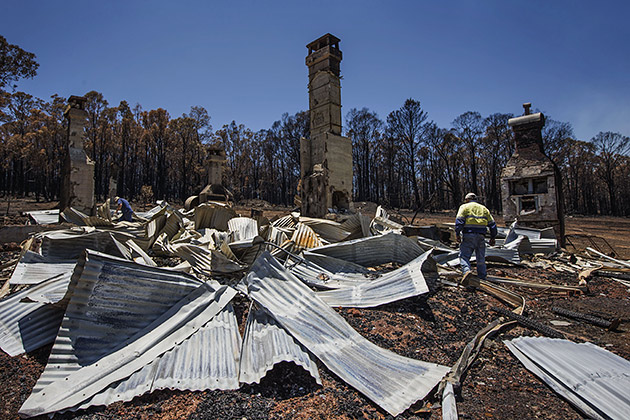 Moora floods, 20 March 1999
For the people of Moora, 180km north of Perth, flooding is not an uncommon natural event. Situated on the banks of the Moore River, the region is prone to flooding. But no one was prepared for what they awoke to one night in March 1999.
It had been raining heavily for several days due to the remnants of ex-tropical cyclone Elaine, and rising water levels were being monitored.
But as the town slept on the night of Saturday 20 March, water began inundating homes. Many residents woke to find their homes flooded, with thick mud washing through. It was one of the biggest flood events Moora had ever experienced with an average depth of one metre.
From a population of just over 2600, around 1000 people were evacuated. They crowded into the only two facilities on high ground – the town's Recreation Centre and the local high school.
Authorities called it a one in 180-year flood.
As the town began the clean-up operation, another threat loomed with Cyclone Vance moving towards the area. Fortunately, Vance changed direction and the town was spared from more flooding along with severe winds that had already caused extensive damage along the coast around Exmouth and Onslow.
Despite the devastation, the local community rallied together and very quickly began to restore and rebuild the town.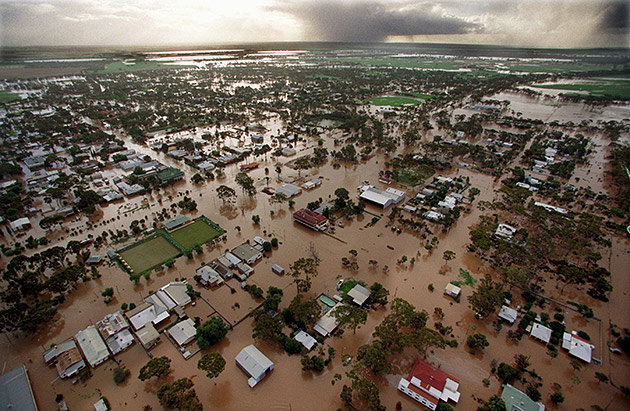 Also of note...
Cyclone Vance, 22 March 1999 Vance remains one of the strongest tropical cyclones to ever cross onto mainland Australia. The category-five cyclone left a trail of destruction around the Exmouth and Onslow region in WA's North West and produced one of the strongest wind gusts ever recorded on mainland Australia at 267km/h. Vance caused $35 million damage.
Dwellingup bushfires, January 1961 These bushfires virtually wiped out the town of Dwellingup along with several other small timber towns in the region, including Nanga Brook, Holyoake, Marrinup and Banksiadale. Fortunately, no lives were lost but many properties were burned to the ground. The fire was started by a lightning strike and lasted for five days during which time it tore through 140,000ha of forest.
Images © West Australian Newspapers Limited
Find this story interesting? Get more of the same delivered to your inbox. Sign up to For the Better eNews.
After more than 110 years, we've see it all
We've been helping Western Australians rebuild their lives for more than a century. If the worst does happen, with RAC, you'll have the comfort of dealing with a local insurance claims team who can help you get life back on track.
This product is issued by RAC Insurance Pty Ltd. Benefits are subject to policy conditions and PED Guide. Before you make a decision, please check the PDS and TMD to see if the policy is right for you. Limits and exclusions apply.