5 tips for a safe school drop-off
As the new school term approaches, now is the time to remind your kids about road safety – particularly around busy school zones. Around 64 per cent of kids are driven to school every day*, and with all that traffic comes much opportunity for crashes or unsafe pedestrian crossings.
Here are five ways both you and your children can stay safe in school zones this term.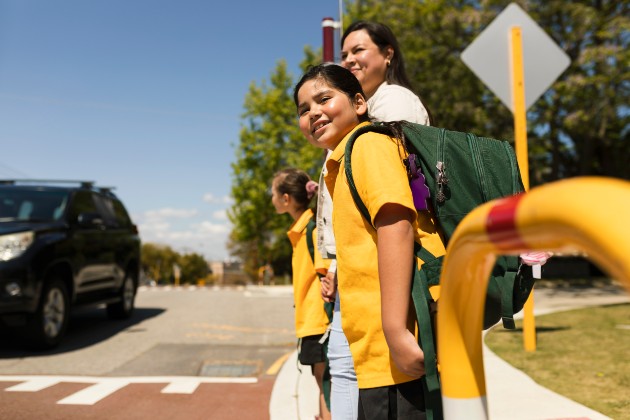 1. Do a practice run
Heading to the school when there is no traffic gives you the opportunity to get to know the roads and familiarise yourself with the lay-out of the drop-off zone, so come day one when that area is full of traffic, you'll know exactly where to go and what to do. This can be especially helpful if you're starting at a new school or taking a different route than usual.
It's also a good idea to confirm with the school the start and finish times for drop-offs, and then time your total journey from home to school factoring in congestion and traffic.
2. Follow the correct drop-off procedures
Dropping your kids across the road from school may be tempting, but research has shown children up to the age of 10 are still developing their skills in directional hearing and peripheral vision, so are unable to make safe road decisions alone.
To avoid an unsupervised and potentially dangerous crossing, stay within the school's designated drop-off areas, park legally and avoid manoeuvres such as three-point turns or U-turns. Once you've arrived safely in the drop-off zone, ensure your child is exiting the car school-side and through the 'safety door' - which is the rear kerb-side door of the car.
3. Take extra care when driving in school zones
The speed limit in school zones is a maximum speed of 40km/hr. These limits extend for at least 50 metres beyond the school's border, and can also include children's crossings, zebra crossings or other pedestrian hotspots nearby the school.
As there are plenty of factors competing for a child's attention during the school term, they can become easily distracted and may cross the road without looking, so paying attention is critical.
Stay off your phone, look out for pedestrian crossings, be aware of flashing lights on school buses, leave a good distance between your car and other vehicles, and avoid overtaking buses that have stopped to pick up children.
4. Encourage carpool opportunities
Safety in numbers. Creating a carpool group is a great way to way to not only reduce the environmental impact of vehicles on the road, but ensures your child will be part of a group when arriving at school and therefore more visible to drivers. They'll also have their fellow classmates looking out for them when crossing the road.
If carpooling isn't an option for you, try a walking school bus. A walking school bus offers numerous health, safety and environmental benefits by encouraging children to walk in a group to school, with an adult 'driver' in the front and an adult 'conductor' at the rear. Just make sure you have a safe walking route, bright, visible vests and appropriate supervisors.
If you'd like to have a walking school bus at your school, check out Your Move's how-to guide and lead the way.
5. Stay calm in traffic
Increased congestion and traffic on the roads during the school term can be stressful for parents. Running late on the first day back at school is not ideal, but driving dangerously can have far more serious consequences. Demonstrating patience and consideration for others on the road will keep your kids safe and their first day nerves at bay.
To prepare yourself for the journey to school, check the Main Roads Travel Map for real-time updates on road conditions, closures and other incidents that may impact your school route.
* According to a 2018 report from Live Lighter

Become a member
RAC Little Legends Club® members receive access to our award winning online road safety games, their very own RAC Little Legends Club® welcome pack and membership card, Which gives them access to awesome benefits and discounts.
Join