Nestled between the Graham Farmer freeway and the Pickle District in West Perth, you'll find Pickle District Park: an exciting new community space lovingly created by the Pickle District Town Team with help from RAC's Connecting Communities Fund.

What used to be an overgrown and underappreciated nature strip on Old Aberdeen Place has been converted into a colourful park complete with comfy benches and fascinating sculptures. The park also features a new footpath that invites pedestrians and cyclists to venture further into the space and towards the underpass that connects West Perth to the rest of the city. Now, Pickle District Park is a place where neighbours and visitors feel more physically and socially connected.
We spoke to Pickle District Town Team members, Hayley, Bec and Miranda, to learn what they love most about the revitalised space.

Q: How would you describe the revitalised space to someone who hasn't seen it?
It's a community space that you don't expect to see, and it can be used by anyone – a hidden treasure. Most importantly, it's a unique kind of creative space because it's located within an arts precinct; the park is a blank canvas that acts as a platform for things that are ever-changing.

Q: What's your favourite thing about the space?
We love seeing people just sit at the park benches and interact with the space. It's a nice place for community – whether that's people who work locally or those who are visiting – to grab some lunch from nearby and just enjoy sitting outside. We also love to observe the community's fascination with the space: the landscaping in the area has better framed the sculptures and given it more respect because it looks like it's cared for, and now people wander through and take photos.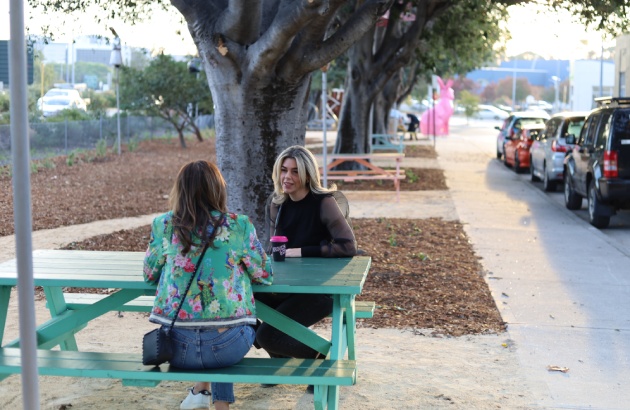 Q: How do you think this space helps connect your local community?
Having a park out the front of our businesses enables us to gather more. While we all know each other well – some of us are even family – we used to come to work and sit in our offices all day and then head home. But now we have a space to go outside and connect with each other, and others. Whenever we see someone new sitting out there, we'll get to connect and socialise, it's an all-inclusive space. The park has become a talking point and a conversation starter, because without it we would never have embarked on our project. Just by adding picnic benches, it's become a place for people to gather instinctively.

It also connects the community to the history of the place – this used to be Hamilton Park, which went through where the freeway is now. The 100-year-old strip of trees that line our park is the only section that remains, but it gives us an opportunity to remind people of the past.
Through our partnership with Town Team Movement, we work collaboratively with individual Town Teams to deliver projects that breathe new life into our cities, towns, and neighbourhoods. As a result, Western Australians are empowered to feel socially connected and involved in shaping their local areas, and supports our vision of a safer, sustainable, and better-connected state.
To find out more about how we're connecting communities, click the button below.