In late 2022, RAC partnered with the Creative Maylands Town Team to deliver the transformation of Roxy Lane through the RAC Connecting Communities Fund initiative. Tucked away behind the Maylands town centre, Roxy Lane used to struggle to attract foot traffic due to its unassuming appearance. Fast forward to today and the laneway is lively as ever, converted into a colourful shared space including lighting, park benches and a vibrant road mural that captures the essence of the area.

We asked Maylands local and Creative Maylands Town Team member, Rebecca Hall, what she thought about the revitalised Roxy Lane.

Q: What's your favourite thing about the space, and how do you think this space helps connect your local community?

I love seeing people sitting on the new seats, as they used to be empty spaces that no one was using. The extra colour highlights that the laneway exists; people used to walk past and never gave it a second look. Now with the extra colour it encourages them to take a walk and see the community theatre and community garden, as well as easy access to cafes and other shops.

Q: How has the project changed the way you get around your neighbourhood?

Roxy Lane is home to several community organisations and supportive local businesses but wasn't yet the thriving space it could be — it really needed a revamp. A local sign writer designed the road mural, which was painted over 72 hours. The cupcakes represent Sherbet Café & Bake Shop, the coffee and croissants portray The Woodfired Baker, and the bikes depict the local bike parks.

I feel safer walking through the laneway as cars are now going slower, and the road mural highlights that it is a shared space for both pedestrians and cars.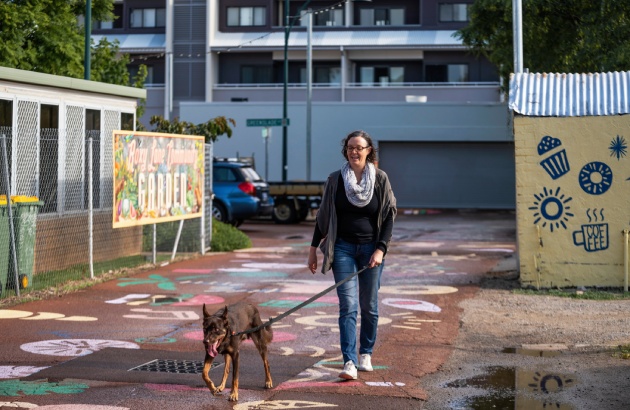 Q: Describe how you typically use the space.

I have an energetic and sociable dog, Wylie, who enjoys the extra social activities where he is welcome; Steamhaus is very dog friendly and has a back entrance to the laneway so he can say hello to everyone and have all the extra sniffs!
Through our partnership with Town Team Movement, we work collaboratively with individual Town Teams to deliver projects that breathe new life into our cities, towns, and neighbourhoods. As a result, Western Australians are empowered to feel socially connected and involved in shaping their local areas, and supports our vision of a safer, sustainable and better-connected state.
To find out more about how we're connecting communities, click the button below.