In October 2022, RAC partnered with the South Freo Corner Pocket Town Team to install a communal bike hub in front of La Cabana on South Terrace. Designed to address a lack of bike parking spots and encourage more active transport options throughout South Fremantle, the hub is a space for locals and visitors to securely lock their bikes while also functioning as a comfy piece of street furniture.

Since its installation, the bike hub has evolved into a destination for locals to meet and enjoy each other's company over coffees and takeaway bites. South Freo Corner Pocket Town Team member Anna Maycock shared her insights about how the bike hub has helped connect the local community.
Q: How has the project changed the way you get around your neighbourhood/the area?
It's great to know there is a safe spot that end of town to park up our bikes and take a moment to rest. Before we would park them at a local cafe bike rack which was always very full.

Q: Describe how you typically use the space.
South Freo is becoming increasingly busier with more and more foot traffic, so having somewhere to pull in and connect with other locals is great. We often grab some takeaway food from the local vendors to take to the space and enjoy under the shade of the tree. My little girl loves to roam around in the safety of the hub whilst we tuck into the local delights.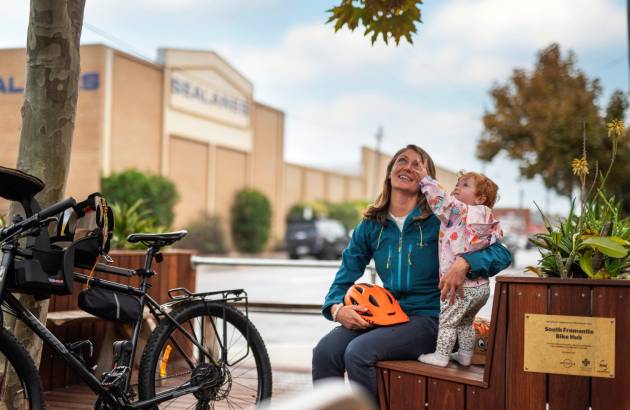 Q: What's your favourite thing about the space? How do you think this space helps connect your local community?
I love the integration of the tree. Crazy this is the only tree on this part of the street! The bike hub has become a great talking point in the activation of that space. 

People pause and slow down a little more in this area now because there is somewhere you can sit, eat some food, have a chat, lock up your bike, warm up after your dip in the ocean, and possibly even do some yoga! The hub has encouraged a lot of conversation, safer driving, and opportunity for more social connection. It's awesome. 

Q: How would you describe the revitalised space to someone who hasn't seen it?
It's spacious, yet cosy, with a touch of South Freo style.

Through our partnership with Town Team Movement, we work collaboratively with individual Town Teams to deliver projects that breathe new life into our cities, towns, and neighbourhoods. As a result, Western Australians are empowered to feel socially connected and involved in shaping their local areas, and supports our vision of a safer, sustainable, and better-connected state.
To find out more about how we're connecting communities, click the button below.