Travel & Touring | WA Things To Do
9 November, 2021 By: Fleur Bainger
Ever driven down south, past turn-offs to other beaches, and wondered what was down the track?
We've checked out some of those under-the-radar beaches between Perth and Margaret River to find out if these less-crowded spots deserve a look.
RELATED: 9 easy overnighters from Perth »
RELATED: Camping spots by the water within two hours of Perth »

Preston Beach
Distance from Perth CBD: 126km or 80min drive.
If you've never driven to Preston Beach, you'll be struck by the unexpectedly beautiful lakes and wetlands that lead the way in. The road winds though Yalgorup National Park, which holds wetlands of international importance edged with peppermint and tuart woodlands.
Marked nature trails snake through the scrub, leading to waterbird habitats and wildlife havens. If you take the Old Coast Road from Mandurah (rather than the Forrest Highway), you'll also pass by Lake Clifton and its boardwalk to the early life forms known as the thrombolites – this is the largest living thrombolite reef in the Southern Hemisphere and one of the only places on the planet where you can see them.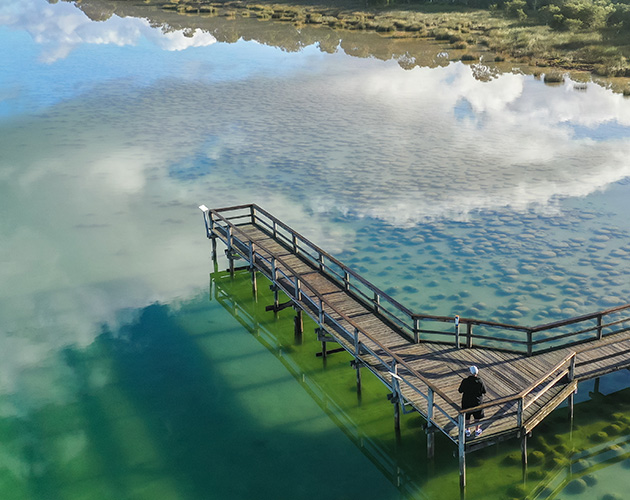 But onwards to the sand. The small coastal town's characterfully weathered General Store marks the way to the beach, which served as a place of refuge for residents in 2016, when the Waroona bushfire ravaged nearby areas.
These days, the sandy stretch is a place for fun in the sun, adorned with a delightfully unexpected children's toy library filled with plastic buckets, spades and Duplo. There's also a small, colourful playground, three free-to-use barbeques and five covered bench seat picnic tables.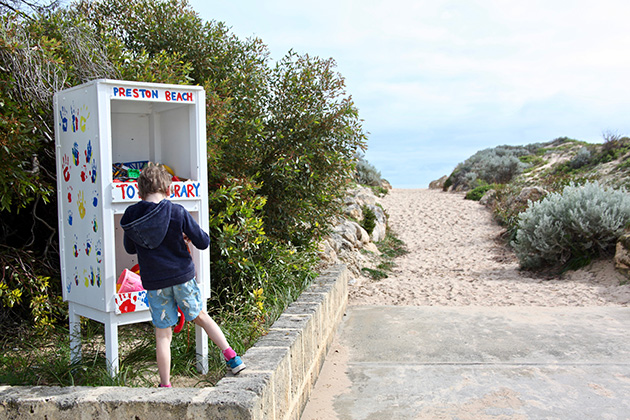 The beach itself is wide, with flat, caramel-hued sand with a slow rolling shore break. It's backed by dunes smothered with fragrant coastal plants and grasses. Public toilets edge the large beachfront carpark, where four-wheel drive vehicles pause to reduce their tyre pressure, ready for the joys of beach driving, teamed with plenty of recreational fishing (camping is prohibited).
Where to eat en route: The Midway Farmstall sells pastries from Pinjarra Bakery and has child-friendly animals such as donkeys, chooks and a pig, as well as a fenced playground. They also serve puppychinos for pooches.
Where to stay: Footprints Preston Beach has smart, modern shacks and townhouses, a chic café-bar, pool and tennis court.
What else is there to do? A challenging 9-hole golf course replete with wild kangaroos will keep you busy.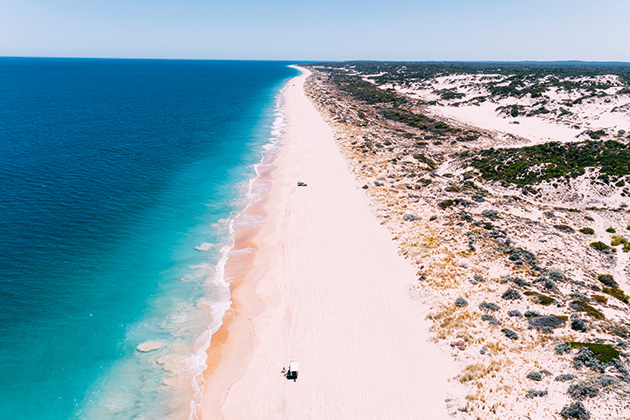 Myalup Beach
Distance from Perth CBD: 141km or 1.5hrs drive.
Only 25min on from Preston Beach is Myalup Beach, a place for people to truly get away from it all. Beach driving is a big attraction here: the 53.5km of sand between Myalup and Cape Bouvard make up the longest beach in the South West, so there's plenty of terrain to roll deflated tyres over. As you'd expect, beach fishing is a beloved pastime in these parts (bait up for bream, tailor and yellow fin whiting), along with sandcastle building and paddling in the clear ocean.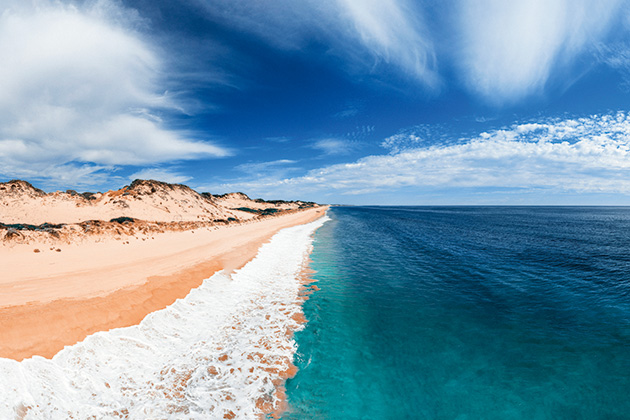 The small community numbers only 353 residents, with the Myalup Beach General Store the sole place to find a feed. The cursive neon sign in its window advertises the essentials inside: beer, burgers, bait and bacon. That's all you need, right?
Where to eat en route: The Crooked Carrot Café is close to the Myalup turn-off. They do great pies and kids love the massive outdoor playground with trams, farm machinery, a rope wall and more.
Where to stay: The Myalup Beach Caravan Park and Indian Ocean Retreat have basic campsites as well as beachfront chalets; Stayz and AirBnB provide other options.
What else is there to do? Head up the dunes to look for dolphins frolicking in the ocean.
Binningup Beach
Distance from Perth CBD: 145km or 93min drive.
Driving into Binningup, you get the distinct sense there's a warm and welcoming community where local residents outnumber holiday houses.
Past a beautiful fish sculpture at the town's entrance, there's a large public grassed area with a skate park where kids zoom down ramps. Modest beach shacks give way to the foreshore, where a hefty playground pirate ship - the SS Playworld - faces the ocean, as well as free barbeques and shaded picnic tables.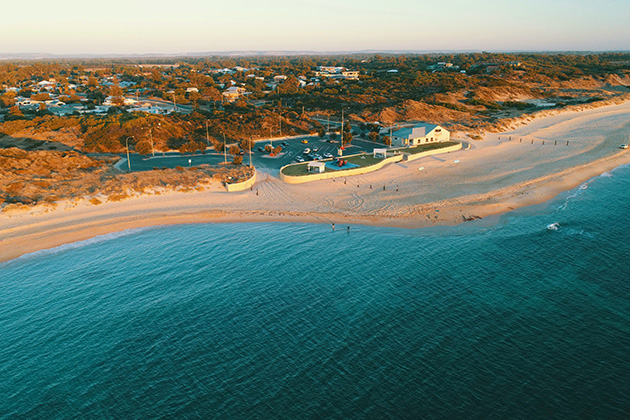 A boat ramp leads from the carpark onto the sand. Locals say there's good snorkelling just out front, about 20m off the beach, and that March and April is when the coast is at its best, as warmer easterly breezes tickle the air.
From here, walk northwards and follow the marked walk trails to a wooden lookout, edged with native bushes and grass tufts; look back and marvel at the stately oceanfront homes. While it's little-known, there are surfable waves in these parts, rising up to 5m at a spot locals call Weed Beds surf break. It's found north of where the caravan park sits; get there via a four-wheel drive cruise up the beach.
Where to eat en route: Miami Bakehouse is a 5min drive from Binningup, loved for its pies, coffee and treats (tip: the raw raspberry and chocolate slice won the 2021 Champion Pastry Exhibit at the WA Royal Show Food Awards). Dozens of painted kangaroo sculptures decorate the alfresco area.
Where to stay: The Binningup Beach Caravan Park has clean, well equipped bungalows, as well as grassy campsites, with a bouncy pillow and pool in the grounds.
What else is there to do? The Binningup Fishing Club's Thursday and Friday night dinners are a hot local social event.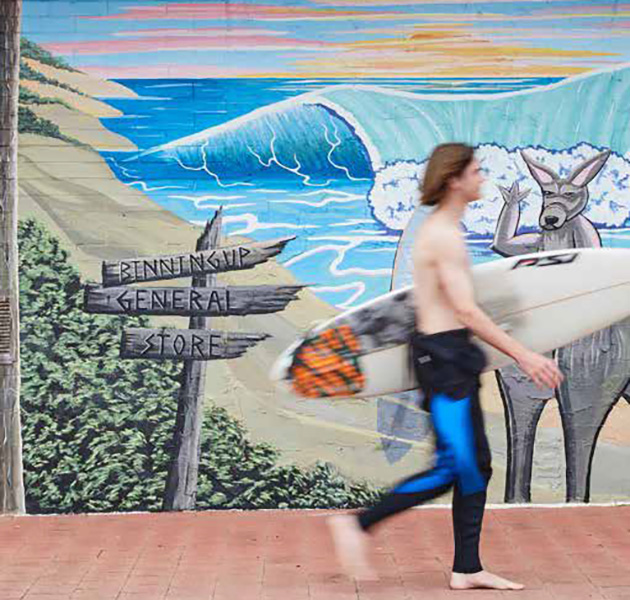 Bunbury Back Beach
Distance from Perth CBD: 170km or 113min drive.
Bunbury Back Beach is a seemingly never-ending stretch of pale, soft sand facing the clear, blue water of Geographe Bay, yet it's still relatively unknown.
Moderate waves are perfect for beginner surfers and bodyboarders, while beach fishing and swimming also lure locals to this spacious spot. Ocean Drive runs parallel, delivering sweeping ocean views as you drive along; plenty of little carparks lead to the beach below. A walking/cycling path also clutches the coastline and picnic facilities and free barbeques are available along it.
If you head north, you'll reach Wyalup-Rocky Point, where the sand meets basalt rock formations that are estimated to be 130 million years old.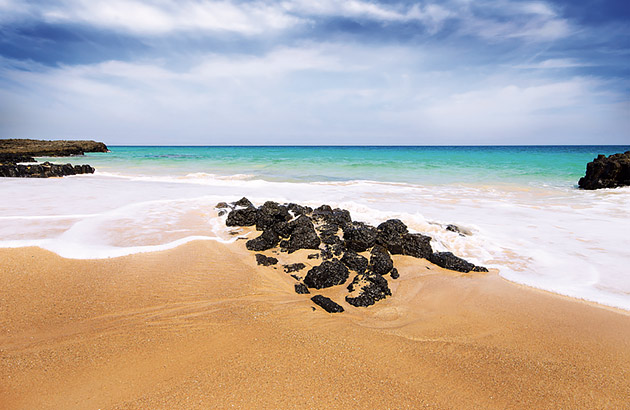 Where to eat en route: Treendale Farm Hotel, Australind. It's a 10,000sqm, busy, family-friendly pub set on land selected for farming more than a century ago. Kids flock to the outdoor windmill and boat playground, backed by a giant bird mural. The venue opened late 2020.
Where to stay: Bunbury Seaview Apartments are modern, ocean-facing and have a pool.
What else is there to do? The drive along Cathedral Avenue towards Leschenault Peninsula Conservation Park reveals arches of paperbarks and peppermint trees, a jetty walk departing from the Discovery Centre, wetland trails and abundant birdlife.
RELATED: 12 reasons you shouldn't bypass Bunbury »

Peppermint Grove Beach
Distance from Perth CBD: 202km or 132min drive.
You know you're nearing Margaret River when the sand turns sugary white. West of Capel and part of Geographe Bay, peaceful "Peppy Beach" is lined with two-storey and steel-stilted holiday houses that glint in the sunlight as they drink in the views.
Getting to the beach is half the fun; it's a beautiful drive between scrub, dotted with thousands of white lilies and farmland, where horses contentedly graze. On the coast-clutching hamlet's southern side, there's a beachfront playground with barbeques and a sheltered picnic table, along with toilets and an outdoor shower.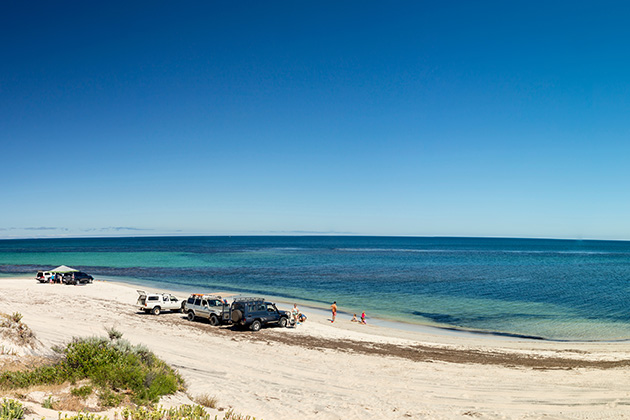 As the houses grow in stature, little walking lanes poke between, leading to the beach. As well as tranquil ocean swimming, leisure fishing and beach driving, there's kayaking on the Capel River to the north of town.
Where to eat en route: Only a 5min drive from Peppy Beach, Capel Vale Winery makes for a bucolic lunch stop. Order one of the matched mains, such as malbec with pan fried duck breast and gaze over the vineyard as you eat.
Where to stay: For a spot that's an easy walk to the beach, check online for private holiday rentals at Peppermint Grove Beach. Alternatively, head a little further south to the RAC Busselton Holiday Park, with motel style rooms, self-contained cabins, powered and unpowered caravan and camping sites. RAC members also save up to 20 per cent on accommodation.
What else is there to do? Drive through the nearby Ludlow Tuart Forest, believed to be the last remaining natural tuart forest in the world.
Need to fuel up before you head to these beaches?
RAC members save 4 cents per litre off fuel at participating Puma Energy and Better Choice service stations.
Banner image credit: Marc Russo
Tile image credit: Harvey Visitor Centre