Travel & Touring | WA Things To Do
By: Vanessa Pogorelic
Don't get stuck taking your SUP board to the same place all the time - try a change of scene.
No matter where you are in Perth, there are plenty of great places to get a stand-up paddle board into the water. So that you can take your paddle-boarding adventures to some interesting new places, we've found 10 spots within about one hour of Perth where you can launch your SUP to explore some of our diverse waterways.
1. South Perth foreshore
South Perth foreshore has long been known for its catamarans, but this scenic spot is also a great place to go for a paddle on your SUP board.
When the wind is light and the water is calm you can do a lap around Heirisson Island and back, or just cruise along the river around Sir James Mitchell Park and enjoy South Perth's spectacular city views. Take care around boats travelling through the area, especially ferries.
If you don't have your own SUP board, you can hire one once you get there. Head to the area where the catamarans are.
2. Bicton Baths
Start at Bicton Baths and set out from the beach next to the jetty heading north-east towards the sandbar at Point Walter. You'll pass the striking cliffs of Blackwall Reach along the way. In low wind conditions this area is beautiful to paddle through, but even in a light south- or north-easterly breeze, if you hug the shore you'll be relatively protected.
The narrow channel here is often busy with boats, including large vessels like the Rottnest ferries, so take care. Although the speed limit for all vessels passing through here is 8 knots, there can still be a bit of chop from boat wake through the area so if you're a little unsteady on your board, stay closer to the shore.
SUP hire and lessons are available from the beach at Bicton Baths.
3. Point Walter, Bicton
When the south-wester has spoilt things at Bicton Baths, head just around the corner to the Point Walter foreshore. There's a jetty and an attractive grassed picnic area right on the shoreline where you can chill out after your paddle.
The area close to the jetty is quite protected when the sea breeze is in, but as you go further out and further down the beach you will cop a bit more wind.
On a calm day, this is a great spot to launch from for a longer adventure on the water. Explore the sandbar west of the jetty and then head around the corner towards the cliffs at Blackwall Reach. Or you can take a shortcut and walk across the sandbar with your board and get there a bit quicker.
You can hire a SUP at Point Walter and get lessons from there, too.
4. Garvey Park, Ascot
There's a lot of paddling action in the waters off Garvey Park in Ascot. Garvey Park is home to the Ascot Kayak Club and SUP Tonic Australia which offers lessons for beginners as well as SUP hire. There's also a café on the riverbank at Garvey Park.
The waters here are relatively protected so it's a great place to learn how to paddle a SUP, and there's lots to explore, including Ron Courtney Island right in the middle of the river bend near Garvey Park. From there you can head west towards Bayswater or explore the upper reaches of the Swan River, paddling east towards Bassendean.
Enjoying this? Check out:
Great kayaking spots around Perth
Places to go snorkeling off the Perth coast
5. Lake Leschenaultia
Spend a day at Lake Leschenaultia in Mundaring, paddling and picnicking. The calm waters here are ideal for SUP beginners or just anyone looking for a tranquil, flatwater paddle. The Lake even has a white-sand beach you can launch from.
If you're up for a challenging paddle you can do a circuit of the lake or just cruise around the main beach area close the café and picnic area.
There are a limited number of SUP boards available for hire at the Lake on weekends and school holidays. Contact the Mundaring Visitor Centre to check availability of boards.
6. Matilda Bay Reserve, Crawley
This long, treelined bay is a good launch point for SUPing close the city. The waters here are relatively protected but check the wind direction and speed before you get there.
You can paddle towards Mounts Bay Road or head in the other direction towards Pelican Point passing the pens at Royal Perth Yacht Club along the way. Around the corner from Pelican Point you'll be heading for the Nedlands' foreshore.
If you don't have your own board, you can hire one at Matilda Bay.
7. Woodman Point
If you want to try some ocean paddling without too much swell, Woodman Point offers good flatwater conditions, providing there's little wind.
The area is relatively well protected from swell, so you won't have to worry about tackling any waves. The bay is also quite shallow for some distance from the shore making it a great place to learn or just become more competent on your SUP without worrying about falling into deep water.
You can also hire SUPs and have lessons at Woodman Point.
8. East Perth
This paddle trail is full of contrasts, giving you a slice of nature right next to the city. Set out from Banks Reserve in East Perth and head south. Not far from there you'll pass under Windan Bridge and then Claisebrook Cove on your right, lined with apartments, restaurants and cafes right on the water.
Pull into the Cove for a short loop then head back out continuing south and under Matagarup Bridge opposite Optus Stadium until you get to Heirisson Island.
There's a small lagoon you can pull into at the north-west end of the Island. And if you want to go exploring, pull up on the south end, past the Causeway Bridge, where two or three kangaroos are in residence in an enclosed area.
9. Canning River Regional Park
Just after the Riverton Bridge heading south-east, the Canning River starts to get particularly interesting with this section of the river splitting up into narrows streams.
Launch your SUP from the Riverton Canoe Launch on the south side of the bridge and paddle towards the river bend at Bicentennial Adenia Park and then head north east towards Kent Street Weir.
10. Murray River, Pinjarra region
Set off from the Henry Street boat ramp in Pinjarra and head north west, following the Murray's many twists and turns.
This flatwater paddle takes you past river banks lined with trees and through farmland heading towards Ravenswood. At 17km it's a long paddle to Ravenswood so choose your own end point and double back to Pinjarra.
11. Thomson Bay, Rottnest
The protected waters of Rottnest's Thomson Bay provide perfect conditions for flatwater ocean paddling.
You can hire SUP boards from Aquaplay, with two inflatable boards on offer – a standard all-rounder as well as the 'Megalodon' SUP which can hold multiple riders at a time (up to 210kg in total).
Bookings are recommended, and boards can be picked up from Aquaplay's storefront in North Thomson Bay.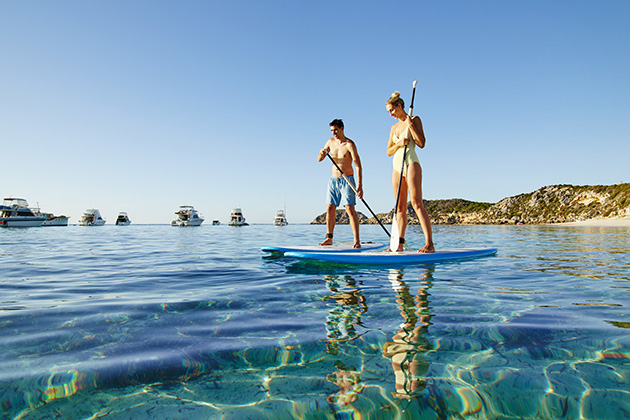 Last updated: December 2021