Travel & Touring | WA Destinations
By: Fleur Bainger
The Bickley Valley harbours Tuscan outlooks, French provincial charm and poetic bushland. Drive through its rolling hills and gentle valleys, past vineyards and stonefruit orchards, to petite cellar doors and atmospheric restaurants with leafy views.
At a glance
Distance from Perth CBD
28 kilometres, a 35-minute drive
Why go?
Feel like you're in another part of the state without travelling far. Stop at boutique wineries and view-blessed restaurants, check out an asparagus farm and fruit orchards, walk and bike along bush tracks and be wowed by some of WA's best stargazing from Perth Observatory.
When to go

Mar - May & Sep - Nov: Cooler but sunny days; visit in autumn to see deciduous trees turn red and gold, and in spring to see fruit orchards blossom and native wildflowers emerge.
Jun - Aug: Cold and wet; great for bush walks and long lunches.
Dec - Feb: Hot and dry; still a pleasant escape from the concrete jungle.

How long to stay
The Valley is easily seen in a day, but staying overnight means time to gaze at the Milky Way without the city's ambient light.
Need to know
Being on the city outskirts, there are plenty of supplies shops and fuel stations around, and mobile phone signal is good. Be aware of the bendy roads, sometimes with limited sight lines. As a small tourism region with mainly family-run operations, it always pays to call ahead to confirm opening hours. Find the Perth Hills Visitor Centre in nearby Kalamunda.
Fast facts
Town population: 673
Indigenous people: Noongar.

Insider tip
The food truck, Travelling Snack Restaurant pops up around the region with burgers, gyros and German bratwurst, as well as picnic packs including local wine, beer or cider. The chef occasionally holds alfresco dining events with fancier fare. The truck is often at the Lions Lookout in Lesmurdie (also the start of a lovely walk trail), but check online before you go.
Related road trip
Perth to Kalgoorlie road trip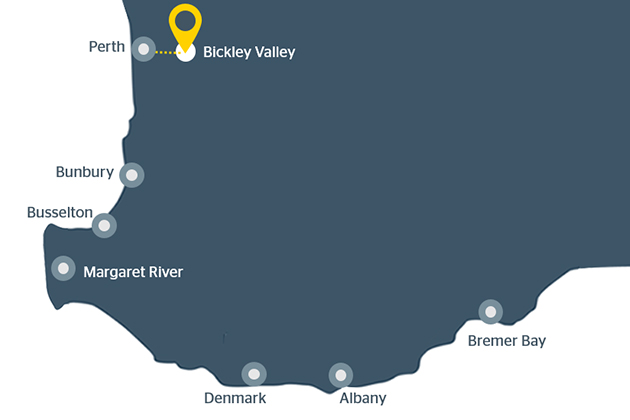 Top things to see and do
Visit boutique wineries
Many of these small cellar doors are run by the people who grow the grapes and make the wine, so you get a more personal insight into life on a vineyard. Your best bet is to pick out a handful of stops along the Bickley Valley Wine Trail. Popular options include Myattsfield, Plume Estate (epic views) and Carldenn Homestead Wines.
Watch the night sky
Perth Observatory is WA's oldest sky-gazing institution – it's even heritage listed. Yet its 120 years pale in comparison to the stars and galaxies its telescopes track. Its night sky tours and museum are highly rated.
See an asparagus farm
Everything is done by hand at this white, green and purple asparagus farm. Its owners have been organically growing the sought-after vegetables for more than 30 years. They've taken a year off in 2020 but intend to return in 2021, and happily welcome sticky-beakers during the springtime picking season (Aug-Nov). They usually pick early in the morning, so to be sure you're there, stay in the property's beautiful, century-old cottage accommodation.
If you miss the 2021 pick, you can usually find them selling spears at the Farmers Market on Manning, close to the city, each Saturday and the Kalamunda Farmers Market on Sunday. The owners' son, Nicolas holds annual white asparagus lunches and dinners in the cottage (he's the one behind the Travelling Snack Restaurant food truck).
Walks and bike trails
Loved by bushwalkers, the famed Bibbulmun Track starts in nearby Kalamunda, while the bush track for cyclists, the Munda Biddi sprouts from Mundaring. Locals highly rate the waterfalls and wilderness on the Whistlepipe Gully Creek loop walk in the Mundy Regional Park in Kalamunda.
Also consider checking out the nearby Lesmurdie Falls; some of the track follows a little creek that kids love and the expansive views from the lookout platforms are worth every step.
RELATED: 10 of the best dog-friendly walk trails around Perth »

Eat well
There's an impressive number of lovely restaurants and cafes in the Bickley Valley. The Vineyard Kitchen charms with its corrugated iron 'dining shed' wrapped in wisteria, and it's part of Brookside Vineyard, so you can sample their wines on entry. Mistelle is a French bistro overlooking Hainault Vineyard.
The Packing Shed, found at Lawnbrook winery, is a fantastic family-friendly option (bring a picnic blanket if you want to lunch on the lawn, just no BYO). Fairbrossen Estate, in nearby Carmel enjoys a bucolic outlook. Be sure to check all covid-altered opening hours and book ahead.
Explore the nearby Pickering Brook
This spot is home to Core Cider, where they run excellent orchard tours, either on foot (Wed-Sat) or on the back of a tractor-pulled trailer (Wed-Fri; kids love it), and they have a bustling alfresco dining area and grassy playground
If you don't eat there, try nearby La Fattoria, a Sicilian-inspired restaurant that's been in the Radice family for more than 80 years. And if you really love sparkling apple juice, pop in to the Carmel Cider Co cellar door, followed by a locally-sourced nibble at Carmel Tea Rooms.
Camel riding
It seems an unconventional way to experience the hills, but why not view the bush from the back of a camel? Join a calming, slow-travel, guided ride with Calamunda Camel Farm for as short as 15 minutes, or as long as one hour. After all, camels aren't just for Cable Beach. Suitable for all ages.
Getting around
Using a car is the best way to get around once you're in the Bickley Valley, though if your calves don't mind hills, you can hire a bike from Rock 'n Roll Mountain Biking in the Kalamunda Hills.
What to pack
Whatever casual clothes you're wearing in Perth at the moment, plus an extra warm jumper or jacket for nights.
Travelling safely
There is wildlife in the Perth Hills, so keep an eye out for roos and low flying birds on the roads. There are tight bends, obstructed views and junctions where it can be hard to spot oncoming traffic, so take it slow and easy and drive defensively. Read more long distance driving tips.
Planning on exploring national parks near the Valley?
RAC members save 50% on digital national park passes.
Last updated October 2020