Travel & Touring | WA Destinations
By: Tatum Stafford
It's not hard to see why the charming Bridgetown is often dubbed one of Western Australia's most picturesque towns.
Filled with pretty walk trails, picturesque picnic spots and quirky trinket shops, Bridgetown within the lush South West is a must-visit for lovers of bushwalking, paddling and wildflower-spotting. Start the car, we're heading to Bridgetown.
At a glance
Distance from Perth
257 kilometres, just under three hours' drive
Why go?
To paddle and picnic your way along the Blackwood River, go wildflower-spotting amongst marri and jarrah trees, visit the only public jigsaw gallery in the Southern Hemisphere and try to spot the elusive South West honey possum.
When to go

Jun - Oct: Cooler temps make this a great time to hike. In springtime, wildflowers are abundant on and around walk trails.
Nov: The annual, three-day Blues at Bridgetown music festival is a highlight on the town calendar.

How long to stay
One to two days.
Need to know
In town, you'll find a service station, pharmacy, hardware store and supermarkets. There are a few cafes and restaurants along the main street, and plenty of bed and breakfasts or larger hotels for accommodation. Phone reception can be spotty, but a few shops and eateries offer free WiFi.
Fast facts
Town population: 2,800
Indigenous people: Wardandi, Noongar.

Insider tip
Sample some of the region's freshest produce with a Ploughman's platter at The Cidery. This picturesque spot partners with the Dardanup Butchering Company, Rokewood Olive Grove, Heritage Country Cheese and other local producers to plate up these delicious platters that are best enjoyed in the cidery's lush gardens.
Related road trips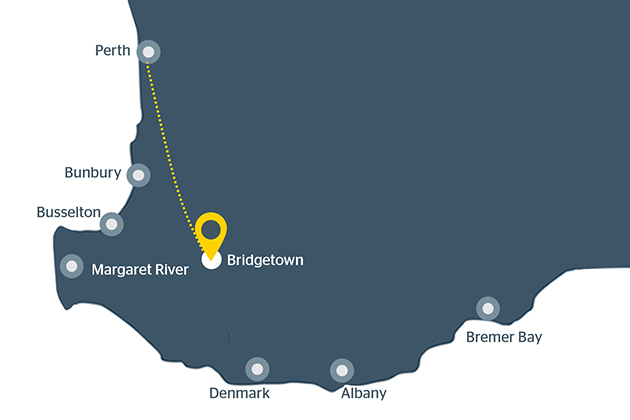 Top things to see and do
Visit the Brierley Jigsaw Gallery
This quirky spot is the only public jigsaw gallery in the Southern Hemisphere. Owner Jessie Brierley started her jigsaw collection over forty years ago, and today, her gallery showcases a wide range of completed jigsaws from around the world – including the world's smallest wooden jigsaw of a Swedish Ferry made of 99 small pieces. There's a small fee to enter, and it's open most days of the year from 9am to 5pm on weekdays and 10am to 1pm on weekends.
Tackle local walk trails
Bridgetown and its surrounding areas display beautiful scenery, flora and fauna that is best explored on a local walking trail. One of the most popular options is the 8-kilometre Blackwood River Walk loop, which features a unique boardwalk over the river that travels through native bush and wetland areas. The vibrant River Markets run on alternate Sundays at the River Park along this trail, making it a popular time to walk it. Depending on when you visit, you may spot a few kangaroos, long neck tortoises, waterfowl, geese and wrens along the way.
If you'd prefer a shorter walk, there are a few short walks within the Bridgetown Jarrah Park that meander through a variety of plant life and wildflowers. The park's four walks take between 20 minutes and three hours to complete, and travel through pockets of marri and jarrah trees that honey possums, numbats, honeyeaters and kookaburras call home.
Explore the Bridgetown Art Trail
Featuring an array of sculptures, murals, tapestries and interactive pieces, this quirky trail showcases works from local artists, with a goal to bring the community's artwork to the public. The trail is four kilometres long, and weaves through many vibrant Bridgetown streets, parks and gardens. One of the most impressive trail stops is The Rabbit Hole, a hub of artist studios adorned with various paintings and optical illusions. Download the art trail map before setting off.
RELATED: 9 of WA's most vibrant art trails »

Paddle along the Blackwood River
The paddle trail from Bridgetown to Nannup provides beautiful views of the river's surrounding bushland, and can be completed in four legs: Bridgetown to Rocky Bluff, to Maranup Bridge, to Wrights Bridge, to Nannup. There are plenty of shady picnic spots along the way, so be sure to pack a few snacks and refreshments in your kayak to enjoy on the banks of the river.
Visit local farms
Located just a few minutes from the Bridgetown town centre, there are a few cosy farms to choose from if you're hoping to complete a farm stay. Popular choices include Lucieville Farm Chalets, Little Hill Farm and Sunnyhurst Chalets. Each farm is family-friendly, and offers activities such as animal petting, tractor rides and walks through the spacious paddocks.
Stroll down main street
If you're in the market for some quirky knick knacks, the Bridgetown main street has you covered. There's a Christmas shop, a few homewares and antique stores and an old-fashioned sweet shop called Ooh La Lollipop. There's also a quaint bakery, and a bar, café and restaurant within the historic Bridgetown Hotel.
Stop in at The Cidery
Bridgetown has a rich apple-growing history, so it'd be remiss to visit the town without stopping in at The Cidery. This boutique cidery produces premium, award-winning wines, beers and ciders, and provides a stunning natural backdrop for a bite to eat. There's also a gorgeous heritage rose walk onsite, perfect for stretching your legs after lunch.
Take a local day trip
As well as being a fantastic travel destination in itself, Bridgetown is also a great base for exploring other nearby towns, including Balingup, Nannup and Manjimup. Each of these spots are a short drive from Bridgetown, and feature activities including forest walks, farm visits, food trails and truffle hunts.
Getting around
Most roads around Bridgetown are sealed, but keep an eye out for pedestrians or cyclists as some roads are narrow. The closest town for bike or car hire is Bunbury.
What to pack
The town can be quite chilly at nighttime no matter the time of year, so pack plenty of layers if you're staying overnight. If visiting for the day, wear comfortable, enclosed shoes and bring insect repellant. Don't forget wet weather gear if visiting in winter.
Travelling safely
Most roads are well signposted, but drive carefully after heavy rains or storms due to debris or flooding on the roads. Be aware of native wildlife near the roads, particularly at dawn or dusk. Read more long distance driving tips before setting off.
Need to fuel up before hitting the road?
RAC members save 4 cents per litre at participating Puma Energy and Better Choice stations.
Last updated: January 2021