Travel & Touring | WA Destinations
By: Danielle Costley
Pristine beaches, spectacular sunsets and world-famous wildlife spotting await in this tropical oasis.
Throw in some hypnotising history, compelling culture and delicious dining, and you're set - we're going to Broome.
At a glance
Distance from Perth
2,048 kilometres, about two days' drive
Why go?
Discover the rich history of the pearling industry, swim in the warm waters of Cable Beach, embark on a sunset camel safari and witness some of the world's most beautiful wildlife.
When to go

May - Oct: It is warm and dry, with clear blue skies. This is the best time of year to visit with temperatures ranging from 17 - 30 degrees. The Broome Races run from June to August, and the Cable Beach Polo is held in May.
Nov - Apr: This is the tropical season, with hot temperatures and abundant rainfall.

How long to stay
Three to four days in Broome is plenty. If you're planning on also doing more North West exploring from there, stay a week or so.
Need to know
There are many supermarkets in Broome, where you can stock up on supplies and fresh produce. Mobile reception is good in the town, but can be patchy once you leave. There is free WiFi in the Chinatown district. There are several fuel stations in Broome, but few and far between once you leave the town and head into the outback.
Fast facts
Town population: 14,000 
Indigenous people: Yawuru 

Insider tip
Embark on a unique stargazing experience with local Greg Quicke, who has been dubbed 'Space Gandolf'. Using telescopes and lasers, he takes you on an educational and informative astro-tour of Broome's billion-star skies.
Related road trips

RELATED: Things to do in Broome »
RELATED: Broome and the Dampier Peninsula with kids »
Cable Beach
With its 22 kilometres of soft white sand and clear turquoise water, Cable Beach is a huge drawcard for Broome. The water at Cable Beach is warm and often flat, making it perfect for swimming; and no trip to Cable Beach would be complete without a sunset camel ride.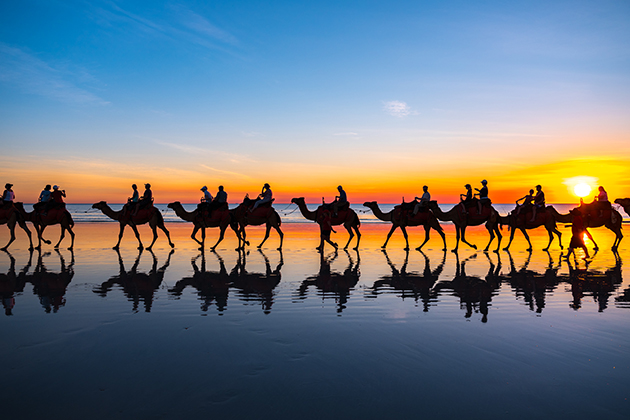 Staircase to the Moon
This natural phenomenon is caused by the rising of a full moon reflecting off the exposed mudflats in Roebuck Bay at low tide, which creates a beautiful optical illusion of a stairway reaching to the moon. This spectacular sight only occurs for two to three days from March through to November, so check the calendar for dates.
Pearls
Visit working pearl farms like Willie Creek Pearls and Cygnet Bay Pearls, where you can take a tour, learn about the process and even stay for a night or two in a unique beachside setting. If you don't have a lot of time on your hands, simply admire (or shop for) the pearls in Broome's main town, where there are plenty of retailers selling exquisite pearl jewellery.
Broome Food and Heritage Trail
For a real local foodie experience, download the free Broome Food and Heritage Trail map and go on a self-guided tour. The trail takes you to various locations of culturally and culinary significance, including providers of local food, iconic sights and places of significant heritage.
Roebuck Bay
Roebuck Bay is Australia's newest marine park, known for its incredibly diverse marine life and for being one of the best places in Australia to view migratory birds. From September to April the bay is visited by half a million wader birds arriving from their breeding grounds in Siberia, North Asia and the Arctic Circle. Roebuck is also where you can spot the Australian snubfin dolphin – recognised as a new species in 2005 – swimming and playing.
Matso's Brewery
Head brewer Prav runs brewery tours every Wednesday and Friday, where you can learn about the history of Matso's and how they make their famous beer. Tours are $35 and include a tasting paddle at the end – just make sure you have a designated driver.
Sun Pictures
On Carnarvon Street in the middle of town is Sun Pictures, one of the oldest operating picture gardens in the world. Unlike most outdoor cinemas, multiple films are screened nightly at this historic theatre. Check session times on the cinema website and bring a jacket as the nights can be cool.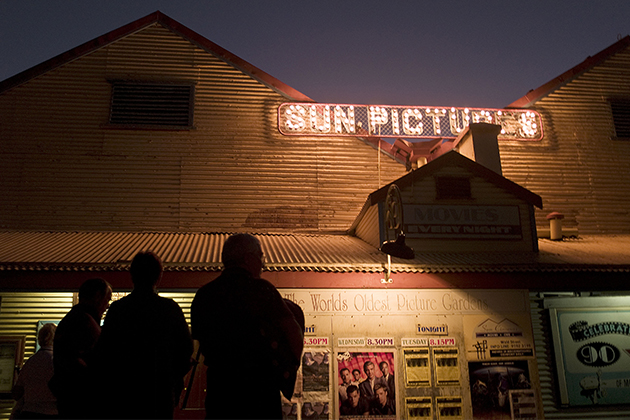 Aboriginal walking tour
Local Aboriginal man Bart Pigram of Narlijia Cultural Tours leads a fascinating, two-hour walking tour through the heart of Broome. With historic maps, he'll tell you the history of the town's main street, as well as stories about the pearling industry which used to favour Aboriginal women as divers.
Chinatown
Carnarvon St is home to corrugated iron buildings that housed noodle restaurants and shops, which have now been transformed into cafés and stores. Napier Terrace is where pearl cleaning businesses and a Japanese boarding house used to be. And The Short St Gallery, which used to be Hanoe's Cottage, gives you a real taste of the old Broome style of building – raised to avoid flooding, with shuttered verandahs for ventilation.
Getting around
While you can explore Broome and surrounds in a standard car, a 4WD is best. Many of the main attractions like the Bungle Bungles, Cape Leveque, Karijini and Millstream National Park are only 4WD accessible, you'll also need a 4WD if you plan on driving along the famous Cable Beach.
If you don't have access to a car, hop on the Broome Explorer Bus. The 72 hour passes are great value, and can be used to get around town and over to Cable Beach.
What to pack
Broome is warm and sunny between May and October, and the vibe is laidback - casual loose-fitting clothing, along with sunscreen and mosquito repellent, are recommended. Broome can also be known for its flies, so if you're planning on spending a lot of time outdoors, a hat with netting over your face – also known as a Bush Hat – could be a good idea, so pack sunscreen. There can be a slight chill in the evenings, so a light jumper will come in handy.
Travelling safely
If you're driving from Perth, be cautious of animals. Many cattle stations along the route are not fenced, so it is not uncommon to encounter wandering stock and wildlife. Take particular care – especially when travelling at duck and dawn and avoid driving at night if possible. If travelling in the wet season, always check the weather forecast and refer to the tide chart before venturing north of Broome. Read more long distance driving tips.
Need a place to stay?
Members save up to 20%* on accommodation at RAC Cable Beach Holiday Park.
*Terms and conditions apply. RAC member rate varies according to season. See full website for details.
Last updated April 2021