Travel & Touring | WA Things To Do
By: Tatum Stafford
Busselton's iconic jetty, fun attractions and sheltered swimming spots make it one of WA's premier holiday destinations for the entire family.
Throw in a few rounds of mini golf, a game of archery tag and a forest zip lining course and you've got a town the kids will be begging to revisit every time school holidays roll around.
Here are seven of the most exciting, family-friendly activities to try on your next trip to Busselton.
RELATED: 10 of the best things to do in Busselton (for all ages) »
RELATED: Fun things to do in Perth with kids »

1. Tackle a forest high ropes course
Nestled within the scenic Ludlow Tuart Forest, the Forest Adventures activity park features eight acres of high ropes courses, flying foxes, unicycle lines, BMX wires, climbable spider webs and a 13m base jump. Suitable for kids aged 7 and up, the course starts with a safety training session, followed by a walk-through of the yellow (kids-level) high ropes course. This first course is three metres off the ground, with the most advanced course in the park sitting at a whopping 19 metres high.
Older kids may also enjoy the park's intermediate and advanced zip line courses. The latter option involves a climb to the park's highest point, and a 500-metre zip line descent on eight flying foxes, a thrilling feat for adventure seekers.
For kids aged 7 or 8, close adult supervision is required (the park recommends one adult per child). Children under 16 also require adult supervision. Bookings are essential, and the family high ropes package for two adults and two children starts at $139. If you're an RAC member, you'll save 10% on admission.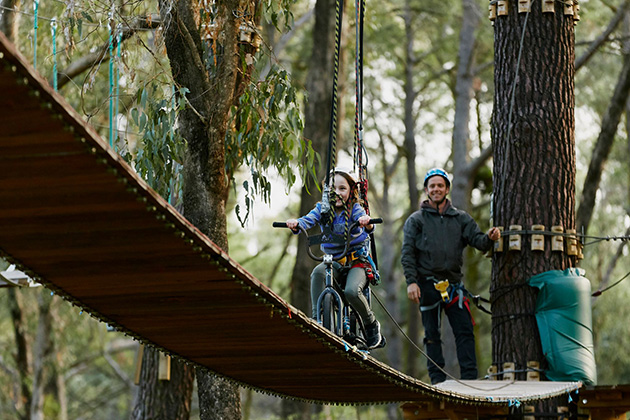 2. Play archery tag
If the family is looking to get a little competitive, head to Primal Archery (previously named the Busselton Archery Park) for a game of archery tag. Described as a mix of dodgeball, archery and paintball (without the paint), players aim foam-tipped arrows at each other across a spacious playing field, so it's a great way to tire the kids out. Each team has up to five players, and the minimum playing age is 10 years old, as there are some basic archery skills involved. One-hour games are $25 per person, or you can try a sample match for just $5.
For younger kids, Primal Archery's target courses are open for ages 6 and up, and include full training sessions with no prior experience necessary. Targets vary in difficulty and range, so you'll be able to customise your visit based on your ability. Equipment rental is included in your archery ticket, which starts at $12 per person. All visitors under the age of 18 require adult supervision in the park.
3. Explore above and below the water at Busselton Jetty
Arguably Busselton's most iconic attraction, the 1.8km-long Busselton Jetty offers plenty of interactive activities that kids will love.
On the jetty itself, there are daily jetty train rides and the Underwater Observatory. The indoor observatory spirals 8m below the water's surface to reveal hundreds of fish that live in an artificial reef under the jetty. There are eleven viewing windows to peek out of, each at a different depth to give you a full view of the colourful marine life.
If you'd rather hit the water, the jetty has its own deep sea pool with a shark net (and soon, an underwater sculpture for snorkellers to view), or there's even an Undersea Walk tour where you can 'walk' around the jetty pylons with help from a scuba helmet and a tour guide. The walks are suitable for kids 12 and up.
4. Grab a scoop at Simmo's
Just a 20-minute drive from the Busselton town centre, Simmo's Ice Creamery in Dunsborough is a WA institution. Founded in 1993, what began with 12 flavours and a tiny ice cream maker has expanded into an award-winning establishment serving up thousands of scoops every day. Here you'll find the classics of vanilla, chocolate and strawberry sitting alongside experimental flavours like salty caramel swirl, apple pie and white chocolate malt.
Once you've got a scoop in your hand, head outdoors to explore the attached 'family fun park' that includes several barbeques, a massive playground and plenty of open space for the kids to run around. Just be cautious when visiting Simmo's resident emu, Edward – ice cream is his favourite food, and he isn't afraid to poke his head through the fence to taste some of yours!
5. Explore three playgrounds on the foreshore
You'll be spoilt for choice when it comes to playgrounds on the Busselton Foreshore. The award-winning 'Sea Play by the Bay' playground, modelled on an old wooden whaling ship, is a great first stop. Once they step 'aboard', kids can climb the crow's nest, ring the ship's bell, or be sprayed with water beneath the whale's tail. Don't miss the massive orange Kraken at the jetty-end of the playground, which is great fun to climb.
For younger kids, head to the dedicated Toddler Play Space a short walk from 'Sea Play by the Bay'. This sensory-rich playground features sections of a repurposed train carriage and tracks, and is jam-packed with interactive buttons and dials little kids are bound to love.
The Busselton Foreshore West Playground located outside of the Equinox Café is a little more basic, but provides direct access to some of the town's most popular cafes and eateries. There are plenty of picnic tables, drink fountains and barbeques next to this playground, so it's a great spot for a picnic or meal overlooking the jetty and Geographe Bay. Head down during dusk for gorgeous sunset vistas.
6. Play mini golf
For an hour or so of competitive fun, tee off at one of Busselton's mini golf courses. Two places mentioned above, Primal Archery and Simmo's Ice Creamery, have on-site mini golf courses, but if you'd rather add another stop to your itinerary, Par 3 at the Old Broadwater Farm is one of the newest courses in town.
Built in 2020, the course has 18 holes across shady fairways, is open seven days a week, and offers family admission starting at $44 for two adults and one child. Putters and balls are provided, and there's an onsite kiosk for post-game refreshments.
7. Hire bikes and go on a ride
Busselton is a very bike-friendly town, and there are plenty of local hire shops if you and the kids would rather explore on two wheels but didn't bring bikes with you. Make the Busselton Visitor Centre your first point of call to collect local bike track maps, ask the staff for tips, and obtain a list of local bike hire shops. Kids' bike hire shouldn't cost you more than $40 for the day.
If you're in need of caffeine before hitting the pedals with the kids, head for Fat Duck Cycles and Espresso Bar; they serve up delicious barista-made coffees and hire out Gekko bikes, which are a little more budget-friendly than other premium bikes on offer.
One of the most popular tracks is the 31km paved Geographe Path, which stretches from the Busselton Foreshore all the way to Dunsborough - though it's easy to turn around at any point for a shorter ride. In summer, keep an eye out for bobtail lizards sunbaking on quieter pockets of the path, and spot dolphins frolicking in the ocean beside you.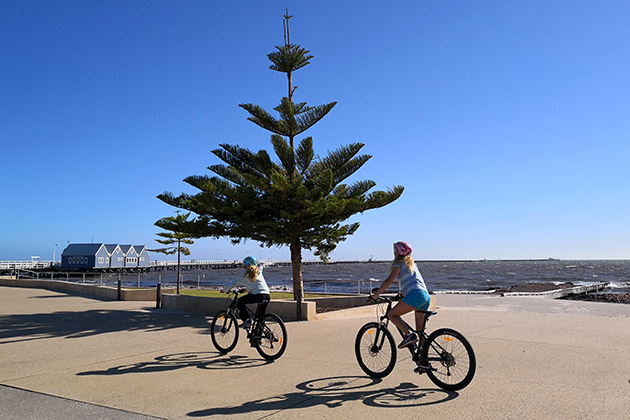 Need a place to stay on your next family getaway?
RAC members save up to 20%* on stays at RAC Busselton Holiday Park.
*Terms and conditions apply. Member rate varies according to season. See full website for details.
Banner image credit: Graham Hay and City of Busselton
Last updated: April 2021