Travel & Touring | WA Destinations
By: Danielle Costley
Journey into the outback to this tropical destination where you can stock up on the state's freshest fruit, vegetables and seafood.
Discover its rich indigenous heritage at its award-winning interactive exhibition, watch the ocean surge through underwater caves in the nearby blowholes, surf some of the best breaks at the Bluff, or visit the world's largest monolith.
With so much on offer, it's time to plan a trip to Carnarvon.
At a glance
Distance from Perth
890 kilometres, approximately nine and a half hours' drive
Why go?
Visit the blowholes, see the world's biggest rock, explore the space and technology centre, take a dip in the famous Rocky Pool, and sample the region's famous fruit.
When to go

Mar - Oct: Warm temperatures and a low rainfall make it the ideal time to visit for an outback adventure. The Gascoyne Food Festival begins in August, showcasing food from the entire region.
Nov - Feb: High temperatures with moderate rainfall. Tropical cyclones are prevalent along the Coral Coast at this time, so make sure you're familiar with WA's cyclone warning system.

How long to stay
A few days to a week – a little longer if visiting in August during the food festival.
Need to know
There are fuel stations and free WiFi at some cafes and restaurants in Carnarvon. Mobile phone coverage is good in town and nearby areas. There is a supermarket in town to stock up on supplies. A four-wheel drive is best, as many of Carnarvon's main sights and landmarks ae 4WD accessible only.
Fast facts
Town population: 5,000 
Indigenous people: Yamatji

Insider tip
The North and South River roads, dubbed the 'Fruit Loop' driving trail, have several working fruit plantations with roadside stalls selling fresh produce, fruit preserves, dried fruits and fruit ice-creams. Just keep an eye out for the Gascoyne Food Trail logo along the way.
Related road trips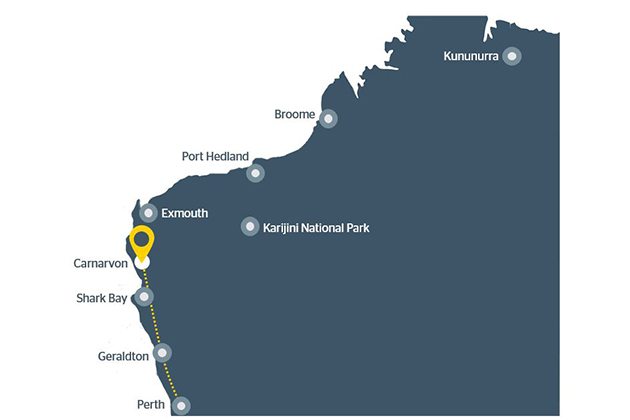 Top things to see and do
The Cactus Garden
In the middle of Carnarvon's sub-tropical oasis is a cactus farm. Located on South River Road, its quickly becoming a popular photo spot for visitors. No-one knows how or why the cacti got there, but what they do know is they've been around for years - and make for an excellent photo.
RELATED: 13 of WA's most Instagram-worthy destinations »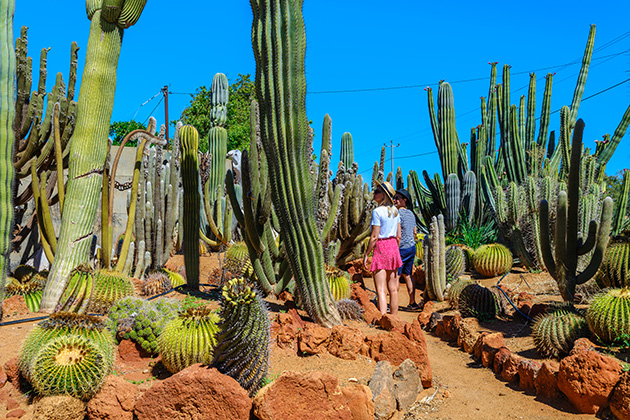 Mt Augustus National Park
Mt Augustus National Park is about 450-kilometres east of Carnarvon, and happens to be home the world's biggest rock. Known as Burringurrah by the local Wadjari people, the rock is eight kilometres in length and covers over 4,500-hectares of the park, making it double the size of Ayers Rock (Uluru). There is a driving circuit around the rock that is suitable for most cars. There are also various walking trails, gorges, creeks, and historic Aboriginal rock art sites.
The Fruit Loop Trail
With Carnarvon supplying 80 per cent of Western Australia's fruit and vegetable crops, there are plenty of places for the purchase of incredibly fresh produce in the town. The Fruit Loop route takes you to local plantations of bananas, tomatoes, beans, capsicums, mangoes, stone fruit and avocadoes, depending on the season. Many of the plantations have shopfronts where they sell their produce, as well as their homemade sauces, jams, ice creams, pickled and dried fruits.
Space and Technology Centre
Carnarvon's Space and Technology Centre played a significant role in space history, having supported NASA's Gemini, Apollo and Skylab programs during the 1960s and 1970s. This family friendly adventure is ideal for space-buffs and science-lovers.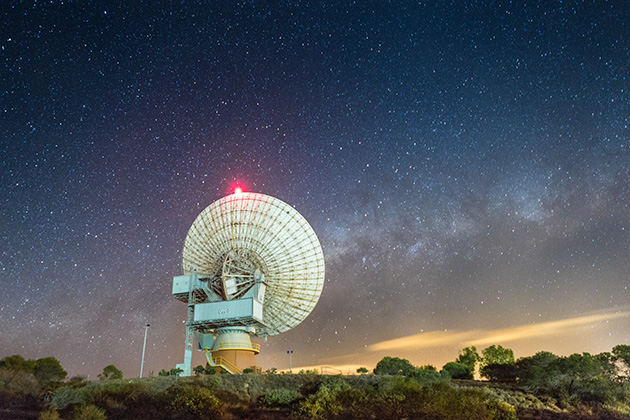 The Blowholes
Less than an hour's drive north of Carnarvon are The Blowholes, where surging currents force sea water through underwater caves and up through crevices in the rocks. These waves have been known to reach up to 20 metres in height.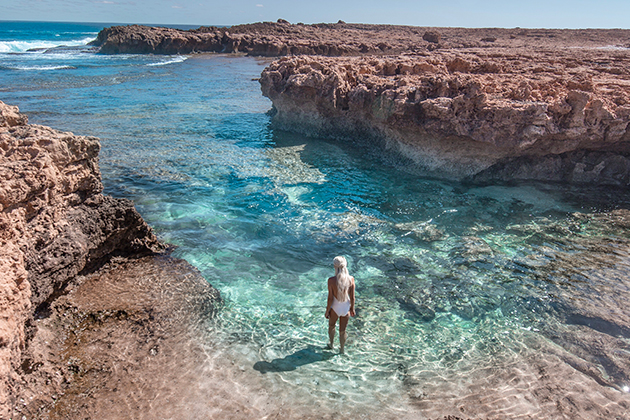 Gwoonwardu Mia Aboriginal Heritage and Cultural Centre
This special place celebrates the Gascoyne region's indigenous heritage and it's five Aboriginal language groups with films, interactive experiences and artefacts - including a 33,000 year-old shell necklace. A highlight is the 'Old People Talking' interactive exhibition, which tells the stories of the Gascoyne's Aboriginal people in their own words and languages.
Local markets and produce
From May to October, Carnarvon comes alive with local markets. The Courtyard Craft Market and Gascoyne Growers Market both run on Saturday's, and you can find fresh produce, condiments, baked goods, ice creams, local honey, plants and handmade gifts. If visiting in winter, you can't miss the Gascoyne Food Festival which delivers delicious, local produce served by renowned Western Australian chefs in beautiful locations.
Quobba Coast
The spectacular Quobba coast stretching from Point Quobba to Red Bluff is known for its fishing, walking, snorkelling and rugged scenery. There are secluded beaches, bright blue waters, and an abundance of fascinating marine life. If you're an avid wildlife fan, the area is a turtle nesting and hatching zone between December and March. There's a beautiful beach called Shell Beach that's well worth a visit, and if you fancy staying longer, book a night or two at beachside accommodation, Quobba Station.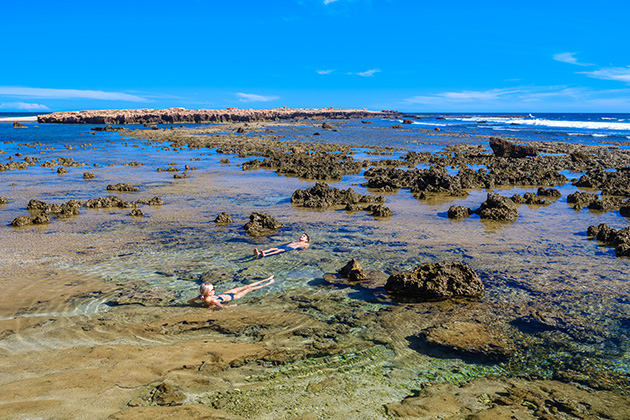 Rocky Pool
About 55km east of Carnarvon, along the Gascoyne Junction Road, is the picturesque freshwater pool known as Rocky Pool. The water is almost always warm, making perfect for a swim. It's also a great spot for a walk through the surrounding ghost gum trees, or for a spot of exploring – the shallow pools are known to be full of fossils that have been washed down from the Kennedy Ranges. You can also bring a picnic, or cook up a meal on the barbecues provided.
Kennedy Range National Park
Just over an hour's drive east of Carnarvon is Kennedy Range National Park, which is a must-see for all camping, hiking and outdoor enthusiasts. You need a 4WD to get there, however there is a range of tour operators who offer coach or helicopter transfers. The park offers a real wilderness-style experience, with camping beneath the stars, exploring the stark sandstone cliffs of the Kennedy Range or checking out the Honeycomb Gorge. This particular rock-face earned its name due to the wind and water spray from a seasonal waterfall above the cliff-face creating a mass of hexagonal holes leading to its "Honeycomb" appearance.
Getting around
The best way to get around in Carnarvon is by car. If you plan on venturing off-road or seeing some of the natural scenery, you will need a 4WD as many of the roads are unsealed.
What to pack
The North West can be hot and tropical, depending upon the time of year that you visit. Shorts and singlets, sunscreen and mosquito repellent are essential. This area is known for its persistent flies, so pack insect repellent and a hat with netting over your face during the warmer months.
Travelling safely
If coming from Perth, be prepared for a long drive and plan your fuel stops, as petrol stations can become few and far between. Bring extra fuel supplies, water and essentials for the journey, and stop along the way in Geraldton, Kalbarri and Shark Bay. Be watchful for stray livestock and wildlife in the area, especially kangaroos at dawn and dusk. You will need a 4WD If you are travelling inland or off-road. Read more long distance driving tips.
Need to fuel up before hitting the road?
RAC members get 4 cents a litre off fuel at participating Puma Energy, Better Choice, Gull and Peak service stations.
Last updated: January 2022