Travel & Touring | WA Road Trips
By: Tatum Stafford
Home to towering forests, pristine coastlines and plenty of gourmet food and wine experiences, it's not hard to see why thousands of locals head 'down south' every year.
With so many towns, regions and attractions to explore, visiting the South West can be an overwhelming experience if you haven't done it before.
So here's your ultimate road trip itinerary from Perth to Pemberton and Margaret River, with plenty of picturesque stops in between. Now all that's left to do is hit the road.
At a glance
Distance and days
Approx 830 kilometres. Four days, or six or seven if you want to linger.
Why do it?
Serpentine Falls – Bibbulmun Track – Local Donnybrook orchards – Blackwood River – Truffles in Manjimup - Diamond Tree - Margaret River wineries – Injidup Natural Spa – Busselton Jetty – Ferguson Valley – Yalgorup National Park
When to go

Summer: Hot, dry weather is ideal for water skiing, SUP'ing, snorkelling or beach-hopping.
Autumn: Idyllic temperatures to explore walking, hiking and mountain biking trails.
Winter: Great white-water rafting and canoeing conditions on the Murray River, plus truffle season in Manjimup, and the best time to see Beedelup Falls near Pemberton.
Spring: Great time to hike the Cape to Cape or Bibbulmun Track, plus it's wildflower season.

Need to know
Most towns on the route have a visitor centre, general store, and petrol station; bigger towns like Pemberton, Margaret River, Busselton and Bunbury have large supermarkets and stores.
Phone reception and WiFi access are strong in most of these towns, but national parks can have weak phone signal.
Vehicle access and safety
This road trip can be completed in a two-wheel drive, but there are a few four-wheel drive tracks for those wanting to go off road – namely, the Yeagarup Dunes near Pemberton, and the challenging Bob's Track that travels from Karridale to Boranup Beach in Margaret River. Before setting off, read our long distance driving safety tips.
Member benefits along the way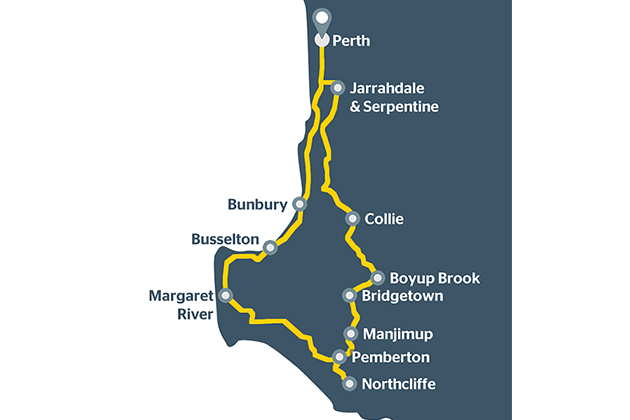 Day one: Perth to Collie via Jarrahdale, Serpentine and Dwellingup (198 kilometres)
Travelling via the South Western Highway, make your way to the heritage-listed town of Jarrahdale, where you can stretch your legs on one of the towns beautiful bushwalks. From there head to Serpentine Falls and Serpentine Dam to enjoy a picnic lunch with a spectacular view of the falls and the surrounding forest. If you're eager to explore further, head further into the Serpentine National Park, or stop in at the award-winning Millbrook Winery for a tasting.
Venture further south to the town of Dwellingup, a charming town with plenty of local nature reserves, kayak trails and hiking tracks to explore. Dwellingup is one of 10 towns that the famous Bibbulmun Track walking trail passes through, so if you're eager for a walk after lunch, complete a section of the track before leaving the town and travelling on to Collie.
Once you arrive in Collie, take your pick from the town's various swimming holes, mountain biking trails, nature walks or local eateries before spending the night at a local campground, chalet or holiday park.
RELATED: Ultimate guide to Serpentine and Jarrahdale »

Day two: Collie to Pemberton via Donnybrook, Boyup Brook, Bridgetown and Manjimup (175 kilometres)
From Collie, head further south to Donnybrook, or as it's more affectionately known, the 'apple capital of WA'. This quaint town is renowned for its fresh produce, so if you're visiting during harvest season (from March to May), pop in to a local orchard for a spot of fruit-picking.
Pass through the small town of Boyup Brook (if you have the time, browse homemade crafts at the visitor centre), and continue on to Bridgetown. This quaint, Heritage-listed town is located on the banks of the Blackwood River, and home to a gallery of jigsaw puzzles, plenty of scenic walking trails and a few quirky shops on the main street. Stop in at the old-school Bridgetown Bakery for a bite to eat, then head back on the South Western Highway.
Your next stop is Manjimup, a town home to some of the oldest jarrah trees in the State. As part of the Southern Forests region, Manjimup is a beautiful town filled with pristine rivers and towering forests, that is the largest producer of black Perigord truffles in the Southern Hemisphere. Truffles are the town's most notable delicacy, so be sure to stop in at the Truffle & Wine Co for a tasting or a light lunch.
On your way to Pemberton, stop at the Diamond Tree, a 51-metre-tall karri tree that played an important part in the region's bushfire safety plan. Though it can no longer be climbed, there's a great walk trail and picnic area that provide beautiful views of the tree from below. It's a short drive from the tree to Pemberton, a town characterised for its towering trees, mountain bike trails dotted with wildflowers in springtime, and picturesque rivers, lakes, waterfalls and dams. After an evening stroll, spend the night at one of the town's cosy accommodation options.
Day three: Pemberton to Busselton via Northcliffe, Margaret River and Yallingup (140 kilometres)
After a night in Pemberton, head a little further south to the town of Northcliffe. Close to three of the Southern Forests' national parks, this is a great base if you're eager to experience the scenic views of Point D'Entrecasteaux, salmon fishing at Cathedral Rock or the walk trail that leads to the beautiful Lane Poole Falls.
On your way back towards Pemberton, stop by Margaret River for a day of wine tastings (ensuring you've assigned a designated driver), cave tours, beach walks and scenic drives. The town is also home to plenty of walking trails, including the Ten Mile Brook Trail, the Margaret River Heritage Trail, and a section of the famous Cape to Cape track.
Make your way to Yallingup - and if you arrive early enough, head for Yallingup Wood Fired Bread to purchase a fresh loaf of bread (as a tip, the freshest loaves are ready at 3:30pm). When it's time to call it a night, head for one of Yallingup's beautiful beaches to watch the sun set, and then spend the night at one of the town's various beachfront accommodation spots.
Day four: Yallingup to Perth via Busselton, Bunbury and Mandurah (220 kilometres)
Start your day early and visit the Injidup Natural Spa, the Cape Naturaliste Lighthouse or Ngilgi Cave before heading north. Your next stop is Busselton, a family-friendly holiday spot with plenty of opportunities for bushwalking, cycling, swimming, birdwatching and snorkelling. Take a stroll down the Busselton Jetty to stretch your legs before heading back to the car.
Then head north to Bunbury, stopping in at the Dophin Discovery Centre, the tranquil Leschenault Inlet and the Bunbury Regional Art Gallery. Head further inland to the Ferguson Valley to explore local wineries, the quirky Gnomesville, King Jarrah Tree and the incredible homestyle bakery in Dardanup (open Wednesday to Sunday).
As you make your way back to Perth, stop at the Yalgorup National Park to view the incredible Lake Clifton Thrombolites, and then enjoy an afternoon stroll in the seaside town of Mandurah. Dolphin Quay at the Mandurah Ocean Marina is a great spot for a bite to eat or a splash in the shallow swimming beach – and if you're visiting on a Sunday, the weekly farmers' market at the quay is a highlight.
For the last stretch of your drive, take the coastal route via Fremantle before returning to Perth.
Need a place to stay along the way?
RAC members save up to 20%* on accommodation at RAC Karri Valley Resort, RAC Margaret River Nature Park and RAC Busselton Holiday Park.
Last updated February 2021
*Member rate varies according to season. See full website for details. Terms and conditions apply.